Easy Chickpea and Black Bean Veggie Burgers
These burgers are simply the best and I'm so proud that they're featured in my Anti-Inflammatory Diet Meal Prep book. So proud, in fact, that I created an entire 8-week "Simplify Your Meal Prep Blueprint" live program that's changing people's lives. But more on that in a bit. For now, I want to talk about how making Easy Chickpea and Black Bean Veggie Burgers are the perfect healthy, make-ahead, vegetarian friendly, delicious burgers that you can make in minutes. Let's break down why they're so good for you, how to make them in minutes and how you can join my program starting here on September 14th at noonPT.
Simplify Your Meal Prep Blueprint 8-Week Program
The first program that included 8 weeks to less stress and better health with an anti-inflammatory plan for meal prep launched this summer and the feedback was incredible. I heard, "I am loving this course and learning so much. It has been so rewarding to plan ahead and makes our week so much more simple!" and "What I love about your recipes besides them being approachable, interesting and very accessible, is that they taste good!" just this week. 
If these are your struggles and desires, it's time to reach out:
-Save time, money, and energy with quick, easy solutions and a consistent plan
-Stop feeling overwhelmed and uninspired
-Finally have a grounded plan
-Stop struggling and guessing what to make
-Learn how to meal prep, batch cook, and stick with it for good
-Quit relying on motivation alone
-Develop a personalized routine and understand your own 'do's and don'ts'
-Get a step-by-step progression to build the habit, get organized with a grocery list and strategy
-Receive creative recipes and ideas for pre-made (healthy) food
-Base your nutrition on science-based information
-Plan out meals and snacks that leave you satisfied and full
-Learn how to navigate challenges like snacking, sweet treats, and boredom from the same foods over and over by increasing variety
-Make learning about meal prep positive, uplifting, and fun
-Get recipe ideas for quick weeknight dinners
For your change to join this program in the fall, please  reach out here on the site or over on the official program page right here to sign up or get more information. I really hope you'll consider joining as I meal prep live, work out of the Anti-Inflammatory Meal Prep book PLUS other easy and delicious recipes from the blog, my favorite sites, and my favorite fellow dietitians as I bring you a dynamic, fun, and educational program that will give you the tools you need (finally) to make meal prep part of your life right as we head into the winter holidays this year.
Anti-Inflammatory Powers of Beans
I'm all about lowering inflammation through food and it's easier than you might think. All of the recipes in my book (and blog!) are really simple to make, are plant-based and focused on reducing inflammation in the body. I work with a lot of folks who are on a cancer journey, have an autoimmune disease, are working through blood sugar or cardiovascular challenges and many of them struggle with pain and fatigue. It's really critical to be able to make healthy food fast so that you've got it on hand for the good days as well as the hard days. Whether that's your health or just a very busy family or work life, this recipe is for you.
A lot of people ask me which bean is healthiest and the answer is: all of them are amazing for you! They are all rich in fiber, devoid of saturated fat, contain protein, vitamins, minerals and antioxidants. The colorful beans – black and red kidney do have some really special antioxidants and you can tell that from the color, just like fruits and veggies. I use chickpeas and black beans in this recipe but honestly, you could use just about any type of bean you want. Navy, white, pinto or kidney would all work perfectly. This would be a great change to experiment with new kinds of beans you haven't used before.
Making the Easy Chickpea and Black Bean Veggie Burgers
These are actually really fun to make and even if you have mobility or pain issues, they're very accessible. You can make them by mashing everything and mixing it in a bowl but to make your life easier, use a food processor. The bowl/mash instructions are in the book but the food processor instructions are here below.
After you preheat the oven and prep your pan, start with the beans/chickpeas and get them worked into a paste with just a few pulses. After that, you want to get the garlic and onion pulsed in so that you get them very incorporated into the batter.
You can add the cumin, salt and pepper right into the beaten eggs and pour them in or you can just pour the eggs in, pulse, then add the spices. That's up to you and what feels easier. Feel free to make these completely vegan by using a flax egg instead. You'll need some type of binder so that or egg replacement can work well.
Finally, pour in the bread crumbs and oats. Make these gluten-free by using gluten free bread crumbs. Pulse the bread crumbs and oats in so it's a thick batter and then you're ready to go! This is a fun thing to get a partner, child, or teen involved with. Shape the patties into 6-8 (depending on the size) then lightly flatten them out on the pan so they're perfectly burger shaped.
I use simple toppings on the burger bun: lettuce, tomato, and avocado which adds a satiating and very anti-inflammatory flavor and texture. Feel free to add classic toppings like mayo, ketchup, mustard, hot sauce or bbq sauce. If you're not vegan, these are great with cheese (or if you are vegan, use a substitute!).
Other Bean Recipes YOU Need right now
Black Bean Brownies
Crostini with Beans, Ricotta, Honey and Thyme
Vegan Spiced Baked Beans
Easy Tomato Basil Bean Pasta
Vegan Black Eyed Pea Dip with Avocado 
Let me know if you try these! I'd love to hear from you in a comment here on the blog. You can also connect with me with my newsletter where I send out recipes like these, special offers, and resources a couple times per month.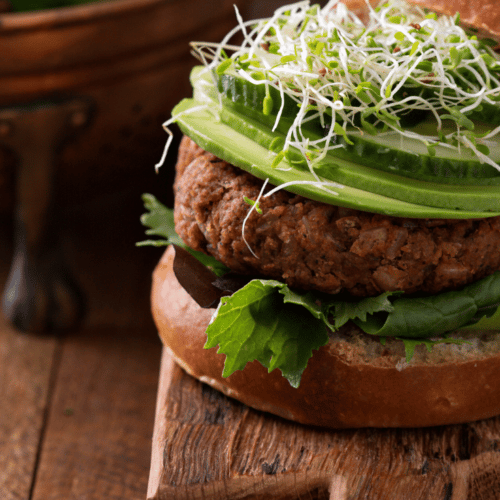 Easy Chickpea and Black Bean Veggie Burgers
Vegetarian, meal-prep friendly, easy, and delicious, you'll make these over and over again
Print
Pin
Rate
Ingredients
1

15oz

can black beans, rinsed and drained

1

15oz

can chickpeas, rinsed and drained

1/2

yellow onion, chopped

3

cloves garlic, minced

2

eggs, beaten

*or egg replacement for a vegan/allergy friendly version

1

teaspoon

ground cumin

3/4

teaspoon

salt

3/4

teaspoon

freshly ground black pepper

1

cup

whole wheat bread crumbs

gluten-free is ok, too!

1/2

cup

rolled oats

6

whole wheat burger buns

1

ripe avocado, cut into slices

6

large romaine lettuce leaves

1

medium, ripe tomato, sliced thinly
Instructions
Preheat the oven to 375 degrees. Line a sheet pan with parchment paper or a silicone liner.

In the bowl of a food processor, add the beans/chickpeas and pulse them for 30 seconds until they are combined and start to form a batter.

Add the onion and garlic and pulse for another 15 seconds.

Add the eggs, cumin, salt, and pepper and pulse for a final 15-20 seconds until all ingredients are incorporated.

Pour in the bread crumbs and oats and pulse just until they incorporate into the batter.

Divide the mixture into 6 portions with your hands, form them into round patties, then place them on the prepared pan, pressing them down gently with your palm so they're burger-shaped.

Bake the burgers for 30 minutes, flipping half way through until they're lightly crisp on the edges and lightly browned.

Serve the burgers hot on buns with the avocado slices, lettuce and tomato. Use ketchup and mustard or any other toppings if desired.
Ginger Hultin,MS, RD, CSO
An award-winning, nationally recognized nutrition expert and media spokesperson.
Thanks for visiting! If you're like me: obsessed with eating, wine, going out and traveling, you're in the right place. Champagne Nutrition® LLC is a Registered Dietitian-run concierge virtual practice helping clients look and feel better. On this blog, you'll find cocktails, mocktails, and plant-based recipes that are easy to make quickly at home and pack for leftovers on your adventures.