Cherry Tomato Bruschetta with Fresh Herbs
Bruschetta is a traditional Italian antipasto from Italy that is bursting with delicious fresh Mediterranean flavors. It's super simple to prepare and makes a great appetizer, healthy snack, or even a light lunch. I love to make this recipe in the summer when we have a ton of tiny red tomatoes in the garden but this Cherry Tomato Bruschetta with Fresh Herbs recipe works great any time of the year. 
Seattle is a little rough for truly getting that heat from the sun when growing foods like tomatoes and basil. If you have the right spot in your yard, you can get some gorgeous produce so I grow these in the sun and keep an eye on the water. These days, the summers are very dry and with tomatoes, you need to make sure that the watering schedule is just right. There have been a few years where I had a huge crop and enjoyed recipes like this one very much.
About Bruschetta 
Any bruschetta recipe is pretty simple, made of grilled bread with flavorful fresh toppings that are usually a mixture of herbs and vegetables – but really there are endless possibilities! It's fun to pick some fresh tomatoes and basil from the garden if you have it and it's the season, but picking up ingredients from the store works perfectly as well.
Topping variations often include tomato and other savory ingredients. Feel free to get creative with it, adding whatever you like to it – olives, sun dried-tomatoes, mushrooms, greens, or even a bean mixture. The toppings combine to create a nutritional dish. Some recipes sauté the garlic while others don't – I chose one that does to release the fragrant flavor of garlic simmered in warm olive oil.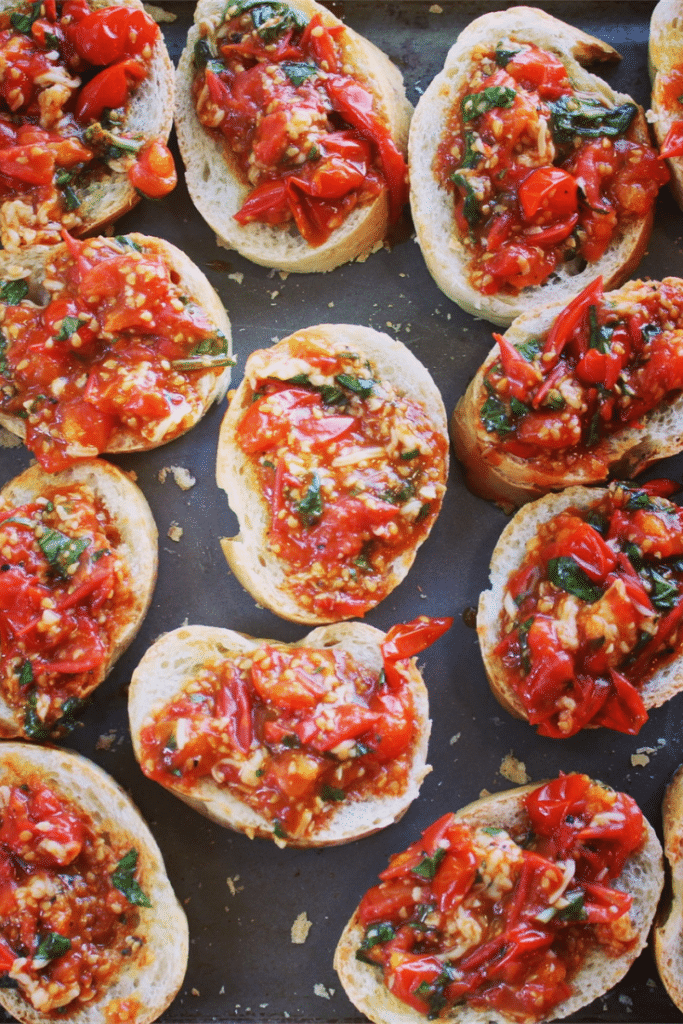 The Ingredients for Cherry Tomato Bruschetta with Fresh Herbs
This bruschetta is packed with antioxidant-rich superfoods. You don't have to pay an arm and a leg for rare and expensive "superfoods," some of the most humble foods that we use everyday are some of the most nutritious.   
Tomatoes 
Tomatoes are packed with the antioxidant lycopene that gives them their red coloring. Lycopene has anti-cancer benefits and is good for the heart. It can help protect cells from damage, reducing the risk of certain cancers. Lycopene may also help lower LDL cholesterol and blood pressure. Tomatoes are high in a lot of other nutrients as well, like vitamin K, vitamin A, vitamin C, and vitamin E, which all act as antioxidants in the body. Tomatoes also contain B-vitamins and many trace minerals including potassium, magnesium.
Garlic 
Garlic is the Allium plant family along with onion, leeks, chives, and others. These veggies are detoxifying and offer anti-cancer and cardiovascular benefits. One of the compounds responsible for the health benefits is called allicin. Eating either raw or cooked garlic has been shown to help maintain healthy blood pressure levels, support the immune system, and have anti-inflammatory benefits. In one study, participants who regularly ate garlic,  fruits and vegetables, had 35% lower colon cancer risk.
Olive Oil
A staple of the Mediterranean diet is olive oil. It is high in monounsaturated fats making it a heart healthy oil. Extra-virgin olive oil has a high amount of antioxidants that help to lower inflammation. Consuming olive oil may be protective against strokes and heart disease. Olive oil also contains vitamin E and vitamin K. Both these vitamins have antioxidant properties. In addition, vitamin K is gone for bone health. 
Herbs
Using fresh herbs is a great way to add in some extra nutrition into a dish. Fresh basil is packed with nutrients like vitamin K and vitamin A. It also contains some minerals like manganese and copper. Basil has a lot of antioxidants and can help to reduce inflammation in the body. It may also have anti-cancer and heart protective benefits.   
Make it a Meal! 
To turn this Cherry Tomato Bruschetta with Fresh Herbs recipe from an appetizer into a meal you can bulk it up with some plant proteins to make a fresh and satisfying dish. When making the topping, you can add in some white beans, chickpeas, or blackeyed peas. You could also crumble in some tofu or tempeh. Cook the added ingredients with the garlic and tomatoes and season to taste. Serve the same way you normally would over the toasted baguette and enjoy!  
Make Cherry Tomato Bruschetta with Fresh Herbs
Making the Topping
Start by heating the olive oil in a small skillet over medium-high heat. Add in the minced garlic and stir for about a minute until aromatic. This step helps to infuse the flavor of the garlic into the oil. Next, add in the tomatoes and cook for another three to four minutes until warm. You can use the back of your spoon or a fork to mash them lightly so that they burst open. This will help release their juices and release even more flavor. 
Next, remove it from the heat and place the garlic and tomatoes in a mixing bowl and add in the balsamic vinegar and basil. Add in a sprinkle of salt and pepper. At this point it is important to taste and adjust seasoning to your preference. You can add a little more salt, pepper, vinegar, or any other herbs you would like.
Prepping the Bread
A baguette is used for this recipe and you want to make it nice and crunchy. Start by cutting the whole baguette into diagonal slices. Then pain each slice with a thin coating of olive oil. Place the slices of bread into the oven and broil them until golden brown on both sides. This should only take a few minutes. Remove them from the oven – they are now warm and slightly crispy.
Putting it all Together
To serve the bruschetta, spoon the tomato, basil and garlic mixture generously over the slices of bread. Serve them warm on a platter as an appetizer.
Some of my other favorite appetizers are crostini with beans, ricotta, thyme and honey,  vegetarian stuffed mushrooms, and kalamata olive tapenade, which are perfect for game day or for a party at your house. What are some of your favorite appetizers? How do you enjoy bruschetta?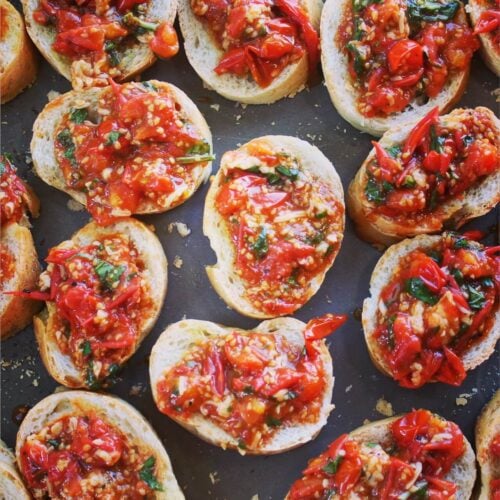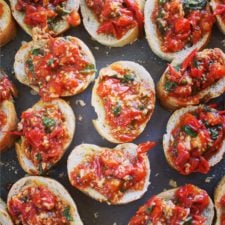 Ingredients
3

tablespoons

olive oil

4

cloves

garlic, minced

2

pints

red cherry tomatoes

1

tablespoon

balsamic vinegar

16

whole fresh basil leaves, torn

1/4

teaspoon

salt

1/4

teaspoon

freshly ground black pepper

1

whole baguette
Instructions
In a small skillet, heat the oil over medium-high heat. Add in the garlic and stir, cooking for about one minute, until golden. Add the tomatoes and cook for 3-4 minutes, until warm, mashing lightly to burst open.

Place the cooked garlic and tomatoes in a medium-sized mixing bowl and add balsamic, basil, salt and pepper.

Cut the baguette into 1/4 inch thick diagonal slices. Paint each with a thin coating of olive oil and broil until golden brown on both sides; about 2-3 minutes on each side.

To serve, spoon tomato mixture generously over the slices of bread. Serve warm on a platter as a first course or appetizer.
Ginger Hultin,MS, RD, CSO
An award-winning, nationally recognized nutrition expert and media spokesperson.
Thanks for visiting! If you're like me: obsessed with eating, wine, going out and traveling, you're in the right place. Champagne Nutrition® LLC is a Registered Dietitian-run concierge virtual practice helping clients look and feel better. On this blog, you'll find cocktails, mocktails, and plant-based recipes that are easy to make quickly at home and pack for leftovers on your adventures.