Vegetarian Stuffed Mushrooms
Wow life is busy right now? How about for you? I've had a couple weeks where I have events every single night leaving me with no energy to prepare healthy meals and snacks for myself. This is where meal prep and sheet pan recipes like Vegetarian Stuffed Mushrooms come in. You need these in your life. 
I'd love to know how you strike a balance when you're feeling like you're in over your head with 'life'. For myself, to avoid getting burnt out, I have to make sure to prioritize sleep, take my supplements, moderate alcohol and make time for walks and yoga. I also need simple, healthy go-to recipes to bring with me to parties and events that don't take long to make! Enter Vegetarian Stuffed Mushrooms – the answer to all of your entertaining needs and "what should I eat tonight?" problems.
About the Vegetarian Stuffed Mushrooms Recipe
Vegetarian Stuffed Mushrooms are quick to make and are a huge crowd pleaser. They are great to bring as an appetizer to a party and people will definitely be asking you for the recipe by the end. You can also meal prep them over the weekend to have a delicious and healthy snack waiting for you when returning home from work or school. Having something premade makes choosing a healthy option that much easier.  
With my dietary restrictions – no meat or tree nuts (YIKES), I need to plan ahead for success when going to parties and events. Dietary restrictions can make it difficult when going out. One sure way to have something you know you can eat? Bring something amazing yourself! That's where Vegetarian Stuffed Mushrooms come in. 
Health Benefits of Mushrooms
Mushrooms have a lot of health benefits and are a great addition to a balanced diet. There are about 20 varieties of mushrooms that are flavorful and used in cooking, with some of the most popular ones in the U.S. being Crimini, Portobello, Oyster, Enoki, Chanterelle, and Shiitake mushrooms. 
Mushrooms are very nutrient dense because they are low in calories but contain important vitamins, minerals, and antioxidants. They are a good source of trace minerals including zinc, potassium, copper, and selenium. It is often quite possible to get the vitamins and minerals you need in your diet if you're eating foods that are THIS rich in nutrients. One really amazing pro-tip about mushrooms is that some of them contain vitamin D if they've been grown in UV light. Check the label for "UV exposed". And here's my vitamin D article about which foods have this hard-to-get nutrient. 
A form of soluble fiber called Beta-Glucan found in mushrooms has been linked to improving cholesterol and supporting heart health. It's also a compound that can help strengthen the immune system which is one reason you'll see mushrooms recommended so much in cancer treatment, risk reduction and prevention of recurrence. Mushrooms are also a very good source of B-vitamins which are especially important for energy levels.
Two antioxidants in mushrooms, ergothioneine and glutathione, may help boost memory and prevent cognitive decline. These powerful antioxidants can also help to reduce inflammation and protect cells in your body. Luckily, cooking does not damage the antioxidants so adding cooked mushrooms to your diet will help provide these important nutrients. There are so many wins when eating mushrooms. 
The Importance of Umami
Mushrooms are also a great source of umami in vegetarian recipes. Umami is a category of taste, like sweet or sour. Umami refers to a savory or "meaty" flavor that is an important component to many recipes. While an umami flavor is often accomplished by using meats and meat-based broths, there are many vegetarian sources that can bring umami to a recipe including olives, soy sauce, balsamic vinegar, nutritional yeast, sea vegetables and mushrooms. 
Without umami, a savory dish may feel like it is lacking something. While stuffed mushrooms often contain meat to provide this important flavor, replacing meat with mushrooms maintains that umami flavor while offering a vegetarian alternative. 
Making Vegetarian Stuffed Mushrooms
My Mom and I made these for a family get-together when we knew that we needed something healthy on-hand. We added some white wine and Parmesan for additional flavor and turned the egg white into a whole egg. We also changed the herbs a bit and they turned out great. 
The Mushrooms
The first step is to remove the stems from the mushrooms to make room for the filling – but they will not go to waste! We will use all parts of the mushroom in this recipe. I use crimini mushrooms or white button mushrooms. It is also possible to use other kinds of mushroom that have a large and sturdy cap, like a portobello mushroom. Other types of mushrooms like shiitake, while delicious, will be more difficult to use in this type of recipe.
Now for the mushroom stems. We will finely chop them and sautee them with shallots and white wine. The shallots and wine will bring an additional layer of flavor to the recipe. This mixture will be transferred to a bowl and panko bread crumbs will be added. Panko crumbs add a delicious crunchy texture to the stuffed mushrooms.
The Filling
Next the egg, herbs and seasoning will be added. Herbs boost the nutritional profile of the dish. Herbs are full of compounds that have many health benefits. They fight inflammation and are concentrated sources of antioxidants and phytochemicals that help to prevent cell damage. Xyz The egg helps to hold the mixture together, adds moisture and gives a beautiful golden brown color after baking. Parmesan is then added, giving an additional umami flavor boost. 
Substitutions 
This recipe can be adapted to fit your personal dietary needs. White wine can be replaced with white grape juice, vegetable broth, or apple cider vinegar. 
Panko bread crumbs can be replaced with gluten free Panko bread crumbs to make this recipe suitable for those with Celiac disease or gluten intolerance. 
If avoiding eggs, there are a few alternatives that can be utilized. Using melted butter (or vegan butter) will help provide moisture and help to hold the filling together. In addition, products including JUST Egg or other vegan egg alternatives can be used to replace the egg. You can also make a 'flax' egg with ground flax and water for a high-fiber, vegan substitute. 
Finally, the parmesan cheese can be omitted completely or be replaced with a vegan parmesan or other cheese alternative to make this recipe dairy free. Nutritional yeast is a great substitute for that savory flavor. 
What is your strategy to fit it all in and also honor your own health during busy times? Drop me a message below to let me know and if you need more super quick and easy sheet-pan recipes, try my Sheet Pan Teriyaki Tofu with Pineapple and Veggies or my Healthy Vegetarian Sheet Pan Nachos.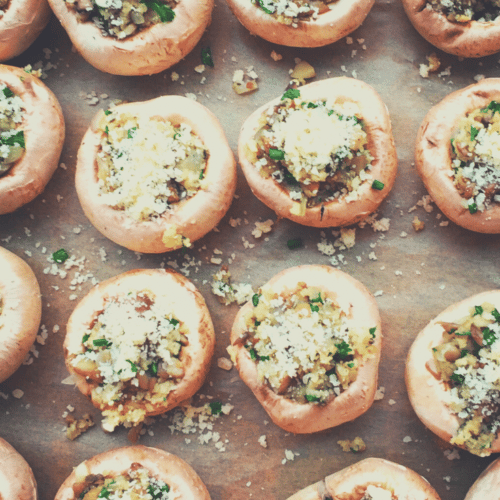 Ingredients
24

large white mushrooms

3

Tablespoons

olive oil

2

shallots, finely chopped

2

Tablespoons

dry white wine

1/2

cup

whole-wheat panko bread crumbs

1

whole egg, beaten

1 1/2

teaspoons

fresh chives, chopped

1 1/2

teaspoons

fresh curly parsley, chopped

1 1/2

dried oregano

1

teaspoon

salt

1/2

teaspoon

freshly ground black pepper

4

Tablespoons

freshly grated Parmesan cheese

(divided)
Instructions
Preheat the oven to 350 degrees F. Remove the stems from the mushrooms. Place mushroom caps upside down on a parchment lined baking pan.

Finely chop the mushroom stems. Heat 2 Tablespoons of olive oil in a medium skillet. Add chopped stems and shallots and sauté for 4 minutes. Add white wine and cook for 2 minutes more. Transfer the cooked stems to a small bowl and stir in the bread crumbs then let sit to cool slightly for 5 minutes.

Add the egg, chives, parsley, oregano, salt, pepper and 2 Tablespoons Parmesan to bread crumb mixture. Stir well to combine.

Spoon into mushroom caps, slightly rounding on the top. Top mushrooms with additional 2 Tablespoons of Parmesan.

Bake for 30 minutes or until mushrooms are tender and topping is browned. Let cool and garnish with additional chives, parsley and oregano.
Ginger Hultin,MS, RD, CSO
An award-winning, nationally recognized nutrition expert and media spokesperson.
Thanks for visiting! If you're like me: obsessed with eating, wine, going out and traveling, you're in the right place. Champagne Nutrition® LLC is a Registered Dietitian-run concierge virtual practice helping clients look and feel better. On this blog, you'll find cocktails, mocktails, and plant-based recipes that are easy to make quickly at home and pack for leftovers on your adventures.