Salad Skewer with Peanut Dressing
I love mixing up my salads and finding new ways of eating fresh veggies. Not having the fresh produce you love ready to go (pre chopped, cleaned, and prepared to serve) is a major barrier for my clients and so I'm constantly creating new recipes to make it easier. Enter salad skewers with peanut dressing. These transport well for bbqs and picnics and is fun for kids and adults alike. One way to get people to eat more veggies is to make them more fun to eat. Bonus: these are so easy to make.
Eat more vegetables and fruits
Did you know that current recommendations say we should be eating 5-9 servings of fruits and veggies per day? Many of my clients do a decent job at eating fruit – sometimes even over-eating it by putting 4-5 servings in a smoothie or eating 1/2 a pineapple or melon in a day. Fruit is awesome of course, but veggies have important qualities, too, and the ratio of eating them should be higher than eating fruit. 
Vegetables often offer more of a bitter flavor while fruit is intensely sweet so many people are more naturally drawn to it. When you have a great flavorful amazing vegetable dish, that helps you easily achieve your daily veggie intake. This salad skewer with peanut dressing recipe is a great start if you look for an easy, yummy way to increase your intake.
Studies clearly indicate the benefit of eating more produce. The huge women's health study of 39876 female health professionals with no previous history of cardiovascular disease or cancer were followed by researchers for 5 years to identify how often they had a nonfatal heart attack, stroke, coronary artery disease and even death related to a cardiovascular incident. After adjusting for age, smoking, etc, they found a significant inverse association between fruit and vegetable intake and cardiovascular disease risk. That's right: eating more fruits and veggies has been found to lower your risk of these serious heart issues. 
Eating more fruits and veggies has also been linked to reduced cancer risk in studies. As you probably know, anti-cancer nutrition is a huge passion of mine; so much so that I have a sub-brand – Seattle Cancer Nutritionist – where I help clients through their cancer journeys. 
There are so many health reasons to eat these types of foods…aside from the fact that they are delicious and versatile. Simple recipes like a salad skewer with peanut dressing are a fun way to increase intake effortlessly.
Making Salad Skewer with Peanut Dressing
Peanut butter
The base of this dressing is creamy peanut butter. Some people think peanut butter cannot be considered a "healthy" ingredient because it's high in fat and calories. The benefit is, peanuts are high in fiber and contain heart-healthy unsaturated fat. Be sure to buy unsalted peanut butter where peanut is the only ingredient. You don't need any added sugar or oil. You can make homemade peanut butter as well if you have a good grinder. 
Peanut butter is high in unsaturated fats but with saturated fats from meat and dairy, unsaturated fats are more heart-healthy. Peanut butter is also considered a great source of plant-based protein. There are 7 grams of protein in every 2 tablespoons of peanut butter.
If you've got more peanut butter questions, I'm chatting about the best brands and how to shop for it in this Everyday Health article that just came out. Let me know what you think!
Lime
Limes are well known for their high vitamin C content: one lime can provide 20-30% of your daily vitamin C. Vitamin C is an important antioxidant in the body. It helps quench free radicals, which can protect cells from damages and reduce inflammation. Adding lime juice to the dressing is not only for the fresh citrus flavor but also for the healthy boost of vitamin C.
Olive oil
Do you know that 98% of the olive oil in the world is produced in the Mediterranean area? And 90% of the olive oil is consumed in the Mediterranean, as well. Of course it is a key ingredient in the Mediterranean diet, which is rated as the overall best diet according to the U.S. News & World Report rankings year after year. 
Olive oil contains a high amount of monounsaturated fatty acids, which is effective for lower total cholesterol and LDL (bad cholesterol) levels. Additionally, olive oil contains a lot of antioxidants, which have anti-inflammatory benefits for the body. 
If you need some tips on how to properly buy and store olive oil, I've got a whole post about it over on the blog. Leave me a comment to let me know you're there! 
Honey
Honey offers just a touch of sweet that's perfect in this recipe. Table sugar has a standard sweet taste, but the taste of honey can be varied so that you can play it around in your kitchen depending on where it comes from. Historically, honey has been commonly used in traditional and folk medicine for treating many symptoms and diseases. If you are allergic to honey or you want a vegan version, you can simply substitute honey with agave syrup as another relatively natural alternative.
Ginger
Ginger has a mix of sweet and spicy flavors that really complement peanut sauce. Because ginger contains antioxidants like limonene and citral, it has a lime-like fragrance. It is native in south Asia and is commonly used in Asian-style salad dressings or sauce. Ginger is not only a flavoring agent, but also used in traditional medicine that is used for cough, upper respiratory tract infections, and colds and flu. Ginger has anti-fungal, antibacterial, and anti-inflammatory effects, which might boost your health when you add it to your diet on a regular basis.
If you need some help controlling inflammation in your body, I've got a book out: Anti-Inflammatory Diet Meal Prep that will change your life. 
Other veggie recipes for you
I have lots of veggie recipes on the blog if you need some inspiration. Check out:

Spicy Vegetable Stir Fry with Peanuts
What are your favorite ways to eat them? Be sure to leave a comment below!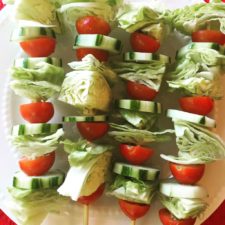 Salad Skewer with Peanut Dressing
Eat your salad in a fresh, new way with this easy skewer recipe. You'll use this dressing again and again.
Print
Pin
Rate
Ingredients
2

medium cucumbers

1

head iceberg lettuce, cut into small, bite-sized chunks

1

pint

cherry tomatoes

1/4

cup

creamy unsalted peanut butter

2

tablespoons

rice vinegar

1

lime juiced with seeds removed

3

tablespoons

olive oil

1

tablespoon

soy sauce

2

tablespoons

honey

1

teaspoon

sugar

2

garlic cloves, minced

1-

inch

square piece fresh ginger, grated

1/4

teaspoon

crushed red pepper flakes

2

tablespoons

fresh cilantro leaves
Instructions
For the dressing, combine all of the ingredients except for the cilantro in a blender and process until completely smooth. Add the cilantro and blend for a few seconds until the cilantro is finely chopped. Refrigerate until ready to serve.

Using 10 wooden skewers, skewer cucumber, lettuce and tomatoes then drizzle with dressing or serve on the side for dipping.
Ginger Hultin,MS, RD, CSO
An award-winning, nationally recognized nutrition expert and media spokesperson.
Thanks for visiting! If you're like me: obsessed with eating, wine, going out and traveling, you're in the right place. Champagne Nutrition® LLC is a Registered Dietitian-run concierge virtual practice helping clients look and feel better. On this blog, you'll find cocktails, mocktails, and plant-based recipes that are easy to make quickly at home and pack for leftovers on your adventures.