Smokey Black Bean Pineapple Salsa
Fruity, spicy salsa with chips always make me think of summer, even if I'm dead in the middle of a cold and gloomy Seattle week. Something about that tropical heat just whisks me away to a quiet, warm beach somewhere far away from work and responsibilities. More than that, a flavorful and easy to assemble salsa is perfect for a last minute get-together or potluck in the middle of a busy weekend when you snag a bag of chips from the store on the way to a party. I adapted this salsa recipe to include fun flavors and colors plus vibrant, intense smoked paprika dressing to make Smoky Black Bean Pineapple Salsa.
This simple salsa takes just a few minutes to put together. I love that it actually uses a lot of canned ingredients to save you time and money, too. The more you can stock up on pantry essentials, the easier cooking becomes. There's a lot of evidence that frozen and canned foods maintain their nutrition very well so you don't have to feel guilty at all about using this kind of "prepared" foods. Most of your time prepping this recipe is spent chopping and then you just combine everything together and you're done! The flavors mingle together over time so this Smoky Black Bean Pineapple Salsa tastes best when you make it in advance. It's a dish that you can store in the refrigerator for several days and use as needed. It's so nice to have these kinds of protein-packed snacks on-hand. It makes such a difference, especially if you work from home like me! 
Use the fresh pineapple, if you can
I've made this with both fresh pineapple or canned pineapple and both are still flavorful and delicious; though I have to admit, the fresh pineapple really kicks the whole thing up a notch with the bright, acidic kick fresh pineapple brings to the table. Plus, if you really want to impress your friends, come over with a whole fresh pineapple to break down with some simple knife skills. Nothing says "I'm here to have a good time" quite like showing up with a giant, spiky fruit. 
Feeling intimidated about picking and breaking down a fresh pineapple? I've got you covered! Go check out my blog post on Pineapple, Cucumber, Mint Infused Water for instructions and pictures on the whole process. I promise, it's actually really easy to use fresh pineapple and this recipe Is worth the effort. Especially if you're using fresh pineapple, let this sit for at least an hour or two before serving to allow the pineapple to macerate. This essentially just means that you're letting the pineapple soften and give off more of its sweet juices by allowing the whole thing to soak in the dressing and pineapple liquid mixture.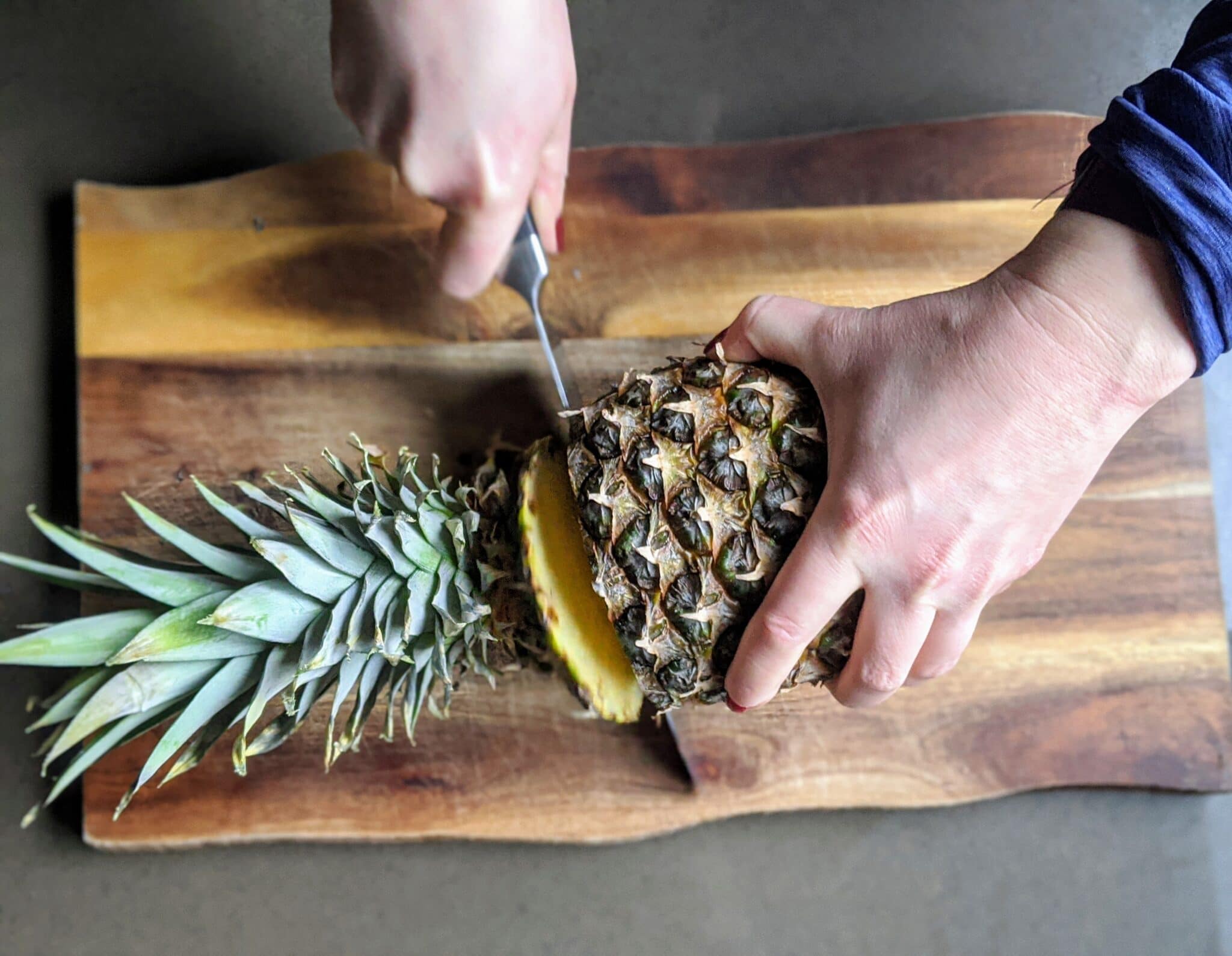 Salsa without tomatoes?
This salsa as written focuses on using other produce like the pineapple, bell pepper, and celery as the base instead of tomatoes, like a classic salsa. If you want more traditional salsa flavors going on here, you could add in some fresh red or green tomatoes, diced up. Green tomatoes would look beautiful alongside the bright yellow and green or the bell pepper, celery, pineapple, and jalapeno. If you don't feel like chopping up that extra veg, then just leave the recipe as is! I promise, it'll blow your socks off either way.
Mild, spicy… You pick!
I've designed this salsa to be fairly mild. With only one seeded jalapeno for such a large batch, this salsa is perfect for kids or adults who are hesitant around spicy food. For you heat lovers, you would want to either add extra jalapeno or leave in the seeds for a spice kick. But do make sure you use smoked paprika, not regular paprika. This is what gives the salsa it's wonderful smoky flavor without imparting heat to the dish. This is one of those critical ingredients that really makes this side dish special. 
Making Smokey Black Bean Pineapple Salsa
 This is the easy part…making the salsa! I always suggest getting all your ingredients out and prepping them. It's ideal to have some small and medium-sized glass prepping bowls out so you can put the different ingredients in them as you chop. Prep your pepper, celery, and jalapeno and then combine all your herbs and spices in a bowl on their own. Open your cans, rinse the beans and prep your pineapple if you're chopping it fresh. After that, you literally combine all the ingredients for the Smokey Black Bean Pineapple Salsa in a large bowl, mix and you're done!
This recipe is great for a party with chips or crackers or top a piece of grilled fish like salmon. If you can get yourself on a tropical fish like mahi mahi, the pineapple flavors of this salsa would create the garnish for a beach-inspired meal. Packed with vitamins, minerals, antioxidants and fiber, the natural smokey flavor and sweet brightness is sure to be your new favorite party appetizer.
Smokey Black Bean Pineapple Salsa
This Smokey Black Bean Pineapple Salsa is simple, delicious and uses pantry staples that you already have on-hand.
Print
Pin
Rate
Ingredients
1

15-ounce

can diced tomatoes

(drained)

1

medium yellow bell pepper

(finely chopped)

2

stalk celery

(finely chopped)

1/2

jalapeño pepper

(seeded and finely chopped)

1

15 ounce

can black beans

(rinsed well)

8

ounce

canned pineapple chunks

(drained and roughly chopped)

2

Tablespoons

extra-virgin olive oil

2

Tablespoons

finely chopped fresh cilantro

1

Tablespoon

apple cider vinegar

1

teaspoon

smoked paprika

1

teaspoon

pure maple syrup

1/2

teaspoon

sea salt

1/2

teaspoon

sea salt freshly ground black pepper
Instructions
Combine tomatoes, bell pepper, celery, jalapeño, beans and pineapple in a large mixing bowl and stir well with a wooden mixing spoon. In a small bowl, whisk the olive oil, vinegar, paprika, maple syrup, salt and pepper then pour over salsa mixture and stir to coat.

Serve immediately or refrigerate in an airtight container for up to 3 days. Serve with chips or over grilled salmon.
Ginger Hultin,MS, RD, CSO
An award-winning, nationally recognized nutrition expert and media spokesperson.
Thanks for visiting! If you're like me: obsessed with eating, wine, going out and traveling, you're in the right place. Champagne Nutrition® LLC is a Registered Dietitian-run concierge virtual practice helping clients look and feel better. On this blog, you'll find cocktails, mocktails, and plant-based recipes that are easy to make quickly at home and pack for leftovers on your adventures.