5 Reasons Champagne is so Special
Champagne has a very special place in my heart….I named my business after is and it's my go-to for every and all celebrations. I wanted to share a little bit more with you today about why I'm Champagne Nutrition and 5 reasons champagne is so special in general. A lot of people don't actually know a lot about this gorgeous, fermented, traditional beverage. I've got some champagne quotes for you, some champagne facts and insider info that you need to better understand this most magical of drinks.
Champagne Nutrition isn't actually about drinking champagne…though that could be part of it. It's more of a champagne state of mind: celebrate life, don't deprive yourself, sip and enjoy something special. That really applies to so many things. The way I practice is about adding in foods you love and indulging when it makes sense for you and your goals. A lot of us are just living very out of balance and not making our health a priority so working with a registered dietitian like me helps you make that shift. If this speaks to you, please reach out and connect. You wouldn't believe how life changing it can be to have a nutrition expert on your team.
The reason I love drinking champagne is because it's so special, so unique, and it pairs incredibly well with food, too. Whenever you pop that bottle, happy times immediately come to mind. Whether it's a wedding, new years, or a brunch with friends, champagne equals fun and togetherness. Given the fact that a serving size of alcohol is 5 ounces, you're going to need to split that bottle with 2-3 other people so it's naturally something to enjoy with friends and family.
"Come quickly, I am tasting the stars!" Dom Pérignon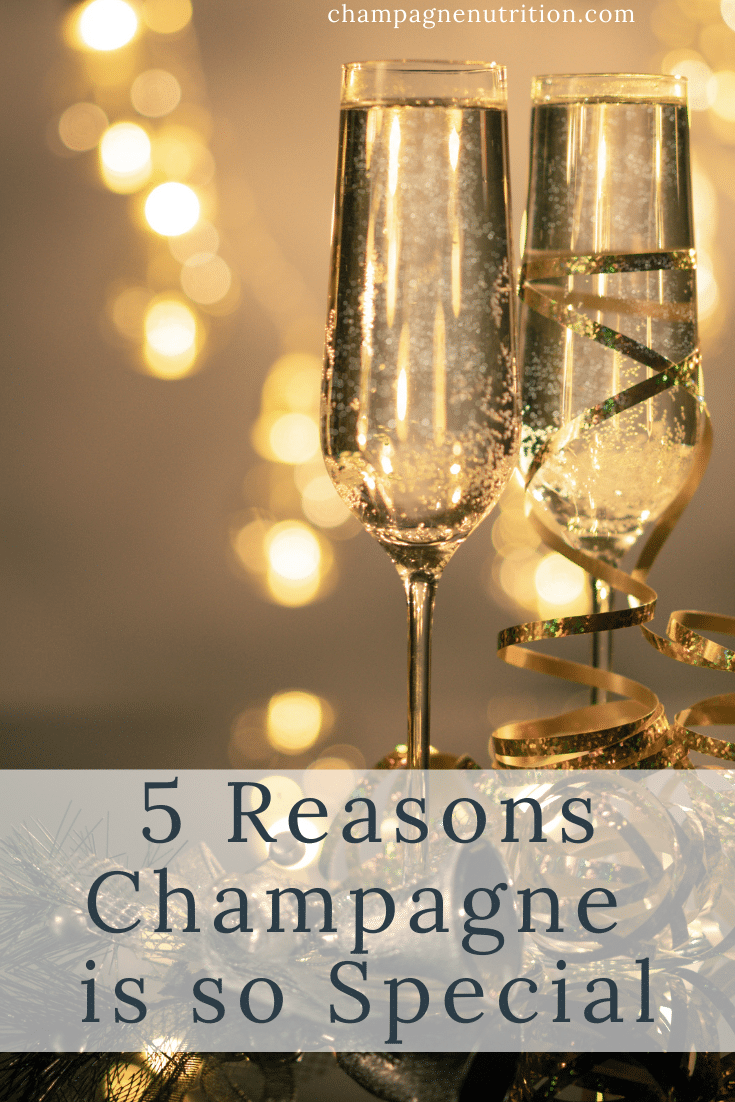 My Champagne Recipes
If you want to get experimental with champagne in your life, I've got you covered. Of course, if you have a very nice bottle you've splurged on, it's best tasted on it's own. The way that champagne is made creates subtle flavors that you can really only pick up on when you enjoy it plain and simple. However, if you've got a sparkling wine that you enjoy or you're not a fan of champagne on it's own, then here are some ideas for you:
Creme Champagne Cocktail
Champagne Jello Shots
Citrus Champagne Fizz
Hazelnut Coffee Champagne Cocktail 
Smashed Cranberry Champagne Cocktail
Coconut Champagne Bread
Champagne Cupcakes
My Champagne Articles
Being Champagne Nutrition, I definitely talk a lot about champagne and wine. Here are some fun posts and articles I'm in if you want to learn more and do a deeper dive into the world of champagne and wine:
How to rock a champagne tasting 
Health benefits of mulled wine
Wine is full of healthy polyphenols
Which type of red wine is healthiest?
The Special Craft of Making Champagne
One of the most important of the 5 reasons champagne is so special is because of the way it's made and carefully crafted. Red and white wines are made in a variety of ways but champagne has a lot of rules and regulations based on the region it's made in – Champagne, France – and the old tradition of making it.
The soil in the region where the three types of champagne grapes grow is very special and gives the grapes a distinct flavor, as a start. Hand harvested, a lot of the vineyards in this area are very old and handed down by generations. In a process called Méthode Traditionnelle or Méthode Champenoise, these grapes must be hand picked – no machinery allowed! They're fermented into white wine and then that wine goes through a 'secondary fermentation' when yeast and sugar is added and corked. The yeast eats the sugar, releasing CO2 gas (bubbles!), and then the yeast dies as the alcohol content develops and the sugar is consumed. The dead yeast is part of what gives champagne its unique taste.
Champagne has to be aged for a long time – at least 15 months – but many of the bottles are aged much longer. They're kept in racks in cool caves and handled with care, regularly turned, and monitored. As it ages, it often gets more golden in color and the flavors turn from fresh fruit to dried fruit, more nutty with hints of honey and toast.
Remember, all champagne is sparkling wine, technically – but by no means is all sparkling wine champagne. That's similar to registered dietitians. We're all "nutritionists" but absolutely NOT all nutritionists have met the criteria to be a registered dietitian.
The Unique Aroma of Champagne
Did you know that champagne smells like brioche, yeasty bread, and sometimes mushrooms, buttermilk, lemon and other delicious and complex things? It can also smell like stone or limestone, pears or apples, or even baking spices. Instead of drinking champagne out of the traditional flute, some people prefer a wine glass so they can really get their nose in the glass and take a whiff of the light, delicate aromas.
Next time you're drinking champagne (or sparkling wine), give it a good whiff before diving in and see what you find in there. Let me know what you discover!
"Too much of anything is bad, but too much Champagne is just right." Mark Twain
5 Reasons Champagne is so Special
Champagne has to be aged in caves for 15 months minimum by law
The Champagne Region is only 90 miles Northeast of Paris….perfect for a weekend trip!
All Champagne is made from three grape varieties: Pinot Noir, Chardonnay, and/or Pinot Meunier
Champagne grapes are always hand-picked
Champagne pairs well with salty, fatty foods so french fries, cheese, chips, popcorn, and fish or caviar are ideal

I thought you may enjoy these fun tips to bring out at parties or your next celebration. I hope that you now understand why champagne is so very special, why my company is named after this incredible beverage, and why it's such an expensive product, too! The love and care that goes into it creates a very special experience.
"Champagne is one of the elegant extras in life" Charles Dickens
Ginger Hultin,MS, RD, CSO
An award-winning, nationally recognized nutrition expert and media spokesperson.
Thanks for visiting! If you're like me: obsessed with eating, wine, going out and traveling, you're in the right place. Champagne Nutrition® LLC is a Registered Dietitian-run concierge virtual practice helping clients look and feel better. On this blog, you'll find cocktails, mocktails, and plant-based recipes that are easy to make quickly at home and pack for leftovers on your adventures.