Apricot Tomato Chickpea Vegetarian Stew
Eating more plant-based meals is a simple and delicious way to improve your health. For me, a plant based meal needs to be packed with flavor and easy to make- bonus points if it can be used for meal prep. Heart health is important to me as a dietitian because cardiovascular disease is a threat to us all and I spend a lot of time educating people on how to eat for a healthy heart. With that in mind, I made my Apricot Tomato Chickpea Vegetarian Stew packed with fiber and antioxidants that support the heart.
Heart Healthy Diet
When heart health comes to mind I think it is safe to say that we all know the basic steps. You know the drill: exercise, work on relaxation, and eat "right". But heart healthy eating has a lot of components. To maintain cardiovascular health from a nutrient standpoint some important things to focus on are including fiber and antioxidant rich foods, decreasing saturated fat intake and watching your sodium intake.
I mention fiber specifically because it is known to help lower your cholesterol and high cholesterol levels can lead to many different heart issues. Saturated fat is a nutrient that can also affect your cholesterol levels. Sodium can make your blood pressure higher which can also lead to major issues like a stroke or heart attack. I'm going to go through the types of foods to include one by one so you understand exactly how to eat for your heart. 
Fiber
Fiber is important for digestion, blood sugar and lowering your LDL ("bad") cholesterol. We all should be getting a lot more fiber. Women need at least 25 grams of fiber per day and men require a bit more with at least 38 grams. This is actually a pretty easy goal if you eat veggies, fruits, whole grains and beans throughout the day. Luckily, Apricot Tomato Chickpea Vegetarian Stew has all of those things together in one dish. 
Fiber is the indigestible part of the plant foods that we eat. It helps to move food through our bodies and helps you to maintain a healthy gut microbiome. Because this nutrient comes from plants it is important to include a variety of whole plant foods in your diet. 
When balanced with healthful and fiber-packed whole grain like brown rice or quinoa, this Apricot Tomato Chickpea Vegetarian Stew checks all the boxes. Some other great sources of fiber are whole fruits and vegetables like salad greens and berries, beans and lentils, ground flax seeds and wheat germ. Just think whole plant foods when it comes to fiber.
Including More Plant Based Proteins
Heart healthy diets emphasize the ability to lower cholesterol and saturated fat intake. This is easy to do by replacing animal sources of protein with plant based sources. Did you know that the human body produces its own cholesterol? Animals produce cholesterol in their bodies just like our bodies do. This means that animal sources of protein contain cholesterol while plant based sources won't contain any cholesterol. 
Instead, you can include more legumes, nuts, seeds or soy products in your diet. Plant based protein sources also have the added benefits of more fiber, micronutrients and healthy fats. Plant foods are great sources of heart healthy fats – think monounsaturated and Omega 3's- as opposed to saturated fats that have been linked to heart disease. These fats play a role in protecting your arteries, reducing inflammation and raising HDL ("good") cholesterol levels. You can find them in nuts, seeds and avocados. 
Low Sodium Flavor
The body needs sodium, but when it gets too much it can be harmful. This means keeping your intake to less than 2,300mg a day. Sodium is found in table salt, canned foods, frozen meals, premade sauces and most takeout foods. 
When you are focusing on lowering your sodium/salt intake it can be made easy and fun by adding flavor to your meals in other ways. This can be done with fruits, vegetables, herbs, and spices. 
In this recipe, apricot lends sweetness to balance the natural acidity in tomato and red pepper, while spices including chili powder, nutmeg, turmeric and cinnamon brighten the dish and add complexity. These spices are great for helping to fight inflammation as well. Anti-inflammatory foods are beneficial in preventing any disease. You can find tons of info on this in my book: Anti-Inflammatory Diet Meal Prep.
Antioxidants
Antioxidants play a crucial role in your heart health. These are foods that are high in vitamin C, vitamin E, beta-carotene and similar nutrients. This Apricot Tomato Chickpea Vegetarian Stew has apricots in it that are a delicious source of antioxidants!

You may have heard that antioxidants work against free radicals, but what does that really mean? Free radicals are an unstable atom that is regularly produced in our body as a byproduct of breathing oxygen. These atoms will try to attach to other molecules in your body in a process called oxidative stress. This kind of oxidation can eventually cause damage to your heart cells. 
You can include more antioxidants in your diet by focusing on including citrus fruits, berries, dark green leafy vegetables and other fruits and veggies that are dark in color. Look for dark reds, yellow and oranges like carrots, bell peppers, and pomegranate seeds. 
Making the Apricot Tomato Chickpea Vegetarian Stew 
The Chickpeas 
To make this stew I use canned chickpeas for convenience but you can make it using dried chickpeas as well. You will need to add extra time to your recipe prep to soak the chickpeas. For this recipe you would need to soak 1/2 cup of dried chickpeas in a large pot of water for 8 hours or overnight. You will then need to simmer the soaked beans in fresh water for 1-2 hours until tender and then follow the recipe instructions below. 
The Grains


I suggest using brown rice or quinoa as your grain base for this stew. This turns your stew into a hearty complete meal that will keep you full all afternoon or evening. To cook the grains use a rice cooker if you have one, or follow the instructions on the package. I chose these grains because they are high in fiber, easy to make and versatile. Feel free to use any grain that you like in this recipe. If you are looking to add some variety to your grains you could try bulgur, farro, or wild rice. 
Meal Prep Win


This recipe is a great option to add to your list of meal prep ideas for lunch or dinner. You could even double the recipe if you wanted to make an extra big batch. It is fantastic for leftovers and packs well in a to go container for an easy workday lunch. 
If you need some other quick, simple meals with heart healthy ingredients, check out my: Double Tomato, Basil and Ricotta Homemade Pizza, Garden Cherry Tomato Bruschetta, Sheet Pan Teriyaki Tofu with Pineapple and Veggies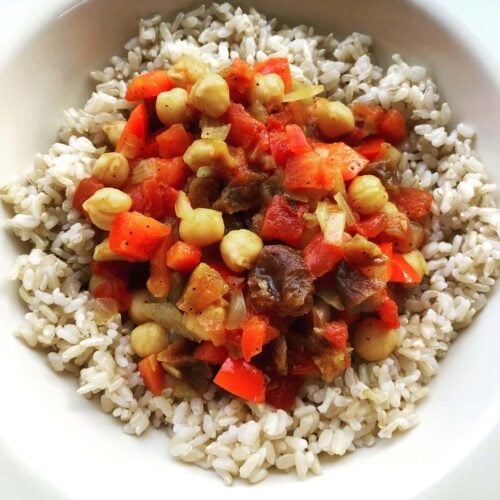 Apricot Tomato Chickpea Vegetarian Stew
This is a very healthy and unique dish that you can meal prep and have all week to serve over rice or other whole grains.
Print
Pin
Rate
Ingredients
1

Tablespoon

grapeseed oil

1

medium

medium yellow onion, chopped

2

cloves

garlic, minced

1

Tablespoon

freshly grated ginger root

1

medium

medium red bell pepper, dived

1

Tablespoon

ground turmeric

1/2

teaspoon

ground nutmeg

1/2

teaspoon

ground cinnamon

1

cup

vegetable broth

1

cup

dried apricots, roughly chopped

1-14

oz

can chickpeas, drained and rinsed

1-14

oz

diced tomatoes (undrained)

1/2

teaspoon

chili powder

1/2

teaspoon

salt

3

cups

cooked brown rice or quinoa

1/4

cup

fresh cilantro, chopped
Instructions
Warm the oil in a large pot over medium heat. Saute onions, garlic, ginger, and bell pepper for 3-5 minutes, until onions are translucent.

Add the turmeric, nutmeg and cinnamon, stirring constantly, for 1-2 additional minutes.

Add the vegetable broth to the mixture and simmer for 3-5 minutes, stirring often. Add the apricots, chickpeas, tomatoes, chili powder, and salt.

Cover and gently simmer over medium heat for about 8-10 minutes until the flavors combine and the stew starts to thicken and is very fragrant.

Ladle the stir-fry over warm brown rice or quinoa. Garnish with cilantro and serve hot.
Ginger Hultin,MS, RD, CSO
An award-winning, nationally recognized nutrition expert and media spokesperson.
Thanks for visiting! If you're like me: obsessed with eating, wine, going out and traveling, you're in the right place. Champagne Nutrition® LLC is a Registered Dietitian-run concierge virtual practice helping clients look and feel better. On this blog, you'll find cocktails, mocktails, and plant-based recipes that are easy to make quickly at home and pack for leftovers on your adventures.