Cherry Clafoutis with Orange Liqueur
There is a wonderful style of dessert called a Clafoutis that is simple, delicious and kind of fun to make. I'm on the go – you know that – but I also like to entertain, so everything I make needs to be something I can toss together in a hands-off kind of way. Enter Cherry Clafoutis with Orange Liqueur. Have you ever made clafoutis before? It's super fun. It is a classic French dessert made with fruit and a flan-like egg-based batter. It's very light and not too sweet. Clafoutis is the perfect way to use fresh or frozen fruit AND it gets a little bump in this recipe because of the Grand Mariner I used.
Cooking with Liqueur 
At Champagne Nutrition, I like to add a little kick to my non-cocktail recipes. Grand Mariner is sweet, citrusy and goes very well in a variety of recipes. My other favorite way to use it? Blended into homemade whipped cream! – Which would be fantastic on top of this dessert btw. But today I was experimenting with it in this Cherry Clafoutis with Orange Liqueur and it turned out so well. 
Adding alcohol to a recipe is a great way to add depth of flavor and make typical desserts a bit more interesting. The alcohol bakes off while in the oven so even those who choose not to drink can enjoy these flavors as well. I've experimented with a bunch of different recipes and posted my favorites on the blog. If you like this idea, check out my Red Wine Chocolate Cake, Tequila Glazed Lemony Olive Oil Cake, Rose Poached Strawberries, and Cucumber Gin Gimlet Cake. 
Nutritional Value of Cherries
Living in the Pacific Northwest we get delicious fresh cherries from June-August. One of our specialties is the rainier cherry that is both red and yellow and super sweet. For this recipe you can use any variety of sweet cherry that is available to you. 
Cherries are super nutritious and are high in fiber, vitamins and a rich source of polyphenols and vitamin C which have antioxidant and anti-inflammatory properties.Tart cherries have also been shown to aid in muscle recovery and may even relieve some exercised induced muscle pain. 
You guys know that I am all about reducing inflammation. I try to include anti-inflammatory foods in recipes whenever I can. It's a simple way to boost the nutritional value of a recipe and anyone can benefit from inflammation fighting antioxidants because inflammation has so many different causes and effects. The potent antioxidants in cherries have been linked specifically to arthritis and gout. Consuming sweet cherries may have an effect on these symptoms by reducing oxidative stress in the body. 
The Benefits Frozen Fruit
As I mentioned above, you can make this recipe with either fresh or frozen fruit. I love that frozen fruit gives me the ability to make my favorite recipes all year long without having to wait for fruit to come into season. Frozen fruit is just as nutritious and flavorful as fresh because it is frozen when the fruit is perfectly ripe. This means that you can still get all the great health benefits I mentioned above. 
You can find a range of varieties in your grocery store's freezer section or you can make your own. If you have an abundance of fruit from the farmer's market in the summer just wash, cut and freeze your cherries in an airtight container or bag to use in recipes all year long. This is a great option for produce like cherries that unfortunately have such a short season to be enjoyed. 
Making The Cherry Clafoutis With Orange Liqueur
Baking
This simple little Cherry Clafoutis with Orange Liqueur requires minimal baking time and simple, on-hand ingredients. There are several ways to make this dish – I'm seeing them grilled, broiled, made in an iron skillet…lots of options. But I needed to keep it simple with something I could toss in the oven. Feel free to give those other options a try and let me know how it goes!
Nutritious Flavor
A clafoutis is typically made with heavy cream, but I like to lighten up my recipes while still keeping that flavor. I replaced the heavy cream in this recipe with a higher fat soy or oat milk – that's going to be much better than almond or rice that is thinner and lower in fat. This way we can avoid the saturated fat in the heavy cream but keep the healthy fat content that gives this clafoutis its texture. I also cut the sugar because I prefer my desserts less sweet and I like to let the sweet cherries really shine. Of course, I also boosted the flavor with a little Grand Marnier liqueur which pairs well with the lemon zest.
Pitting The Cherries
If you are lucky enough to have a cherry pitter at home that will be the easiest option. During cherry season you can usually find a cherry pitter for sale at your grocery store or they can be purchased online.If you don't have a cherry pitter though don't worry! You can do this by simply cutting the cherry in half and removing the pit with your fingers. If you want to avoid cherry red fingertips you can also remove the pit by setting the cherry on top of a small mouthed bottle – a wine bottle works well – and pushing the pit out with a chopstick. The bottle catches all the cherry juice mess. 
I hope you enjoy this beautiful little Cherry Clafoutis with Orange Liqueur!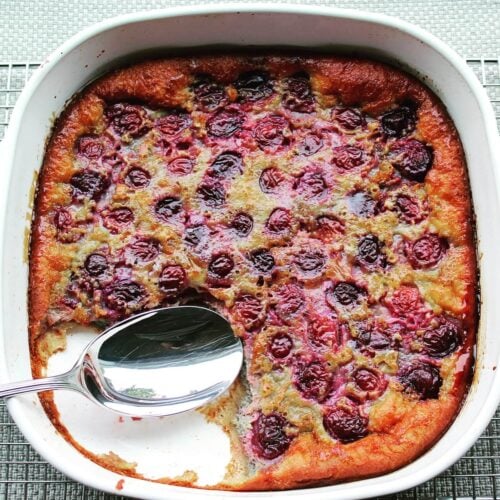 Cherry Clafoutis with Orange Liqueur
This super simple, delicious dessert utilizes sweet fruit and a little booze, too!
Print
Pin
Rate
Ingredients
1 ½

Tablespoons

unsalted or vegan butter, melted

4

large eggs

1/2

cup

granulated sugar

1/4

cup + 2 tablespoons

whole wheat flour

3/4

cup

unsweetened soy or oat milk

1

Tablespoon

vanilla extract

½

lemon, zested

2

tablespoons

Grand Mariner

1/2

teaspoon

salt

2

cups

fresh sweet cherries, pitted and halved
Instructions
Preheat the oven to 350F and Butter a 9-10-inch glass pie dish.

Whisk the eggs, then add the milk, vanilla, lemon zest andGrand Marnier. Whisk to combine.

Add the dry ingredients; sugar, flour and salt to the wet mixture. Whisk until combined.

Pour the batter into the buttered pan and then arrange the cherries evenly, cut side down, on top.

Bake for 40-45 minutes. Remove and let stand for 15 minutes. Serve warm.
Ginger Hultin,MS, RD, CSO
An award-winning, nationally recognized nutrition expert and media spokesperson.
Thanks for visiting! If you're like me: obsessed with eating, wine, going out and traveling, you're in the right place. Champagne Nutrition® LLC is a Registered Dietitian-run concierge virtual practice helping clients look and feel better. On this blog, you'll find cocktails, mocktails, and plant-based recipes that are easy to make quickly at home and pack for leftovers on your adventures.