Easy Vegan Chocolate Mousse
Rich, creamy vegan chocolate mousse is a perfect dessert when you want a sweet treats. Traditional mousse is a bit complicated and involved cooking heavy cream and egg yolks, blending and transferring ingredients. I don't have time for that and, as a dietitian, I love a lightened-up recipe so I created this Easy Vegan Chocolate Mousse for you and guess what? It's a 1-step, no-cook, healthy and simple dessert. You absolutely must make it and it's perfect for an afternoon or after dinner treat that's made for kids and adults alike.
I originally made this dessert for Valentine's day, in fact. We were having a dinner party and I needed a rich dessert to pair with a lavish meal. Wanting something a little lighter, I decided to use silken tofu as the base for this vegan chocolate mousse. Full of antioxidants, packed with protein, and a rich consistency that whips up perfectly, soft tofu is a wonderful foundation. (Make sure to read my friend Grateful Grazer's update on the safety of soy if you have any questions about using tofu in the kitchen).
I love Valentine's Day, actually; I always have ever since elementary school when we dressed up, wrote those little barbie paper cards to each classmate, and ate chalky candy hearts and grocery-store cupcakes with frosting so sweet it would tickle your throat. Fast forward to awkward, giant, white teddy bear deliveries to Jr. High classrooms and too-serious high school dates where expectations ran high and ultimately disappointed. It wasn't like the movies. One of my favorite all-time Valentine's was in college when we had a girls night, making dinner and exchanging gifts. Now my husband and I usually take a bottle of champagne to a BYOB Pho restaurant and enjoy a casual dinner away from the crowds.
This recipe is perfect, though, for all seasons. It would be wonderful for a birthday dessert, for the holidays or for a kid's party.
Easy Vegan Chocolate Mousse
Pure cocoa powder, vanilla extract and vanilla non-dairy milk (I used almond milk) blend right up for this simple recipe, adding a depth in flavor to this chocolaty dessert. No one would ever know that this is a vegan dessert but it is perfect for anyone with food allergies, so long as they are ok with soy. Another pleasant surprise; I only needed a very small amount of maple syrup to sweeten up this treat so it's not as sugary as many other desserts you may have for Valentines Day. The fat and sugar amount in this one is much, much lower than other recipes.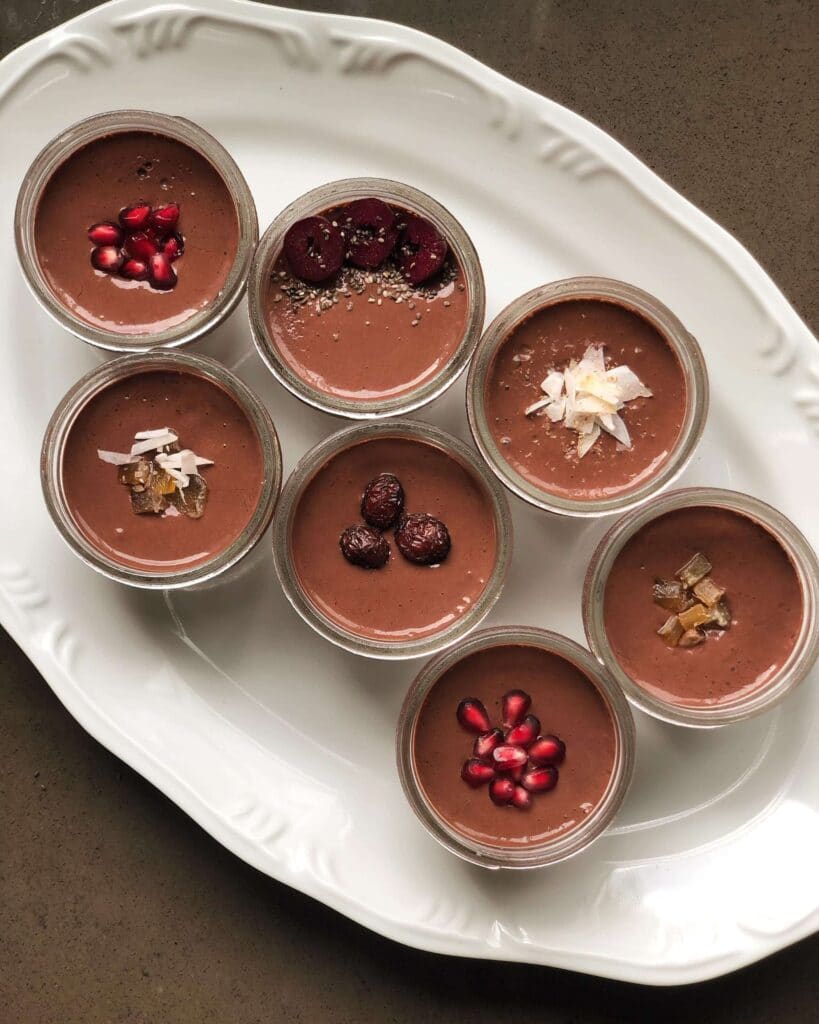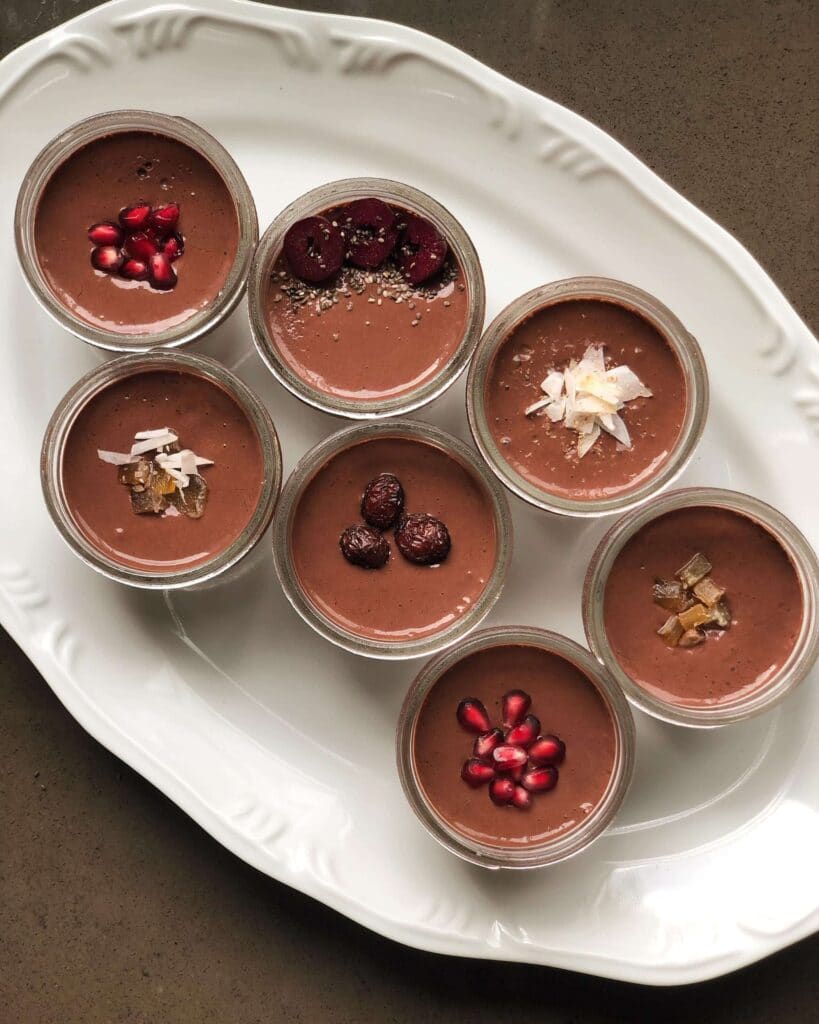 I whipped this vegan chocolate mousse up in my Ninja blender in a matter of minutes. It's one of the most simple desserts you could make. Serve it in ramekins, small decorative bowls or martini glasses. I used my mini mason jars. Garnish with whatever you prefer: chopped nuts, sprinkles, berries, coconut, cocoa powder, etc.
If you need more healthy dessert ideas, I've got them on the blog. Some of my favorite vegan desserts are No-Bake Chocolate Vegan Haystack Cookies, Vegan Gem Thumbprint Cookies, Tropical Mango Chia Pudding Parfait, Fresh Lemon Honey Tapioca Pudding, Vegan Strawberry Rhubarb Mini Mason Jar Cheesecake, Slightly Healthier S'mores.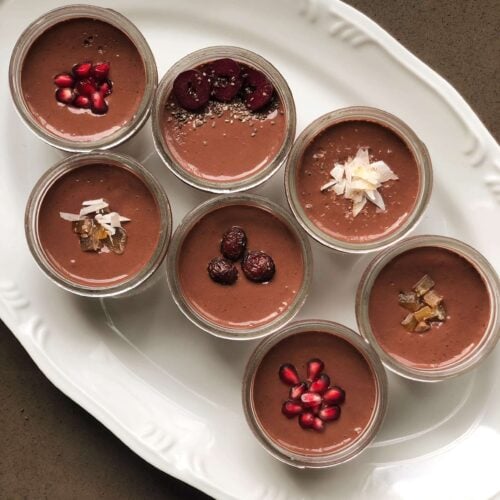 Ingredients
1

pound

(16 oz) package silken tofu (drained of excess liquid)

1/8

cup

unsweetened almond,

oat or soy milk

3-4

Tablespoons

pure maple syrup

1

teaspoon

pure vanilla extract

1/2

cup

baking cocoa

unsweetened shredded coconut or your favorite sprinkles as a garnish
Instructions
Combine all ingredients (except garnish) in a blender or food processor and blend until completely smooth and creamy.

Place 1/2-cup servings into a small container (try mason jars, ceramic ramekins or martini glasses) and refrigerate for a minimum of 4 hours or even overnight.

Garnish with additional cocoa powder, shredded coconut, dried or frozen chopped fruit, or colorful sprinkles if desired.
Ginger Hultin,MS, RD, CSO
An award-winning, nationally recognized nutrition expert and media spokesperson.
Thanks for visiting! If you're like me: obsessed with eating, wine, going out and traveling, you're in the right place. Champagne Nutrition® LLC is a Registered Dietitian-run concierge virtual practice helping clients look and feel better. On this blog, you'll find cocktails, mocktails, and plant-based recipes that are easy to make quickly at home and pack for leftovers on your adventures.