Easy Herbed Vegetarian Dip Recipe
When it comes to appetizers I need something healthy and fresh to liven up the spread. You can make a party dip way more zesty and flavorful with fresh herbs than you'll ever find in a prepared mix. This creamy dip is incredibly quick and easy to assemble. Bonus: this recipe also works well as a spread on sandwiches or wraps! You don't need to rely on bottled ranch or other processed dip because you can create this Easy Herbed Vegetarian Dip Recipe in just minutes. Combining a vegan sandwich spread with fresh herbs makes for a healthy, flavorful crowd pleasing dip option. 
Best Occasions For Dip
This versatile dip can be used for so many different occasions. I personally think it would be perfect as part of a game day spread. Game day snacks so often consist of canned dips and a bag of plain potato chips. This Easy Herbed Vegetarian Dip Recipe will brighten up the otherwise boring and unhealthy options. This goes for parties too because this dip is perfect for both kids and adults.
Picnics are a great opportunity to make this dip and bring it along. It would travel well in an airtight container and would pair well with some wine or cocktails. Your picnic partners will be so impressed too!
While it is labeled as a dip you can also use this dip as a spread. It would add some fresh herb flavor to any sandwich or wrap. 
Foods You Can Dip
This dip is versatile and therefore it can be used in so many different ways. I like to use this vegetarian dip recipe as a veggie dip. Some of my favorite veggies for dipping are: 
Carrot sticks

Cucumber

Jicama

Celery 

Bell peppers (all colors)

Broccoli

Tomatoes
If your crowd isn't feeling veggies it also goes great with other traditional dip vehicles. You can use your favorite crackers or chips for a sure crowd pleaser. A great cracker option is Mary's Gone Crackers which are both vegan and gluten free to accommodate different preferences. Fresh-baked bread is also a nice thing to dip; try some toasted sourdough. 
If you are looking for a more filling appetizer I recommend trying it with some other vegan favorites. You could make some air fryer cauliflower or crispy tofu if you wanted to add some protein to your snack.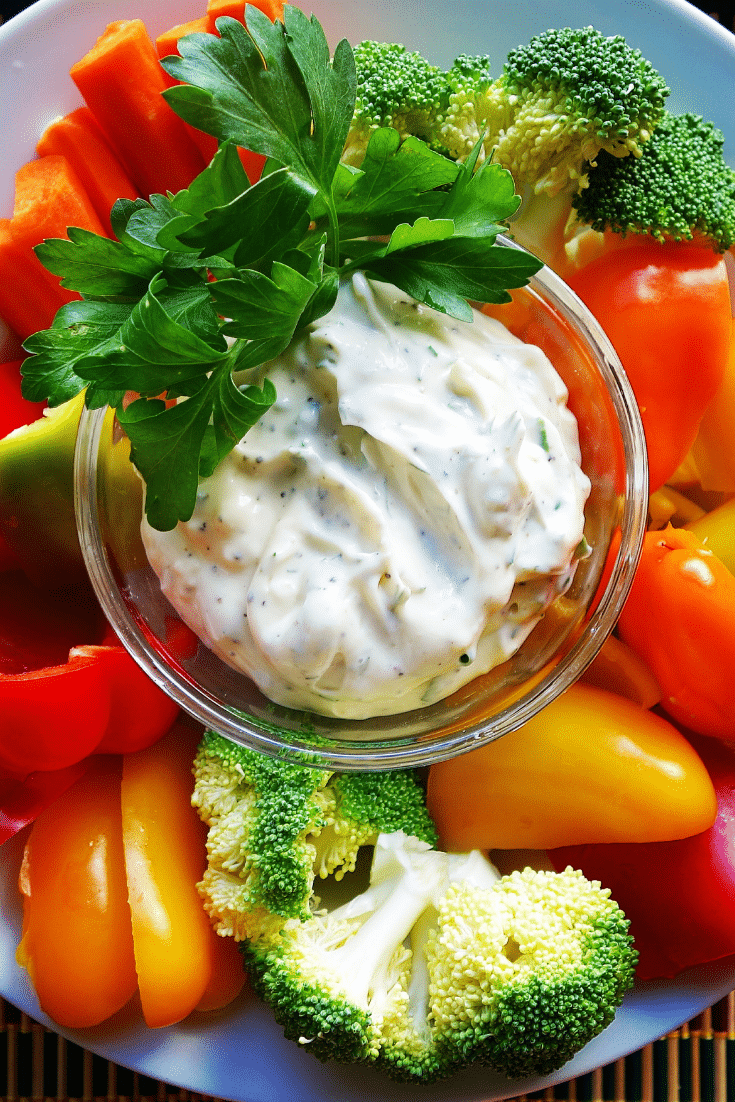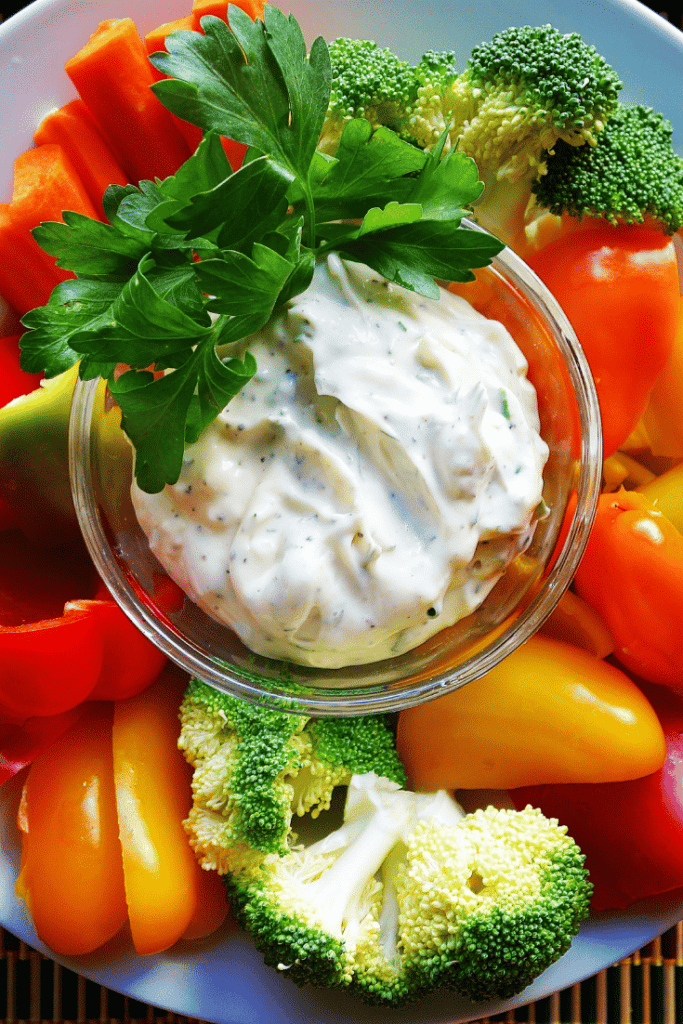 Party Dip Can Have Health Benefits, Too!
A vegan mayo spread is often an excellent source of omega-3 alpha-linolenic acids (ALA) for healthy skin. This is because instead of eggs they use plant based oils that are high in ALA's. The fresh, flavorful and vibrant herbs in this dip are powerful sources of nutrition as well. Herbs are nutrient dense plant foods that benefit the body through their vitamins, minerals and antioxidants. Research has even linked herbs like dill and chives to a reduced risk of cancer with regular consumption as part of a healthy, plant-based diet. 
Making My Easy Herbed Vegetarian Dip Recipe
The Base
I'm suggesting you use original Vegenaise in this recipe. It uses canola oil as a base – making it vegan- but there are so many options to choose from. You can use a regular egg based mayo or experiment with something new. Plenty of brands have hopped on the plant based train and are now offering their own mayo alternatives made without eggs. You can find them in both the refrigerated section and in the aisles in a shelf stable version. I love using mayo's that are avocado based for some extra healthy fats. 
The Herbs
This recipe uses chives, parsley and dill but you can get creative and use any combination of herbs you like, especially if you have some growing in your garden. Some different options could be:  
Rosemary – fragrant, woodsy, pine

Thyme – subtle, earthy, warm

Lemongrass – strong, lemon, bitter

Oregano – aromatic, bold, earthy

Basil – fragrant, mild, sweet

Mint – refreshing, cooling, sweet

Sage – fragrant, warm, savory
When it comes to shopping for these herbs you can find them in your produce section. They may be available by the bunch, in individual packages or even still planted in a pot of dirt. It's always great to work with what's in season and locally available whenever possible. Another great option is growing your own herbs. They are easy to grow and replenish themselves quickly. It also makes a great project to get kids involved in food and cooking. 
Each herb may have a slightly different way of preparation before you use it. For example, basil, mint and oregano leaves can be plucked from the plant and torn or chopped with a knife. Rosemary can be used by the sprig (a small stem) or removed from the stem by running your fingers against the leaves. It is also helpful to crush herbs like rosemary and sage to enhance their flavors before cooking. 
The Leftovers
Preparing this dip is super simple because there is no blender, food processor or mixer required. All you need are your chopped herbs, a bowl and a spoon, even kids can help make it. You can store it in the fridge for 5-6 days; just give it a stir before you serve it and consider sprinkling it with fresh herbs before you serve it again. 
Let me know if you try this recipe for your guests. It turned out so well for me; a real crowd pleaser and looks so beautiful surrounded by colorful veggies. If you love the idea of this dip, I've got a few other healthy dips and appetizers on the blog. Try my Vegan Black Eyed Pea Dip With Avocado, Garden Cherry Tomato Bruschetta
Easy Herbed Vegetarian Dip Recipe
Make this vegan-friendly dip in minutes with a simple base and all the herbs you love the most
Print
Pin
Rate
Ingredients
1

cup

Veganaise or plain, vegan Greek yogurt

1

clove

garlic, minced

1

Tablespoon

chopped fresh flat-leaf parsley

1

Tablespoon

minced fresh chives

1

Tablespoon

minced fresh dill

1/2

teaspoon

salt

1/2

teaspoon

freshly ground black pepper
Instructions
Combine all ingredients in a small bowl and blend with a spoon or spatula until completely combined and smooth.

Chill for 1 hour to allow flavors to mingle and serve cold.
Ginger Hultin,MS, RD, CSO
An award-winning, nationally recognized nutrition expert and media spokesperson.
Thanks for visiting! If you're like me: obsessed with eating, wine, going out and traveling, you're in the right place. Champagne Nutrition® LLC is a Registered Dietitian-run concierge virtual practice helping clients look and feel better. On this blog, you'll find cocktails, mocktails, and plant-based recipes that are easy to make quickly at home and pack for leftovers on your adventures.