Did you know you don't have to stick to a vegan or vegetarian diet to eat less meat? Whatever diet you follow, it's important to be mindful of the amount of plant-based foods you're eating and the positive outcomes from including them. The environment can also reap the benefits from consumers eating more plant-based. I see some articles out there taking about the negatives of eating less meat…but that doesn't make sense to me. As long as you're following a balanced diet and meeting your protein and nutrient needs (on ANY diet – not just vegan or vegetarian) then I only see positives. Plus, you'll be saving a lot of lives. 

Reasons to Eat Less Meat
Prevent Disease and Improve Health 
The plant-based Mediterranean diet was ranked #1 in this year's U.S. News consumer report and with good reason. Researchers have found those who follow a plant-based diet have lower disease risk than the general population, lower rates of obesity, hypertension, diabetes, and metabolic syndrome. Risk for cancer, heart disease mortality, and all-cause mortality was also decreased among this population. Research shows that vegetarians consume more vegetables, fruits, grains, legumes, nuts, seeds, and soy products than non-vegetarians. These foods are known for their health protective properties due to their high content of vitamins, minerals, fiber, phytosterols, antioxidants, and other phytochemicals. Studies have shown that vegetarian or vegan meals can be higher in some nutrients and fiber than meat-based meals and can contain the protein content and satisfying healthy fat sources required to keep you feeling full and energetic. Read more here about how a vegetarian or vegan diet can promote health and prevent disease. 
Get Creative in the Kitchen
Plant-based diets have grown in popularity in the past few years. These diets may have been considered bland or boring but now there is a wide use of plant-based meat alternatives and recipes that omit animal products! Products such as Beyond Meat, Gardein, food bloggers and restaurants have all jumped on board to create and promote plant-based foods and recipes. There are endless possibilities with what you can create without using animal products. Here are a few of my favorite vegan and vegetarian recipes: Farro Risotto with Butternut Squash and Sage, Chickpea-Stuffed Sweet Potatoes with Coconut and Kale, Eggplant Lasagna with Quinoa and Spinach, and Vegetarian Sheet Pan Nachos. 
Help Save the Planet
The animal product industry is as much of a contributor to greenhouse gas emissions as all cars, trucks, planes, and ships combined. Cow's being the biggest offender, their digestive system releases large amounts of methane gas, which is 23 times more potent than carbon dioxide. As every living creature does, livestock also produces fecal waste. The waste is compiled in large open air "lakes" or spread onto fields as fertilizer, which has made its way into the local water supply, creating significant health risks to the nearby community and crops. Agriculture is also a main driver in loss of biodiversity deforestation, overfishing, and land degradation. Animal products have a much larger dietary footprint than their plant counterpart, which includes fresh water usage and fossil fuels. By choosing to have less meat on your plate, you can reduce your dietary footprint. 
Animal Welfare
I won't go into too much detail, but I did want to quickly address how animal welfare may play into your decision to eat less meat. The living conditions for livestock are very often overcrowded, unsanitary, and cruel. The animals are kept in confined areas that force them to live in their own waste, leading to injuries and infections. They are fed grains and antibiotics rather than what they would naturally graze on (grass, insects, seeds), leading to less nutrients in the products that land on the shelves. When you do eat meat, choose local, pasture raised, and grass-fed to reduce the environmental impact of your meat eating and also improve the quality of lives of the animals you consume.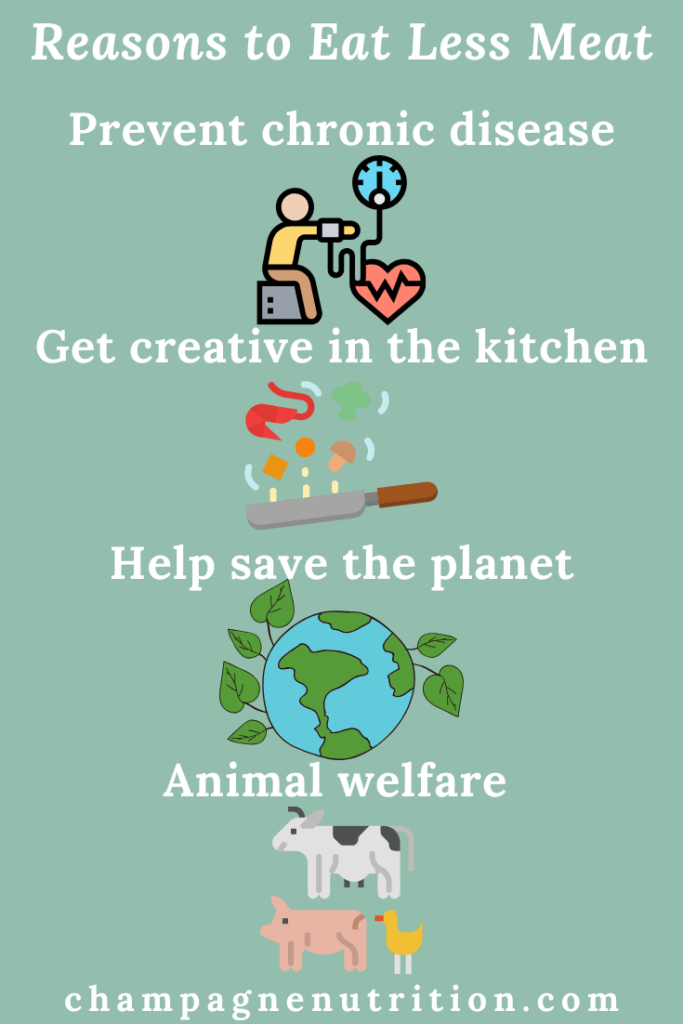 What You Can Do to Eat Less Meat
Make fruits and vegetables a bigger part of your diet

They can be fresh, canned, frozen, fermented, or pickled! 

Beans, Beans, Beans!

Beans are excellent meat replacers for meals like curries or taco fillings. They are inexpensive (canned) and even cheaper if you cook the dried beans yourself.  

Choose higher protein grains

Quinoa isn't the only grain who should be praised for its protein content. There's also kamut, teff, millet, wild rice, buckwheat, cornmeal, and pasta. Many companies have rolled out some type of bean or lentil pasta, hitting two birds with one stone!

Make a classic dish you're familiar with and remove the meat from the recipe

Get creative with vegetables or try ones you've never cooked with before

Try

tempeh

, vegan protein bowls, or get creative with new veggies (cauliflower steaks anyone?)

Try going meatless once a week

When ordering at restaurants or getting take-out, look for the vegetarian or vegan items on the menu or simply ask to get the dish without meat. 
For any successful plant-based meal, make sure to include the following: 
Protein!

"I'll just have a salad" isn't enough. You can have savory and hearty dishes by choosing tofu, tempeh, beans, or lentils as a base. 

Veggies:

Some people may miss the mark by not including enough vegetables into their diet.

Mix it up by adding different types of greens to that plate like beet greens or Collards. Add vegetables to breakfast like tomato/salsa, avocado, spinach or broccoli. Love veggies already? Experiment with varieties you're more unfamiliar with like kohlrabi, garlic scapes, broccoli sprouts, sunchokes, or dandelion greens. 

Spice and seasoning:

without salt, spices, and seasoning, veggies can taste bland. So does meat. Put your efforts into flavoring your plant-based food like you would any other food! Get creative with herbs and spices, taking advantage of enhancing the natural flavors of whole foods.  
What are some of the ways you reduce your meat intake? Have a great week!
Ginger Hultin,MS, RD, CSO
An award-winning, nationally recognized nutrition expert and media spokesperson.
Thanks for visiting! If you're like me: obsessed with eating, wine, going out and traveling, you're in the right place. Champagne Nutrition® LLC is a Registered Dietitian-run concierge virtual practice helping clients look and feel better. On this blog, you'll find cocktails, mocktails, and plant-based recipes that are easy to make quickly at home and pack for leftovers on your adventures.