Want to revamp your smoothie game? I'm a big fan of a pre- or post-workout smoothie and I love creating different combinations of ingredients to take advantage of the versatility smoothies can provide. One combination I have been loving recently is melon vanilla. Have you ever blended melon into a smoothie? It is SO good. This Melon Vanilla Smoothie is powered by cantaloupe and frozen banana and that's all the sweetness it has in it – no added sugar at all. Smoothies can sometimes sneak in a bunch of sugar due to the sweetness of the fruits, but this one isn't one of those. You really have to watch beverages to make sure that they're not loaded with added sugars but when you make your own, you control the ingredients and can ensure they're high in fiber and nutrients but low in all those extra added calories. 
Melon isn't a typical ingredient in many smoothies, but it is such a good addition. I'm breaking it all down for you below so you'll know exactly how to make this in a moment on your own. 
Why Cantaloupe?
The reason I am loving this Melon Vanilla Smoothie is because of all of the benefits cantaloupe provides! Cantaloupe is such an amazing fruit that is packed with many vitamins and minerals, such as vitamin A, vitamin C, and B vitamins. These vitamins are super important to consume daily, as they help your body in the production of tissues and help fight against and reduce your overall risk of diseases. 
Vitamin A specifically provides cantaloupe with its antioxidant properties and helps prevent inflammation by reducing the amount of free radicals in your body. Additionally, cantaloupe provides numerous health benefits, such as decreasing the risk for cardiovascular disease, promoting good eye health, and preventing many different diseases. It's a perfect food to eat every day if you like it. 
One of my favorite aspects of this smoothie is that it is also a great source of fiber. Not only does fiber help move food particles through your digestive system, it also helps with satiety; making you feel fuller longer. Adding ingredients that are good sources of fiber to smoothies helps make the smoothies more filling and beneficial to your health, rather than just being full of sugar like so many are.
This Melon Vanilla Smoothie is such a simple and easy way to replenish yourself after a workout or enjoy as a snack mid-day to keep your blood sugar flowing without giving you a sugar crash. Cantaloupe contains potassium, a mineral that provides fuel for a post-workout recovery. Plus, all melons contain a lot of water (around 90%!), making this smoothie super hydrating and low in calories. Overall, I love that the melon, along with the vanilla, provide a super refreshing and nutrient-dense smoothie that can be enjoyed anytime without being too sweet.
Making the Melon Vanilla Smoothie
What makes me really love this smoothie is how simple it is to make! Once you have all the ingredients together, all that's left is tossing them into a blender and you'll have this delicious smoothie in no time. Plus, this smoothie can be enjoyed any time of the year and contains ingredients that are so easy to obtain.
The Milk
The first ingredient to focus on is the milk. I like my smoothies to have a balance of carbohydrates, fat and protein so using a milk like regular milk (not skim) or soy milk will add a dimension of additional protein and fat. However, these milk options can easily be substituted with your milk preference, just be aware that other milk choices won't have the same macronutrient levels as regular and soy milk. Almond, rice, and coconut actually don't have any protein (or just a trace). Additionally, with non-dairy milks, make sure you are choosing ones that are unsweetened, as to not overpower the smoothie with added sugars and sweetness. The recipe already calls for vanilla, so choosing sweetened milk is unnecessary.
The Protein 
You can also add protein powder to this smoothie to help increase the it's protein content. First thing in the morning or pre/post workout, protein helps with satiety and energy. I use a pure whey protein powder that has been micro or ultra-filtered and doesn't have added sweeteners, color, flavor or vitamins. A little protein powder can go a long way, and using too much may result in a chalky taste. I alternate that type of protein with a vegan blend – consider pea, hemp, quinoa or brown rice varieties. Keep in mind that some vegan protein powders can be a little gritty due to a high fiber content so be sure to experiment with which source you enjoy the most. A drink like my Melon Vanilla Smoothie definitely calls for a smooth, light protein powder that leaves no trace.
The Fruit
Cantaloupe isn't the only type of melon that can be used in this Melon Vanilla Smoothie. You can substitute any other form of melon, such as honeydew or watermelon, for a similar product and flavor. 
I also love adding frozen bananas to all of my smoothies, including this Melon Vanilla Smoothie. Frozen bananas, and frozen fruit in general, are key to providing structure and thickness to smoothies without resulting in a super icey texture. Plus, they store so well in the freezer and can be used at any time. Freezing is great for those overripe bananas sitting on your counter! Additionally, bananas are packed with nutrients, vitamins, and minerals so they are a great addition to this smoothie.
I'm not a huge fan of added sweeteners and, if sweeteners are needed, I encourage using natural sweeteners over artificial ones. The addition of vanilla to this smoothie adds a touch of sweetness without causing the sweetness to become too overpowering. Plus, most smoothies already have a lot of natural sweetness due to the presence of fruits, so there's no need to go overboard on the additional sweeteners.
Whip up a Melon Vanilla smoothie today and let me know if you love it!
And if you need more smoothie recipe ideas, check these out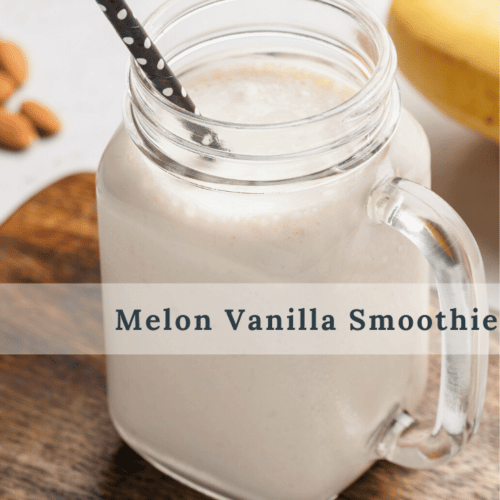 Ingredients
1

cup

unsweetened non-dairy milk

(soy, oat, almond or dairy milk if you like)

1/2

frozen banana

1/2

cup

ripe chopped cantaloupe

1

scoop

protein powder

if desired

1

teaspoon

pure vanilla extract

3

ice cubes
Instructions
Blend all ingredients thoroughly until frothy and serve immediately.
Ginger Hultin,MS, RD, CSO
An award-winning, nationally recognized nutrition expert and media spokesperson.
Thanks for visiting! If you're like me: obsessed with eating, wine, going out and traveling, you're in the right place. Champagne Nutrition® LLC is a Registered Dietitian-run concierge virtual practice helping clients look and feel better. On this blog, you'll find cocktails, mocktails, and plant-based recipes that are easy to make quickly at home and pack for leftovers on your adventures.