Pumpkin Pie Protein Smoothie
Is it time for pumpkin spice yet? While fall may be deemed pumpkin season, I'm determined to make pumpkin recipes that can be enjoyed all year. Pumpkin spice is a big thing up here in the Pacific Northwest, but most of the time, the drinks end up overly sweet and lose the natural pumpkin flavor. I've been experimenting, adding some pumpkin to my typical morning and afternoon smoothies, and I have been loving the outcome so far! One of my favorite recipes is my Pumpkin Pie Protein Smoothie. 
Smoothies aren't just for breakfast anymore. They actually make really great snacks between meals, pre- or post-workout fuel, or even a lighter, healthier dessert. This Pumpkin Pie Protein Smoothie is made from natural, whole foods and flavors that mingle into a beverage that tastes appropriate all year round. I often find myself grabbing a can of pumpkin in the spring or summer because it's such a wonderfully healthful ingredient, and it deserves a place in the diet outside of fall. Follow along to see how you can make this Pumpkin Pie Protein Smoothie on your own.
Why Pumpkin?
Pumpkin is an incredible food. It is such a rich, nutrient-dense ingredient that is perfect to add to recipes. It's full of vitamin A, an antioxidant that supports eye health along with decreasing the risk for cancers and other diseases. They also help reduce inflammation and help reduce the amount of free radicals in your body. Pumpkins are packed with carotenoids, mainly beta-carotene, which are used to form vitamin A in the body. These carotenoids are what provide pumpkins with their deep, orange color that they are widely known for. 
In addition to vitamin A, pumpkins are packed with vitamin C and B vitamins, along with lots of minerals. These vitamins have numerous health benefits, like helping boost your immune system and fighting against diseases. Plus, pumpkins are filled with water, making them super hydrating!
Pumpkins are also a great source of fiber. Not only is fiber helpful for maintaining a healthy digestive system, it can help keep you fuller for longer. The addition of ingredients that are high in fiber to smoothies helps make the smoothies more filling. It also makes the smoothie more beneficial to your health, reducing the amount of sugar in the smoothie. This Pumpkin Pie Protein Smoothie is a great addition to your morning, pre- or post-workout routine, or can be enjoyed as a filling mid-day snack!
Making the Pumpkin Pie Protein Smoothie
The Milk
For the milk base of this smoothie, I like to use non-dairy milk (make sure it's unsweetened!) and ice for frothiness. There are so many good options – soy and oat bring the protein but almond is fine, too, depending on which variety you prefer. And if dairy milk is your thing, that's ok, too. Each of these recipes is easy to adapt to make it your own. Our taste buds are often used to very sweet foods; it will take time, but as you work on cutting back on added sugar, you'll start to notice that even naturally sweet foods like bananas will do the trick. You simply must choose unsweetened milks no matter which you enjoy the most. The use of sweetened milk is unnecessary in this recipe because you will already be getting natural sweetness from the fruit. Therefore, unsweetened milk is the way to go to avoid an overly sweet smoothie.
The Protein
This recipe calls for powdered peanut powder; have you used it? I've been working increasingly with this product which is perfect for mixing into things like smoothies and oats. Without the fat, you maintain the peanut flavor, protein, and nutrient level. Instead of working with more processed types of protein powders, I like the balance peanut powder adds to this Pumpkin Pie Protein Smoothie. Of course if you want to, you can stick with good old regular peanut butter and there's the added benefit of having healthy unsaturated fat to feel full and satisfied. No worries if you are not into peanuts or peanut butter; any protein powder can work! You can use whey protein, pea, hemp, or any other variety you are into! Just be careful on how much you add into the smoothie; protein powder can affect the consistency of the smoothie and make it more chalky or overpower the other ingredients.
The Fruit
For this Pumpkin Pie Protein Smoothie, a frozen banana offers natural sweetness to help balance out the other ingredients. They add a whole other dimension to smoothies than if they were fresh. Adding frozen fruit helps with the creamy and thick consistency while also adding some sweetness. Using frozen bananas in smoothies is the key to the perfect consistency and to balance out the other ingredients. 
The Spices
While frozen bananas are added for their sweetness, additions of vanilla, ginger, and cinnamon balance it out, offering that familiar 'pumpkin spice' flavor. One of my favorite ingredients here is the addition of freshly ground nutmeg. It's such an incredible garnish for beverages especially. If you haven't experimented with grating your own, now's the time. When I think of nutmeg, I always think of my favorite vegan holiday cocktail: The Simple Vegan Eggnog Cocktail.
I've got smoothies galore up on the blog if you need other ideas. Be sure to check out my Blueberry Green Tea Smoothie and Calming Smoothie for Runners. And if you want more pumpkin recipes (who doesn't?) check out my Pumpkin Spice Waffles, Vegan Pumpkin Pie Parfaits, or Vegan Pumpkin Spice Smoothie.
Let me know what you think if you make this recipe!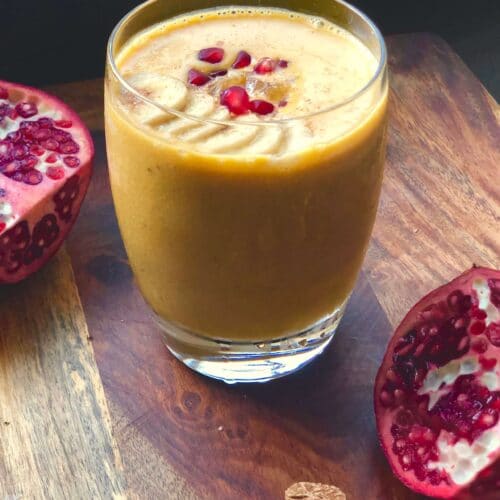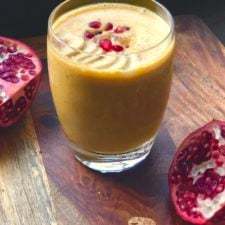 Pumpkin Pie Protein Smoothie
For breakfast, pre- or post-workout, this is a smoothie to enjoy any time of year!
Print
Pin
Rate
Ingredients
1/2

cup

ice cubes

1

medium

ripe frozen banana

8

fluid ounces

unsweetened non-dairy milk

(try almond, soy, or oat)

1

teaspoon

grated fresh ginger

(dried ginger is fine, too, if you don't have fresh)

1

teaspoon

powdered peanut butter

or other protein powder as desired

1/2

teaspoon

vanilla extract

1/2

teaspoon

ground cinnamon

1/2

cup

organic canned pumpkin
Instructions
Combine all ingredients in a blender and puree until smooth. Garnish with additional cinnamon if desired.
Nutrition
Calories:
127
kcal
|
Carbohydrates:
22
g
|
Protein:
5
g
|
Fat:
2
g
|
Potassium:
554
mg
|
Fiber:
5
g
|
Sugar:
10
g
Ginger Hultin,MS, RD, CSO
An award-winning, nationally recognized nutrition expert and media spokesperson.
Thanks for visiting! If you're like me: obsessed with eating, wine, going out and traveling, you're in the right place. Champagne Nutrition® LLC is a Registered Dietitian-run concierge virtual practice helping clients look and feel better. On this blog, you'll find cocktails, mocktails, and plant-based recipes that are easy to make quickly at home and pack for leftovers on your adventures.