Healthy Anytime Zucchini Muffins
Vegetables in muffins? Of course! While fruit like banana and apples often take center-stage in muffin recipes, vegetables like zucchini and carrot go really well, too. The thing I love about muffins is that you can have them anytime of day. Most of us think about muffins as a breakfast food but they also make really great snacks or desserts as well. These are perfect for my on-the-go clients, working hard with their long hers but they're also great for kids and teens when they're on the go playing or with school work. I enjoy them pre- or post-workout so I just had to share this new recipe for Healthy Anytime Zucchini Muffins with you today.
Why Zucchini?
Summer squash is a really amazing food. One thing I love to do with this hearty veggie is make zoodles out of it (zucchini noodles rather). This Simple Garlic Lemon Zoodles recipe is my all-time most popular on the blog and on Pinterest (follow me here so we're connected!). I've also got a zoodles with tofu and peanut sauce up on the blog which combines three of my favorites: a simple baked tofu recipe, zoodles and an easy-to-make peanut sauce that you'll want to put on everything.
Summer squash like zucchini is really fun in recipes and I can't wait to tell you about all the things you can do with healthy anytime zucchini muffins but first I want to talk about the nutritional benefits in them. Zucchinis are really high in minerals like copper, manganese, phosphorus and magnesium. They're also high in vitamins like vitamin C, B1, B3 and B6, folate, and vitamin K. They're rich in fiber and they've got a nice, subtle flavor that goes well with other ingredients in recipes. Unlike stronger flavored recipes like broccoli or cauliflower or even bell peppers, zucchini pairs well with both savory and sweet recipes.
Healthy Anytime Zucchini Muffins
Making these muffins is actually really easy. I recommend that you make a batch of muffins every week, actually, as part of your prep. These aren't muffins like those gigantic ones from Costco that are actually four servings in one muffin and are basically cake. These are more dense little nutritionally-packed muffins that are a totally appropriate way to start your day or enjoy before a workout as balanced fuel. They have a lot of complex carbs but are balanced with some protein (and I'll tell you how to add more, below), and healthy fat. I actually list the serving as "two" of them because they're quite light in calories and small in size.
Once you get the oven warming and your muffin tins are ready to go (I've got my colorful silicone liners here in this one), then you need to grab two bowls – a large one to mix all the dry ingredients and a medium one to mix all the wet ingredients.
Dry
Whole wheat flour always makes a more dense product so if you're not into it, you can absolutely use all all-purpose flour. Alternatively, you could use a gluten-free all-purpose flour if you want to avoid gluten. I love adding in oats so just make sure to use the whole, rolled oats instead of the more dense steel-cut or more wimpy instant kind.
A teaspoon of cinnamon is about perfect for this recipe. It it seems too strong for you, feel free to cut it back to 1/2 or 3/4 teaspoon. You could also get creative and add in some clove, nutmeg or ginger as well. When you add these spices in, you just add more flavor and antioxidants so it's a really fun thing to experiment with.
Wet
Mix the eggs, maple syrup, milk and oil together in a separate bowl. You've got lots of options here! Use honey or agave instead of maple syrup if you'd like. I call for soy milk because it's a higher protein plant-based milk but you can use absolutely anything you want. Dairy milk is great as is almond or oat milk in a recipe like this. You've got options for oil as well. I suggest a neutral flavored oil that is good for baking such as canola, grapeseed, or avocado. You could sub melted butter or coconut oil if you want here.
Zucchini
Finally, the zucchini – the star of the show in these Healthy Anytime Zucchini Muffins – has a few considerations. I used two smallish sized veggies. You could use just one large zucchini if that's what you have. What you're aiming for is about 1 1/2-2 cups of shredded zucchini. Once it's shredded, it's quite wet so you want to take some paper towels and pat it dry so that the muffins aren't too moist. It's really fun because the shredded zucchini also creates a great texture and fun color in the muffins. It's so mild-flavored, you won't even notice it's a veggie in your muffins!
I've got other healthy muffin recipes up on the blog if you need more ideas. These cranberry zucchini morning muffins are so delicious. I've got gluten-free pumpkin chocolate chip muffins and high protein honey-nut yogurt muffins as well.
If you try these ones, make sure to rate the recipe and let me know how they turn out!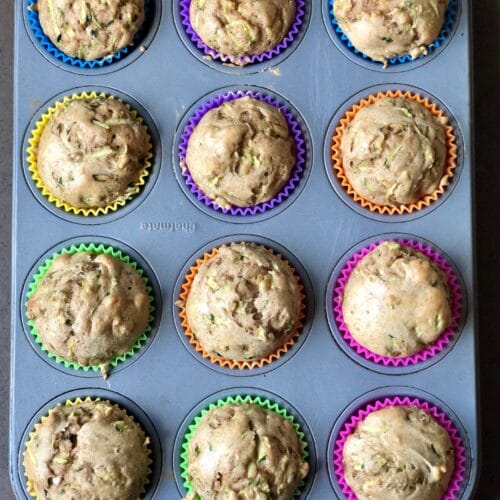 Healthy Anytime Zucchini Muffins
These beautiful muffins contain so many nutrients and they taste delicious!
Print
Pin
Rate
Ingredients
3/4

cup

whole wheat flour

1

cup

all-purpose flour

1/2

cup

rolled oats

1

teaspoon

baking powder

1

teaspoon

baking soda

1

teaspoon

cinnamon

1

teaspoon

salt

2

eggs

*or two 'flax eggs' if making a vegan version

1/2

cup

maple syrup

1/2

cup

soy milk

can also use dairy, oat or almond milk

1/2

cup

vegetable oil

try grapeseed, canola or avocado

1

teaspoon

vanilla extract

2

small

fresh zucchinis

grated and pressed gently with paper towels to remove moisture
Instructions
Heat the oven to 375°F and line a 12-cup muffin tin with paper or silicone liners. (Silicone liners preferred). Alternatively, grease the muffin tins.

In a large mixing bowl, whisk together the wholewheat flour, all-purpose flour, oats, baking powder, baking soda, cinnamon, and salt. In a separate medium mixing bowl, whisk together the eggs, maple syrup, milk, oil, and vanilla extract. Pour the wet mixture into the dry mixture and stir with a wooden spoon to combine. Gently fold in the zucchini, until just incorporated.

Divide the batter evenly between the muffin tins and bake for 18-20 minutes, or until muffin tops are firm to the touch.
Ginger Hultin,MS, RD, CSO
An award-winning, nationally recognized nutrition expert and media spokesperson.
Thanks for visiting! If you're like me: obsessed with eating, wine, going out and traveling, you're in the right place. Champagne Nutrition® LLC is a Registered Dietitian-run concierge virtual practice helping clients look and feel better. On this blog, you'll find cocktails, mocktails, and plant-based recipes that are easy to make quickly at home and pack for leftovers on your adventures.