One Glass Sangria for Reducing Food Waste
Did you know that the way we eat can influence the environment? Sustainability in nutrition is huge right now as a food and consumer trend and for good reason. I'm so proud to be sharing my tips for reducing food waste in meal planning, prep and by using up scraps with a simple homemade sangria! What better way to salvage a bottle of wine you opened yesterday, 1/2 an apple, orange, lemon or lime, or the end of a bottle of old brandy you may otherwise toss than a One Glass Sangria for Reducing Food Waste?
With these leftovers that may otherwise get tossed out, you may not have enough for an entire pitcher, so make a single serving instead. Honestly, if you live alone or if other people in your home don't drink, you need to get a little creative with the cocktails. And every single person in this world should be concerned about the environment. Every last one. This is the Champagne Nutrition way of supporting your environment. 
Reducing Your "Food"print
In order to really tackle this topic, I needed to partner up with friend, colleague, and expert in reducing food waste, Chris Vogliano who wanted to share a resource with you about reducing food waste right here. 
Per Chris, (and he's included so many amazing resources in his references here for you!) Americans live in an era of a reasonably affordable, abundant, and safe food supply.  Because of this, nearly 40% of all food we produce in the United States never makes it into our stomachs. [i] Growing this much food that has the ultimate fate of the landfill is a significant source of economic and environmental issues.
FAST FACTS
The value of this wasted food in America alone is estimated to be $161 billion annually.[iii]
Wasted food accounts for 6–10% of human-generated greenhouse gas emissions. [iv]
Rotting food in landfills creates Methane gas – 25x more potent than CO2. [v]
1 in 7 Americans are struggling to put food on the table. [vi]
HOW DO WE MAKE A DIFFERENCE?
The good news is that we can make small changes in our lives that dramatically decrease the amount of food wasted and lessen our carbon footprint. The EPA Food Recovery Hierarchy (above) summarizes the most beneficial solutions to least beneficial from top to bottom.
8 WAYS TO REDUCE YOUR FOOD WASTE FOOD PRINT TODAY!
Shop the fridge and make a list. This simple step can prevent us from buying too much of a food item that we may already have enough of.
Eat leftovers – this one is important.  It's easy to turn leftovers into a brand-new dish with a few spices and additional ingredients.  Leftovers do not have to be boring.
Study your trash – Notice what you're throwing out most often, and buy less of it in the first place.
Shop for frozen fruits or veggies – these options last longer and ultimately help reduce food waste
Enjoy food from smaller plates. This will help with portion control and ultimately help us consume the correct amount of food.
Ask the waiter to 'hold the bread or chips' once you've had enough.  This will help you avoid mindlessly eating what is in front of you.
Understand what date labels actually mean. Over 90% of consumers throw out food too early, leading to massive food waste.  Best buy, use by, sell by dates are all quality dates ,not safety dates.   If stored properly, most foods can be safety consumed beyond these dates.  Check out the website Still Tasty
Properly store your food. Some veggies belong in the fridge, while others do not.  Check out the Produce for Better Health Fruit and Veggie Storing Guide for more information.
Chris wanted to pass along a couple extra resources for you so please let me know what you think and if you have any other questions by leaving a comment down below!
Making the One Glass Sangria for Reducing Food Waste
Making this recipe is very easy and you can adapt it to save whatever you happen to have on hand! Let me give you some examples of what you can create.
The base of this beverage is wine and liquor, just like any good sangria. What happens to me is that I'll enjoy a partial bottle of wine and then cork it but I know that it only lasts a day or two once it's open. This is so perfect on day 2 or 3 of that bottle (but not beyond that…then you need to pour it out). I like using a bold-flavored wine like a Rioja or a Merlot. You could also use a Cabernet or a Zinfandel for the type of robust flavor you need in this recipe.
If you're like me, you have a few random bottles of liquor hanging around the house. I hardly ever drink them and so I use them in cooking or recipes on occasion and this is that occasion! Brandy and grand mariner are the ideal combination here but you could sub in some triple sec, rum or even bourbon, too. You've got options so use what you've got available.
After that, it's all about the fruit! Use whatever you've got – berries about to go bad? Use them! 1/2 a wrinkled apple? Perfect. A lemon, lime or orange past its prime? Perfect. Top it off with a little sparkling water and serve it over ice and you've got a lovely little cocktail for one. Plus, you reduced your environmental footprint, too.
I've got a couple other 1-serving cocktails if you need them. Make sure to check out my Sparkling Plum Basil Cocktail  and Strawberry Basil Kombucha Cocktail!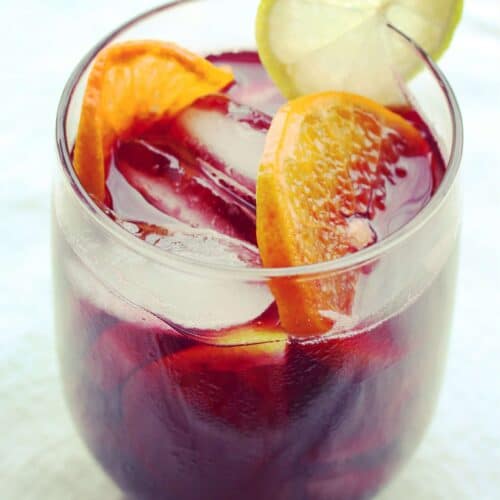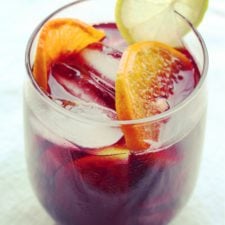 One Glass Sangria
A simple, one-serving beverage you can make with on-hand ingredients
Print
Pin
Rate
Ingredients
2-3

slices

orange/tangerine

lime and/or lemon

1/2

apple

chopped

1

tablespoon

brandy

1

tablespoon

orange liqueur

such as Grand Mariner

1/4

cup

light-bodied red wine

such as Merlot or Rioja

2

tablespoons

freshly squeezed orange juice

can also sub pomegranate juice

2

tablespoons

soda water

1

cup

ice cubes
Instructions
Place fruit slices in the bottom of a wine glass and add brandy and orange liqueur. Let sit for 5 minutes then add wine, juice, and soda. Stir well and top with ice. Garnish with a slice of fruit and serve chilled.
Ginger Hultin,MS, RD, CSO
An award-winning, nationally recognized nutrition expert and media spokesperson.
Thanks for visiting! If you're like me: obsessed with eating, wine, going out and traveling, you're in the right place. Champagne Nutrition® LLC is a Registered Dietitian-run concierge virtual practice helping clients look and feel better. On this blog, you'll find cocktails, mocktails, and plant-based recipes that are easy to make quickly at home and pack for leftovers on your adventures.