Spiced Apple Cider Bourbon Punch
I have a new holiday tradition: Spiced Apple Cider Bourbon Punch. I made it for Thanksgiving last year for the first time and it was such a big hit that I made it for a big White Elephant holiday party soon after and everybody loved it. Apple cider is such a festive drink and is so versatile – you can warm it up, drink it cold or incorporate it into desserts or boozy drinks.
I've already developed a delicious Apple Cider Wine Spritzer, but I wanted to create another apple cider drink that would be more suitable for serving a large crowd at any holiday party – and my mind immediately went to punch. If you live in a cozy place like the Pacific Northwest like me, then you'll appreciate the need for apple cider cocktails even more. There's no place like rainy Seattle for comfort food and drink. 
I got a punch bowl a few years back and I love finding every excuse to use it. Whenever I throw a party the last thing I want to do is worry about making drinks for everyone. By making this Spiced Apple Cider Bourbon Punch, I'm able to relax and let everyone serve themselves. With a huge ladle and cute little crystal glasses, guests will feel fancy enough serving themselves whenever they want. This is just one of the beauties of punch.
My punch bowl is my prized possession. I knew that punch was popular from when I lived in Chicago and frequented secret 'punch' clubs in speakeasy fashion. Often housed in an "up-and-coming" part of town, through an unmarked doorway, you'll find yourself creeping down a dark stairway which opens to a huge, crowded den of beautiful people enjoying fancy punches in large leather booths by candlelight.
One of my wine teachers in Seattle made me realize that I could create this culture on my own. He told the class that punch is always "in" and that the best way to get a bowl is to go to second-hand stores because everyone always gives away their old punch bowls. He was so right. This is how my coveted crystal punch bowl became mine for $6 after a trip to a Seattle Goodwill store.
So now I tote my heavy punch bowl over to parties with all the ingredients in sealed containers and a bundt-pan ice ring on the side. As soon as I assemble this Spiced Apple Cider Bourbon Punch, people start swarming it. I overheard folks saying, "did you get any of that punch?" and they kept going back for seconds.
One thing that I love about serving punch is that people can serve themselves. As a host, you have so much to do. Items in the oven, people ringing the doorbell, kids running around, music to turn up or down…it's really hard to keep up with refreshing every person's beverage. With a huge ladle and cute little crystal glasses, guests will feel fancy enough serving themselves whenever they want. This is just one of the beauties of punch. If you like the idea of this one, I also have a Orange CranPom Sparkling Punch with Thyme that you could whip up. Or if you're open to the idea of single-serve beverages, my  Gin Ginger Beet Cocktail and Simple Egg Nog Cocktail are also some of my seasonal favorites.
Bringing Sanity to Holiday Entertaining
Holidays in general are stressful, but when you add in entertaining it can be overwhelming. I've discovered the best way for me to handle entertaining during the holidays is to plan things ahead of time. When I know I have a holiday gathering to attend or if I am hosting one myself, I make sure to figure out what I am going to make/bring. I try to pick recipes that are quick and easy and then I'll do as much as I can beforehand so there's less stressing on the day of. My Spiced Apple Cider Bourbon Punch is a great recipe to make the day before. Prepping this will give you time to finish other tasks, so you can stress less. For more helpful tips for a stress-free holiday, click here. 
Making the Spiced Apple Cider Bourbon Punch
The Ice Ring 
The first thing you need to do for this punch is to make the ice ring. This decorative ring of ice, not only looks cool, but it also helps the punch stay chilled without diluting it. Simply pour hot water into a bundt pan and freeze it – this is a great step to do the night before. I decided to add in apple rounds but you can also put in some cranberries or even the cinnamon sticks from the cider to make it even more festive. 
The Apple Cider Mixture 
Next, combine the cider, cinnamon, nutmeg and apples into a saucepan and bring to a boil. These flavors are already in cider, but by boiling them together, it accentuates the flavor of the cider, creating a rich base for the punch. Once this mixture comes to a boil, set it aside and let it cool off for a few minutes, then add in the honey and stir until it dissolves. Honey will balance out the acidity in the apple cider and add antioxidants to the drink. This is also a great step to prep the night before. Just put the cooled mixture into a sealed container and it'll be ready to go the next day. If you have apples left over, you could also whip up my Healthier Spiced Apple Crisp – another big crowd pleaser. 
The Bourbon 
When you are ready to assemble the punch, simply place your ice ring in your punch bowl, pour the apple cider mixture in and top it off with bourbon and lemon juice. Because there are so many flavors going on in this punch, I don't recommend getting an expensive bourbon – it's just not necessary, plus this is meant for a large crowd – save that expensive bourbon for yourself. 
The Soda Water 
Once the punch is assembled, top it off with soda water (or sparkling water) and enjoy! This final ingredient helps balance out all the strong flavors and adds some bubbles to it, making it even more festive. You can add in as little or as much of this as you want, depending on how strong you want those other flavors to be. If you enjoy sparkling drinks, you should check out my
Sparkling Pomegranate Rosè Cocktail
and my
Sparkling Plum Basil Cocktail
.
If you try this one, let me know in the comments! Enjoy!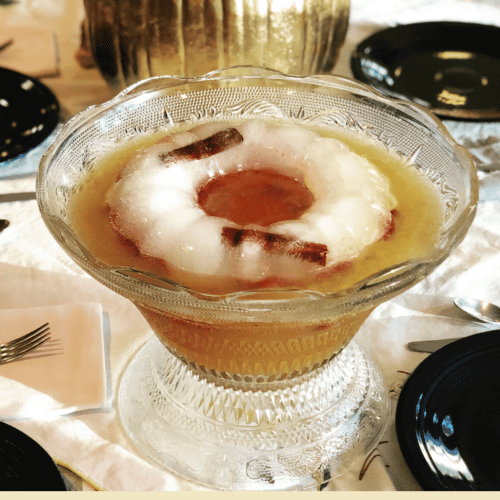 Spiced Apple Cider Bourbon Punch
A healthy, very 'fall-inspired' punch perfect for a party or dinner this season
Print
Pin
Rate
Ingredients
3

cups

hot water

2

honey-crisp or gala apples

(divided: one cut into thin wedges, one cut into thin rounds)

6

cups

apple cider

4

whole cinnamon sticks

1/2

teaspoon

freshly ground nutmeg

3/4

cup

honey

25

ounces

bourbon

6

fresh lemons

(juiced with seeds removed)

4

cups

soda water
Instructions
Pour hot water into a bundt pan and add apple rings (cut in half if needed to make them fit). Place in the freezer for 3-5 hours until completely frozen. If you don't use the entire apple, save some of the rings.

Place apple wedges, cider, cinnamon sticks and nutmeg in a saucepan and bring to a boil, uncovered, over medium-high heat. Remove from heat and let stand for 20 minutes. Pour mixture into a large bowl and stir in honey until dissolved. Cover and refrigerate for at least 3 hours. Overnight is fine, too.

Strain cider into a punch-bowl. Save cinnamon sticks for garnish. Add bourbon and lemon juice and stir to combine. Pour in soda water then place ice ring in bowl and garnish with additional apple rings and left over cinnamon sticks.
Notes
Feel free to put cranberries into the frozen ring as well. I also added my leftover cinnamon sticks.
Ginger Hultin,MS, RD, CSO
An award-winning, nationally recognized nutrition expert and media spokesperson.
Thanks for visiting! If you're like me: obsessed with eating, wine, going out and traveling, you're in the right place. Champagne Nutrition® LLC is a Registered Dietitian-run concierge virtual practice helping clients look and feel better. On this blog, you'll find cocktails, mocktails, and plant-based recipes that are easy to make quickly at home and pack for leftovers on your adventures.