Strawberry Basil Kombucha Cocktail
Looking to step up your cocktail game? Don't get me wrong, I am a fan of traditional cocktails, but I love mixing it up and trying something different – that's why I made this Strawberry Basil Kombucha Cocktail. Cocktails in general have a bad reputation for being super sweet and sugary. Combine alcohol and sugar and you're setting yourself up for a massive blood sugar crash – and perhaps even a hangover. By using kombucha in this cocktail, I have eliminated added sugar, lightening it up (without losing any flavor). 
My Strawberry Basil Kombucha Cocktail is perfect for the summertime, whether you're laying by the pool, enjoying a picnic or just sitting on your front porch;, but that doesn't mean you can't enjoy it all year round. Strawberries are at their best during the summertime, but if you have other berries on hand, throw those in instead. This drink is refreshing, easy-to-make and packed full of probiotics, too!
Health Benefits of Kombucha
By now most people have at least heard of kombucha, but if you are unfamiliar, it is a fermented sweet tea, usually made with green or black tea. It's very, very popular here in the Pacific Northwest. You'll find it in every grocery store and bar. In Portland, they have it on tap everywhere, just like beer.
When you think of sweet tea, you normally don't think of it as being good for you, but this tea is special. It's not just regular tea pumped full of sugar. Kombucha goes through a double fermentation process (which can take up to 5 weeks). During this process, the majority of the sugar in the tea actually gets consumed by the yeast and bacteria and carbon dioxide is released, leaving you with a bubbly drink that is relatively low in sugar.
But, being low in sugar isn't all that kombucha is good for. The fermentation processes fill this fizzy beverage with tons of live probiotics, healthy acids and antioxidants. So, there is a good reason why it gets so much attention. If you are interested in learning more about it, this washingtonpost.com article I am a part of. The journalist is exploring "boozy kombucha" and yes that's a thing. It's a very tasty beverage on it's own and especially mixed in an adult beverage!
Kombucha has a slight vinegar taste and is more tangy than sweet. You can make it at home or you can buy it in the store (look for it in the refrigerated section). You may notice some floaters in the container and that's the stringy bits of yeast and scoby – the good bacteria. There is some evidence that the bacteria we eat in food (think pickles, wine, sour cream, yogurt, kimchi, etc) helps support the good bacteria living in our gut – specifically the colon- and that microbiome has been linked to human health. Some people notice that their tummy troubles clear up when they eat more fermented foods. Keep in mind that alcohol generally isn't very helpful for the stomach so if you've got issues, stick with non-alcoholic kombucha and make this recipe a mocktail.
Kombucha makes a great base for my Strawberry Basil Kombucha Cocktail because it is tangy and bright, complimenting the strawberries perfectly. If you love kombucha cocktails and need more ideas, check out my Citrus Kombucha Old Fashioned. These are two really popular recipes of mine because my clients, like you, are interested in being healthy while enjoying their favorite foods. That's always my inspiration for blogging here for you.
Making the Strawberry Basil Kombucha Cocktail
Strawberries and basil are a classic combo because they work so well together, but you have another option. Strawberries are at their prime during the months of June and July, so if you are making this drink during that time I highly suggest keeping it as it is. However, if you are making it in the fall, raspberries would make a great alternative because those do better in the fall and pair really well with basil. Remember that you can always use frozen berries any time of year. Research shows that frozen foods are as nutritious (or more!) than fresh foods. And they can be more affordable, too.
The Glassware
The best glass to use for this cocktail is an Old Fashioned Glass, commonly called "Rocks" or "Lowball." This type of glass is ideal for this Strawberry Basil Kombucha Cocktail because it has a heavy base, which is perfect for muddling ingredients together. If you don't have this type of glass on hand, a mason jar would be a great replacement. I love the way cocktails look in a simple jar.
Muddling
Muddling is a common technique used to mush herbs or fruit in a drink (alcoholic or not) to release their juices. For this recipe, you are going to muddle strawberries, basil leaves and honey together. First, place all of the ingredients in your glass and then gently mash them together with a cocktail muddler (or a wooden spoon) about 3-4 times until the juices are released. The juices will mix well with the rest of the cocktail ingredients, making the drink much more flavorful than it would be with non-muddled, whole ingredients. Have extra basil to muddle? Use it in my Sparkling Plum Basil Cocktail.
The Alcohol and Kombucha
My liquor of choice is vodka for a, so that is what I went with for this cocktail like this one. It also think it pairs really well with the other flavors and doesn't overpower or overshadow them. Because I always use natural ingredients, I want each of them to shine through on their own. I, but if you prefer gin, tequila or rum, those would taste great too.
Pick up kombucha right in the store in the refrigerated section. Some people even make it at home, but that's not for me. I went with a lemon kombucha because I think it goes great with strawberries and brings some brightness to the drink, but again, if you prefer another flavor you could make it work. Kombucha can be flavored in so many different ways, so there are endless amounts of options. Consider ginger or a berry flavor – that would be delicious.
Once you add in the vodka (or your liquor of choice) and kombucha into your glasses, you can add in ice, and stir to combine. I love garnishing my drinks, so I saved some bails leaves and put those on top for a pop of color and added a thin slice of strawberry on the rim.
For other delightful and healthy(ish) cocktails, check out my 3-ingredient frosé, Gin Ginger Beet Cocktail with Thyme, or Vegan Turmeric Banana-Mango Lassi which you can spike with a little rum. YUM!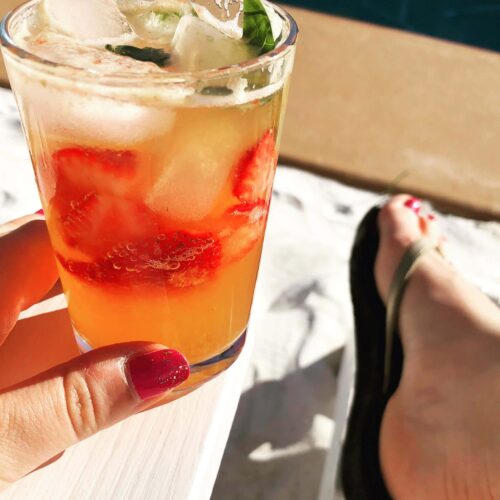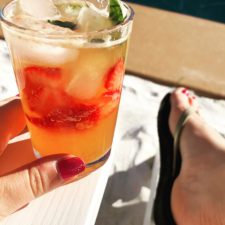 Strawberry Basil Kombucha Cocktail
A gorgeous, vibrant and healthy(ish) vodka cocktail featuring zesty kombucha and fresh fruit
Print
Pin
Rate
Ingredients
4

medium-size fresh strawberries

(sliced thinly)

4

fresh basil leaves

(plus more for garnish)

1/2

teaspoon

honey

3

fl ounces

vodka

1

cup

lemon kombucha

1

cup

ice cubes
Instructions
In the bottom of 2 rocks glasses (can also use mason jars), muddle 2 strawberries and 2 basil leaves with 1/2 teaspoon honey each of 2 rocks glasses until leaves are crushed and berries are soft and juicy.

Add 1.5 fluid ounces vodka in each glass and then add 1/2 cup kombucha to each. Fill to the top with more ice and stir to combine. Garnish with basil leaves and serve immediately.
Ginger Hultin,MS, RD, CSO
An award-winning, nationally recognized nutrition expert and media spokesperson.
Thanks for visiting! If you're like me: obsessed with eating, wine, going out and traveling, you're in the right place. Champagne Nutrition® LLC is a Registered Dietitian-run concierge virtual practice helping clients look and feel better. On this blog, you'll find cocktails, mocktails, and plant-based recipes that are easy to make quickly at home and pack for leftovers on your adventures.