Vegan Strawberry Rhubarb Single Serving Cheesecake
Being an RDN (Registered Dietitian Nutritionist), I make recipes a bit differently: healthy, but still delicious. These Cheesecakes are just that; vegan, no bake, single serving, healthy and delicious. I'm also obsessed with my mini mason jars as well as with the rhubarb and strawberry flavor combination so I made these Vegan Strawberry Rhubarb Single Serving Cheesecakes for you.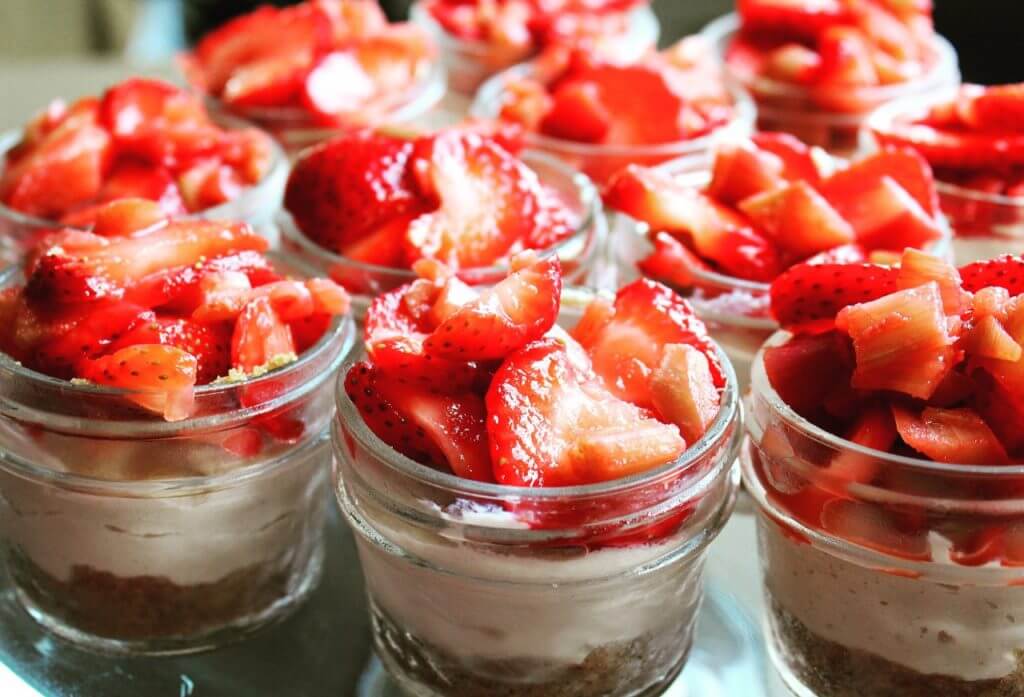 Single Serving Desserts
The individual jars that this recipe is made in make these cheesecakes a super convenient single serving. I took them to a picnic and they were THE most popular dessert by far. These would be super fun for kids and are perfect for a party or outdoor event. If you make them in a mason jar like I did you can just screw on the cap and take them anywhere. They are easy to distribute and don't require any plates or bowls. 
You can even store them in the freezer and keep them as dessert for yourself. Single serving desserts like these Vegan Strawberry Rhubarb single serving Cheesecakes are perfect for when you're craving something sweet but you don't want to make a full family sized dessert. The small jar is just enough for one. 
Strawberries And Rhubarb
Strawberry and rhubarb are one of my favorite flavor combinations. Because rhubarb is a vegetable it may seem strange at first to pair it with fruit in a dessert. The sweet strawberries combined with the tartness of the rhubarb just works so well and greats a bright fresh flavor. 
Rhubarb Health Benefits
This vegetable is known for its tart taste and bright red color. This color is created by anthocyanins and makes rhubarb a great source of the antioxidant. Anthocyanins can help with blood pressure and may offer anti-cancer benefits as well. It also provides vitamin K, vitamin C and calcium. 
While the stalk is safe to eat and full of health benefits, be sure to stay away from the leaves. While you aren't likely to encounter the leaves, they contain high concentrations of oxalic acid that can be toxic to humans if consumed in excess. However, oxalic acid is not harmful for the body in small quantities and is found in a variety of healthy plant foods. 
Strawberry Benefits
Strawberries have so many different health benefits that it's hard to focus on just one. First, strawberries are another plant that is rich in antioxidants due to its bright red color caused by a high concentration of anthocyanins and other antioxidant compounds. As with most berries, this makes them an amazing anti-inflammatory food. These anti-inflammatory antioxidants are great at fighting against oxidative stress that can affect your organs.This makes them a superstar in terms of heart health and cancer prevention. 
Another reason for including strawberries in this Vegan Strawberry Rhubarb Single Serving Cheesecake is that they are an excellent source of vitamin C, manganese, folate and potassium. Strawberries also provide healthy amounts of complex carbohydrates and fiber and are low on the glycemic index. Because of these factors, they have been shown to aid in the regulation of blood sugar. Those are great qualities to have in a dessert as traditional desserts are usually high in sugar and can cause blood sugar spikes. 
Why Non Dairy?
This cheesecake utilizes cashews for the filling rather than traditional cream cheese. I tend to go for dairy free desserts when possible. Using non-dairy alternatives like nuts, soy and oat milk help you to avoid the excess saturated fats that are found in dairy products. Not only are you cutting down un unwanted fats, but you are also replacing them with healthier fats like monounsaturated and polyunsaturated fats. Nuts are a great source of omega 3 fats that act as an anti-inflammatory in the body. 
Another reason to opt for dairy free recipes or just plant based foods in general is because they are more sustainable. What do I mean by that? Plant foods contribute significantly less greenhouse gasses to the atmosphere than animal foods like dairy. This is because cows contribute methane through their bodily gasses. So, eating dairy free more often is not only good for your body but good for the environment as well. 
Making the Vegan Strawberry Rhubarb Single Serving Cheesecake
The Cashews
Vegan cheesecake is actually really easy to make; no cream cheese required! You can quick soak cashews by pouring boiling water over them and soaking them covered for an hour before draining the remaining water. If you have the time, you can also soak your cashews in cold water for 4 hours or overnight in the fridge. Make sure that you are using raw cashew for this recipe, roasted cashews would not work well.  Add lemon juice, coconut milk and oil and some sweetener (I used maple syrup), refrigerate and you've got a raw, vegan filling that is so versatile. 
The Crust
I made a simple graham cracker crust and topped with lightly sweetened summer strawberries and rhubarb for a sweet-tart flavor that reminds you of long, sunny days, picnics and fireflies. I purposefully cut the sugar in this recipe (not adding it to the crust for example), so these Vegan Strawberry Rhubarb Single Serving Cheesecakes are very light without being overly sweet. When it comes to the vegan butter for this crust I recommend using Earth Balance. 
The Prep
Note that this recipe is a little time consuming because you make the crust then freeze it, make the filling then freeze it and then top with the fruit. Doing it in parts adds to the total time but you can definitely work on other projects or recipes in between. The steps are simple but just require some breaks in between. The good news is that these travel and keep well and they will be enjoyed by all – vegan or not. Eat right away or store in the refrigerator or freezer. 
I hope you enjoy these cute little Vegan Strawberry Rhubarb Single Serving Cheesecakes!
If you are loving the idea of  single serving recipes check out – Pomegranate Chia Pudding, Mason Jar Berry Pies, Single Serving Vegan Hot Chocolate, One Glass Sangria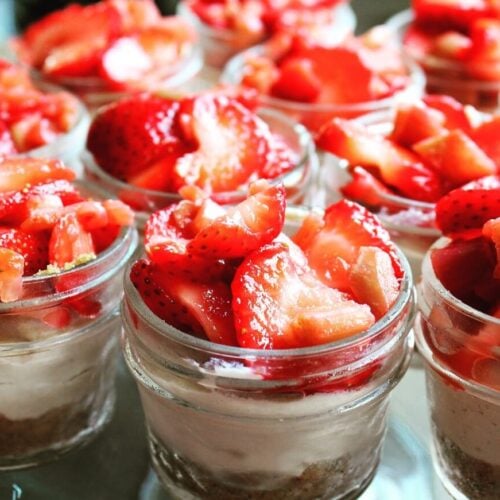 Vegan Strawberry Rhubarb Single Serving Cheesecake
A gorgeous, single-serve (in a mini mason jar!) cheesecake that's vegan? Yes! Everyone will love these SO much.
Print
Pin
Rate
Ingredients
1 1/2

cups

raw cashews, soaked for 1 hour

*cover in boiling water then let sit, covered for 1 hour then drain

8

graham crackers, ground

4

Tablespoons

vegan butter substitute, melted

1

lemon grated and juiced with seeds removed. Set the zest aside to use as a garnish

1/3

cup

coconut oil, melted

3/4

cup

full fat coconut milk

1/2

cup

maple syrup

1

teaspoon

vanilla

1

pint

fresh strawberries, sliced

12 medium-sized berries

1

cup

fresh rhubarb, chopped

1/4

cup

maple syrup
Instructions
Start by soaking the cashews. While they are sitting for 60 minutes, make the crust.

In a food processor or blender pulse the graham crackers and vegan butter. The dough should be wet and crumbly. Place 2 Tablespoons of the crust in the bottom of each mason jar and press to coat evenly. I had good luck with a vitamin bottle for pressing down the crust. Set the jars in the freezer to firm for about 30 minutes.

Add the cashews, lemon juice, coconut oil, coconut milk, and  half the maple syrup to a blender and puree until very smooth. Pour the mixture into each mason jar over the crust with ~1/2 inch left on the top (about 1/4 cup filling in each jar). Place back in the freezer to set for 60 minutes.

Mix the strawberries, rhubarb and the other half of the maple syrup in a medium mixing bowl. Let the fruit sit for 60 minutes so flavors can mingle.

Remove the jars from the freezer and top with 2-3 Tablespoons of fruit on top. Garnish with a sprinkle of grated lemon if desired.
Ginger Hultin,MS, RD, CSO
An award-winning, nationally recognized nutrition expert and media spokesperson.
Thanks for visiting! If you're like me: obsessed with eating, wine, going out and traveling, you're in the right place. Champagne Nutrition® LLC is a Registered Dietitian-run concierge virtual practice helping clients look and feel better. On this blog, you'll find cocktails, mocktails, and plant-based recipes that are easy to make quickly at home and pack for leftovers on your adventures.