How to Drink Water When You Don't Like It
Don't Like Drinking Water? You hear it all the time: "you really should drink more water", "water is good for your skin", "drinking water helps your body detox naturally". That's all well and good, but what if you can't stand the flavorless taste of plain water? If you're not a fan of the clear stuff, you can be left wondering how to drink water when you don't like it.
While some people love the clean taste of a plain glass of water, others find this basic beverage just plain boring. I talk to clients all the time who struggle with staying hydrated because they don't like the taste of plain water. I myself am a person who doesn't often feel thirsty, so it's easy for me to forget to drink enough water unless I make it more interesting. Luckily, I have seven simple tips below on how to drink water when you don't like it.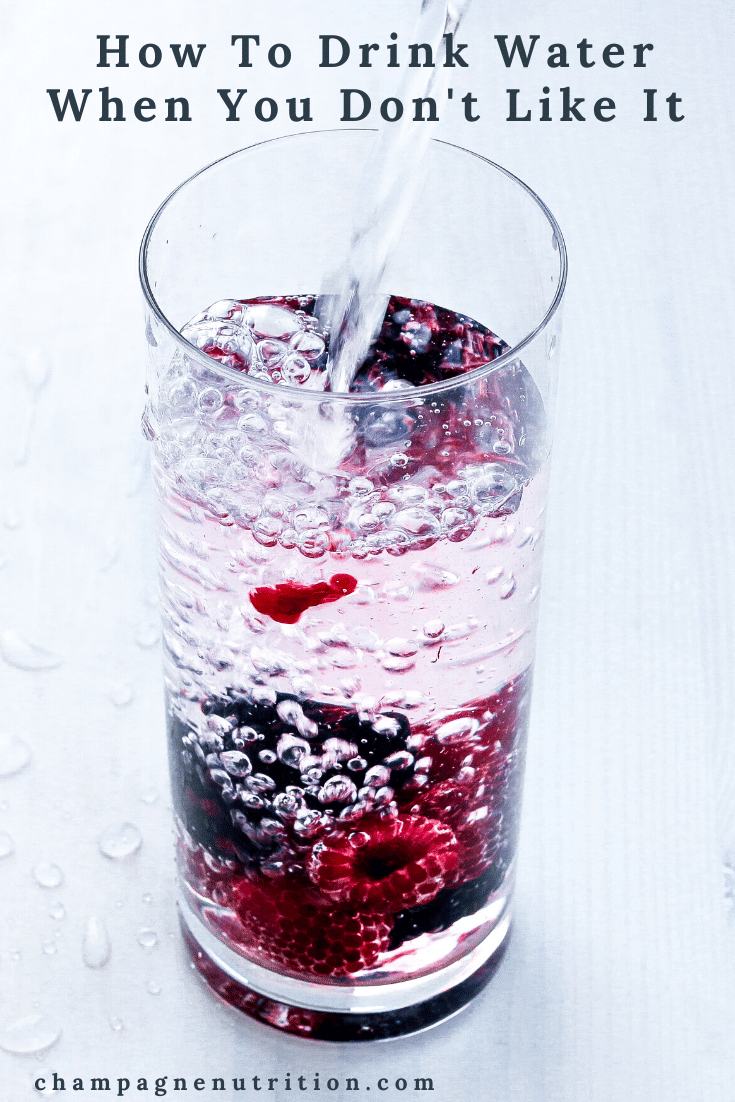 Drinking enough water is a health-promoting behavior
For anyone who isn't in the loop, drinking enough water has numerous health benefits. Having enough water in our bodies is critical for many body functions to work correctly, including normal function of our internal organs, oxygen transport through our blood, the production of substances like saliva and digestive juices, body temperature regulation, and transport of nutrients to all of the cells in our bodies. 
Research shows that drinking 5-6 glasses of water is associated with a decreased risk for diseases like urinary bladder cancer, colorectal cancer, and fatal coronary heart disease. Not only this, but it helps you to have healthy and comfortable bowel movements by preventing constipation. 
How to drink water when you don't like it:
So how do you drink more water when you don't like it? I have seven simple solutions to make water more interesting and help you stay hydrated even when you don't like it.
Get a water bottle you love! 
Pick a fun color or straw top that makes you want to drink out of it. Ones with an internal or external straw might be easier to drink mindlessly from (helping to increase your odds of drinking enough). If you prefer your water hot or cold, consider grabbing an insulated or double-walled mug or bottle to keep your drinks hot or cold for even longer.
Infuse water with bubbles
If you have a soda stream or soda siphon maker, use some CO2 to add bubbles to your water. The sparkling beverage is a more interesting and pleasant alternative to soda, if that's your normal pick. If you don't want to invest in a soda maker, get my favorite LaCroix or sparkling mineral waters from your local grocery store. 
Make a pitcher of herbal iced tea 
Even with bubbles, maybe you still want some flavor in your water. Brewing some herbal iced tea can be a simple solution to get instant flavorful "water" (tea, really!). Herbal teas like hibiscus, mint, chamomile, and ginger can add flavor to your water and be drunk hot or cold.
Use produce for a flavorful and colorful infused water
Cut up fresh fruits and vegetables like citrus, berries, or cucumber in the evening and combine them with water in the fridge overnight to create colorful and flavorful infused water. Try combinations like cucumber, mint, and pineapple, or blueberry and lemon. Bonus: if you have a clear water bottle (see tip #1), add some of the fruit in to your bottle to get a burst of color encouraging you to drink throughout your day! If you're interested here, you may be very interested in the MOST DELICIOUS recipe I made. 
Add herbs or spices to a chilled water pitcher
Much like adding fruits and vegetables, you can add in herbs and spices to create unique and delicious flavor combinations. Classic mint water is always refreshing, but combinations like orange, ginger, cinnamon (great for winter) and blackberry, lemon, thyme (perfect for late summer) can build on seasonal inspiration to keep your water exciting year-round. Consider combinations that use rosemary, sage, oregano, basil, mint, thyme, ginger, cinnamon, cloves, vanilla, or star anise.
Make a high-water content mocktail
Maybe you need a little more flavor than infused water provides? Try making a mocktail that includes fruit juices and flat or sparkling water to combine flavor with hydration. Make my Apple Cider Spritzer a hydrating mocktail by swapping the white wine for white grape juice or apple juice and extra sparkling water. For a colorful option, make my Pomegranate Ginger Mocktail. Decrease the amount of pomegranate juice and increase the sparkling water to make this mocktail extra hydrating!
Add crushed ice if you enjoy something chilled and refreshing.
This last one depends on your temperature preference, but since many people find that they're more likely to sip on chilled water, an easy hack is to add some crushed ice to your cup. If you prefer your water chilled, make sure the bottle or thermos you pick (see tip #1) retains temperature to keep that drink nice and cool for several hours. If you're drinking from a glass, add a reusable straw and sip away!
Use this infographic to increase your water intake: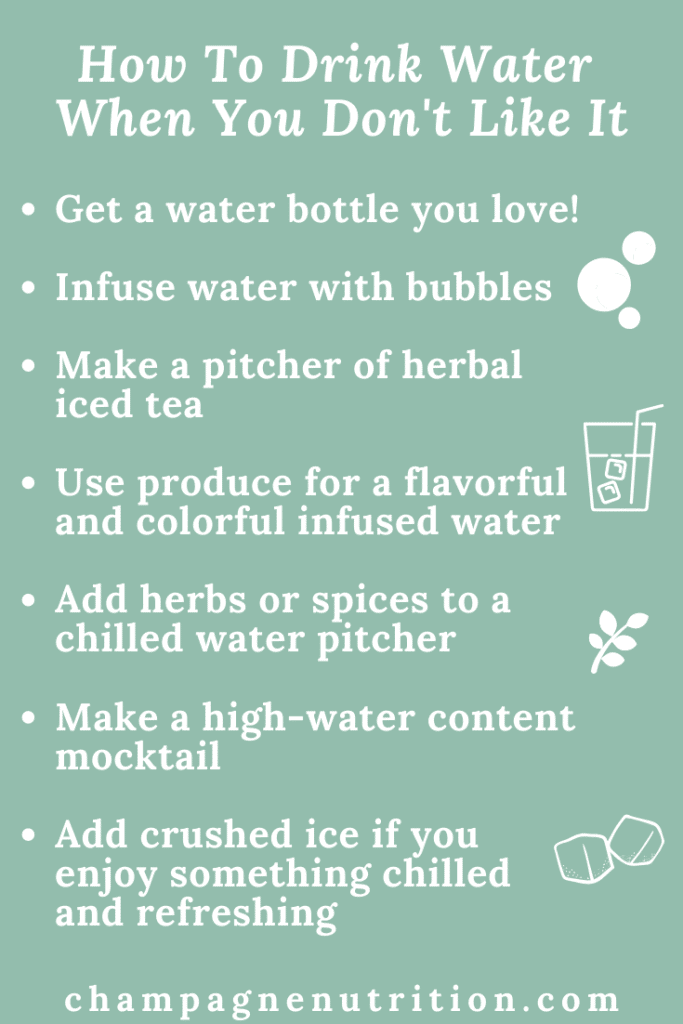 Too much of a good thing is not always good
Like many things, while drinking enough water is healthy and something to work towards, drinking too much water can be just as bad as not drinking enough. Overhydration can dilute your blood and prevent your brain and body from working correctly, especially when drinking water without also including electrolytes like sodium, potassium, and magnesium. Keep in mind that people who sweat a lot, exercise frequently or for long durations, and people living in hot and/or humid locations will need more water each day than those who do not. 
If you're feeling confused on how much water is the right amount for you, or want someone to help you determine how to incorporate enough water into your day, you're not alone. I work with many clients to make sure we have their fluid and electrolyte intakes balanced and at the correct levels for their lifestyle and climate. Click here to set up a consultation and we can dive in to creating a personalized plan that works for you!
Ginger Hultin,MS, RD, CSO
An award-winning, nationally recognized nutrition expert and media spokesperson.
Thanks for visiting! If you're like me: obsessed with eating, wine, going out and traveling, you're in the right place. Champagne Nutrition® LLC is a Registered Dietitian-run concierge virtual practice helping clients look and feel better. On this blog, you'll find cocktails, mocktails, and plant-based recipes that are easy to make quickly at home and pack for leftovers on your adventures.