Cherry Pie Cupcakes with Crumble Topping
One of my all-time favorite foods is fresh berries. I will eat them by themselves or add them to any dish to provide a nice, fresh flavor. One of my favorite ways to enjoy berries is in baked goods. You all know that I am a huge fan of breakfast foods but I am also a sucker for baked goods, specifically cupcakes! I wanted to transform a traditional berry pie into a cupcake and I was very pleased with the result. These Cherry Pie Cupcakes with Crumble Topping are a delicious, simple treat that are perfect for any occasion or season. These cupcakes are vegan and made with simple ingredients and loaded with so many amazing flavors. By using whole wheat flour, minimal sugars or sweeteners and lots of fresh fruit, this recipe is made a little healthier than a traditional pie. See the simple steps below to make the crust, prep the fruit, blend the crumble and bake!
Why Cherries?
Cherries, although they are small, are packed with so many amazing nutrients. These stone fruits come in both tart and sweet varieties but both are rich in numerous vitamins, minerals, and fiber. Cherries are particularly rich in vitamin C and potassium, both of which aid in many body functions. Vitamin C is helpful in maintaining a healthy immune system and skin while potassium is essential for muscle contraction and nerve function. Cherries are also an excellent source of fiber, which aids in promoting good gut health and helps feed your healthy gut bacteria.
Cherries also have a super high antioxidant content, which aids in preventing cell damage and reducing the amount of free radicals present in the body. They are also packed with polyphenols, a plant compound that helps fight cellular damage, reduce inflammation, and boosts overall health. These polyphenols are also linked to promoting heart health and reducing one's risk of developing heart disease. If you are interested in learning more about how to lower inflammation, check out my Anti-Inflammatory meal prep book right here. 
Aside from these Cherry Pie Cupcakes with Crumble Topping, cherries can be added to so many different recipes due to how versatile they are. You can add some dried cherries to your homemade granola or trail mix, added fresh cherries to a fruit salad, infuse fresh (or dried) cherries in some water or seltzer, and even incorporate them into some savory dishes like a cherry barbecue sauce or homemade cherry salsa.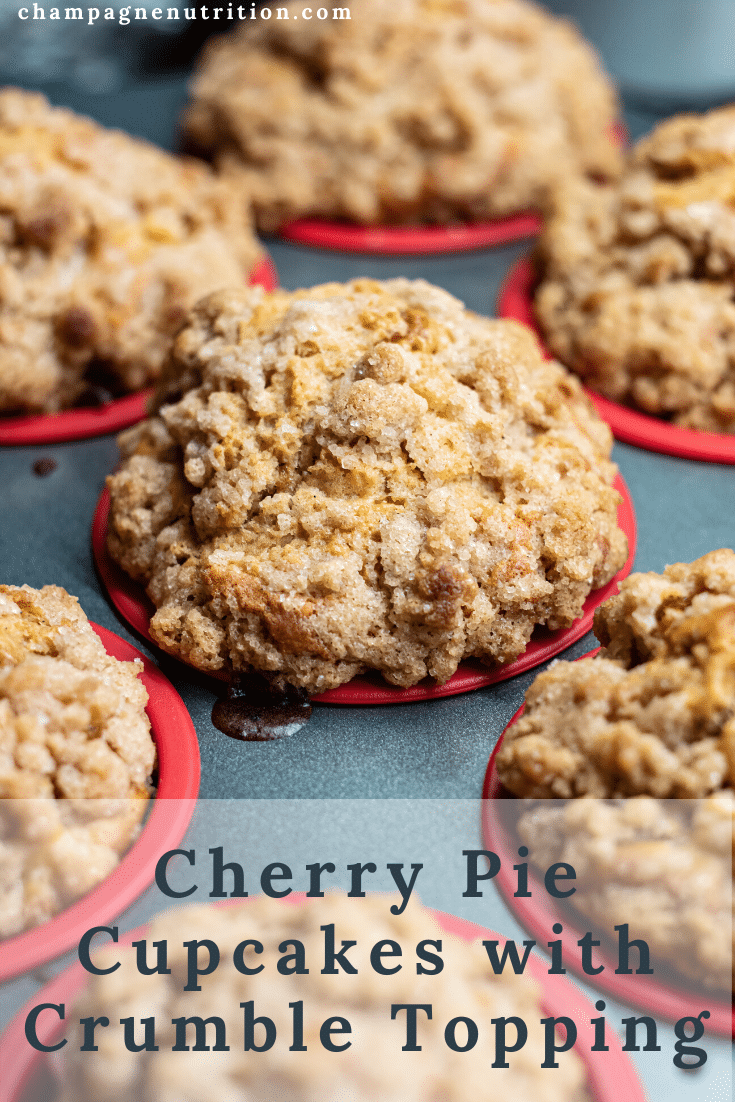 Making the Cherry Pie Cupcakes with Crumble Topping
The Crust
I love a flakey, buttery pie dough and I made sure that these cupcakes still had that traditional pie crust. I like to make homemade pie crust but you can definitely use store-bought dough as well! To begin, I add whole wheat pastry flour, salt, sugar, and vegan butter into a food processor. I pulse the mixture until it has a crumbly texture with pea-sized lumps in it.
Once the texture is just right, I slowly pour ice water into the food processor while pulsing the mixture. This allows for the ingredients to combine together and the dough to form into a ball. I add anywhere from ¼ cup to ⅓ cup, depending on how the dough is coming together. I always advise on adding less water than more if you are unsure. I then remove the dough from the food processor and place on a sheet of wax paper, pressing it out to form a circle. I then cover and refrigerate for 30-60 minutes.
For these cupcakes, I chose to go with whole wheat pastry flour to add some lightness and fluffiness to the dough while also minimizing the additional sweetness. I also used a butter substitute spread to make these cupcakes vegan and non-dairy friendly!
The Filling
To make the filling for these Cherry Pie Cupcakes, I combine together some fresh cherries that have been rinsed, de-stemmed, pitted, and roughly chopped, cinnamon, agave nectar, and whole wheat flour. I mix these ingredients together in a medium bowl and set aside. While these cupcakes are designed for cherries, they can really work with any berry of your choice! Feel free to swap out the cherries for blueberries, strawberries, raspberries, or blackberries for an additional delicious sweet treat.
The Crumble Topping
Prior to preparing the topping, I preheat the oven to 400 degrees Fahrenheit. I then take a large bowl and combine some maple syrup, grapeseed oil, rolled oats, chopped pecans, and salt. I mix together until small lumps start to form. I set the mixture aside once combined.
Putting the Cupcakes Together
Once all the ingredients are together, I place cupcake liners into a cupcake tin and spray lightly with olive oil. When the dough is ready, I take about ⅛ cup of chilled dough and place it into a cupcake liner and use my fingers to work the dough up the sides until it's even. I repeat until all the liners are filled with dough and then bake the crusts for about 10 minutes, until the dough is firm. I then add the filling to the cups until they are about ⅔ full. I top them with 1-2 tablespoons of the crumble topping and pop the cupcake tin back into the oven for 20-30 minutes, baking until golden brown. Let the cupcakes cool for a few minutes before gently removing them from the cupcake tin to cool completely.
Looking for more delicious ways to enjoy berries? Check out my Healthy Blackberry Oat Crisp, my Rose Poached Summer Berries with Honey and Vanilla, or my Plum Berry Cobbler Granola.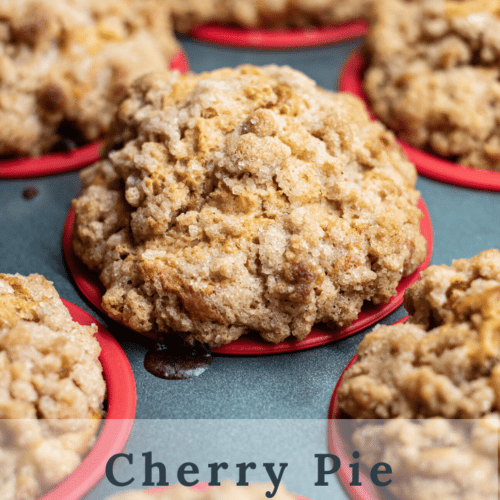 Cherry Pie Cupcakes with Crumble Topping
These Cherry Pie Cupcakes with Crumble Topping are the best combination of pie, cupcake and muffin. Enjoy them for breakfast, a snack or dessert!
Print
Pin
Rate
Ingredients
Crust
1

cup

whole wheat pastry flour

1/2

teaspoon

salt

1

Tablespoon

sugar

1/2

cup

butter or butter substitute, cubed and chilled

1/4-1/3

cup

ice water
Filling
2

cups

fresh cherries rinsed,

de-stemmed and pitted, roughly chopped

1/2

teaspoon

cinnamon

2

Tablespoons

agave nectar

2

Tablespoons

whole wheat flour
Topping
1/4

cup

maple syrup

3

Tablespoons

grapeseed oil

1

cup

rolled oats

1/2

cup

chopped pecans

1/8

teaspoon

salt
Instructions
Begin by making the pie dough. Add the flour, salt, sugar, and butter together in the bowl of a food processor. Pulse until the mixture is blended with pea-sized lumps within. Slowly pour in ice water while running the machine until the dough forms a ball. Add less water as opposed to more. Pour the dough onto waxed paper and press to form a flat circle. Cover and refrigerate for 30-60 minutes.

Combine the filling and topping ingredients in separate bowls and set them aside.

Preheat the oven to 400º F. Fill each cupcake tin with cupcake liners and spray lightly with vegetable oil.

When the dough is ready, place about 1/8 cup of chilled dough into the bottom of each cup and use your fingers to work the dough up the sides so it is even. Bake the pie crusts for about 10 minutes, until dough is firm and lightly brown.

Pour the filling into the prepared cups 2/3 full. Spoon 1-2 Tablespoons of the topping on each cup. Bake for 15-20 minutes, until the tops are golden brown. Let them cool for several minutes before gently removing them from the cupcake tin to cool completely.
Ginger Hultin,MS, RD, CSO
An award-winning, nationally recognized nutrition expert and media spokesperson.
Thanks for visiting! If you're like me: obsessed with eating, wine, going out and traveling, you're in the right place. Champagne Nutrition® LLC is a Registered Dietitian-run concierge virtual practice helping clients look and feel better. On this blog, you'll find cocktails, mocktails, and plant-based recipes that are easy to make quickly at home and pack for leftovers on your adventures.