Corn Chowder with Potatoes and Basil
Who doesn't love a light yet creamy corn chowder?  I found this lovely little Corn Chowder with Potatoes and Basil in one of my favorite cookbooks: Vegetarian Cooking for Everyone. It was so easy to make vegan but subbing a couple ingredients and using an immersion blender to incorporate the potatoes so that they add to the richness and make it even more creamy. The sweet and savory balances in this soup and it makes your house smell amazing when you're preparing it.
Corn Chowder with Potatoes and Basil highlights some fun seasonal flavors – you can use fresh corn and basil and even potatoes you may have growing in your garden for the summer. As the seasons turn. purchase these items at the store and feel free to use frozen corn; fall harvest time is so perfect for this soup. Studies show that frozen fruits and veggies are just as nutritious as fresh actually. For the winter, we're in prime 'soup' season so you may be buying your herbs at the store or you may be getting them dried and that's ok! Finally, if you're anything like me here in the Pacific Northwest, springtime is chilly and it's so perfect for a soup like this one.

Why Soup?
Soup is incredible any time of year. It's such a versatile food that's full of veggies and could get you eating veggies that you don't always get a lot of. For example, I don't care for fresh onion but I love it as a base in soups. You may find yourself using onions of any kind or leeks as a flavor base for any soup, including this one. This recipe has bell peppers – yellow ones- which match the color of the soup but honestly you could use any type that you enjoy or have access to. If you like spicy food, like I do, then you could also use other hotter peppers like jalapeños or Anaheims in the recipe.
Soup is warm and comforting at any time of year and it makes incredible leftovers. It's such a great food to meal prep and enjoy throughout the week for leftovers as well as freezing for the future. If you have a little time to whip up a batch of soup on the weekend, you'll have a healthy, balanced lunch full of veggies all week long. It's also a wonderful food for kids and teens and often well-accepted, especially if it's not spicy and has mild flavors such as this one.
Making Corn Chowder with Potatoes and Basil
What you do here is create a simple soup base which is similar to the start of many soups. Melt the butter then get the onion and spices in there. Get the potatoes going and then add the broth and allow the potatoes to cook in all that deliciousness. This is such a fun recipe to make your own (like all my recipes!) so feel free to add in extra veggies, swap in sweet potatoes for regular or add extra herb and spices.
The best part about making this soup is the awesome texture because of the corn and potatoes. Soy milk and blenderizing about 1/2 the cooked potatoes creates a creamy texture that is so comforting and delicious. An immersion blender is honestly the best thing – if you don't have one, you should get one and I use mine all the time. The fun thing about this recipe is that you're adding creaminess without any of the saturated fat usually found in whole milk or cream. It's naturally vegan but still savory and delicious. You can maximize nutrients but skip the weight of heavy cream with this simple Corn Chowder with Potatoes and Basil!
Another way that I like to make soups creamy is with oats. It's so incredible, just use quick oats and add about a quarter cup then blend it in and you've got thick soup. This recipe uses unsweetened soy (NOT vanilla please) which I love because it contains a good amount of protein and fat. Alternatives are oat milk and coconut milk but keep in mind that will give this dish a coconut-flavor which might be ok with you but isn't the intent of the recipe. Rice or almond milk are way too thin so I don't recommend them for this one.
I really hope you enjoy making the Corn Chowder with Potatoes and Basil. If you're into soup, I have a few other good ones on the blog including my Spicy Winter Coconut Lemongrass Squash Soup and Root Vegetable and Bean Soup. What kind of soup are you into right now?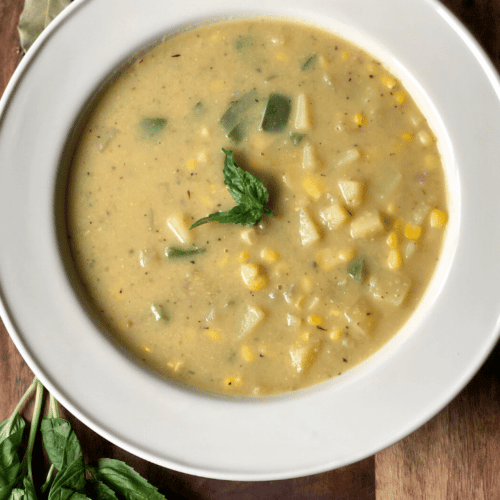 Ingredients
3

tablespoons

vegan butter divided

1

large yellow onion

(finely diced)

1

bay leaf

1/4

teaspoon

dried thyme

1

inch

large leek

(the white part plus anof the green sliced into thin rounds)

1

pound

medium yellow potatoes

(peeled and diced, about 3)

1

quart

vegetable stock

4

cups

corn kernels

1 1/2

teaspoon

salt

2

branches basil

(plucked and stems reserved, about 8 leaves)

1

teaspoon

freshly ground pepper

1

large yellow bell pepper

diced

1

cup

unsweetened soy milk
Instructions
Melt 2 tablespoons vegan butter in a soup pot and add the onion, bay leaf, thyme, and leek. Cook over low heat until the onion is soft, 10-12 minutes, stirring occasionally. Add the potatoes, vegetable stock, and 1 1/2teaspoons salt and bring to a boil. Lower the heat and simmer, partially covered, until the potatoes are tender, about 20 minutes. While the soup is simmering, saute the pepper in the remaining tablespoon of vegan butter in a small skillet until tender, about 10 minutes.

Use an immersion blender on about 1/4 the pot of soup, blending some of it but not the majority. Add the corn and milk. Simmer until the soup is heated through and the corn is tender, about 5 minutes. Add the peppers to the soup then serve with thinly sliced basil leaves and black pepper.
Notes
You can use olive oil instead of butter if desired
Ginger Hultin,MS, RD, CSO
An award-winning, nationally recognized nutrition expert and media spokesperson.
Thanks for visiting! If you're like me: obsessed with eating, wine, going out and traveling, you're in the right place. Champagne Nutrition® LLC is a Registered Dietitian-run concierge virtual practice helping clients look and feel better. On this blog, you'll find cocktails, mocktails, and plant-based recipes that are easy to make quickly at home and pack for leftovers on your adventures.