Cranberry Zucchini Muffins
I LOVE breakfast foods. Breakfast sandwiches, pastries, anything breakfast is my favorite way to start the day and I always wake up hungry! One of my go-to breakfast treats are muffins. However, muffins are known for their high calorie and fat content while being low in numerous nutrients. Costco muffins, classically high calorie, contain 672 calories. Poppy Seed muffins contain the most sugar of the store's muffins at 42 grams. Lighten your daily muffin up by packing in the nutrients and slashing the fat and sugar in these Cranberry Zucchini Muffins. I love adding shredded zucchini into baked goods, such as breads or these muffins, because they make the end product much more moist without affecting the taste at all. Plus, zucchinis are packed with so many nutrients that it is so beneficial to add them to these muffins.
I want to break down exactly how to lighten your next muffin recipe up so that you've got super simple meal prep for your week's breakfast, snacks or pre/post workouts. Perfect for adults and kids alike, Cranberry Zucchini muffins are a perfect way to get your fruits AND veggies in in an unexpected way.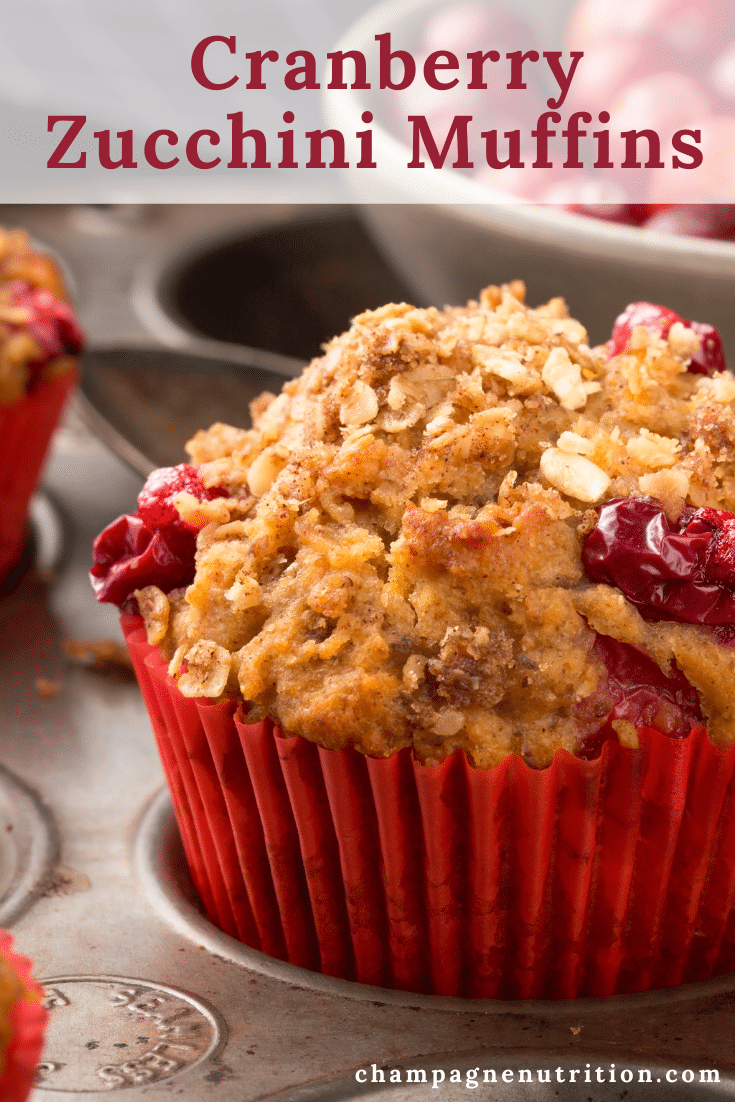 A Healthy Meal or Snack
When people typically think of muffins, they think of breakfast. Even though I am a little biased (because of how much I love breakfast food), breakfast is the most important meal of the day. You are breaking your overnight fast with breakfast so it's important to start your day off on the right foot. It is so important to eat a healthy, filling breakfast each day. Eating a proper, fueling breakfast is the perfect way to jumpstart your metabolism. By eating breakfast, you are setting the energy levels you need for the whole day and letting your body know how much energy it needs to conserve and how much it needs to store. Without a fueling breakfast, you may be signaling your body to store more energy than it actually needs to.
Eating breakfast in the morning also provides so many health benefits as well. It can help boost your energy and metabolism levels, help your body regular blood glucose levels, and provides your body with numerous essential nutrients. To ensure you are getting the best out of your breakfast, make sure your breakfast is packed with complex carbohydrates, healthy fats, and lean protein. These Cranberry Zucchini Muffins are the perfect combination of all three.
Even though muffins are usually associated with breakfast, these Cranberry Zucchini Muffins can be enjoyed at any time of the day. They are packed with complex carbohydrates that help keep you satiated and full between meals. A lot of times I hear people being adamant about muffins because of their carbohydrate content. However, carbohydrates aren't things to be worried about! Our body uses carbohydrates as our main source of energy so incorporating them throughout your day is essential for optimum energy. If you are fueling your body with enough carbohydrates, then your body resorts to using other resources for energy, such as fat stores, and after an extended period of time with low carbohydrate intake, your body will enter a state of ketosis. While ketosis isn't "bad" for you, I always recommend having a good intake of carbohydrates each day to avoid low blood glucose levels and keep your body properly energized.
Health Benefits of Zucchinis
I love sneaking in grated zucchini into any baked good I can because you can hardly tell they are even in there. Zucchinis are packed with a variety of vitamins and minerals such as vitamin A, manganese, vitamin C, potassium, magnesium, and many others. They are also rich in antioxidants, specifically carotenoids, helping to reduce the amount of free radicals in your body. Zucchini is also a great source of both soluble and insoluble fiber, aiding in a healthy digestion. Insoluble fiber helps move food throughout your body with soluble fiber helps feed the healthy bacteria in your gut. Zucchinis can also help reduce blood sugar levels, help improve heart health, and even help strengthen your vision. If you are looking for more ways to incorporate zucchini into your diet, check out these vegan zucchini boats and these garlic lemon zoodles. I've also got another zucchini muffin recipe – sans cranberries – right here on the blog. 
Making the Cranberry Zucchini Muffins
The Dry Ingredients
For these Cranberry Zucchini Muffins, I used whole wheat flour rather than all-purpose flour. The main difference between whole wheat flour and all-purpose flour is that whole wheat flour is made by grinding down the entire wheat kernel, with nothing being removed. This allows for whole wheat flour to be a great source of complex carbohydrates, fiber, protein, and a variety of vitamins and minerals. I mixed together the whole wheat flour, baking powder, baking soda, cinnamon, and salt together in a bowl and set aside for later.
For this recipe, I used both baking soda and baking powder as leavening agents to give these muffins a nice rise when baking. I also added some cinnamon to give these muffins a little spice and really heighten the flavor.
The Wet Ingredients
In a separate bowl, I whisked together the coconut oil, maple syrup, egg, almond milk, and vanilla extract until well combined. I chose to use coconut oil because it is a great source of healthy fats to help keep those HDL cholesterol levels high, which helps reduce the risk of heart disease. I also chose a non-dairy milk, almond milk, but feel free to substitute with dairy milk or another non-dairy alternative. The maple syrup here provides a nice touch of sweetness without overpowering the sugar content of these muffins.
Putting it all  Together
Once both mixtures are ready, I add the wet mixture into the dry mixture and stir until combined. I then fold in the grated zucchini and dried cranberries just until combined and pour the mixture into lined muffin tins. I then baked them in a 350 degree oven for 20-22 minutes or until golden brown.
What is your favorite morning muffin? Let me know in the comments below!
Cranberry Zucchini Muffins
A delicious, easy recipe for your next breakfast or snack, this one has both fruits AND veggies in it!
Print
Pin
Rate
Ingredients
1

cup

all-purpose flour

1/2

cup

whole wheat flour

1

teaspoon

baking powder

1

teaspoon

baking soda

1

teaspoon

cinnamon

1/2

teaspoon

salt

1/4

cup

coconut oil

1/2

cup

maple syrup

1

egg

or flax egg replacement for a vegan option

1/3

cup

unsweetened almond milk

1

teaspoon

vanilla extract

1 1/2

cups

grated zucchini

1/2

cup

dried cranberries
Instructions
Preheat the oven to 350 degrees. In a mixing bowl, blend together the flour, baking powder, baking soda, cinnamon, and salt.

In a separate bowl, whisk the coconut oil, syrup, egg, almond milk and vanilla until well combined. Add wet mixture to dry and stir to combine. Fold in the zucchini and cranberries and mix gently until just combined.

Pour the batter into 12 lined muffin tins and bake 20-25 minutes until they spring back to the touch on top and are lightly brown.
Ginger Hultin,MS, RD, CSO
An award-winning, nationally recognized nutrition expert and media spokesperson.
Thanks for visiting! If you're like me: obsessed with eating, wine, going out and traveling, you're in the right place. Champagne Nutrition® LLC is a Registered Dietitian-run concierge virtual practice helping clients look and feel better. On this blog, you'll find cocktails, mocktails, and plant-based recipes that are easy to make quickly at home and pack for leftovers on your adventures.