How to Meal Prep so you Have Dinner all Week Long
I don't know about you, but I feel very ready to get back into a schedule that includes healthy eating and cooking more at home, and that includes learning how to meal prep so I have dinner all week long. I'm enjoying recipes now like my sheet pan teriyaki tofu with pineapple and veggies, my simple enchilada casserole, and my easiest blueberry coconut oatmeal bake for a quick, make ahead breakfast. These types of simple recipes are versatile, and are great for any family big and small.
Whether you have a family of your own, often eat with friends, eat as a couple or even alone, these tips inspire everyone to get back to the table with healthy habits. Be sure to check out the list of dietitian blogs at the bottom of this post that focus on healthy eating for families and/or kids. 
I feel so passionately about this subject that I wrote a book about it: Anti-Inflammatory Diet Meal Prep.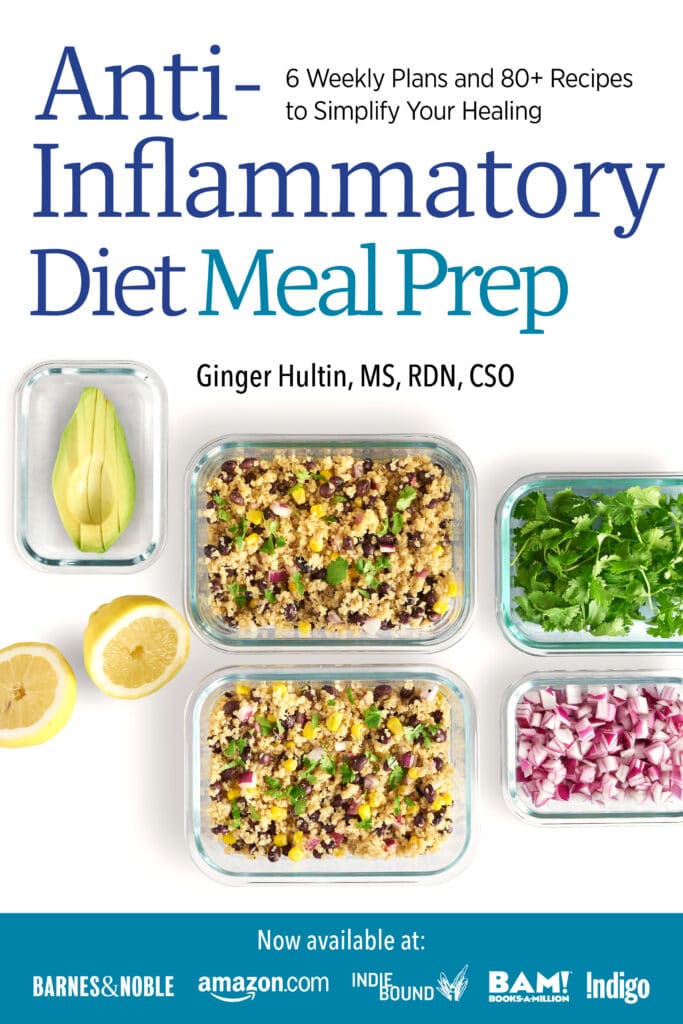 Why meal prep?
Introduce your family to the power of the dinner hour. Sure breakfast is important, but so is sitting down to regularly scheduled family meals. Studies have shown that children and teens who eat family meals three to five times a week are more likely to score better grades, have higher self-esteem, communicate better with their parents, and are more likely to maintain a healthy weight. Shopping, cooking and cleaning up dinner is not for the feint of heart. When families are over-scheduled with work, school, sports and volunteering, the obstacles to getting dinner on the table each night can be daunting. Here are ten tips to help you get a healthy dinner on the table fast. 
How to meal prep so you have dinner all week long
Make family meals a priority. Issue a challenge: every family member must make a commitment to come to dinner and stick to it—sign a family contract if necessary. If meals are pleasant, kids and adults alike will begin to value time together.

Strive for five meals a week. Get out your calendar and choose the five family dinner nights. If your family is currently over-scheduled, you may need to work up to five meals a week. Start with just one or two meals a week and plan to limit future activities that conflict with family dinners.

Plan the menu before the meal. Ask your family members to help plan the menus—this gives them an incentive to come to the table. Also, advance meal planning can save time, money, and calories. Find a spot in your kitchen (like the refrigerator door) to post the family dinner menu.

Keep dinner simple: serve one main item. Your kitchen is not a food court. Not everybody gets to eat their favorite meal each night, and you don't need to serve elaborate feasts. Instead, provide meals that are balanced with plenty of ingredients that help kids reach and maintain a healthy weight. There is a division of responsibility between parents and kids at meal time and it's really important to strike that balance.

Cook fast but eat slowly. When your time is limited, cut back on food prep while allowing ample time to enjoy the meal and each other. Set a beginning and ending time for the meal so that family members can plan accordingly. Eating slower helps prevent overeating, and kids will be more likely to leave the table full and satisfied.

Have realistic expectations about younger family member's eating habits. Younger children often have a tough time sitting still and will only last a short time at the dinner table. Tweens and teens can have mood swings that make or break the time you all spend together. Understanding the stages kids go through can help you have positive family meals.

Be prepared for the pre-meal madness. The time just before dinner can be a challenge, especially for younger kids. You're busy and folks are hungry, crabby, and clingy. Make a simple healthy snack part of the routine. Set out baby carrots and hummus dip for everyone to nibble on. Also make a pre-dinner activity box for younger kids that includes paper and crayons they can use to draw pictures of daily activities to talk about during the meal.

Turn off cellphones and the TV. Family meals are really about uninterrupted time together. Make it a rule: no texting or TV watching at the table.

Keep conversation light and positive. Make mealtime enjoyable so everyone will treasure the ritual and look forward to it. Save discipline and arguments for later. If challenging topics like politics or religion are an issue for your group, save them for another time!

Delegate responsibilities for prep and clean up. Before meals, some family members can set the table and help toss salads and pour beverages. After eating they can help wash, dry, and put away the pots, pans, and dishes. Make a chore chart and take turns. Listen to music so chores go faster and are more pleasant. Dancing in the kitchen is allowed and encouraged.
Dietitian resources you need to follow:
Ginger Hultin,MS, RD, CSO
An award-winning, nationally recognized nutrition expert and media spokesperson.
Thanks for visiting! If you're like me: obsessed with eating, wine, going out and traveling, you're in the right place. Champagne Nutrition® LLC is a Registered Dietitian-run concierge virtual practice helping clients look and feel better. On this blog, you'll find cocktails, mocktails, and plant-based recipes that are easy to make quickly at home and pack for leftovers on your adventures.