Healthier Spiced Apple Crisp
Apples are always popular up here where I live in Seattle but every, single autumn, I have to make this crisp. It's actually perfect for meal prep because you can whip it up on a Sunday and enjoy it for breakfast, a snack or a healthy dessert for the next few days. I have this beautiful bowl full of apples that I use as a centerpiece and I know I need to use them up. Apples are so delicious on their own but I have been loving finding new recipes to incorporate them into. One of my all-time favorites? Apple Crisp. 
The problem is, apple crisp recipes are filled with butter, sugar and white flour so it can quickly turn into an unhealthy treat. I'm always seeking healthier ingredients and depth of flavor, so I created this Healthier Spiced Apple Crisp recipe for you today. It is the perfect fall treat, packed with nutrients and fresh fall apples. 
What I love about this crisp is that it features all your favorite fall comfort flavors: the apples, the cinnamon, oats, and maple syrup. However, it really cuts down on the fat and sugar so that you feel really great eating it, too, because it's packed full of good-for-you nutrients. 
Why Apples?
Apples are so nutritious and delicious! Remember that old phrase, "An apple a day keeps the doctor away"? Well, it's definitely not just a saying. Apples are packed with so many nutrients that incorporating them into your daily diet will provide your body with so many health benefits. They've got fiber, vitamins, and minerals, along with being rich in polyphenols. These polyphenols have antioxidant properties, allowing apples to help reduce inflammation in the body. Additionally, they may help reduce blood cholesterol levels, blood pressure, and even the risk of heart disease and cancer. An apple a day, indeed. 
Apples are also linked to lowering your risk of developing type 2 diabetes by preventing tissue damage in the insulin-producing beta cells in your pancreas. They have 'prebiotic' effect in the gut; meaning they feed the good bacteria so they also promote a healthy microbiome. Overall, apples are such an amazing addition to your diet and what better way than to make this Healthier Spiced Apple Crisp to enjoy them?
Let's Add some Oats
Oats are such an amazing staple in American diets and I love the additional health benefits they provide this dish. Oats aren't just for breakfast anymore but if you DO need a good oatmeal recipe, you need to check out my banana ginger oats on the blog. 
I always try to aim for whole-grain foods like oats because they provide that slow-burning, sustainable energy. They've got that high fiber complex carb thing going, like other grains we eat: quinoa, barley, buckwheat, and whole wheat. One powerful compound that oats have is beta-glucan, a soluble fiber. Beta-glucan can provide the body with amazing health benefits, such as lowering LDL and total cholesterol levels, reducing blood sugar, and increased growth of good bacteria in the gut. 
Oats contain a lot of essential vitamins and minerals such as manganese, phosphorus, iron, and b-vitamin folate. Additionally, they are rich in antioxidants, specifically avenanthramides, which help reduce inflammation and lower blood pressure levels by lowering LDL cholesterol levels. Plus, oats are gluten-free, making them much more nutritious and beneficial for a wider group of people.
I used oats to make the crumble for this Healthier Spiced Apple Crisp and it's such an amazing addition. Not only does it provide all the health benefits I'm breaking down here but it adds such a nice crunch to match the softness of the apples. 
Making the Healthier Spiced Apple Crisp
The Apples
Whenever I make a baked apple treat, I tend to switch between using red apples and green apples. For this dish, I used small red apples but feel free to use whatever apple you prefer. 
I just always recommend choosing a type of apple that is a little more sour because we'll be adding sugar and sweetening the apple during the baking process, so using a naturally super-sweet apple may result in an overly sweet finished product. What I love most about this Healthier Spiced Apple Crisp is how simple it is to make, for all you need to do to the apples is peel and slice them.
And if you love apple recipes, I've got an all-time favorite over on the Food and Nutrition Magazine Blog: my cinnamon-pecan baked apple. 
The Spice Mixture
The spice mixture is my favorite part of this recipe because it really ties the whole dish together. This recipe calls for vanilla, cinnamon, maple syrup, vanilla extract, and ground nutmeg. It is the perfect blend of fall spices for the ultimate comfort food experience. 
You simply whisk these ingredients together, along with melted butter, and pour over the apple slices. Plus, cinnamon and nutmeg have health benefits as well! If you are looking to reduce the sugar content even more, focus on bumping up these flavors instead by using strong-flavored Ceylon cinnamon, freshly ground nutmeg (there is no substitution for grating these nuts fresh for a recipe!), and real vanilla. All of these changes really increase the complexity of flavor so you can safely cut down on sweet. 
The Crumble
The final part of this Healthier Spiced Apple Crisp is the oat crumble on top. All that's needed in this part is oats, flour, baking soda, baking powder, sugar, salt, and melted butter. Combine these ingredients together (I like to use my hands to ensure the final result is super crumbly) and add on top of the apples. 
This crisp then takes about 15-20 minutes to get into the oven and leaves your house smelling wonderful and warm. It's still cool and stormy out but this recipe might make that part of this season a little bit better.
Looking for some more delicious fall recipes? Check out my Homemade Pumpkin Spice Waffles, Vegan Pumpkin Spice Smoothie, pumpkin hummus and Apple Cider Wine Spritzer.
What is your favorite way to enjoy apple crisp? Leave a comment and let me know!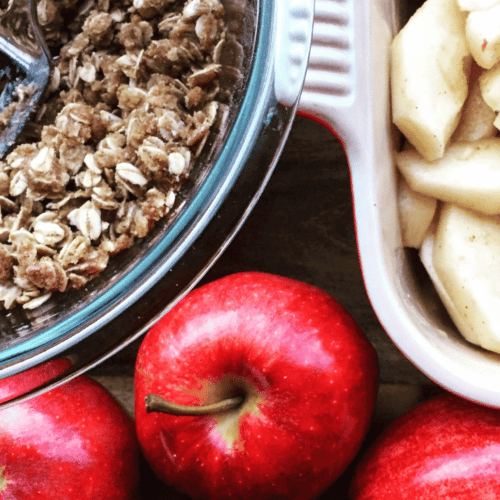 Healthier Spiced Apple Crisp
A lightened up twist on a timeless classic, this is a recipe you'll make over and over
Print
Pin
Rate
Ingredients
6

baking apples, peeled and sliced

2

tablespoons

maple syrup

5

tablespoons

butter, melted and divided

vegan alternative works great, too!

1

teaspoon

pure vanilla extract

1

teaspoon

ground cinnamon

divided

1/2

teaspoon

freshly ground nutmeg

divided

3/4

cup

whole rolled oats

1/3

cup

whole wheat flour

2

tablespoons

brown sugar

1/2

teaspoon

salt
Instructions
Preheat oven to 375 degrees F. Place the sliced apples in an 8x8 inch baking pan.

Whisk the maple syrup, 2 Tablespoons melted butter, vanilla, 1/2 teaspoon ground cinnamon and 1/4 teaspoon ground nutmeg together then pour over the apples and toss to coat.

In a separate mixing bowl, combine the oats, flour, brown sugar, salt and remaining cinnamon and nutmeg. Pour the rest of the melted butter over the mixture and combine it with a fork until the mixture is thoroughly coated.

Crumble the topping evenly over the apple mixture then bake it for about 40-45 minutes. Cool before serving warm.
Ginger Hultin,MS, RD, CSO
An award-winning, nationally recognized nutrition expert and media spokesperson.
Thanks for visiting! If you're like me: obsessed with eating, wine, going out and traveling, you're in the right place. Champagne Nutrition® LLC is a Registered Dietitian-run concierge virtual practice helping clients look and feel better. On this blog, you'll find cocktails, mocktails, and plant-based recipes that are easy to make quickly at home and pack for leftovers on your adventures.