Simple Spicy Vegetarian Chili
As the weather starts to get colder, all I can think about is cooking up a nice, warm meal and eating it while next to the fireplace. Lately, I have been making so many different soups and chilis to try out new combinations and recipes. My favorite so far has got to be the Simple Spicy Vegetarian Chili because it is easy to make and so delicious. Perfect for busy evenings, for entertaining and for game day as well. Especially in winter, I make big batches of my favorite spicy foods and eat them throughout the week; this recipe makes a LOT so it definitely creates perfect leftovers for dinner later in the week or weekday lunches. Using simple ingredients like onions, garlic, peppers, tomato sauce, and canned beans, it is easy to create affordable and healthy dishes. I hope you enjoy it as much as me and my family always do – this Simple Spicy Vegetarian Chili is a sure winner.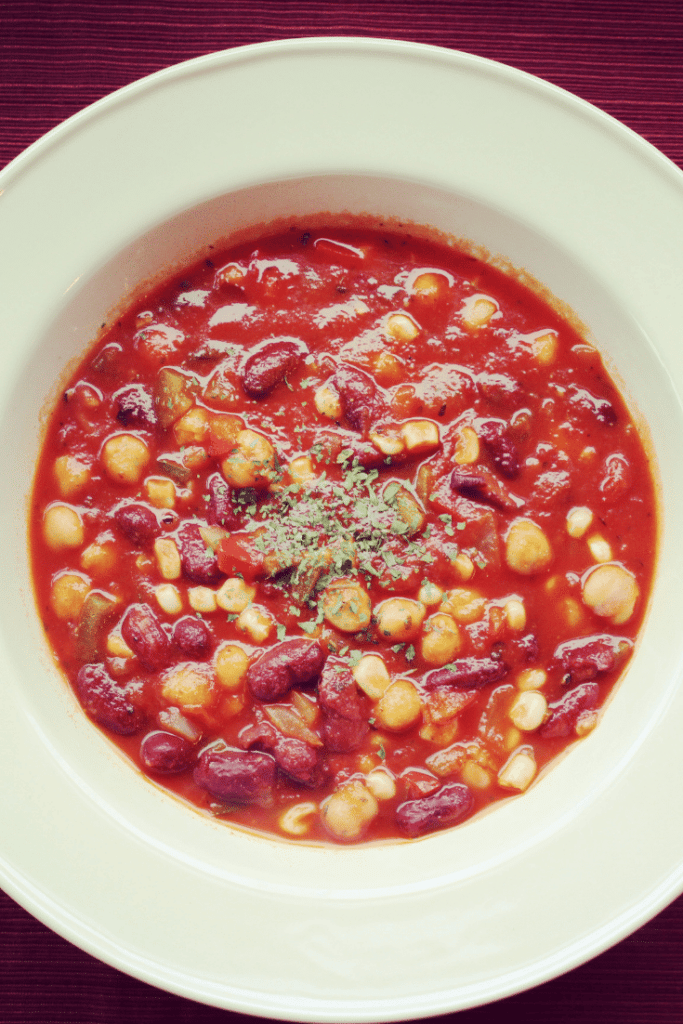 Plant-Based Protein
Many think that animal protein is the only great source of protein out there. In fact, many plant sources contain an equal amount of protein per serving compared to animal-based foods. While traditional chili contains ground meat, in this Simple Spicy Vegetarian Chili, I swapped out the ground meat with a great plant-based protein: legumes. Even though most traditional chili already contains a small amount of legumes, I increased the portion for this recipe to make this chili more satiating and protein-packed.
Legumes are a great source of both plant-based protein and fiber. They contain about 15 grams of protein per one cooked cup. Legumes are nutrient-dense and provide a great balance of nutrients. Along with protein, legumes are packed with fiber which helps keep you satiated and full after a meal. Legumes are also a great source of many other nutrients such as complex carbohydrates, iron, folate, phosphorus, potassium, manganese, and many other beneficial plant compounds like antioxidants.
Legumes have so many amazing health benefits that make them such an awesome addition to this chili.  This recipe specifically contains chickpeas (or garbanzo beans) and kidney beans. Chickpeas are beneficial at helping to reduce blood sugar and improving blood cholesterol levels. Several studies have shown that chickpeas can reduce both total cholesterol levels and LDL cholesterol levels. Chickpeas also are rich in gut-friendly fiber which helps improve your gut health and healthy bacteria while also reducing the number of bad bacteria in your intestines. Kidney beans are also an important source of plant-based protein and fiber. Specifically, kidney beans can help reduce absorption of sugar into the bloodstream, therefore reducing blood sugar levels. Kidney beans are super beneficial for those with diabetes to help prevent spikes in blood sugar, unintended weight gain, and developing metabolic syndrome.
There are so many amazing sources of plant-based protein that can be incorporated into any dish or used as an animal protein substitute. Some of my favorite ways to enjoy plant-based protein is sheet pan teriyaki tofu, lentil cauliflower curry, or as in these black bean brownies!
Making the Simple Spicy Vegetarian Chili
Prep the Ingredients
To start, I like to make sure all of the ingredients are in place and ready to go. This is a great way to start any recipe because it saves time (and stress) during the cooking process to have everything you need in front of you and in the correct amount. For this Simple Spicy Vegetarian Chili, the only prep other than measuring ingredients is to dice the onion, bell pepper, and Anaheim pepper and to mince the garlic. Having all this prep done prior to cooking makes the process much more simple and enjoyable.
The Vegetables
To begin, I like to sauté the garlic, onion, and both peppers in some olive oil. This can be done in the same pot that we will be using to make the chili, which eliminates the need for multiple pots and pans. Sautéing the vegetables allows for all of their flavors to really come out and will provide the chili with nice, deep flavor. Additionally, these vegetables need more cooking time than the other ingredients in the chili, so sautéing them first allows for them to be at the proper texture before adding the rest of the ingredients. 
The Chili Base
Once the vegetables are soft, I add in the tomato sauce, water, corn kernels, chickpeas, and kidney beans into the pot. When choosing what tomato sauce to use, be cautious of the sugar content present so that you aren't purchasing one with too much added sugar. For the corn kernels and the beans, I like to rinse them off in a strainer or colander before adding them to the chili. The removes any excess liquid from being added into the chili, which could alter the final consistency. If you're using frozen corn, you can actually pop it in right from the freezer.
The Spices
While every ingredient in chili plays an important role, I think that the spices really have the most important role. They really tie the whole chili together. For this chili, I like to add salt and pepper, chili powder, thyme, oregano, and dried basil. All these spices blend together to make the perfect flavor for this chili. And please, alter the spices as needed for your own taste. I always use as little salt as I can and boost up the other flavors but if you need more and it's safe for your health, feel free! You may want to use just 1/2 the Anaheim pepper or you may want to use an even spicier one like jalapeno or habanero. Let me know what you enjoy the most! 
Putting it Together
Once the spices are added, I bring the pot to a boil and then let it simmer on medium-low heat for 20 minutes, stirring occasionally. I recommend tasting it every now and then to make sure it is coming together how you want it to. If needed, add some more water to the pot to even out the consistency or add more salt if the flavor isn't quite there. To finish, serve hot with any garnishes you prefer; I like to top mine with a little sprinkle of shredded cheese and some fresh herbs. I love serving it with cornbread and fresh salad greens. 
What's your favorite chili ingredient? Let me know in the comments!
Simple Spicy Vegetarian Chili
Easy, quick, and so spicy and delicious - use canned beans and tomatoes and frozen corn for a pantry-friendly way to use on-hand ingredients.
Print
Pin
Rate
Ingredients
2

teaspoons

olive oil

3

cloves

garlic, minced

1/2

yellow onion, diced

1

bell pepper, diced

1

Anaheim pepper, diced

1

32 -ounce

jar tomato sauce or marinara

1

cup

corn kernels

try frozen!

2

cans

red kidney beans, drained and rinsed

1

can

chickpeas, drained and rinsed

1

cup

water

1/2

teaspoon

salt

1

teaspoon

freshly ground black pepper

1

teaspoon

chili powder

1/2

teaspoon

thyme

1/2

teaspoon

oregano

1/2

teaspoon

dried basil
Instructions
In a large soup pot, heat olive oil over medium heat then add garlic, onion, bell pepper, and Anaheim pepper. Saute, stirring occasionally for 4-5 minutes until vegetables are soft.

Add tomato sauce, corn, beans, water and spices. Cover and simmer over medium-low heat for 20 minutes, adding more water if needed for consistency or salt if needed for flavor.

Serve hot garnished with cheese or fresh herbs if desired.
Ginger Hultin,MS, RD, CSO
An award-winning, nationally recognized nutrition expert and media spokesperson.
Thanks for visiting! If you're like me: obsessed with eating, wine, going out and traveling, you're in the right place. Champagne Nutrition® LLC is a Registered Dietitian-run concierge virtual practice helping clients look and feel better. On this blog, you'll find cocktails, mocktails, and plant-based recipes that are easy to make quickly at home and pack for leftovers on your adventures.