How to do Dry January and Have a Healthier New Year
How'd the holidays go for you? I saw a really funny meme that had two stick figures next to each other. One represented December 1-15 and it was wearing a santa hat and it said "feeling festive". The other represented December 26-31 and it said "confused, not sure what day it is, full of cheese". Yup. I love the holidays and the parties were fun but I'm very ready to get back to routine and back to drinking less and eating lighter! I'm talking today about How to do Dry January and Have a Healthier New Year so you have some support and motivation on your goals this winter season.
There is more support now than ever about how to have a healthy, happy holiday season. My tips in my last blog post could be used any time of the year and it's all about making yourself a priority and not putting off your health goals until the New Year (or tomorrow, or Monday or 'next month').
As we move from one year to the next, it's a nice time for reflection. I say reflection rather than resolution because it's important to just reflect on how things are going. Do you feel the way you want to? Are you eating the way you want to? Do you have enough time (are you making enough time) for self-care and getting in your workouts? If the answer to these is 'no' or 'maybe not' then this could be a good time for a re-set.
Identify Your Own Excuses

One of the most powerful things you can do is to identify your own barriers and excuses. This takes a lot of bravery and self-reflection. Sometimes I find myself saying something like, "I don't have time to go to the grocery store" and then I rephrase "actually, I'm not making going to the grocery store a priority". I work with my clients on this all the time and it's HARD to fit it all in. You're choosing between fitness and sleep. Or meal prepping and family. It's so difficult to balance and yet, it's worth it and you have to make your health a priority so that you can bring your best to others.
What are some of the things that have been standing in your way? What will help you commit to change this year?
Why do Dry January?
Dry January is a 31 day challenge of not drinking in the first month of the year. I'm running a challenge all month long and sending out a calendar for tracking plus weekly updates, tips and motivation to keep you going all month long. It's so nice to give your body a rest. You may notice you're sleeping better, you feel more energized, your mood is more stable with less anxiety or depression, and you may notice that you lose some weight without making many other changes.
Alcohol is such a unique food. It absorbs straight through the stomach unlike all other foods you eat. It heads straight on over to the liver which starts working immediately on clearing it from the system. In the meantime, the liver puts metabolizing other foods on hold and stores them as fat instead while it's working on the alcohol part. Everyone is different and a lot of this depends on genetics, sex, body size and more, but I very much believe that some people will react strongly to alcohol regarding their weight. For some of my clients, they notice a huge difference when they're drinking and when they're not. Alcohol provides a lot of calories – 7 per gram compared to 4 per gram in carbohydrates and protein – so it adds up quickly.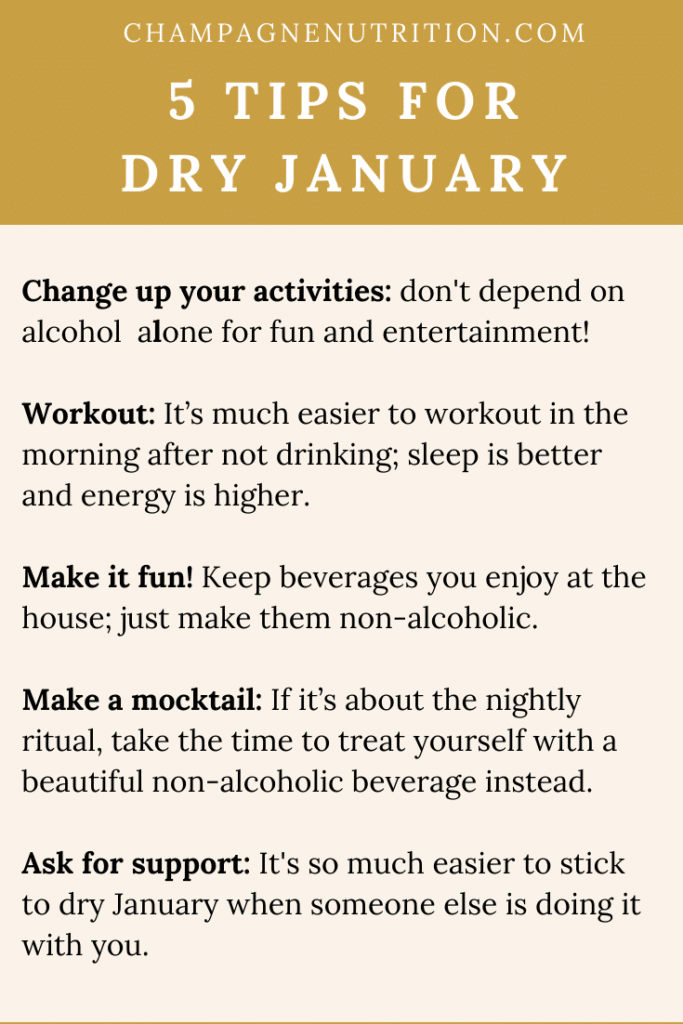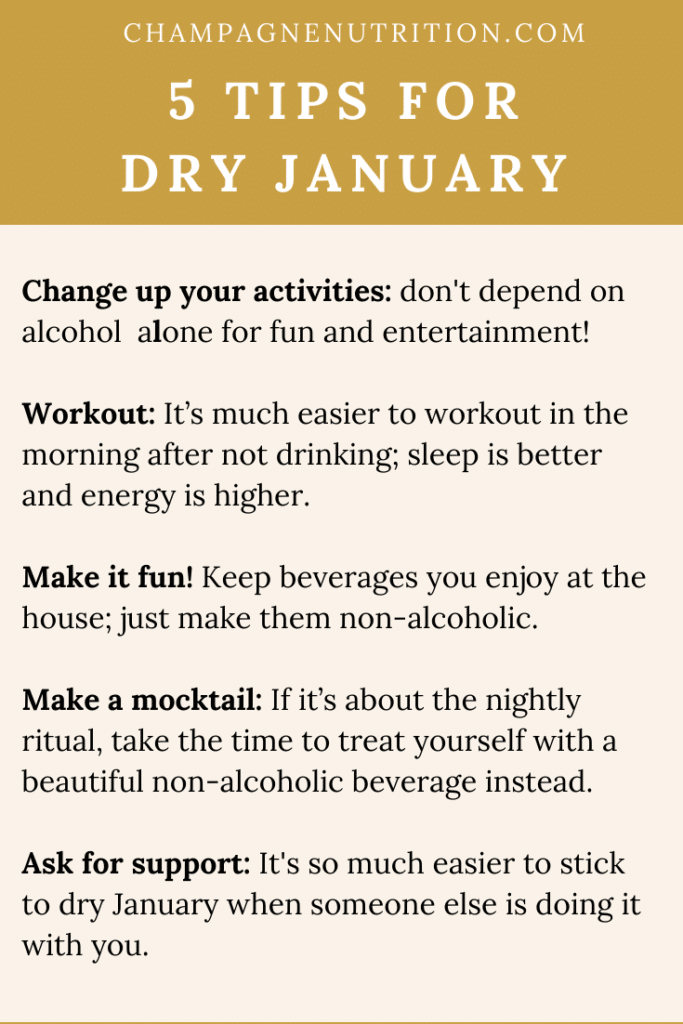 How to do Dry January and Have a Healthier New Year
Stick with me and it won't be that hard. If alcohol isn't the challenge for you, perhaps it's sugar or some other habit you'd like to take a break from. Alcohol can be so much a part of our lives – how we celebrate, how we connect, what we do for entertainment – that it's good to reflect on what else you could do aside from meeting up with a friend for a drink. Here are some ideas for you to guide your Dry January:
Change up your activities: It's easy to depend on alcohol for fun and entertainment. Instead, schedule non-drinking activities this month. Visit a museum, read a book, cook a new recipe, get outdoors, do a project around your house, invite an old friend or family member out for one of your new adventures.
Workout: It's much easier to workout in the morning after not drinking; sleep is better and energy is higher. Get back to the gym you used to go to, join a local running club, try a new fitness class in your area, or even do a plank workout app challenge this month.
Make it fun!: Up your game on fancy coffee-drinks, splurge on an expensive kombucha and keep a bottle of sparkling cider at home if you have a party or celebration. Keep beverages you enjoy at the house; stock flavored soda water, fruit juices, and tea that you like so that you always have something that sounds good.
Make a mocktail: If it's about the nightly ritual, take the time to treat yourself with a beautiful non-alcoholic beverage that's comforting and feels like self-care. Many of us connect with our partners or friends over a glass of wine or a cocktail so don't let that go; just chat over a different type of beverage.
Ask for support: It's so much easier to stick to dry January when someone else is doing it with you. Let your support system know you are doing a dry January so they can join in, too.
A Little More Motivation?
I talk a lot about alcohol (and hangovers, too!) I recently was quoted in some really interesting articles I thought you may like to read if you're trying to stick with Dry January this month.
Ok – ready for Dry January? Let's DO this! Sign up here so I can send you my tips, tools, recipes and weekly support.
I'm chatting dry January all month long on my Facebook, on my Twitter, and of course, on Champagne Nutrition so I hope you'll get the chance to stop by and join me in part of the conversation.
Ginger Hultin,MS, RD, CSO
An award-winning, nationally recognized nutrition expert and media spokesperson.
Thanks for visiting! If you're like me: obsessed with eating, wine, going out and traveling, you're in the right place. Champagne Nutrition® LLC is a Registered Dietitian-run concierge virtual practice helping clients look and feel better. On this blog, you'll find cocktails, mocktails, and plant-based recipes that are easy to make quickly at home and pack for leftovers on your adventures.