Vegan Black Eyed Pea Dip with Avocado
When's the last time you ate black eyed peas? Up here in Seattle in the Pacific Northwest, it's not a food that seems to come up often. I see chickpeas on the menu most often these days – and they're wonderful, too. My clients often ask me which bean is best to eat but the only answer to that is: they're all amazing for you. Enter this Vegan Black Eyed Pea Dip with Avocado that you can use absolutely all-year long. 
I think of these beans more as a part of Southern cuisine. In fact, the tradition of eating black eyed peas dates back to the American Civil War where they were enjoyed by troops. They were also part of enslaved people's cuisine and were used to celebrate freedom when the Emancipation Proclamation was signed on Jan 1, 1863. This is one reason they are a typical "New Year" food. Beans should be eating year-round, but I wanted specifically to make this Vegan Black Eyed Pea Dip with Avocado for a house party on New Year's Eve. 
I'm a registered dietitian so I'm all about making healthier dishes to serve at parties. Food has to taste good – that's a must – but I just can't serve unhealthy foods to people I care about. Bean-based appetizers are so perfect. They're incredibly healthy because of all the fiber, vitamins, minerals and antioxidants but they're also very hearty and it's easy to create dishes you can make ahead and serve later with them.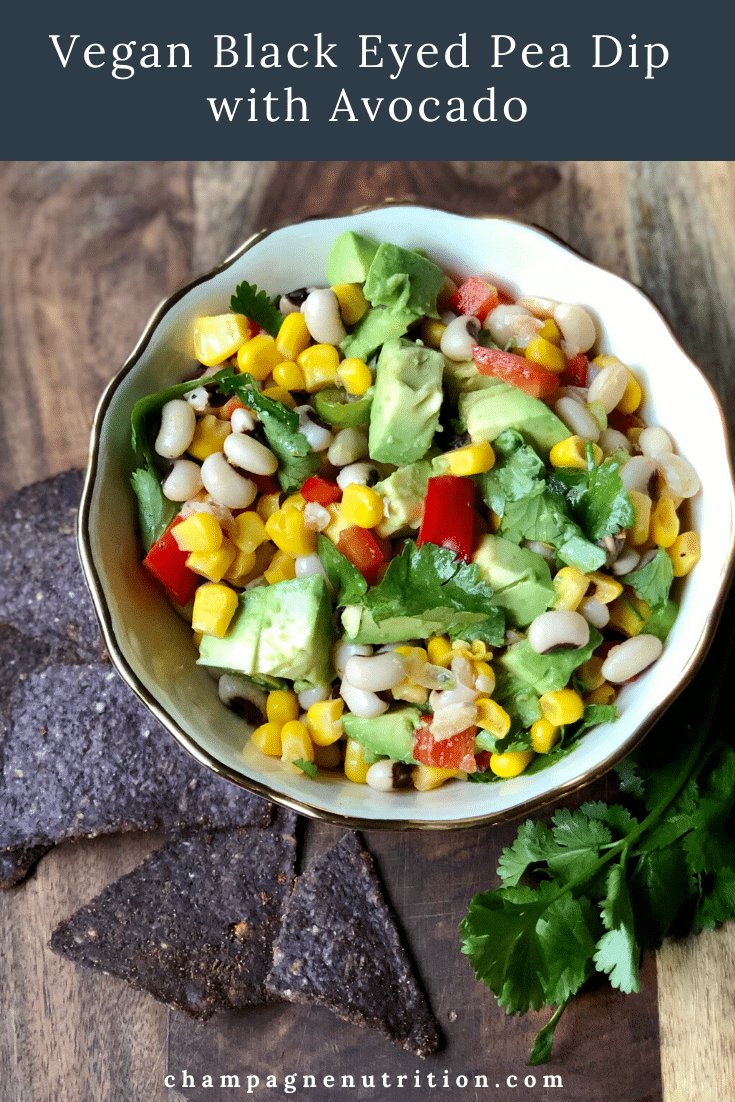 Eat more beans all the time
Really we should all be eating beans all the time. Many of my clients tell me that they enjoy them but they forget about them. Beans on their own are rather bland so it's very important that you season and flavor them up so that they taste wonderful. Think about beans as a replacement to meat or an add-on to bean dishes. An obvious choice would be chili which is so easy to add beans to but they are so versatile for soups and dips. You can toss them in taco and casserole recipes. 
As far as beans go, I really focus on buying canned varieties. Rinsing them gets rid of some of the gas-producing liquid and they're affordable and easy. You can keep them in your cupboard to use whenever you need for a quick dinner or lunch on the go. I use beans in recipes several times every week. 
One of the major benefits of beans is how much fiber they have. This is directly correlated with lowering bad cholesterol "LDL" as well as lower rates of colorectal cancer. That's a very big benefit for including a healthy food in your diet. 
Other Appetizer Recipes
I have lots of appetizer recipes on the blog because I go to a lot of parties and I entertain a lot as well but I really don't have time to be spending on making elaborate dishes to contribute. I keep it super simple and healthy. I use on-hand, whole-food ingredients and I focus on dishes I can whip up in minutes. 
This Crostini with Beans, Ricotta and ThymeTomato Bruschetta is so amazing – not vegan – but amazing. It's so creamy and very filling because of the combination of fiber, healthy fat and protein.
And my Kalamata Olive Tapenade IS vegan and it's so savory and flavorful with the capers. This is a really must-make recipe. 
Making Vegan Black Eyed Pea Dip with Avocado
This gorgeous dip is actually really easy to make and better yet, it's a make-ahead recipe, too. One of my biggest struggles in making it actually was finding black eyed peas! It probably depends on where you live but they may not be the most common food up here where I live. I was shopping around New Year's so I was surprised at my local grocery store there were no cans or dried varieties in the bean aisle. I almost gave up but then they caught my eye in the produce area. I really was desperate for black eyed peas because I bought two containers of super expensive, originally grown in California, fresh varieties. They did taste amazing though.
Once I had my fresh beans, I just followed the instructions in cooking them. That classic bean foam formed on the top – that's the gas-producing stuff – so I scooped it out in hopes of making them more digestible. If you want to make your life easier, just buy a canned variety and rinse them off. Then you're good to go!
When you're making this dip, start with the dressing first. Grab a medium bowl and whisk the olive oil, lime juice, cumin, hot sauce, salt and pepper together. Feel free to add or subtract the amount of cumin, hot sauce and salt that you're using. These flavors are totally up to you! I will say that it's generally a very mild-flavored dish and so adding in a bright and zesty dressing helps a lot to make it irresistible.
Next, in a large bowl, combine those beans and veggies. I'd suggest leaving out the avocado until right before you serve it. Though there's a lot of lime juice in the dressing, you do risk the avo turning brown and I just hate that for a party.
I will advise you to stick generally with the ingredients that are listed here. Personally, I don't care for green onion. When I first tasted my recipe, I was like, 'this needs more green onion'. There's just something about the depth of flavor that really lends itself to a nice dish.
Another polarizing ingredient is cilantro. To many people, it tastes like soap. There's a lot of cilantro in this dish. If you really don't care for it, feel free to replace with another bright green like parsley. It also has a zesty flavor that complements the Vegan Black Eyed Pea Dip with Avocado. 
I highly suggest serving the dip with corn chips. That actually makes the whole dish gluten-free as well as nut free, soy  free, and vegan. Enjoy!
Vegan Black Eyed Pea Dip with Avocado
A simple, easy, make-ahead vegan dip for your next party.
Print
Pin
Rate
Ingredients
2

Tablespoons

olive oil

3

Tablespoons

fresh lime juice

1/2

teaspoon

ground cumin

1/2

teaspoon

Kosher salt

1/2

teaspoon

freshly ground pepper

2

teaspoons

hot sauce

3

cups

black eyed peas

rinsed and drained

1 1/2

cups

corn

fresh, canned or frozen (thawed)

1

red bell pepper

chopped

2

green onions

sliced thinnly

1

ripe avocado

cut into small cubes

1/2

cup

cilantro

roughly chopped
Instructions
In a small mixing bowl, whisk the olive oil, lime juice, cumin, salt, pepper and hot sauce together. In a separate large mixing bowl, combine the black eyed peas, corn, bell pepper, onion, and avocado. Fold gently to combine. Sprinkle with cilantro then drizzle with the dressing. Fold to combine once more and serve with corn chips, crackers or veggies.
Ginger Hultin,MS, RD, CSO
An award-winning, nationally recognized nutrition expert and media spokesperson.
Thanks for visiting! If you're like me: obsessed with eating, wine, going out and traveling, you're in the right place. Champagne Nutrition® LLC is a Registered Dietitian-run concierge virtual practice helping clients look and feel better. On this blog, you'll find cocktails, mocktails, and plant-based recipes that are easy to make quickly at home and pack for leftovers on your adventures.