Cranberry Pomegranate Sparkling Punch
I'm a hands-off host. I hate to say it, but if I'm running around at a party creating drinks one-by-one, I can't enjoy myself or talk to my guests as much as I'd like. Enter PUNCH – the best beverage for your next party. I kept this recipe for Cranberry Pomegranate Sparkling Punch just so simple for you so you can mix it together and enjoy your party so much more.
Punch is back! I noticed it trending when I lived in Chicago and all these little, funky underground punch shops were opening up speakeasy style. Often made from rum, sweet and potent, they are complex beverages and often involve fire or smoke or any number of fancy ingredients. Well, I like mixing my punch in an actual bowl and having guests serve themselves as much or as little as they want. I bought a classic punch bowl for only SIX dollars at a second hand store – which is such a steal. I use it every holiday, from Halloween to New Years Eve. Like most classic punch bowls, mine came with little glass cups, which makes drinking the punch even more fun.
History of Punch
Punch has a very interesting history, dating back to the 17th century by men working on ships for the British East India Company. It was invented as an alternative to beer because it would go bad on the ship. These men got access through their travels to more exotic ingredients like rum (which is a very common base to a punch) as well as citrus and spices. I wonder if these ingredients also helped them overcome some of their sea-faring health dangers like scurvy. The sailors brought their punch drink back to Britain and it spread on from there. Cocktail culture in the modern US revived the trend a bit and now you can enjoy it served in the most hipster of establishments.
Health Benefits of Punch Ingredients 
Punch recipes are known to be easy-to-make and crowd pleasers, but most of the time these recipes are packed with excessively sugary ingredients like soda. As most of you know, one of my favorite things to do is to lighten up recipes, especially alcoholic beverages, which is why I came up with this Cranberry Pomegranate Sparkling Punch. A lot of sparkling punches out there use moscato, which is loaded with sugar and can cause a bad hangover, so I decided to use dry/Brut sparkling wine, which is a lot less sugary. I also used soda water instead of regular soda to reduce that sugar content even more. 
My punch isn't completely sugar free though – I use cranberry juice cocktail and pomegranate juice. Cranberry juice cocktail isn't necessarily something you should drink all the time because it is higher in sugar, but it does contain antioxidants and has antibacterial effects that can be beneficial to your health. Pomegranate juice is even more beneficial to your health, because it is a rich source of antioxidant polyphenols, which have powerful anti-inflammatory effects and can help lower high blood pressure. So you don't have to feel so guilty about treating yourself to some punch – holidays are way more enjoyable that way. If you're a punch fan, check out my Spiced Apple Cider Bourbon Punch – it's just as delicious! 
Making the Cranberry Pomegranate Sparkling Punch
The Ice Ring 
The first step in making this drink is creating the ice ring. This part of the recipe is a must because it keeps the punch cool without diluting it too much – plus it looks cool. I typically do this step the night before so it's out of the way, but you also could do it the morning of. You'll need a bundt cake pan – the circular pan with the ridges in it. If you don't have one,  you could so easily order one or pick one up at a kitchen store. I honestly use it all the time for my ice ring so it's worth it for that alone in my opinion. You could also make cake out of it – I just did a tequila glazed lemon olive oil cake and it was awesome.
Pour your water directly into the pan then top it with cranberries. At the party, as the ice slowly melts, it will release some of the berries for a more festive flair. Get creative and fancy by adding in orange slices, herbs like thyme, pomegranate arils or any others that seem beautiful to you and that you have on hand. I'm all about making recipes easy and stress-free from on-hand ingredients.
Set it in the freezer and let it go for several hours. Mine always mysteriously bubble up and I stressed it at first but then I decided that it really doesn't matter. In order to get the ice out without breaking (mine have never, ever broken), just flip the pan upside-down in the sink. Hold your hand over the opening so the ice doesn't fall out then run warm water on the round bottom of the pan so that it loosens the ice. Once you feel that it can release, just set it gently in the punch bowl. 
The Juices 
Once your ice ring is in the bowl, you can start adding in your other ingredients. I always start with the cranberry and pomegranate juice. I love this juice combination, because it's so vibrantly colorful and delicious, but if you want to only use one of them, that's totally fine too. If you have extra pomegranate juice left over, you should try out my Sparkling Pomegranate Rosè Cocktail or my Pomegranate Ginger Mocktail. 
The Sparkling Wine 
Once the juices are in, add in your sparkling wine. Some people might not know this, but all champagne is sparkling wine, but not all sparkling wine is champagne. That's because in order for it to be considered champagne, it has to come from the region of Champagne, France. Because of this, champagne is more expensive than sparkling wine. If you have champagne on hand feel free to use that instead, but I prefer using Brut sparkling wine because punches don't need anything fancy. I like to bump up a couple levels beyond the very cheap stuff to something I know and trust because this flavor will definitely shine through. Try a Spanish Cava or Italian Prosecco – again, look for dry varieties – to treat your guests. If you like sparkling wine or champagne drinks, you should try my Healthier Creme Champagne Cocktail, my Hazelnut Chocolate Champagne Cocktail or my Fresh Citrus Champagne Fizz. 
The Soda Water 
Finally, top off your punch with soda water. I think it cuts the sweetness a little bit and honestly, people can get pretty tipsy with punch, so I find this mellows that out a bit. I am not a fan of super sweet drinks, so I add a cup of soda water to dilute the sweetness, but feel free to add in as little or as much as you want, depending on your preference. 
Let me know if you try this recipe!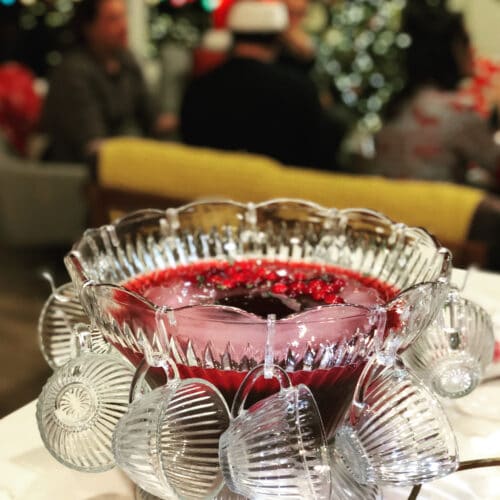 Cranberry Pomegranate Sparkling Punch
A gorgeous, crimson punch perfect for a large party
Print
Pin
Rate
Ingredients
4

cups

water

1/4

cup

fresh or frozen cranberries

2

cups

cranberry juice cocktail

1

cup

pomegranate juice

1

bottle(750ml)

dry/Brut sparkling wine

1

cup

sparkling soda water
Instructions
Make the ice ring the evening before your event. Pour the water into a bundt pan, add cranberries and freeze. It may bubble up a bit in the freezing process but that's ok. 

Assemble the punch. Place the ice ring in your punch bowl by running warm water over the bottom of the bundt pan until the ice loosens. Pour the cranberry, pomegranate, sparkling wine and soda water on top, stir and serve with a punch ladle.
Ginger Hultin,MS, RD, CSO
An award-winning, nationally recognized nutrition expert and media spokesperson.
Thanks for visiting! If you're like me: obsessed with eating, wine, going out and traveling, you're in the right place. Champagne Nutrition® LLC is a Registered Dietitian-run concierge virtual practice helping clients look and feel better. On this blog, you'll find cocktails, mocktails, and plant-based recipes that are easy to make quickly at home and pack for leftovers on your adventures.