Peach Melba Toast with Thyme and Honey
If you're on Instagram or if you eat out…ever, anywhere you'll be aware of the fancy toast trend. At its most simple, avocado toast is a hallmark of the Millennial diet. At its most complex, Mermaid toast and other colorful, sparkly, wild-looking options abound. You know I can't miss out on a food trend so I'm embracing the toast and I made my own to share with you, based on the best thing I've ever eaten…ever?: Peach Melba Toast with Thyme and Honey.
How to Make Your Signature Toasts
The good news is that you can really use whatever kind of bread you have on hand. A nice baguette or french loaf is perfect because the bread is firm and toasts up nice and crispy. 
Ricotta is such a wonderful spread – rich and creamy and balanced with both fat and protein. I do prefer a lower-fat option, personally, because I eat a lot of it and if that's the case, the saturated fat can easily add up and exceed the recommended intake. Ricotta cheese is high in protein and calcium so it's a great food to include if you eat dairy. 
End-of-summer fruit combines perfectly with sweet honey and savory thyme.  A "melba" classically combines peach with raspberry but I'm a rebel and I want to use blackberries this time. Feel free to make this peach melba toast with thyme and honey recipe to what you want it to be. You might want to try apple or apricot instead of peach; any other berries than blackberry might also work; you could also change the thyme to other herbs, such as mint, oregano, and basil. But definitely let me know if you try the peach melba toast with thyme and honey — this is the perfect sweet, creamy, savory combo.
Get Inspiration from Dining Out
I was inspired with this recipe from an amazing lunch I had at London Plane in Seattle down in Pioneer Square. If you're in the area, you really must go. They had a gigantic piece of toasted whole grain bread on the menu earlier this year spread thick with ricotta and topped with ripe plums. If you were in the Pacific Northwest this fall, you'll know that plums were dripping from every tree. 
In their recipe, they drizzled honey on top and sprinkled the whole thing with fresh tarragon.The point here is – aside from you should go to London Plane – that you can get creative with your toast and use whatever you have on hand to create a beautiful, delicious, healthy portable snack or breakfast. It's so versatile. 
Making the Peach Melba Toast with Thyme and Honey
Whole-wheat Baguette
A baguette is a signature French bread. It's distinguishable by its long and thin appearance and crispy crust texture. In France, you'll find baguettes everywhere: often spread with strawberry jam or butter or made into a sandwich with arugula, ham, and cheese slices. It may be eaten with soup in winter or as a side for a salad in summer. While a whole wheat baguette may taste a bit different from the traditional white bread, it has much higher nutritional value. Not only does it provide a good amount of fiber, but is also a source of B vitamins and some iron as well. It's a small change for a great improvement for your nutrition.
Ricotta 
Ricotta cheese is originally from Italy. Ricotta means "recooked" or "refined". Traditionally, in production, you'll use leftover whey from other cheeses to make ricotta. It can be made of water buffalo, cow, goat, and sheep milk whey. Generally, whey is easier and quicker to digest compared to casein. Most cheeses are made of casein, and whey is more commonly in the milk. 
Ricotta cheese contains a high percentage of protein (mainly whey protein) and lots of other nutrients. In my peach melba toast with thyme and honey recipe, I used 1/2 cup of ricotta cheese, which can provide 14 grams of protein.
The Fruit
Peaches
The peach is native to Northwest China and about 60% of the worldwide peaches still come from China each year. Nectarines are another fruit that is the same species as the peach but the skin is smooth rather than fuzzy. Fresh peaches are rich in polyphenols, which are well-studied antioxidants that can reduce oxidative stress and inflammation in the body.
Blackberries
Blackberries have a very high nutritional value. They contain vitamins and minerals in significant amounts including vitamins C and K, and manganese. Vitamin C is an essential antioxidant that the body needs that benefits different organs, the skin, and the immune system. Vitamin K helps blood clot normally and supports bone health. One cup of fresh blackberries contains ⅓ of daily recommended vitamin K intake. Manganese is helpful for bone health as well. It also plays a role in a healthy immune system. Other than those benefits, blackberries are high in fiber. One cup can provide 8 grams of fiber which is ⅓ of a woman's daily needs and ⅕ of men's.
Other Toast Recipes
If you like this toast recipe, be sure to check out my Crostini with Beans, Ricotta, Honey and Thyme – it  has some similar ingredients but is even more savory and makes a great party app. 
What's your signature delicious toasts combo? Please share it in the comment below, and I can try it too!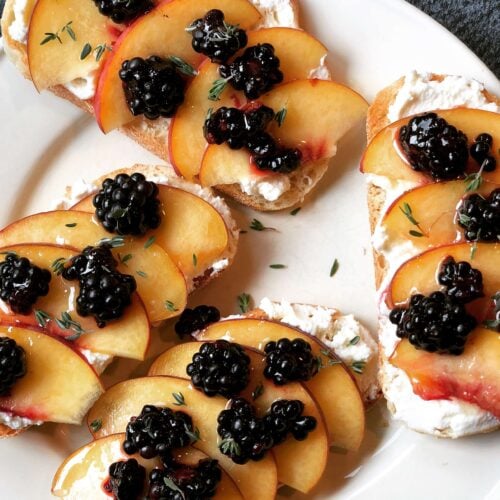 Peach Melba Toast with Thyme and Honey
This recipe makes a quick, simple breakfast or snack that's balanced and beautiful, too.
Print
Pin
Rate
Ingredients
4

large whole wheat baguette slices

toasted

1/2

cup

ricotta cheese

1

ripe peach, thinly sliced

1/2

cup

fresh blackberries cut into quarters

2

Tablespoons

fresh honey

6

sprigs fresh thyme with the stems removed
Instructions
Place toasted baguette pieces on a cutting board for assembly.

Assemble by spreading 1/8 cup of ricotta on each slice.

Place peach slices evenly on each ricotta toast. Top with the cut blackberries then drizzle all of them with honey and garnish with thyme sprigs. Enjoy!
Ginger Hultin,MS, RD, CSO
An award-winning, nationally recognized nutrition expert and media spokesperson.
Thanks for visiting! If you're like me: obsessed with eating, wine, going out and traveling, you're in the right place. Champagne Nutrition® LLC is a Registered Dietitian-run concierge virtual practice helping clients look and feel better. On this blog, you'll find cocktails, mocktails, and plant-based recipes that are easy to make quickly at home and pack for leftovers on your adventures.