Is there anything more adorable than these individually-sized mini pies? If you're looking for an easy dessert made with whole ingredients then these Mason Jar Berry Pies are for you. While there is nothing wrong with traditional desserts, sometimes it's fun to make a healthier dessert to satisfy our sweet cravings. These are great for the holidays, to bring to parties, or simply to enjoy at home! They can be made ahead of time, frozen with the lids, and popped into the oven when you're ready to enjoy your wholesome dessert.
I'm always on the lookout for creative and healthy recipes. When I first discovered mini mason jar pies I knew I had to recreate my own recipe to share with you all. Have you ever baked a berry pie? This recipe is a fun twist that is great for adults and kids alike. 
About Mason Jar Berry Pies
These little mason jar pies are made of whole food ingredients that, when combined, make the perfect little individual pie. The use of miniature mason jars gives this recipe a rustic twist that sets it apart from traditional pies. It's also great to have a reusable mason jar rather than a disposable pie tin. You can find mason jars anywhere that sells canning supplies, or even at the grocery store. If you are unable to find mason jars, you can use mini ramekins instead.
These little Mason Jar Berry Pies are filled with antioxidants in the form of whole cherries and blueberries and are sweetened with only a touch of honey. This pie is no joke; it's delicious, fun to eat and packed with health benefits. 
About the Ingredients
What's great about this dessert is that even though it's a sweet treat, it still contains a lot of healthful ingredients. These mini pies are so healthy in fact, you could even have them for breakfast if you were so inclined. Let's take a closer look at what's inside. 
Berries
Berries are some of the most healthful foods we can include in our diet. Low in calories but high in important vitamins and antioxidants, berries are at the forefront of the anti-inflammatory diet. 
Blueberries are one of the most nutrient dense berries and have one of the highest antioxidant contents. The deep blue color is produced by a flavonoid phytochemical called anthocyanins. Studies have found that anthocyanins can be protective against heart disease and cancer, and may boost cognitive function.
Cherries are an excellent source of fiber and antioxidants like Vitamin C. Cherries have been extensively studied for their ability to reduce inflammation. Several studies have found that cherries can reduce pain from arthritis. 
No blueberries or cherries one hand? There are so many options to choose so definitely pick your favorite ones for this recipe. All berries have similar nutrient profiles. It's best to include a variety of berries in your diet in order to obtain all of the different nutrients they have to offer. 
Eating Seasonally 
While using frozen fruit allows you to enjoy fruit that isn't in season any time of the year, if you would like to use fresh fruit for this recipe and it is not berry season you can easily swap out the berries for another kind of fruit. Most berries are in season in the spring and summer months. Luckily, other fruits such as apples and pears are in season during the fall when berries are not.
Oats
Oats are incredibly nutritious and have many health benefits. They are a great source of plant-based zinc, with ½ cup providing approximately 20% of the recommended daily intake. They also provide a lot of other minerals including iron, magnesium, manganese, selenium and phosphorus. 
Oats are especially important for heart health due to their high soluble fiber content. Soluble fiber helps to reduce LDL (bad) cholesterol and helps regular blood sugar levels.  
Spices
Spices are so chock-full of amazing health promoting nutrients and antiinflammatory properties, the more you can squeeze into your diet the better. This recipe includes both nutmeg and cinnamon. Nutmeg is great for helping to reduce joint pain and swelling and helping with blood sugar control. Cinnamon may have beneficial effects on cholesterol levels and blood pressure, and may increase insulin sensitivity.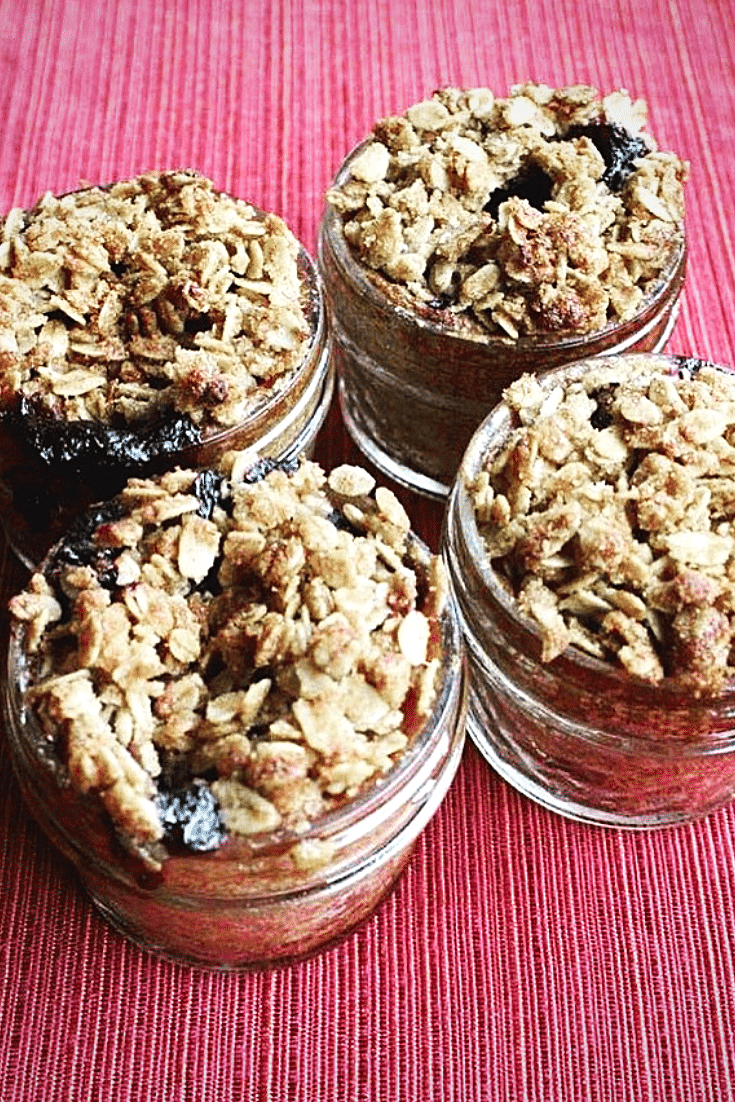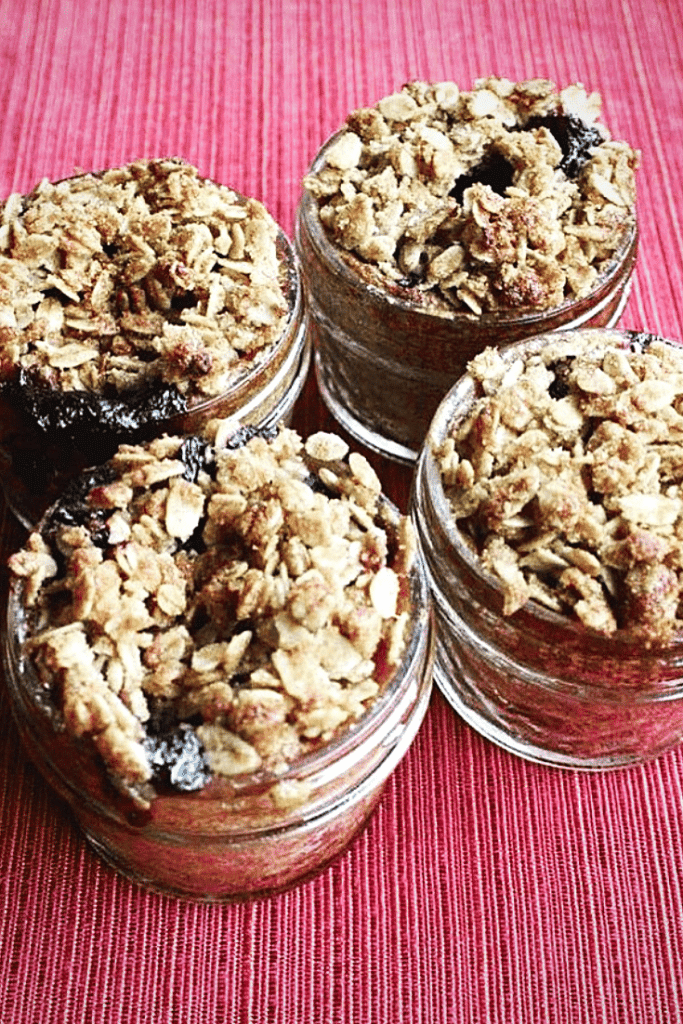 Celebrate With National Pi Day
I originally made these individual-serving pies with National Pi Day on March 14th in mind. The reason we celebrate Pi day is because Pi (Greek letter "π") is the symbol used in mathematics to represent a constant. It represents the ratio of the circumference of a circle to its diameter which is 3.14159. The folks at Piday.org report that this number has been calculated to over one trillion digits beyond its decimal point. "As an irrational and transcendental number, it will continue infinitely without repetition or pattern."
The first official large-scale Pi day celebration happened in 1988. At the San Francisco Exploratorium, on March 14th, 1988, Physicist Larry Shaw and staff celebrated the day by marching around one of the Exploratorium's circular spaces and eating fruit pies. In 2009, the US House of Representatives recognized March 14th as National Pie Day. Due to Pi and "pie" being homophones, this day is often celebrated in many ways involving pie, including pie baking, pie eating, and pie throwing contests.      
Cool! Now let's make some pie. 
Making Mason Jar Berry Pies
The Filling
The first step is to make the filling. I use cherries and blueberries for this recipe, but this can be customized to your personal preference. The best part about this recipe is that you can use fresh or frozen berries. You never have to worry about having ripe fruit on hand, just throw some frozen berries right into the saucepan. 
Honey and vanilla will then be added to give it the perfect balance of sweetness. Vanilla is naturally sweet and can add additional sweetness without the use of sugar. Cornstarch is added to thicken up the berry mixture so that it makes the perfect berry pie filling. 
The Crust
Making a home-made crust is super simple and will have the best flavor. However, to save time a pre-made dough will also work for this recipe. This recipe utilizes whole wheat flour to give it an extra fiber boost. Mix it in an electric mixer with the non-dairy butter, eggs, salt, honey and almond extract. Using almond extract gives some extra sweetness and a richer flavor without adding more sugar. 
The Topping
The mini berry pies will be covered with a delicious crumbly topping made with oats and brown sugar. This step comes together in a snap – simply mix all of the ingredients, the non-dairy butter, oats, brown sugar, cinnamon, and whole wheat flour, in a large bowl. It will make a crumbly mixture that is ready to top the pies. 
Putting it All Together
Each mason jar will act as an individual little pie dish. Press the dough into each jar and cover the bottom and sides of the jar. The dough should reach the top inside rim. Next spoon the berry filling into the jar and top with the crumbly topping. Your perfect little pie is now assembled. Repeat for all of the jars and bake for 35 minutes. Once they have cooled they are ready to enjoy or be frozen for later.
Substitutions 
The crust is savory, made with non-dairy butter and eggs. To make them vegan friendly, an egg replacer can be used such as a flax egg or store bought egg replacer. Gluten free crust also works well for this recipe. The honey can be replaced with maple syrup or other sweetener or choice.
Love this recipe? You'll also enjoy these other desserts Vegan Pumpkin Pie Parfaits, Vegan Strawberry Rhubarb Mini Mason Jar Cheesecake, and Cherry Pie Cupcakes
Mason Jar Berry Pies
These adorable single-serve pies are perfect for meal prep all week long or for a party or picnic
Print
Pin
Rate
Ingredients
Berry Filling
2

cups

fresh or frozen whole cherries

1

cup

fresh or frozen blueberries

1

Teaspoon

honey

1

teaspoon

vanilla extract

1/2

teaspoon

freshly ground nutmeg

1

Tablespoon

corn starch

(divided)
Whole Wheat Flour Crust
1/2

cup

room temperature non-dairy butter

(I use Earth Balance)

2

eggs or egg replacement for a vegan option

1/4

teaspoon

salt

1

cup

whole wheat flour

2

tablespoons

honey or maple syrup

1

teaspoon

almond extract
Topping
3

Tablespoons

very soft non-dairy butter

(I use Earth Balance)

1/2

cup

oats

1/4

cup

brown sugar

1

teaspoon

cinnamon

1/4

cup

whole wheat flour
Instructions
Berry Filling
In a medium sauce pan, heat the cherries and blueberries over medium heat. Add the honey and vanilla to the mixture and turn the stove on low, simmer and cook down until the fruit is soft and begins to combine, about 10 minutes. Stir often to break up larger chunks of fruit.

Add the corn starch 1 teaspoon at a time, stirring to combine and letting sit for 2 minutes before adding more until fruit mixture is not watery.
Crust
In the bowl of an electric mixing bowl, add the non-dairy butter, eggs, salt, whole wheat flour, honey, and almond extract. Combine thoroughly with mixer, adding in more flour if needed until dough becomes a ball.

Remove the dough from the bowl and shape into a large ball. Place in the freezer on a piece of parchment paper for 5-10 minutes to set up.
Topping
Combine all topping ingredients in a small mixing bowl with a wooden spoon. Mixture will be crumbly.
Putting it Together
Preheat oven to 400 degrees. Place a 2-inch ball of crust dough in each Mason jar to cover the bottom; pressing gently with your fingertips so that the dough covers the bottom of the jar and comes up the sides to touch the top rim evenly.

Spoon the berry filling into each jar. Top each jar with about 2 Tablespoons of topping.

Bake for 35 mins (you may have to cover the pies with aluminum foil for the last 15 minutes to avoid burning the crust). Let cool and enjoy!
Notes
Bonus: these pies can be pre-assembled and frozen with the lids on so you can make single serving desserts whenever you want to!
Ginger Hultin,MS, RD, CSO
An award-winning, nationally recognized nutrition expert and media spokesperson.
Thanks for visiting! If you're like me: obsessed with eating, wine, going out and traveling, you're in the right place. Champagne Nutrition® LLC is a Registered Dietitian-run concierge virtual practice helping clients look and feel better. On this blog, you'll find cocktails, mocktails, and plant-based recipes that are easy to make quickly at home and pack for leftovers on your adventures.