Pomegranate Ginger Mocktail
I realized recently that I have a lot of cocktail recipes on the blog….but I don't have many actual mocktails. That needs to change starting today! There are so many reasons to enjoy a mocktail – perhaps you're just not drinking one evening, you're pregnant, you're on antibiotics or other medications that interact with alcohol, you're driving or any other number of reasons. You don't even need an excuse to enjoy a mocktail instead of a cocktail. I've got a really simple Pomegranate Ginger Mocktail for you here on the blog today. 
I love using pomegranate juice instead of cranberry or other options because the color is so rich and beautiful. There's also some interesting research about pomegranate juice – from sports performance to brain health and lower inflammation – and drinking it could be part of a healthy diet. Don't forget that eating the whole fruit is a wonderful way to get fiber plus all those vitamins, minerals and antioxidants. Plus it's fun to pick the arils out of the fruit.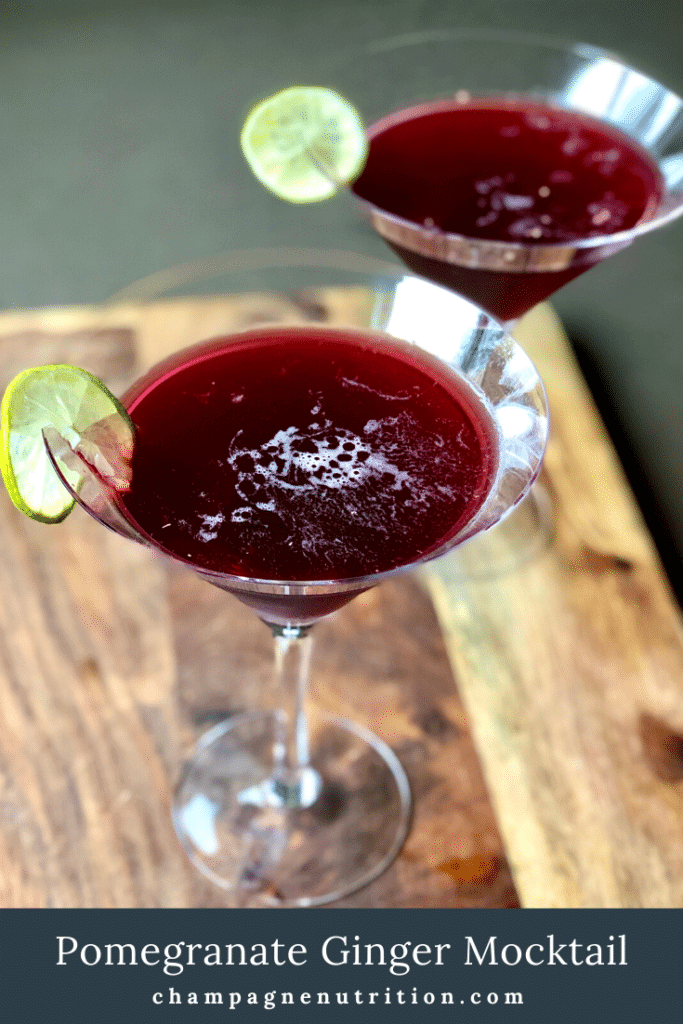 Peeling your pomegranate
If you want to enjoy your pomegranate arils, simply cut the fruit in quarters. Everything it touches could stain so make sure to use a cutting board you don't worry about turning purple. Also, watch out for juice spray as you cut. Next up, fill a bowl full of water then take each piece one by one, hold it under water and gently open it with your thumbs on the rind. Use your finger tips to pull the arils out and just let them drop into the water. Repeat with each quarter and then in the end, pick out any white pieces floating on top of the water and then strain the water out while catching the arils. They're a wonderful snack or dessert and they make a beautiful garnish for salads and other dishes. Best of all, you can use them to decorate your drink!
Making the Pomegranate Ginger Mocktail
This is a very simple recipe to put together. Basically you blend the juice and water, add in the ginger root, shake it up and serve. But I wanted to give you some more details and background so you have all the options you may need when making this. 
Did you know that I used to be a bartender? I did that for years when I was in school to become a dietitian. It's one of the ways that I really started to understand how food and alcohol pair together as well as people's relationship with and passion for enjoying beverages. I have some of the equipment I talk about here but if you don't, that's ok too. You can make this Pomegranate Ginger Mocktail very simply. 
I buy my pomegranate juice instead of trying to make it. It seems easier, it's readily available and it's affordable and easy. That's my suggestion for you when making this drink. Add in sparkling water which is also quite the food trend right now. It's everywhere, in every store. I suggest plain sparkling water so that the other flavors shine through but honestly you could use whatever flavor you enjoy. Try lemon or lime, cranberry or even grapefruit to add more complexity of flavor to this drink. 
Why the agave? I don't love adding sugar or syrup to any drink and I always minimize it if I can. I will say that cocktails/mocktails like this one just need that little pop of brightness that agave has to offer. You could easily use honey or even maple syrup instead. I really don't see any need for simple syrup or corn syrup in drinks. Feel free to omit it if you'd like – or feel free to add more, too! 
Sparkling water is awesome. It's such a great tool for making drinks, staying hydrated and also just sipping on if you don't want to have a cocktail at the moment. I've heard some myths about soda water not being good for you and that's just not true. I'm quoted in posts on MyFitnessPal and Experience Life for more detail about the potential health benefits and concerns. 
I also have a bunch of cocktails up on the blog for you if you want to go in the cocktail direction instead of mocktails. My SoCoNut cocktail is one of my all-time favorites for summer. I've also got a Sparkling Plum Basil option on the blog as well – so refreshing and light. This one would also be a good mocktail with its natural flavors. 
Finally, ginger really pulls this Pomegranate Ginger Mocktail together. I keep my fresh ginger root in the freezer. I don't worry about peeing it. I just take it out, grate it up and then store it again. It keeps for a really long time and it's less fuss to use it. Plus the flavor is so much stronger and more vibrant than ground ginger. 
The best thing about ginger? It's a very calming, soothing herb. Known for its ability to calm the stomach, ginger also has anti-inflammatory properties. If you're focused on your health and you want an herb that supports the body, ginger is it. I like to include it in the diet in a variety of recipes and also in tea. I love putting it in smoothies like this Pumpkin Ginger Smoothie you could enjoy any time of the year! 
I wrote this recipe to be shaken and served up like a martini. If you're at a party, this will feel very fancy and decadent. You can feel like you're also enjoying a martini but without ALL that booze. I have a metal shaker and strainer at my house so I use that but if you don't have one, my best tip for you is to use a water bottle that has a closed top option. Done! No special equipment needed. 
If you don't want to serve these up, feel free to pour them on the rocks. Fill a short glass with ice and pour the shaken drink over it. This is a nice way to have something to hold and set down that's not quite as delicate as a martini glass. If you're having a bigger party and you want to use compostable cups instead, this is definitely the way to go. I do like to serve cocktails and mocktails over ice instead of without when in a 'rocks' glass like this as the ice will melt slowly and it lasts longer. Up to you! Let me know how you enjoy this Pomegranate Ginger Mocktail.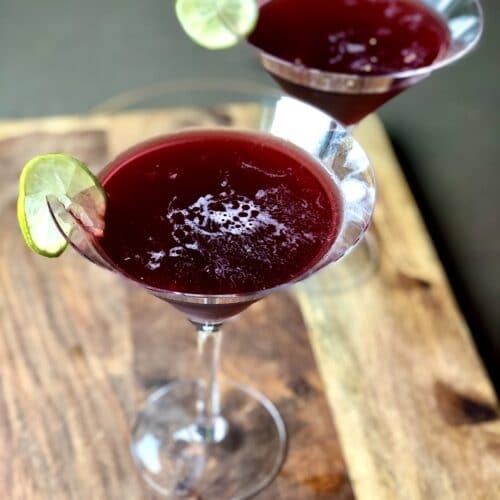 Pomegranate Ginger Mocktail
This super simple, easy, vegan mocktail is perfect for anyone who wants a drink sans-alcohol.
Print
Pin
Rate
Ingredients
1

cup

pomegranate juice

1

teaspoon

agave syrup

more or less to taste

1

teaspoon

freshly ground ginger root

3

cups

sparkling water

plain

1/2

pomegranate

seeded for garnish
Instructions
Place the juice, syrup, and ginger in a shaker over ice, shake hard for 30 seconds and then pour into a large pitcher, add the sparkling water and give it a stir to combine.

Serve 'up' in a martini glass. Garnish with pomegranate arils. 
Nutrition
Ginger Hultin,MS, RD, CSO
An award-winning, nationally recognized nutrition expert and media spokesperson.
Thanks for visiting! If you're like me: obsessed with eating, wine, going out and traveling, you're in the right place. Champagne Nutrition® LLC is a Registered Dietitian-run concierge virtual practice helping clients look and feel better. On this blog, you'll find cocktails, mocktails, and plant-based recipes that are easy to make quickly at home and pack for leftovers on your adventures.