Homemade Pumpkin Spice Waffles
Finally…..fall is here! What I love most about autumn is that it is finally socially acceptable to start enjoying pumpkin again; though I eat pumpkin all-year round because I love it so much. As the weather starts to get colder, all I want is to eat anything and everything pumpkin flavored. I'm looking forward to my first PSL of the year (expert order tip: double tall soy 1 pump pumpkin spice latte) and when I got up today I wanted waffles. I wanted my Homemade Pumpkin Spice Waffles.
Pumpkin spice is such a hot flavor these days (I even wrote a blog post about how much everyone loves all-things pumpkin spice) and I love finding fun ways to enjoy it during the fall and year round. I'm going to break down these pumpkin spice waffles and talk about just how delicious they are.
Why Pumpkin?
Pumpkin is such an incredible food. It is such a rich, nutrient-dense ingredient that is perfect to add to any recipe, from smoothies to cookies to these Homemade Pumpkin Spice Waffles. Pumpkins are full of vitamin A, an antioxidant that supports eye health along with decreasing the risk for cancers and other diseases. They also help reduce inflammation and help reduce the amount of free radicals in your body. Pumpkins are packed with carotenoids, mainly beta-carotene, which are used to form vitamin A in the body. These carotenoids are what provide pumpkins with their deep, orange color that they are widely known for. 
In addition to vitamin A, pumpkins are packed with vitamin C and B vitamins, along with lots of minerals. These vitamins have numerous health benefits, like helping boost your immune system and fighting against diseases. Plus, pumpkins are filled with water, making them a hydrating food as well.  Pumpkins are also a great source of fiber. Not only is fiber helpful for maintaining a healthy digestive system, it can help keep you fuller for longer.
This is the perfect combination – the fiber, the nutrients, and the water – to keep you feeling full for a long time so you're super satisfied after breakfast and have energy to take you through your day.  
Traditional Pumpkin Spice
Pumpkin spice is one of the most classic fall flavors because it's used so often during this season to make pumpkin pie! Typically, pumpkin spice is a blend of ground cinnamon, nutmeg, ginger, cloves, and sometimes allspice. You can find this spice blend practically anywhere, but it is also super easy to whip it up yourself. Cinnamon is packed with anti-inflammatory properties and antioxidants. Ginger helps to boost the immune system and reduce nausea. Clove has a strong, astringent flavor and unique antioxidants that are used in pain relief and have been shown to kill bacteria. Nutmeg is also full of wonderful anti-inflammatory abilities and is a potential immune booster. Allspice, while not always seen in pumpkin spice blends, can help tie in all the spices while also being seen to soothe the stomach. Allspice is really strong and so if you use it (and I actually left it out of this recipe), just use a small amount. 
These spices together provide so many health benefits and are the perfect blend to add to all your pumpkin recipes. I'm really, really into reducing inflammation these days – so much so that I wrote a book about it! Check it out here for a local source. 
Making the Homemade Pumpkin Spice Waffles
The Waffle Batter
This is a super simple base for any type of waffle so you can use it over and over again. That being said, I also use mixes for convenience, too! I love using Bob's Red Mill waffle mix because they have buttermilk and whole grain options. It'll definitely be even faster and easier to use a pre-made waffle mix, but either way will result in delicious Homemade Pumpkin Spice Waffles! With a mix, you'll generally add in an egg or two, a little bit of oil and some dairy or non-dairy milk. It's quite similar to whipping up your own. 
Adding the Pumpkin Puree
Now, it's time for the most essential part! Most waffle mixes don't take into account adding additional ingredients, like pumpkin puree, so it's super important to cut back on the recommended liquid that you add into the mix. If you use a mix, I recommend cutting back on the liquid by a ¼ cup and adding about ⅓ of the pumpkin puree can into the mix. Just be sure to grab pumpkin puree and not pumpkin pie filling or pumpkin spice puree. Pumpkin pie filling will have additional added sugars that aren't needed in this recipe and pumpkin spice puree will overpower the waffles with the pumpkin spice flavor, since we will also be adding our own pumpkin spice blend.
The Pumpkin Spice
What would Homemade Pumpkin Spice Waffles be without the pumpkin spice? You can pick up a pumpkin spice blend almost anywhere, but I love to make my own pumpkin spice by combining vanilla, cinnamon, ginger and fresh nutmeg. It is super easy to measure out each spice and combine them together to create the perfect blend. 
These Homemade Pumpkin Spice Waffles are the perfect meal to enjoy this fall! And if you're looking for even more recipes to incorporate pumpkin into this season, be sure to check out my Pumpkin Protein Smoothie, Simple Pumpkin Hummus, and Gluten Free Pumpkin Chocolate Chip Muffins.
How will you add pumpkin to your meals this fall?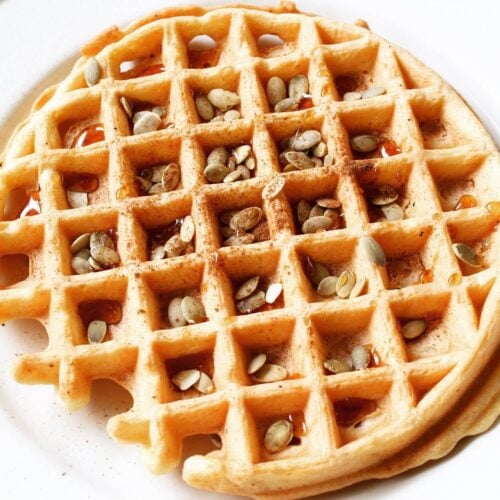 Ingredients
2

cups

all-purpose flour

1

tablespoon

baking powder

1/2

teaspoon

salt

1/2

teaspoon

cinnamon

1/4

teaspoon

ground ginger

1/8

teaspoon

freshly ground nutmeg

1

egg

1

cup

milk

try unsweetened soy or oat for a non-dairy option

1/2

cup

pumpkin puree

1

teaspoon

pure vanilla extract

2

tablespoons

maple syrup

2

tablespoons

vegetable oil

try grapeseed or avocado
Instructions
Preheat your waffle iron then, in a large mixing bowl, combine the dry ingredients and spices.

In a separate, smaller bowl, stir together the egg, milk, pumpkin, vanilla, maple syrup, and oil until combined.

Pour the wet ingredients into the dry and stir until they're combined.

Pour the batter onto the hot, greased waffle iron and cook until golden brown. Serve hot with real maple syrup.
Ginger Hultin,MS, RD, CSO
An award-winning, nationally recognized nutrition expert and media spokesperson.
Thanks for visiting! If you're like me: obsessed with eating, wine, going out and traveling, you're in the right place. Champagne Nutrition® LLC is a Registered Dietitian-run concierge virtual practice helping clients look and feel better. On this blog, you'll find cocktails, mocktails, and plant-based recipes that are easy to make quickly at home and pack for leftovers on your adventures.