Roasted Broccoli with Rosemary
Super busy weekdays can be a hard time for my clients (and me!) to get in some much-needed green veggies. Do you struggle with eating all the veggies? Whether you're trying to get more in or you just love them so much that you need more recipes, I've got you with this Roasted Broccoli with Rosemary recipe. When it comes to veggies, I do easy, quick, and simple. That's it. I want you to love them and I want them to taste good but I also want them to be able to fit into to your life in a streamlined way. That's how I cook for you and that's what I post. Be sure to check out the recipe down below. 
As much as I love the health benefits of adding broccoli or dark leafy greens brings to my meals, I also have to balance what I can assemble quickly and easily, without sacrificing flavor. I make this at least once a week since it is so easy and delicious. It's perfect to prep quickly then pop on a pan and put it in the oven for a hands-off meal prep.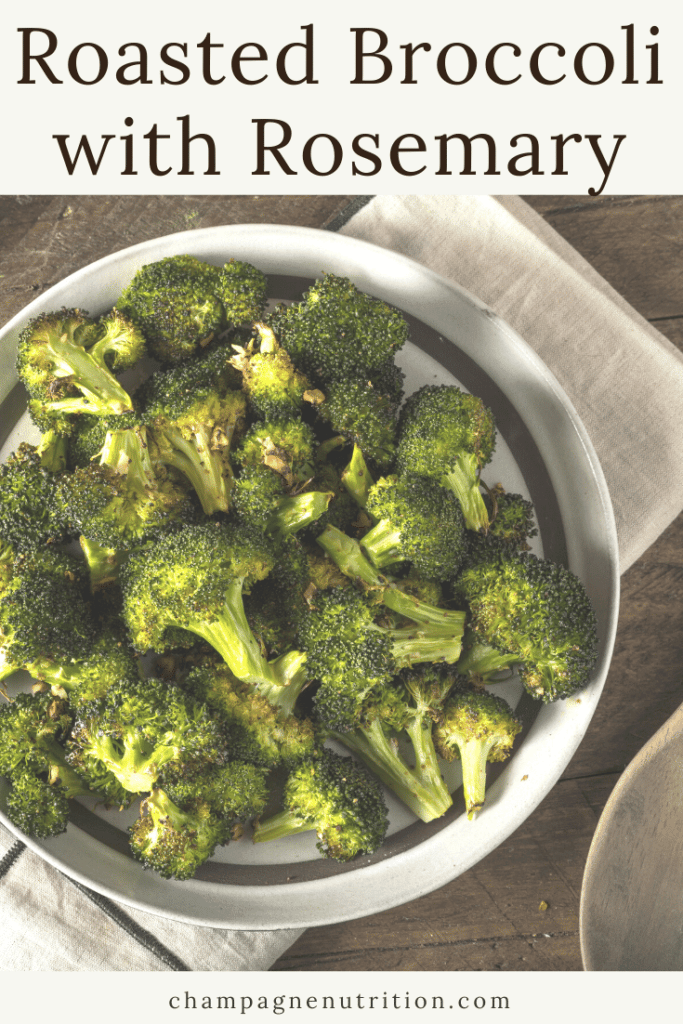 Broccoli – the master crucifer
Some people are confused and think that they don't like broccoli. I think they may just be making it incorrectly. Just like other veggies, broccoli isn't at its best when you just boil it in water or microwave it. It makes it soggy and mushy, definitely not something that makes me want to chow down on my green veg. Instead, I like to season it lightly with salt, pepper, and fresh or dried rosemary and pop it in the oven so it gets crispy and even a little charred.
Veggies need a bit of salt to really bring out their tasty flavor– that's just how it is – but they're nicely balanced with tons of natural potassium. Most of us eat way too much salt and not enough potassium. Salt is in processed foods (think baked goods, soups, chips, snacks) and it's plentiful in the food that we eat away from home. After-all, humans love salt and so chef's put it in the food. Alternatively, fruits and veggies – fresh foods – have no salt, naturally. But they have a lot of potassium and fiber. Potassium helps balance out salt and when we eat enough of both (more potassium than salt), then blood pressure is more likely to be in balance. Fiber helps grab onto cholesterol in the body to take it out through our digestive system and so these are just some of the reasons that you should be looking for more ways to get these types of foods into your diet. 
Roasted Broccoli with Rosemary is a total anti-cancer, heart healthy veggie, packed with fiber, vitamins, minerals and antioxidants. Definitely worth it to make this a part of your regular diet, just prepared in a way that you truly enjoy. I'm a cancer specialist and I work with a lot of people going through treatment. I always talk to my patients about the importance of eating more 'cruciferous' veggies. That means more broccoli and also more cauliflower, Brussels sprouts, cabbage, bok choy, radishes and kale. There are special 'sulfuric' compounds in these veggies that help kill cancer cells and balance hormones. Am I saying that you can kill cancer with crucifers? Not exactly – it's more complicated than that. But if you have cancer or are at risk, then I'd suggest supporting your body with this class of veggies. 
Making Roasted Broccoli with Rosemary
This is a really easy recipe to make. Simply cut up the broccoli and set it aside in a large mixing bowl. Drizzle it with olive oil then sprinkle it with salt and pepper. You can add more or less per your preference and health needs. Top it with fresh or dried rosemary leaves then pour it onto a baking sheet. I highly recommend using parchment paper to reduce the clean-up you'll have to do or a silicone baking liner. I just got these in the mail and I can't stop using them.
I also recently got some silicone cupcake liners after a terrible experience with egg muffins totally ruining my muffin tins. Post scrubbing-for-hours, I gave up and ordered the liners. I've been a paper-liner person for years but now that I've got the silicone, I'm never going back. They're so cute, they don't stick to a thing, they wash up easily and I will use them always from now on. Go order some right away if you find yourself in my same position.
Love Broccoli? I've got more!
I've got tons of simple, healthy veggie side dishes and apps up on the blog so make sure and them out.
If you're looking for great veggie sides, you might enjoy my vegetarian stuffed mushrooms, garlic chili roasted Brussels sprouts, or maple spiced roasted carrots! I'm all about the super simple, healthy, whole-foods veggie recipes. I specifically love to buy pre-cut or even frozen options here to cut down on the time it takes to prepare healthy veggies. Keep in mind that frozen veggies are as nutritious (or more!) then fresh so use them if you like to. I sure do. 
Other veggies I want you to love are eggplant (this is the most amazing no-noodle lasagna dish that I know you'll love – and I don't even like eggplant), tomatoes (these salad skewers are so fun), and leeks (put them in recipes and you'll enjoy the flavor so much!).
Want more broccoli? Sheet Pan Teriyaki Tofu with Pineapple and Broccoli and veggie bites.
Roasted Broccoli with Rosemary
This is a very simple, delicious recipe that you can make quickly and easily
Print
Pin
Rate
Ingredients
1

large head of broccoli

(cut into florets)

2

teaspoons

olive oil

1/2

teaspoon

salt

1/2

teaspoon

freshly ground pepper

1

teaspoon

fresh or dried rosemary
Instructions
Heat oven to 425 degrees. Place all ingredients in a large mixing bowl and toss to coat evenly. Pour broccoli onto a large parchment lined baking sheet and roast in the oven for 10 minutes. Flip broccoli over and roast another 10 minutes. Serve hot.
Ginger Hultin,MS, RD, CSO
An award-winning, nationally recognized nutrition expert and media spokesperson.
Thanks for visiting! If you're like me: obsessed with eating, wine, going out and traveling, you're in the right place. Champagne Nutrition® LLC is a Registered Dietitian-run concierge virtual practice helping clients look and feel better. On this blog, you'll find cocktails, mocktails, and plant-based recipes that are easy to make quickly at home and pack for leftovers on your adventures.