Savory Sweet Curry Popcorn Balls
I am always finding myself craving a salty, sweet, savory snack that I can grab and easily enjoy in between client calls or even on the go. Lately I have been super into popcorn and have found that to have become my go-to snack throughout the day but I sometimes find it challenging to enjoy when I'm in a rush. Enter Savory Sweet Curry Popcorn Balls which are SO amazing and so delicious. They are crunchy, naturally sweet, savory with peanut butter and curry and are bite sized too. Plus, they are naturally vegan and vegetarian, making them super accessible to those following different diets. They also don't have any refined sugar, just natural sugar from sources like dried apricots and vanilla extract. These Savory Sweet Curry Popcorn Balls are the perfect afternoon snack, dessert treat, and on the go snack.
Why Curry?
Curry powder is a blend of spices originating from India and is used in many traditional Indian dishes. Typical spices found in curry powder include turmeric, coriander, cumin, fenugreek, and chili pepper. Some other common additions to curry powder include ginger, black pepper, mustard seeds, curry leaves, and fennel seeds. Curry powder has been known to have so many amazing health benefits because of all the numerous spices it contains. Mainly, due to the presence of turmeric, curry powder has many anti-inflammatory properties. Turmeric contains the pigment called curcumin, which is known for its ability to fight inflammation by regulating the proinflammatory proteins such as interleukin-6 and tumor necrosis factor-alpha (TNF-alpha). Additionally, the presence of chili pepper also provides anti-inflammatory benefits due to the anti-inflammatory compound capsaicin that's found in chili pepper. 
Not only does curry powder provide amazing anti-inflammatory health benefits, it can also improve heart health. The spice mix found within curry powder may help boost flood flow and improve blood vessel function. Additionally, curry powder can help aid in good heart health by lowering blood pressure, triglycerides, and cholesterol levels in the body.
The numerous spices present in curry powder also have antioxidant properties, which help to reduce the number of free radicals in the body and prevent cell damage. Some antioxidants found in curry powder include curcumin, quercetin, pinene, and many others. Incorporating curry powder into your diet can help provide antioxidants into your body, reducing oxidative stress and future disease risk.
Because it is packed with many different spices and flavor profiles, curry powder can be added to numerous dishes. I added it here to my Savory Sweet Curry Popcorn Balls to provide additional flavor and spice but you can also add curry powder to marinades, soups, potato salads, and stews. Different types of curry powders have different heat levels, so don't be afraid to experiment with adding it to different dishes and recipes.
Making the Savory Sweet Curry Popcorn Balls
The Popcorn
For these popcorn balls, I like to use air-popped popcorn because it is light and airy and eliminates the need for any kind of oil during the popping process. I think to pop my popcorn myself, but there are plenty of great store-bought air popped popcorn options as well! Just make sure to choose one that isn't loaded with extra oils or sugars.
The Sweetness
To give these popcorn balls a little touch of sweetness, I add some dried apricots into the mixture. Dried apricots are so amazing because they are packed with vitamin A and iron, along with being rich in antioxidants. They also help lower cholesterol and aid in digestion. Plus, they provide these popcorn balls with such an amazing, deep orange color! 
Along with the dried apricots, I also add some peanut butter to the mixture as well. The peanut butter, whether it be smooth or crunchy, provides a great source of protein and healthy fats to this recipe. You'll need it to help bind the popcorn together and it works perfectly with the sticky apricots. I also added some maple syrup, which adds some natural sweetness to help balance out the spice in this recipe. 
Putting it all Together
Before beginning anything, I line a baking sheet with parchment paper and set aside for later. I then add the dried apricots, peanut butter, maple syrup, melted coconut oil, plant-based milk (though you can substitute with dairy milk if you prefer!), flaxseed, curry powder, vanilla, and salt to a large blender or food processor and pulse until a paste forms. I add the popcorn to a large mixing bowl and pour the mixture over it, mixing roughly with my hands. It's okay if some of the popcorn kernels get crushed a little, we are trying to ensure that the popcorn gets completely coated with the paste mixture. Once the mixture is fully combined, I start to form the popcorn into ball shapes. I coat my hands in a little oil to help the stickiness of the mixture. Once all of the balls are formed and placed on the baking sheet, I place the sheet into the fridge to let them set. What's great about these Savory Sweet Curry Popcorn balls is that they taste amazing and can be stored in the fridge, so they can be enjoyed throughout the whole week!
If you're intrigued by Savory Sweet Curry Popcorn Balls, try my other snacks like Plum Berry Cobbler Granola, Crostini with Beans, Ricotta, Honey and Thyme.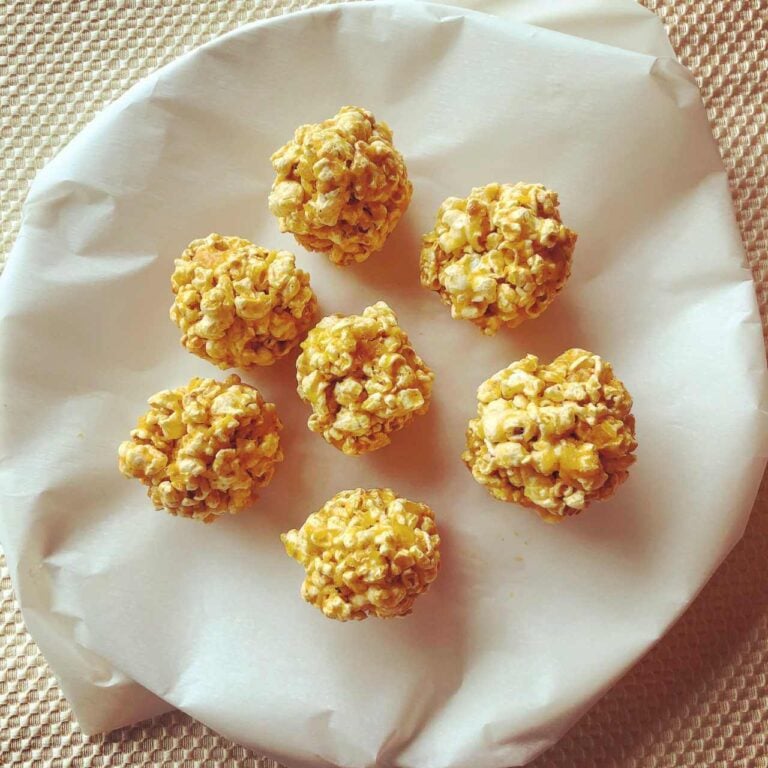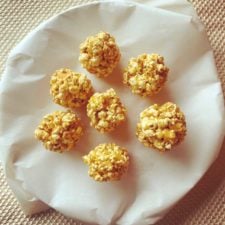 Savory Sweet Curry Popcorn Balls
Combine unexpected, delicious flavors in this simple, vegetarian snack that's savory and sweet.
Print
Pin
Rate
Ingredients
1/2

cup

dried apricots

1/8

cup

peanut butter

1

tablespoon

maple syrup

1

tablespoon

coconut oil, melted

1/8

cup

unsweetened non-dairy or dairy milk of your choice

1

tablespoon

ground flaxseed

1/2

teaspoon

curry powder

1/2

teaspoon

vanilla

1/8

teaspoon

salt

6

cups

air-popped popcorn
Instructions
Line a baking sheet with parchment paper and set it aside.

Add all ingredients except popcorn to a large blender or food processor and pulse until a paste forms.

In a large mixing bowl, add the popcorn and pour the mixture over it, mixing it roughly with clean hands. Crushing the kernels slightly is ok. Create 12 small balls and place them onto the prepared baking pan. If your hands are getting really sticky, coat them with a little olive oil or coconut oil.

Place the popcorn balls in the fridge to set for at least an hour, until they're firm. Store them in the fridge for up to 1 week.
Ginger Hultin,MS, RD, CSO
An award-winning, nationally recognized nutrition expert and media spokesperson.
Thanks for visiting! If you're like me: obsessed with eating, wine, going out and traveling, you're in the right place. Champagne Nutrition® LLC is a Registered Dietitian-run concierge virtual practice helping clients look and feel better. On this blog, you'll find cocktails, mocktails, and plant-based recipes that are easy to make quickly at home and pack for leftovers on your adventures.