Tofu can be surprisingly intimidating – what do you do with that white brick? I've got you covered with the simplest recipe around. Literally anyone can make this and it takes just minutes to prepare. This simple baked tofu would actually be perfect for someone in your house (including YOU) who has minimal cooking skills or a s starter recipe to get teens or pre-teens in the kitchen. Once you cut the tofu and prepare it with a little soy sauce, then you can pop it in the oven (hands off) and do other things or make other recipes.  Simple baked tofu should definitely be in your weekly recipe rotation. I'm breaking it all down here on the blog for you.
Today as I was eating left-over stir fry with veggies, rice, tofu and curry sauce for lunch, I overheard a conversation between two tofu haters. They were talking about how much they dislike tofu and their tricks for culinary disguise. I often hear people diss tofu, but I'm still not sure why. It seems to me the most unassuming food with very few drawbacks and many benefits. Some people claim they dislike the "texture", some people dislike the taste and others I think just have a negative association with what they consider the 'culture of tofu'. I've got a post here on how tofu does not give men 'man boobs' and other helpful myth busting. Please hear me, as a dietitian, tofu is safe and healthy for most people! So let's talk about how to make it and what to do with it.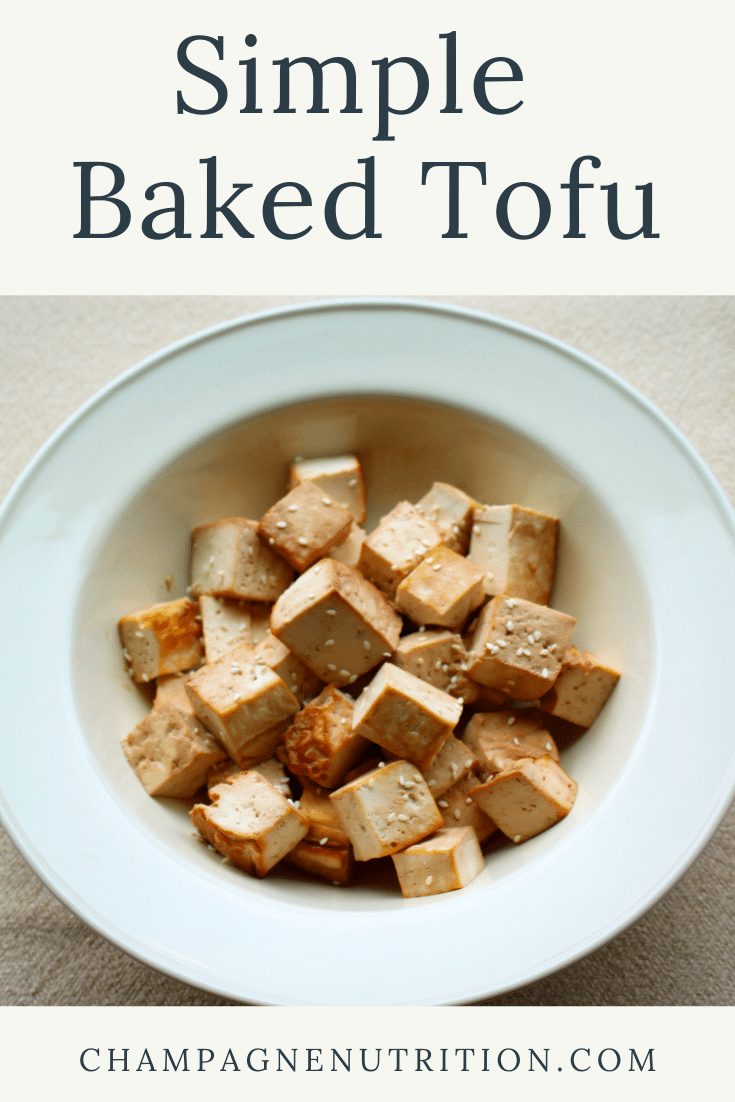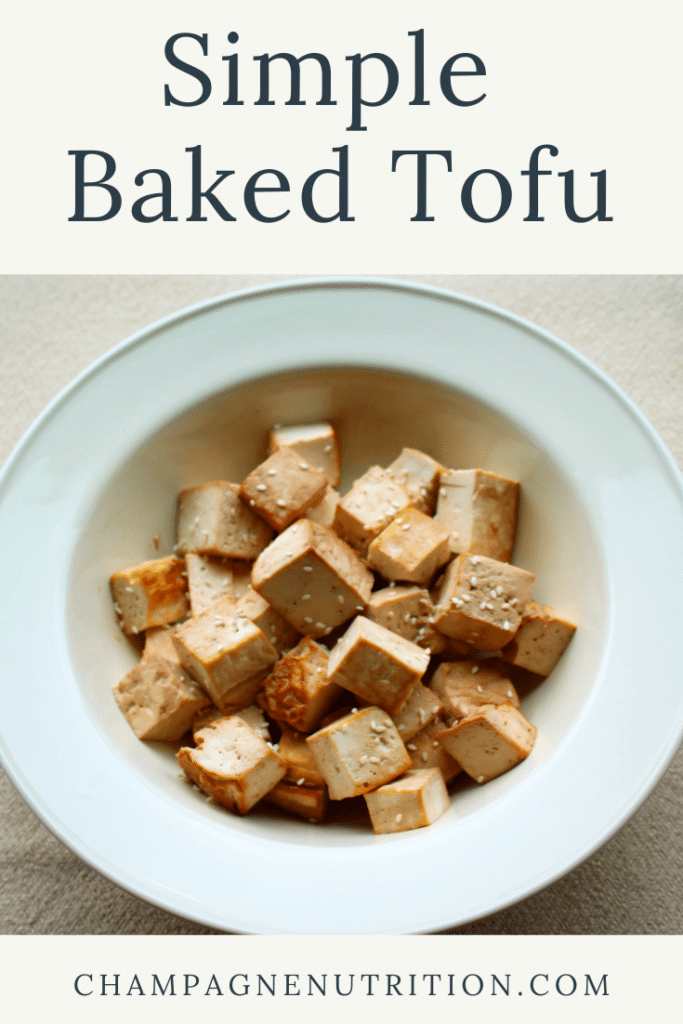 Preparing Tofu
A common barrier to eating tofu is that many people are unsure of how to prepare it which is why I'm here with my simple baked tofu recipe. Honestly, I make this recipe every week so I've got an easy protein source to use in other recipes or even to put on salads throughout the week. For a quick 'tofu 101', extra firm tofu is chewy and has a very firm texture. Firm is great for cooking with, similar to extra firm. Make sure not to get silken unless you're using it for a specific recipe or for blending up as it will fall apart into a slippery mess. However, silken tofu is just awesome to put in smoothies for added protein. Any of these options can be really fun early foods for toddlers that they can pick up and eat on their own.
When you choose whether you're going to use firm or extra firm tofu, remove it from the package and pour off all the excess liquid. Set it on a clean cutting board on some paper towels folded up and gently press the top and sides with extra paper towels or a clean, dry dishtowel. Once the outside is dry, take a knife and slice it right down the middle, the "long" way so that you have two equal halves. Set those down on the paper towels and press them again to get out some of the liquid on the inside. After that, slice the sections lengthwise and then width-wise so that you create 1/4 inch cubes of tofu. That's it! If you want to get creative, you can also create triangles or length-slices depending on your preference.
Health Benefits of Tofu
Tofu is high in protein, goes easily with many dishes and flavors and has health promoting compounds called isoflavones that provide cardiovascular, anticancer and bone-building benefits. Soy contains phytoestrogens, or healthful plant compounds that hundreds of vegetables and grains also contain. Keep in mind that plant estrogens are not the same as human estrogens and studies have shown health benefits from consuming these foods because they act like estrogen antagonists – or against estrogen in the human body.
It's very high in calcium because of the way it's processed and set so it's such a great source of nutrients for vegans and vegetarians. Finally, tofu is low in fat and all the fat in it is unsaturated. It has no cholesterol. If you want to try other soy foods for all these benefits, you can also try out tempeh, miso and edamame.
Making the Simple Baked Tofu Taste Delicious
Tofu doesn't have a strong taste on its own; it will take on whatever sauce or seasoning you introduce to it. You could use a curry or peanut sauce, something spicy with chilies, a sweet Teriyaki or salty soy sauce – whichever you prefer. You could also use some ginger or garlic to keep it very simple. Try my Firecracker Garlic Sauce which is amazing on tofu! It's really fun to experiment with whichever flavor you enjoy so that you have variety in your week. One thing I do when using tofu for meal prep is to make a plain batch and then use whichever sauce or seasoning you want to use during the week.
You can keep simple baked tofu in your refrigerator for up to 6 days so again, making a batch (or double batch!) each week is a really good idea if you want to make your life a little easier.
If you need more tofu recipe ideas, I've got them for you. Check out my sheet pan teriyaki tofu, tofu cranberry protein bowl, and tofu fresh rolls.
And if you try this recipe, make sure to leave a comment or recipe rating!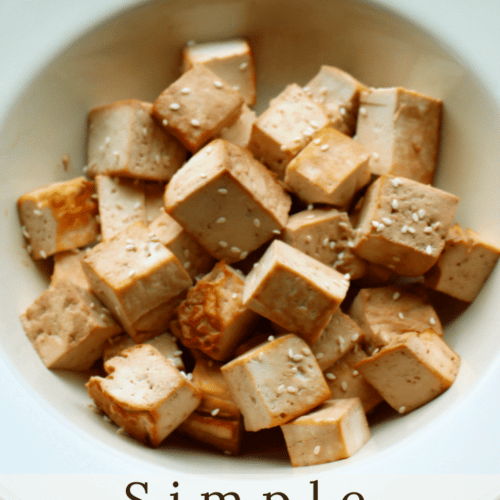 Simple Baked Tofu
Tofu can be surprisingly intimidating - what do you do with that white brick? I've got you covered with the simplest recipe around.
Print
Pin
Rate
Ingredients
1

teaspoon

coconut oil

1

package firm or extra firm organic tofu

1

Tablespoon

reduced sodium soy sauce

(or tamari for gluten-free)
Instructions
Preheat oven to 350°F. Grease the bottom of a glass baking dish with 1 teaspoon of coconut oil. Open the package of tofu and drain water. Place block of tofu on a cutting board and gently pat it with a paper towel or dish towel until excess water is absorbed. With a sharp knife, cut the block in half length-wise  then press again with paper towels to drain excess liquid. Cut blocks into 1 inch squares and place in a single layer in the prepared baking dish. Sprinkle soy sauce evenly on top.

Bake for 30-35 minutes, flipping 1/2 way through. Remove from oven. Great served over rice and vegetables with sauce of choice.
Ginger Hultin,MS, RD, CSO
An award-winning, nationally recognized nutrition expert and media spokesperson.
Thanks for visiting! If you're like me: obsessed with eating, wine, going out and traveling, you're in the right place. Champagne Nutrition® LLC is a Registered Dietitian-run concierge virtual practice helping clients look and feel better. On this blog, you'll find cocktails, mocktails, and plant-based recipes that are easy to make quickly at home and pack for leftovers on your adventures.