Leeks with Greens and Bulgur Wheat
Emergency phone call from a friend last night: "Ginger!  How do I clean a leek?  You can't eat the green parts, right?" Ah the emergency nutrition phone calls. Let's talk about leeks – how to clean them, how to use them and how to eat them. I'm going to talk you through my Leeks with Greens and Bulgur Wheat recipe today. 
Spring is coming and that means having less of those warming and comforting soups and stews and moving more towards vibrant and fresh meals like my. The first time I made this recipe, I bought all of the ingredients and just when I started to prep I realized: I've never cooked a leek before! 
Leeks are very beautiful – a white bulb at the bottom transitioning into firm, dark green leaves at the top. To prepare leeks, you start by slicing off the very bottom root-part and the tough dark green leaves at the top, then cut lengthwise so you can clean out the dirt between the layers. Leeks can have a lot of dirt in them so you want to make sure to wash them well. The white part is the most soft and delicious. If you are going to sauté leeks as part of your recipe, you can cut further into the more firm green leaves because they will soften as they cook. Leeks have a nice onion-like smell but are not overpowering and they belong to the same plant family.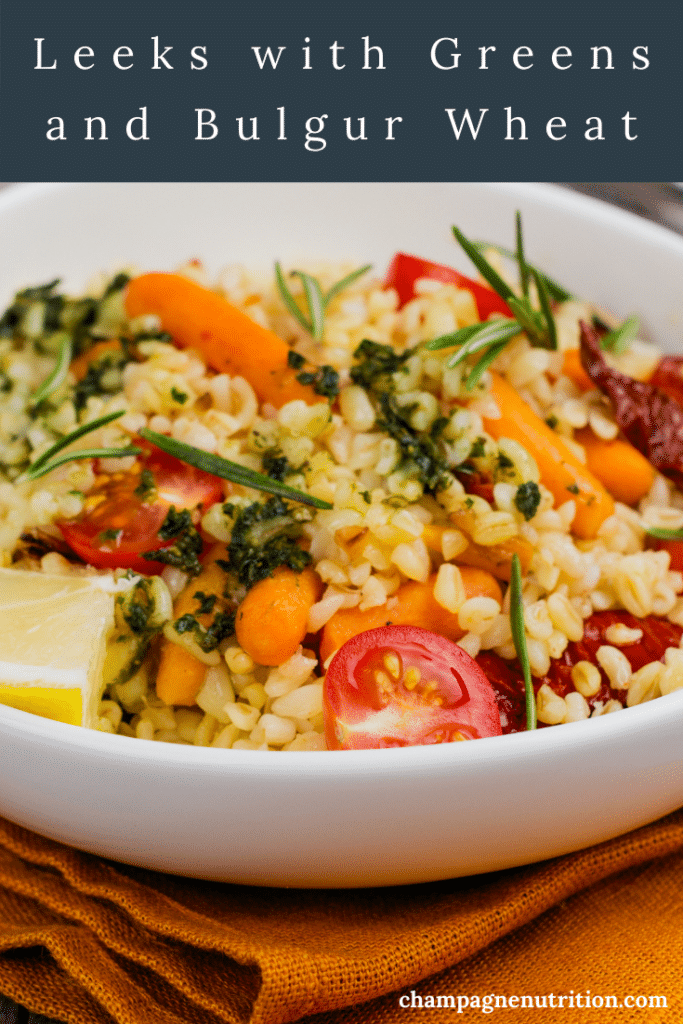 About the Leeks With Greens and Bulgur Wheat Recipe
The Leeks
Like onions and garlic, leeks belong to the Allium plant family and are highly regarded as beneficial to health. Leeks are high in vitamin K, A, C and B6. They also contain manganese, folate, potassium and iron. They are high in fiber and low in calories (like so many other vegetables). Because they also contain the compound kaempferol, they provide heart healthy benefits by relaxing blood vessels. Kaempferol combined with other antioxidant polyphenols and carotenoids in leeks protect against oxidation throughout the cardiovascular system. 
Eating leeks was first reported to be beneficial by the Greeks and Romans but is thought to have originated in Central Asia because dried specimens have been found in Egyptian sites. Because leeks can grow well in cool, wet climates, they became popular in the UK and are even a celebrated national emblem in Wales.
The Wheat
You may be most familiar with bulgur wheat from Tabbouleh salad. More common in Middle-Eastern and Indian cuisine, bulgur wheat is simply whole wheat that has been lightly cooked and cracked open. Like other whole grains, it is high in fiber, iron and B vitamins. One serving of bulgur from this recipe provides more than ⅓ of your fiber needs for the day. You can use bulgur similarly to how you would use brown or wild rice or quinoa. Bulgur wheat has a light and nutty flavor and a chewy texture. Bulgur can be found in health food stores or anywhere that carries Bob's Red Mill; they make a nice bulgur.
The Greens
Dark leafy vegetables are some of the most nutrient dense foods. They are low in calories and high in vitamins, minerals and antioxidants. Swiss chard is especially high in certain minerals that are not found in such high quantities in other greens. For example, 1 cup of cooked chard contains approximately 50% of magnesium needs for the day (compared to 9% in kale). It is also much higher in potassium, copper, and phosphorus than other greens. In addition, like all greens, chard is a great source of beta-carotene, vitamin K, and vitamin C. Diets high in dark leafy greens may be associated with a decreased risk of certain chronic diseases including certain cancers, heart disease, and type 2 diabetes. 
Putting it all Together
Prepping the Leeks
Rinse the leeks and pat dry. With a sharp knife, remove the dark green leaves at the top. You can save these to make stock or compost them. Slice off the root end as well and discard.
Option 1: 
Thinly slice the leeks into little circular discs. Place in a bowl with cold water and rinse off all of the dirt. Let the leeks sit for a few minutes, then dump them into a colander and rinse them with cold water to remove the remaining dirt. The leeks are now ready to be used.
Option 2:
Thinly slice the leeks in half from top to bottom. You can rinse them in a bowl with cold water as described in Option 1, or you can hold one half at a time under running water and rinse between each layer to remove the dirt. Once clean you can continue slicing into vertical strips, or into horizontal strips.
Prepping the Greens
In this recipe you will be using the entire part of the green so there is no waste. Chards are unique in that their stems are very flavorful. If subbing collards, you can also eat the stems but they will be a bit tougher and take a longer time to cook. 
Start Cooking
Heart the oil in a large pan over medium-high heat. Add in the leeks and the chard or collard stems and cook until soft, stirring occasionally, about 5 to 10 minutes. Add in the sliced mushrooms and saute for an additional 5 minutes. Next, add in the green leaves and the garlic and saute for 2-5 more minutes. 
Finally, add in the salt and pepper, broth and bulgur. Mix everything together, and bring to a boil. Reduce to a simmer, cover and cook for 10 more minutes. Then remove from heat and enjoy this beautiful Leeks with Greens and Bulgur Wheat recipe. 
If you love the idea of this unique whole grain dish, make sure to try my millet breakfast bowl, blueberry coconut oat bake, or wild rice with maple hazelnuts and sage.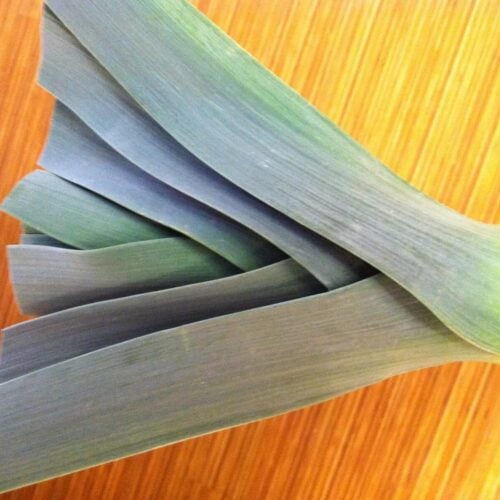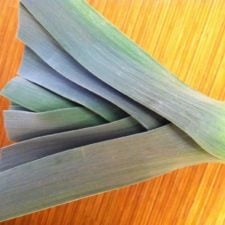 Ingredients
3

tablespoons

extra-virgin olive oil

4

leeks, white and tender green section chopped

2

leaves

bunches Swiss chard or collards, stems and cut/torn into 1-inch pieces (divided)

4

cups

mushrooms, sliced

6

garlic cloves, minced

1/2

teaspoon

salt

1/2

teaspoon

fresh-ground pepper

5 1/2

cups

vegetable broth

2

cups

bulgur wheat
Instructions
Heat the oil in large pot over medium-high heat.

Add the leeks and chard stems.

Cook until soft (~4 minutes).

Add mushrooms and saute an additional 5 minutes.

Add the green leaves and garlic. Cover and simmer 5 minutes more.

Add the salt, pepper, broth, bulgar to mixture. 

Bring to a boil, reduce and simmer covered for 10 mins. Serve warm.
Ginger Hultin,MS, RD, CSO
An award-winning, nationally recognized nutrition expert and media spokesperson.
Thanks for visiting! If you're like me: obsessed with eating, wine, going out and traveling, you're in the right place. Champagne Nutrition® LLC is a Registered Dietitian-run concierge virtual practice helping clients look and feel better. On this blog, you'll find cocktails, mocktails, and plant-based recipes that are easy to make quickly at home and pack for leftovers on your adventures.