Quinoa Protein Power Bowl Recipe
You may be wondering if eating certain foods at particular times alone or in certain combinations makes a difference. I was on New Day Northwest this week chatting about food combining – the myths and the truth. Let me break it down here for you AND give you the best combination around this season: my Quinoa Power Bowl Recipe.
Power bowls can be made from whatever you choose to put in them but when you're thinking about a balanced meal, you want to focus on 3 things: complex carbs, protein, and a healthy fat source.
In this segment, I decided to make a very simple, no-cook recipe because we are all busy and could all use a go to meal that is all about quick, easy, healthy, and delicious. This Quinoa Power Bowl Recipe can be assembled in minutes and features the best of fall flavors and nutrient-rich options for your lunch or after school/work snack.
Some people are still living in fear of carbs, but listen; fruits, veggies, and beans are all carbs! Whole grains like quinoa are carbs too, but they also contain a nice punch of protein, vitamins, minerals, fiber, and antioxidants as well. When you combine these 3 "macronutrients", you get a filling, complete meal that gives you power and energy for a long time.
If you have more questions about how much of any of these nutrients may be right for you or how to use simple, healthy recipes like this one to make your life a little easier, reach out to me and we'll chat!
Food Combining Myths and Tofu Education
When it comes to food combining, there are a couple of myths still floating around out there. First up, that you can't eat certain foods (like fruit) on their own or at certain times of the day. I've even heard this is because it will "rot/ferment in your stomach or intestines". Nope. That's not how digestion works. When you eat food, it gets processed and broken down in the stomach, nutrients absorbed in the small intestine, and ready for excretion in the large intestine. Things should be moving along at your body's own rate, aided by hydration and fiber. Feel free to eat your fruit whenever you want without fear of ill effects.
Next, I wanted to discuss the whole vegetarian/vegan/plant-based protein combining myth. It used to be thought that since beans are low in the amino acid methionine and grains are low in the amino acid lysine that we needed to eat those foods together in a meal to create a 'complete' protein like meat, poultry, fish, and tofu/soy foods that supply all the amino acids together. That's not true at all. The body stores amino acids to use when it needs them, so if you eat a variety of foods that contain protein, your body will know what to do. If you eat a variety of foods throughout the day and throughout the week, you'll have a nice pool of amino acids for the body to use however it needs.
The bottom line in all of this is that you need to trust your body. It is a brilliant organism and it knows how to deal with nutrients in the food we eat to keep us safe and healthy. If you're not feeling like this is true for you or if you're having problems with digestion, let's discuss. I look forward to chatting more nutrition myths here on the blog and with New Day Northwest very soon.
Making the Quinoa Power Bowl Recipe
To get started, you will want to rinse your quinoa until the water runs clear. Once that is complete, start cooking the quinoa by boiling 2 cups of water over high heat. Once the water is at a rapid boil, add the rinsed quinoa and cover with a lid. You will want to reduce the heat to a medium low and simmer for 13 to15 minutes. When the quinoa is finished cooking, you will notice that all of the water has been absorbed. Remove the quinoa from heat and set it aside to cool.
While the quinoa is cooking, this is the perfect time to prepare the apple, pressed tofu, and greens. Leave the peel on the apple for a little extra fiber, vitamins, and minerals. Cut the apple in half, remove the seeds, and dice into cubes. Cut the tofu into cubes. Grab your greens and chop those roughly. You can use spinach, kale, Romaine lettuce, or whatever other greens you like or have on hand. Feel free to use two kinds of greens to mix it up.
Next up, grab a mason jar or salad dressing shaker and add your dressing ingredients: olive oil, vinegar, mustard, maple syrup, salt, and pepper. Whisk or shake thoroughly to combine.
Now you are ready to assemble the Quinoa Power Bowl by filling two bowls with 1 cup of greens each, then topping each with half of the cubed tofu and ½ cup of quinoa. Add the apple on top and around the periphery of the bowl. Lastly, you will want to drizzle the power bowl with the dressing and serve immediately. If you are preparing the bowl ahead of time, store the bowl and dressing separately.
More Healthy Quinoa and Tofu Recipes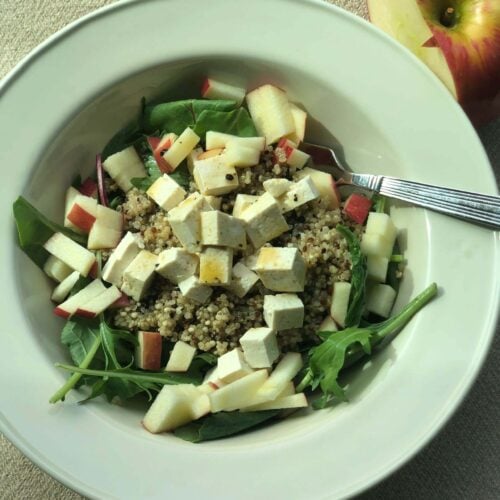 Quinoa Protein Power Bowl Recipe
Combine plant-based protein like tofu and quinoa to maximize fiber and flavor, too. This recipe has delicious apples, greens, and maple syrup to create a perfect lunch.
Print
Pin
Rate
Ingredients
1/2

cup

quinoa, rinsed

1/4

cup

olive oil

1/8

cup

apple cider vinegar

2

teaspoons

Dijon mustard

1

teaspoon

maple syrup

1/4

teaspoon

salt

1/4

teaspoon

freshly ground black pepper

2

cups

green leafy veggies like spinach, kale, or romaine

1

block

firm or extra firm tofu, pressed and cubed

1/2

medium

apple of your choice, diced
Instructions
Prepare the quinoa by boiling 1 cup of water over high heat. Add the rinsed quinoa, cover, reduce the heat to medium low, and simmer for 13 to 15 minutes until the water is absorbed.

Remove the quinoa from the heat and set aside to cool.

In a mason jar or a salad dressing shaker, add the olive oil, vinegar, mustard, maple syrup, salt, and pepper. Whisk or shake thoroughly to combine.

Assemble the bowls by filling two bowls with 1 cup of greens each, then topping each with ½ of the cubed tofu and ½ cup of quinoa. Add the chopped apple on top and around the periphery of the bowl.

Drizzle the power bowl with dressing and serve immediately or pack for lunch the next day.
Notes
Feel free to replace apple with pear or tangerine slices. There may be quinoa or dressing left over which can be perfect meal prep for other dishes.
Nutrition
Serving:
2
cups
|
Calories:
624
kcal
|
Carbohydrates:
38
g
|
Protein:
30
g
|
Fat:
42
g
|
Saturated Fat:
6
g
|
Cholesterol:
0
mg
|
Fiber:
6
g
|
Sugar:
10
g
Ginger Hultin,MS, RD, CSO
An award-winning, nationally recognized nutrition expert and media spokesperson.
Thanks for visiting! If you're like me: obsessed with eating, wine, going out and traveling, you're in the right place. Champagne Nutrition® LLC is a Registered Dietitian-run concierge virtual practice helping clients look and feel better. On this blog, you'll find cocktails, mocktails, and plant-based recipes that are easy to make quickly at home and pack for leftovers on your adventures.