Black Bean Peanut Butter and Jelly Brownies
When my husband heard I was making black bean brownies, he was appalled. I've had them many times before so I knew that they don't taste "beany" and if you didn't know they're in there, you'd never be able to tell. I know it sounds a bit weird – beans in brownies – but it's actually awesome. Black bean brownies aren't enough for me though; I needed another element soooo I added peanut butter and jelly. I had so much luck with my recent Peanut Butter and Jelly Granola (winner recipe!), that I decided to make Black Bean Peanut Butter and Jelly Brownies for you.
Black bean brownies are a genius creation. Beans blend up so well and are very moist with a nice texture in a baked good. They're neutral in taste so the brownies don't taste like…beans. Other ingredients – especially sweet ones – take over with the cocoa for flavor and the beans mostly contribute to the consistency. The dark color of the black beans indicates a certain type of antioxidant that has been linked to boosting human health. Plus, beans are so high in fiber and the add a bit of protein for balance in a sea of carbohydrate.
My clients always say "I forget about beans". Beyond black bean brownies, beans are so versatile and delicious. A wonderful plant-based protein, you can simply add them into soups or on top of salads or you can get more creative, weaving them into recipes. I'm all about beans in quesadillas and tacos or as a base to my favorite chili. Don't forget about beans and don't forget about lentils. Whether you're a vegetarian or not, beans are a healthy addition to the diet. And they're delicious.
So in these Black Bean Peanut Butter and Jelly Brownies, aside from the beans, the addition of peanut butter here also brings out some balance by adding fat and protein. Salty and savory, it offers a different taste that helps cut the sweet. The jam is an unexpected addition to brownies and makes them really delicious though I cut back on the portions listed in some other similar recipes because I found that the double sweet was too much. You have to be really careful with jam because so much of the time fruit is a secondary ingredient to sugar or corn syrup. Read the labels carefully to ensure that your jam is made mostly of fruit and, if it has sweetener added, it's fruit juice concentrate instead of a bunch of sugar.
I made these Black Bean Peanut Butter and Jelly Brownies for a peanut butter and jelly obsessed friend but they'd be really fun for a kid's birthday party, to take to the office as a treat, or to pack in a lunch to brighten someone's day. They're a bit gooey so it's not as easy as cutting them and serving them like a regular brownie. I suggest considering serving them warm, in a bowl perhaps and with some vanilla ice cream.
Have you made black bean brownie before? Let me know your tips and tricks to making them taste delicious. Some of my other favorite dessert recipes – healthy-ish – are my Cherry Clafoutis with Orange Liqueur, Rose Poached Summer Berries with Honey and Vanilla, or Fresh Lemon Honey Tapioca Pudding, Vegan Chocolate Haystack Cookie Bites.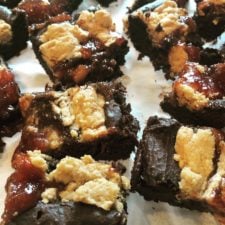 Black Bean Peanut Butter and Jelly Brownies
These brownies are pretty gooey and very delicious with a lot of flavors going on. The beans make the batter moist and delicious. Consider serving in a bowl with a little ice cream on the side.
Print
Pin
Rate
Ingredients
Black Bean Brownies
2

Tablespoons

cocoa powder

1/2

cup

quick oats

1/4

teaspoon

salt

1/2

teaspoon

baking powder

1/2

cup

chocolate chips

1 15-

ouce can black beans rinsed very well and drained

1/2

cup

maple syrup

1/4

cup

vegetable oil

2

teaspoons

vanilla extract
Topping
1/4

cup

creamy peanut butter

1

Tablespoon

softened butter

1

teaspoon

vanilla extract

1/3

cup

strawberry jam
Instructions
Preheat the oven to 350 degrees. Spray a 9x9 inch pan lightly with oil. Add all ingredients (cocoa powder through vanilla extract) to a large blender or the bowl of a food processor and blend until a wet dough is formed. Pour batter into prepared baking pan.

Melt the peanut butter and butter for 1 minute in a microwave-safe bowl. Blend together well then swirl into brownie batter. Swirl 1/3 cup of jam in a different direction with a butter knife, through the peanut butter, trying not to touch the sides of the pan as the jam will burn. Bake for 33-36 minutes until a tooth pick comes out clean when inserted into a middle brownie section. Let cool (brownies are gooey), then cut and serve.
Ginger Hultin,MS, RD, CSO
An award-winning, nationally recognized nutrition expert and media spokesperson.
Thanks for visiting! If you're like me: obsessed with eating, wine, going out and traveling, you're in the right place. Champagne Nutrition® LLC is a Registered Dietitian-run concierge virtual practice helping clients look and feel better. On this blog, you'll find cocktails, mocktails, and plant-based recipes that are easy to make quickly at home and pack for leftovers on your adventures.