Vegetarian Egg Breakfast Sandwich
I'm a breakfast person – bottom line. Going out for breakfast (early – so it's not busy!), making itat home or even just grabbing coffee and a blueberry muffin on the go; it's my favorite meal of the day. Unfortunately, breakfast items can often be unbalanced and unhealthy; high in fat, sugar and processed ingredients. Take my blueberry muffin example…I love it but that won't keep you energized long-term because it's completely lacking in protein. Treats aside, your go-to, day-to-day breakfast should include complex carbohydrates, protein and fat and you get bonus points if you can sneak in veggies at this meal. I've created the perfect breakfast that's so simple to make and has a great balance of macronutrients. Enter the Vegetarian Egg Breakfast Sandwich, which I created to provide a great balance of nutrients while also being a delicious way to start your morning.
The Most Important Meal of the Day
Like I mentioned before, I am a HUGE fan of breakfast foods. Not only is breakfast food so delicious, but it is also so important to eat a healthy, filling breakfast each morning. Breakfast literally means "breaking the fast", as it is the first meal you will eat after fasting while sleeping. Eating a fueling breakfast is the best way to jumpstart your metabolism; you are setting the energy levels for the whole day and letting your body know how much energy it needs to conserve and how much energy it needs to store. If you don't start your day with a filling breakfast, it may cue your body into storing more energy than it needs to. 
Eating breakfast has so many health benefits as well. It is proven that eating breakfast everyday will help your body regulate blood glucose levels, adequately boosting your energy and metabolism levels, along with providing numerous essential nutrients. If choosing the right foods, your breakfast can be packed with complex carbohydrates, healthy fats, and lean protein. All three contain essential nutrients that are so beneficial to your health. This Vegetarian Egg Breakfast Sandwich is loaded with nutrients and the perfect start to your day!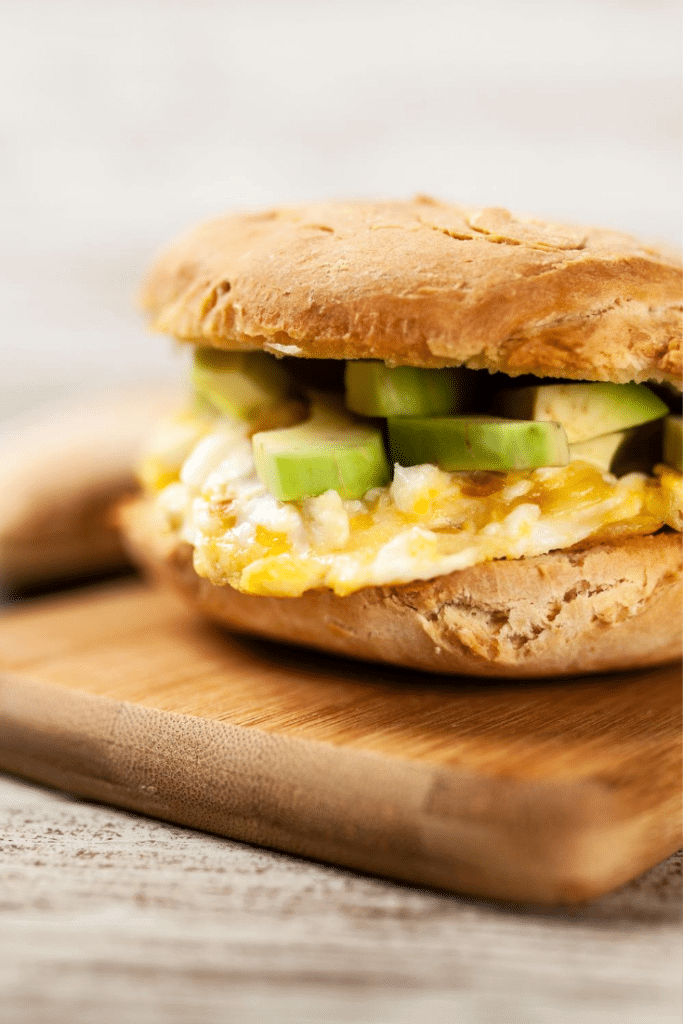 Nutrients in Eggs
There are so many reasons why eggs are the perfect way to start your day. Not only are they super nutritious but they are actually perfectly balanced in proteins and fats. While a lot of my clients are adamant about incorporating eggs into their diet because they contain a high amount of cholesterol, I always remind them that the dietary guidelines actually reversed those recommendations 5 years ago. Research actually does not show a strong connection between eating cholesterol and high bad cholesterol. In fact, eggs are packed with so many essential nutrients, like choline and vitamin D, that aren't found in too many other foods. Eggs really tie this Vegetarian Egg Breakfast Sandwich together, but feel free to substitute whole eggs with only egg whites or egg-like products for those allergic or following a vegan diet.  
Pack In the Veggies
We're all supposed to be getting 5 to 13 servings of fruits and vegetables per day. That's between 2.5-6.5 cups of the green stuff. What better way to start meeting these goals than getting some in your morning meal? On my Vegetarian Egg Breakfast Sandwich, I wanted to add some type of green. Incorporating more veggies into your meals is so important because it adds so many nutrients, vitamins, and minerals into your meals. Leafy greens, like kale, spinach, and arugula, are rich in fiber and numerous vitamins like vitamin A, vitamin K, and some B vitamins. Veggies are so amazing because of how versatile they are. Feel free to switch out veggies you aren't a huge fan of more ones that you really enjoy.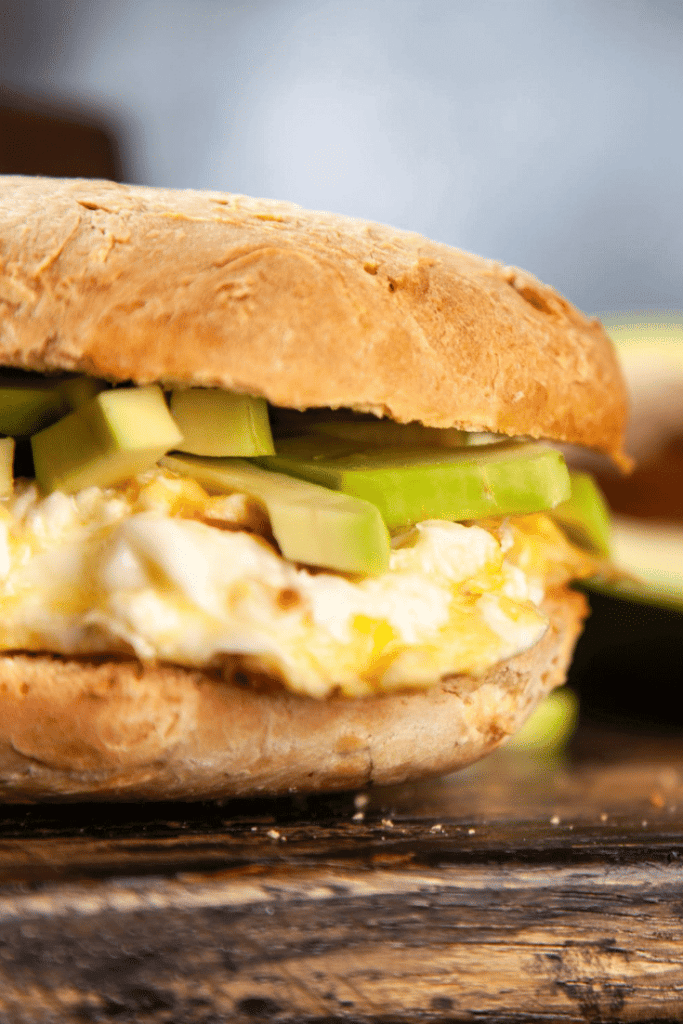 Making the Simple Egg and Veggie Sandwich
The Bread
Like any other sandwich, the bread is the first place to start. I like to choose an English muffin because it gets super crispy when it's toasted and it's just the best bread to make this (and any) sandwich on! But, it's really up for your personal preference here on what bread to use, I just recommend that whatever type of bread you choose that you go over the whole wheat or whole grain option. Whole wheat or whole grain bread are going to contain the most nutrients from the actual grain plant as possible, so it's important to also choose those options when you can. If you're gluten-free, that's not a problem – there are so many good choices for you now. 
The Eggs
Like I mentioned before, eggs are the staple ingredient in this Simple Egg and Veggie Sandwich. You can choose to cook them however you prefer, whether it's scrambled, fried, or poached. It's really up to you! Always feel free to sub in a vegan option of which there are many now on the market. 
The Veggies
I always start with a solid leafy green to add to my sandwiches because it adds a nice crunch and they are super rich in numerous vitamins and minerals. Kale pairs well here because it's hearty and sturdy…and it's not lettuce so it seems to fit better at breakfast to me.  Another good option for this sandwich is baby spinach because it is soft and slightly sweet. I also love adding tomatoes to my sandwiches! Tomatoes add a balanced flavor and texture here in this Vegetarian Egg Breakfast Sandwich; you'll often find them in breakfast food. I also suggest something crunchy like sprouts or microgreens and then definitely slather on the avocado. 
Extra Add-Ins
The thing I really like about this sandwich is that it's got some unique ingredients that you won't typically find. I have added some roasted pepitas to add a nice crunch to the sandwich. Pepitas are essentially pumpkin seeds, and once you roast them and season them with salt and pepper they become a delicious, crunchy snack. And they are such a nice touch to this sandwich! They provide an extra crunch that some sandwiches typically lack in. Additionally, I like to make a fun spread or aioli to switch up the typical mayo seen on sandwiches. My go-to is Sriracha mayo, which requires just the two ingredients, and is the perfect spread that adds a little kick to this sandwich. 
This Vegetarian Egg Breakfast Sandwich can be made in minutes and adds nutrients and fiber to your morning while cutting out the excess calories and saturated fat found so often in fast-food breakfast sandwiches.
And if you need some other healthy breakfasts heading into the fall, check out my Easiest Blueberry Coconut Oatmeal Bake, Cranberry Almond Chia Granola, or Honey-Kissed Autumn Cherry Breakfast Quinoa.
What's your favorite way to enjoy a sandwich? Let me know in the comments!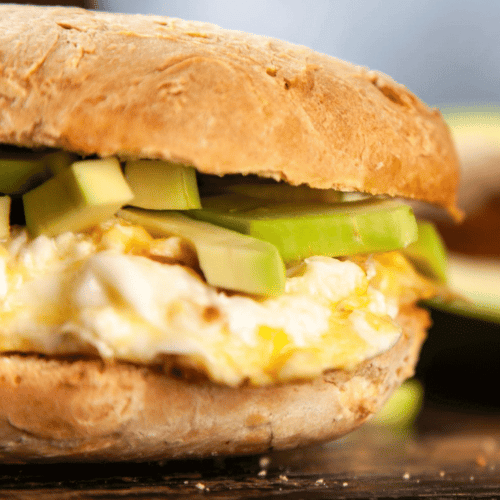 Ingredients
2

whole wheat English muffins

sliced in half and toasted

2

tablespoons

pepitas

1/2

large tomato, sliced

2

de-stemmed leaves of curly kale

2

whole eggs

salt and pepper to taste

2

teaspoons

Siriacha sauce

1

tablespoon

mayonnaise

vegan is fine, too

1/2

ripe avocado, sliced thinly
Instructions
Toast the English muffins. While they are cooking, slice the tomato and kale. Cook two eggs to your preference - over easy, over medium or over hard and season with salt and pepper. Combine Siriacha and mayo in a small bowl and spread on one side of the English muffin. Sprinkle with roasted pepitas and layer tomatoes, kale and egg. Finish by adding the avocado then cover with the other half of the muffin and enjoy hot. Travels well wrapped in a napkin.
Ginger Hultin,MS, RD, CSO
An award-winning, nationally recognized nutrition expert and media spokesperson.
Thanks for visiting! If you're like me: obsessed with eating, wine, going out and traveling, you're in the right place. Champagne Nutrition® LLC is a Registered Dietitian-run concierge virtual practice helping clients look and feel better. On this blog, you'll find cocktails, mocktails, and plant-based recipes that are easy to make quickly at home and pack for leftovers on your adventures.