Smashed Cranberry Champagne
This is a gorgeous little, simple cocktail that I'm so in love with right now. I originally made this Smashed Cranberry Champagne for a New Year's celebration but I loved the color so much that I've since been making it all year round. The rose-pink color that this creates is perfect for a spring or summer celebration. I have used it at a weekend brunch and served it at a bridal shower. Up next, I'm definitely going to serve these at a birthday party I'm hosting and I just can't seem to get enough.
There's just something about bubbly that makes it seem so celebratory. I have a lot of champagne-based cocktails up on the blog and a lot of them are fun colors for parties. My Ginger Turmeric Carrot Mimosas are the best I've done lately – they're an incredible, vibrant color – but you should also check out my hazelnut coffee champagne cocktail and my healthier creme champagne cocktail – yes, there's yogurt in it!
But back to these Smashed Cranberry Champagne cocktails…I really love the unexpected addition of the cranberry. It's so different than even the flavor of other pink fruit like raspberries or strawberries. Plus, cranberries offer some unique health benefits. They're incredibly high in vitamin C and those antioxidants that only come in brightly colored red and purple fruits and veggies. These have some interesting potential benefits to heart health as well as ability to support the immune cells in our body with their potent antioxidants and vitamins.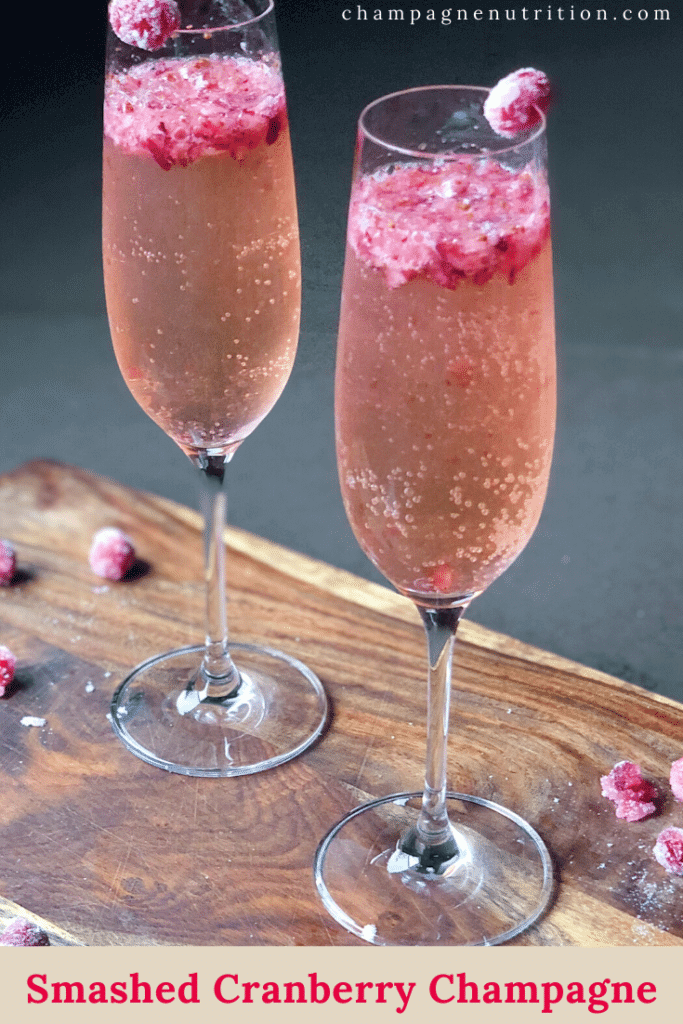 Champagne Cocktails
Champagne pairs well with lots of flavors. Did you know that it specifically pairs well with salty, fatty foods like french fries, chips and popcorn? It's bright, citrus notes balanced with plenty of acid really complement those flavors. It also really goes well with berries because of that floral, brioche flavor it so often has. Champagne and strawberries anyone? You may not think of champagne pairing with cranberries but it sure does in this post. The bright flavors and touch of honey blends together so well. Also, some of the cranberry pieces float and some sink so they're just really fun to drink over time.
The Cranberries
I want to tell you that the cranberry garnish is optional…but they're kind of not. This recipe is so delicious and adds so much to the final product. The festive cranberry toppers are simple, but you'll need a little extra for preparation. If you needed to make it even more simple and you're in a time crunch, you could also add pomegranate, raspberries, or some other type of fruit for a pop of color instead.
If you do decide to make the cranberries, I recommend starting with this step maybe even the night before since the cranberries have to set for a few hours.  Just bring the water and sugar to a simmer in a small pot and pour it over your cranberries the let it sit for an hour. After 60 minutes, drain them and then roll them in sugar and allow to set for another hour on parchment paper. They are absolutely so gorgeous.
If you don't feel like making cranberries or you can't find them, then feel free to use some pomegranate arils, raspberries or strawberries. Get creative and always let me know how it goes!
Making Smashed Cranberry Champagne
It's really fun because this Smashed Cranberry  Champagne includes a whole-cranberry puree. Champagne can take a little bit of sweet flavor added and cranberries demand it so this recipe includes honey! I can't stand cocktail recipes pumped full of syrupy sugar….that's a recipe for a hangover anyhow. This cocktail offers just a hint of sweet honey combined with tart fresh cranberries for a treat your guests will love.
If you're vegan, then please just substitute out the honey or agave syrup instead. You'll get the same type of product but it will be vegan-friendly. Most of my recipes can be altered in a variety of ways to suit all my plant-based (and non plant-based!) clients alike.
For reference, when I'm talking champagne in recipes, I'm usually referring to champagne on it's own. To be called "Champagne" it can only come from the Champagne region of France and follow special rules in regards to aging, processing, and the types of grapes that can be used. If we're making cocktails, you have more affordable options because sparkling wine like dry Prosecco or Cava go really well in a mix. Personally, I like using the Spanish Segura Viudas Cava or Lamarca Prosecco. You really want to make sure you're getting a 'dry' variety so it doesn't get too sweet.
So ultimately, what you do with this recipe is you blend up the cranberries with the honey in a blender or food processor (just until they're crushed – not pureed). You can use fresh around the holiday season or alternatively, you can use frozen. They keep for a long time that way and you can generally get them year-round. Everyone has different sweet preferences and so you may want to adjust less or more per your taste.
Put some of the cranberry mixture in a glass, top it with champagne and enjoy!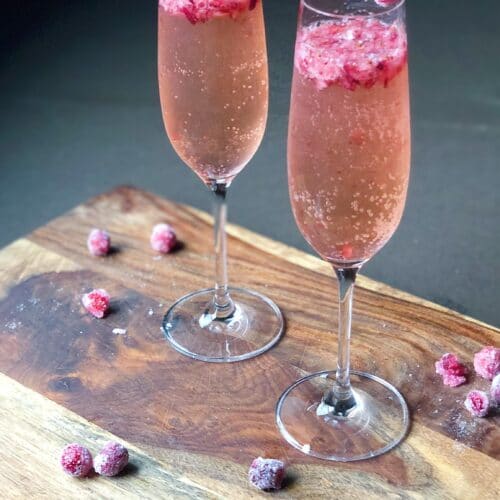 Smashed Cranberry Champagne
A gorgeous, light pink, healthy cocktail to serve at your next party
Print
Pin
Rate
Ingredients
1

bottle/750ml chilled dry champagne

Prosecco or Cava

1

cup

fresh cranberries

plus 5 for garnish

1

Tablespoon

honey
Cranberry Garnish
24

raw cranberries

3/4

cup

sugar

divided

1/2

cup

water
Instructions
Crush cranberries roughly in a food processor then stir in honey until combined. In a champagne glass, place 1 teaspoon of paste then top with 5 ounces of champagne per glass. Be sure to pour slowly as the bubbles may overflow. Garnish with sugared cranberries (optional).
Bring 1/2 cup sugar, 1/2 cup of water, and cranberries to a simmer. Remove from heat and transfer to a bowl to cool for 1 hour. Place on a piece of parchment paper and sprinkle with additional 1/4 cup of sugar until coated. Allow to dry.
Ginger Hultin,MS, RD, CSO
An award-winning, nationally recognized nutrition expert and media spokesperson.
Thanks for visiting! If you're like me: obsessed with eating, wine, going out and traveling, you're in the right place. Champagne Nutrition® LLC is a Registered Dietitian-run concierge virtual practice helping clients look and feel better. On this blog, you'll find cocktails, mocktails, and plant-based recipes that are easy to make quickly at home and pack for leftovers on your adventures.