Frosé…the hottest drink that combines the best warm-weather food trends: in-season fruit, cold, slushy drinks and rosé. I just love how rosé came roaring back into popularity. It's such a fantastic wine for any time of year. It's so delicate and beautiful, too. I'm going to break down some things you need to know about this pink wine and I can't wait to tell you about how to make my 3 Ingredient Frosé down below. Are you ready for summer beverages? I certainly am and this one is so simple, healthy(ish) and easy to serve at parties.
The rise of this hugely popular summer drink may have originated from shave ice (have you ever had it in Hawaii?) and has strong influences from the classic daiquiri, Piña Colada, or frozen margarita. But a frozen wine drink? Can it be delicious, too? YES. Does it ruin your favorite rosé? Kind of….so we're going to talk about that, too, down below.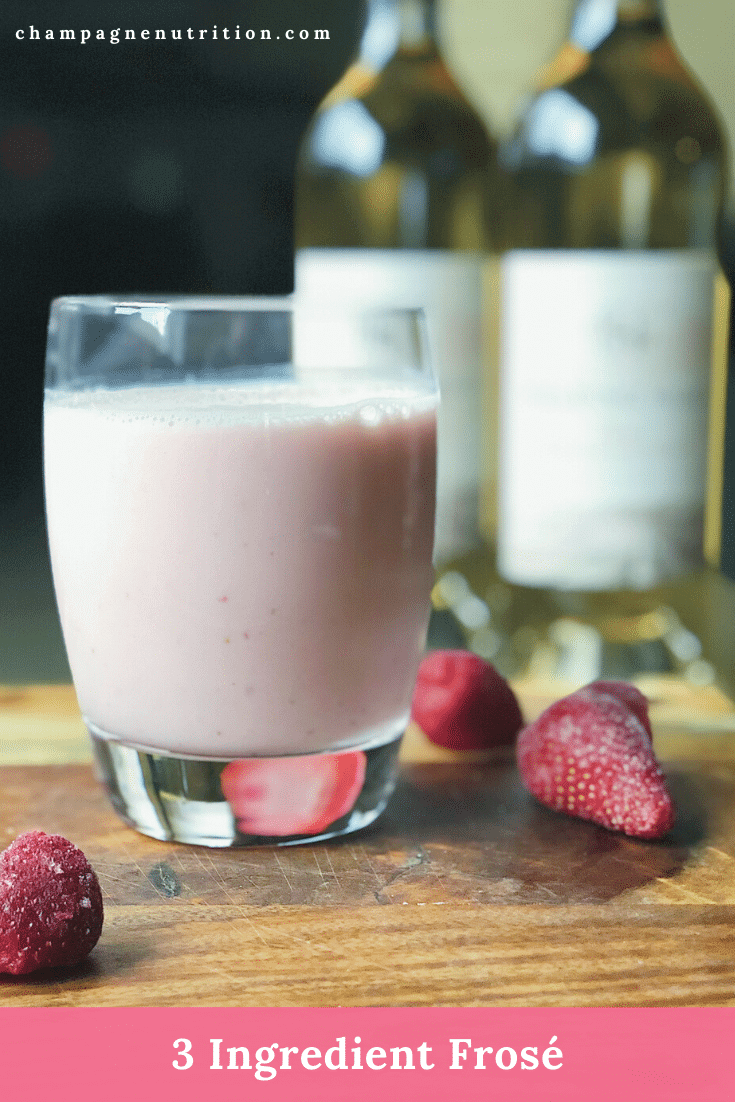 I first discovered frosé in Austin where we had an epic pool day and several of these sweet, frosty treats. Ever since then, I've been wondering how to make it at home without a slushy machine. The first time you have frosé, I highly recommend it's on a warm day and better yet, by a pool. Any setting will do to enjoy a wine slushy.
Creating Frosé 
Fellow dietitian and rosé connoisseur Chris Vogliano and I brainstormed the perfect way to make these in a blender or Vitamix and hit on the perfect recipe last year on summer solstice. Our desire was to bring out the natural flavors of pink wine while adding in some nutritious ingredients and minimizing added sugars (some recipes have up to a 1/2 cup in there!). If you know my recipes, you know that I try all the time to limit added sugars. Of course, when you're making cocktails, you're going to need some sweet sometimes. I often use honey, maple syrup, and agave in my drinks. I generally steer clear of simple syrup or a lot of white sugar. I realize that they're all doing pretty much the same thing in the body – same chemical structure and effects on blood sugar. But I do like to use as authentic ingredients as possible. Honey from a local farm or maple syrup I got on a trip to Vermont for example – those things mean something to me as a food blogger and I'd love to know how you feel about sweeteners in the comments!
About Rosé Wine 
Rosé wine is made from limiting the time that grape skins sit with the grape juice, coloring it just lightly pink before the color darkens into red. So it's made from red grapes but the fruit is separated from the skin pretty quickly. The wine that I'm using is from one of my favorite wineries ever: Fielding Hills on Lake Chelan in central Washington. They have a beautiful tasting room and facility up above the lake with incredible sweeping views, surrounded by vineyards, and with a lawn where you can relax and play games. I visit…quite often and I loved their wine so much that I became a member several years ago.
Just like my champagne cocktails, when you choose a rosé wine, if it's a nice one, you won't want to make drinks with it. You want to enjoy it on its own because of the high quality and subtle flavors. The image in the background of my picture here is actually Fielding rosé. They really limit their skin contact so it's very light pink. It's so beautiful and it's really delicious.
The flavors you'll find in this type of wine do pair perfect with summertime though I drink it all year long. Strawberry, rhubarb, floral notes, citrus and melon are primary flavors you may notice which is one of the reasons it can be made so easily into a delicious summertime slushy. Just keep in mind that once you add sugar or blend in fruit, you will lose the natural aroma of the wine. If you really want to enjoy the beauty of rosé, drink it in it's own.
Someone told me once that they thought that one clue to rosé is that if its darker pink, it will taste sweeter. That's not true, actually! It really is just about the time the skin has contact with the juice and the sweetness will always be up to the residual sugars "rs" in the wine. A dry rosé is very popular these days and so that's generally what you'll encounter. You can always ask at the store or at the restaurant to make sure if that's your preference.
Making Frosé 
Now this is the fun part! And it's so easy. You can literally make these in minutes and they're perfect to make for a party. Use a whole bottle of wine and just get a good quality, dry but affordable bottle. No need to use a $50 on 3 Ingredient Frosé. If you want to splurge on fancy wine, enjoy it on it's own.
I suggest using frozen strawberries because they will make the drink smooth and creamy without having to use ice. If you DO want to use fresh strawberries (they can be sweeter) then feel free to do so. Just wash them, core them and pop them in the blender. You'll just need to use 3-4 ice cubes to make it slushy. It will water it down a little but that's not a bad thing.
The sugar is the hard part. Strawberries can be very sweet or that can be a bit tart. This part will really be to your taste but as always, I do recommend limiting added sugar because it will let the flavors of the fruit and wine shine through more. Powdered sugar is actually really fun in this recipe and I think that it thickens it up a bit, too. You can absolutely use honey but just keep in mind that's not vegan-friendly. Adjust as needed but I found that 1 tablespoon was enough even for the whole mixture!
You have to let me know if you try this one!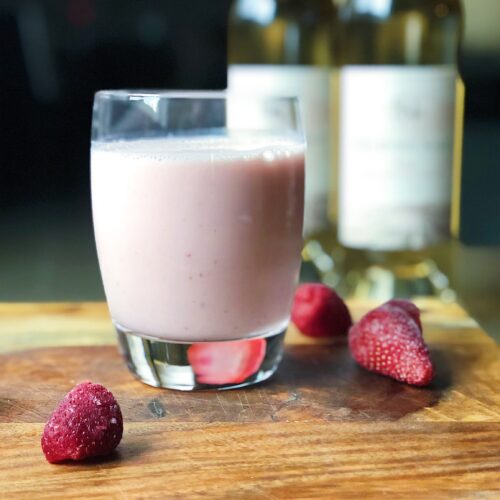 Ingredients
4

cups

frozen whole strawberries

1

bottle dry rosé wine

1

Tablespoon

powdered sugar or honey
Instructions
Add frozen strawberries to a large blender or Vitamix, add wine and sugar or honey and blend until smooth and frothy. Serve immediately in wine glasses.
Ginger Hultin,MS, RD, CSO
An award-winning, nationally recognized nutrition expert and media spokesperson.
Thanks for visiting! If you're like me: obsessed with eating, wine, going out and traveling, you're in the right place. Champagne Nutrition® LLC is a Registered Dietitian-run concierge virtual practice helping clients look and feel better. On this blog, you'll find cocktails, mocktails, and plant-based recipes that are easy to make quickly at home and pack for leftovers on your adventures.