Zoodles with Tofu and Peanut Sauce
Whenever I look for peanut sauce recipes I find ones that are super complicated, with a lot of ingredients, and that have 'fish sauce'. Nothing against fish sauce – I know that it's a commonly used and powerful flavor for many dishes. But it's not vegetarian/vegan friendly and…..I mean, it's fish sauce. I don't keep that in my house as an on-hand ingredient. But I DO keep peanut butter. And chili flakes. And lime. These super simple ingredients combine to make the best use-on-everything peanut sauce. Definitely use it on my new Zoodles with Tofu and Peanut Sauce recipe.
The best thing about this recipe? Aside from the peanut sauce…is the super simple tofu. Also, the versatile zoodles. You can't go wrong. So many of my clients don't know what to do with tofu or how to make it taste good. A lot of my clients are on low-carb diets. This Zoodles with Tofu and Peanut Sauce recipe is the answer to so many of our problems.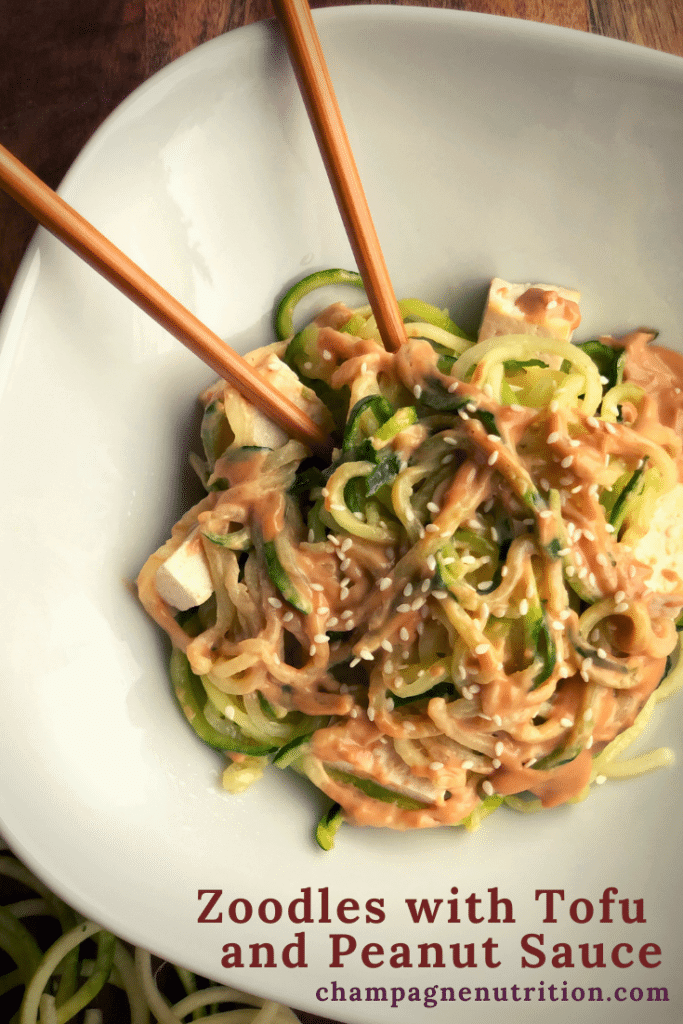 Zoodles with Tofu and Peanut Sauce
I developed this recipe to be made with ZOODLES! There's just something about then that complements the tofu and the peanut sauce. Plus it's a great way to get in extra veggies. I don't love zucchini on it's own. It's fine to grill but when turned into noodles, they're so versatile and delicious. It's definitely the way to get me to eat zucchini.
My Paderno spiralizer is one of my favorite kitchen gadgets and it can create noodles out of zucchini quickly and without a mess. What you do is make sure the machine is stuck to the counter for safety, then you find the blade you want (I find that thicker is better for a more 'hearty' noodle), stick in a zucchini and start spiralizing. Catch the zoodle curls in a bowl and don't worry about how long they get. They'll naturally break down a bit.
One thing to worry about with zoodles is how much natural moisture is in them. What I do is pat them gently but thoroughly with paper towels to absorb some of the moisture on the front-end. If, when you cook them, they develop too much liquid, you can always pour a bit out. You just have to be careful because some of that liquid will be flavored for the dish so use caution and sometimes I just pick the zoodles up out of the liquid with tongs instead of tossing it all away.
The best thing about this dish is that you can make this entire recipe in three pieces while parts of it are cooking for maximum efficiency. I'm super busy and on the go so multitasking in the kitchen is my friend. Prep the tofu then stick it in the oven while you make the sauce and spiralize your zucchini noodles. When you're done with those two tasks, the tofu is ready and dinner is ready to go.
Tofu Tips
I'm not all about pressing tofu too much. You'll see all these elaborate machines and presses in the kitchen but if you're just baking it and not frying it, I generally press gently all around with a towel to get the water out and then just chop and go. People have a lot of confusion about what to do with tofu and there's a lot! It's such a healthy, versatile protein.
Unfortunately, people still have a lot of confusion about it eating tofu is safe and healthy. The bottom line is: it is. There is so much research about it's benefit to bone health and the cardiovascular system. Contrary to some myths, it's actually shown to be cancer protective. That's right…it contains antioxidant plant estrogens ("phytoestrogens") that are similar but not the same as our own human estrogens so that they sit in the estrogen receptors and block them from our own excess estrogen, from xenoestrogens (from the environment and plastics, etc), and from exposure to animal estrogen from eating meat and dairy.
The other day, someone told me that soy is 'inflammatory'. I did a search in the most recent literature and guess what I found? No studies showing that it is inflammatory but a LOT of human studies showing that it can calm inflammation in so many people with different medical conditions. I'm even more convinced that before and I hope you are, too. Soy is safe. Soy is delicious. Soy is healthy.
If you need more tofu recipes, be sure to check out my recipes (most importantly): simple baked tofu, sheet pan teriyaki tofu (so easy and delicious), or my tofu fresh rolls. Fresh rolls can be under-rated. They're so delicious and also quite portable for lunches and leftovers. If you try these, let me know what you think!
Peanut Sauce
The final piece of this Zoodles with Tofu and Peanut Sauce is…the peanut sauce. It's so delicious and you can use it on a variety of foods or as dipping sauce to those fresh rolls. Tofu is very mild tasting; you need to add a lot of spice and flavoring. Zucchini is the same. Zoodles are cool but they're a bit bland on their own. Peanut sauce is the answer.
Use peanut butter – no added sugar or oil please. I used creamy but you could use crunchy if you want. Add in delicious Asian-cuisine inspired ingredients like garlic, lime juice and soy sauce and spice it up with red pepper flakes. You'll need just a touch of brown sugar and that's my preferred sweetener for this dish. If you prefer, you could use honey, agave or maple syrup, but you're going to need a little sweet.
When all the ingredients are ready, you just combine and serve! It' so easy. Make sure not to over cook the noodles and you can also have wonderful leftovers for the next day as well. When I ran out of zoodles, I just used rice. Then I added my tofu to some cruciferous veggies and added the peanut sauce. There's no end to the combinations here but I do hope that you specifically try the zucchini noodles plus simple, baked tofu and peanut sauce. Let me know how it goes!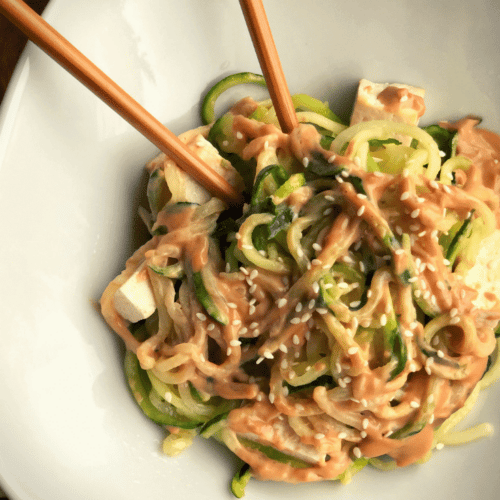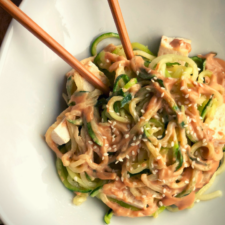 Ingredients
1 14-

ounce

package firm tofu

(drained, pressed, and cubed into 1 inch squares)

1

Tablespoon

coconut oil,

divided

1

teaspoon

reduced-sodium soy sauce

1

teaspoon

Siriacha sauce

2

large zucchini with ends removed

(or 4 small) to create 2 cups of zoodles
Peanut Sauce
1

garlic clove,

minced

1/2

cup

creamy peanut butter

1.5

tablespoons

reduced-sodium soy sauce

1

fresh lime,

juiced (about 1 tablespoon)

1

teaspoon

light brown sugar

1/2

teaspoon

crushed red pepper flakes

1

cup

water

(divided) *to thin sauce
Instructions
Preheat oven to 350 degrees F. Grease a square glass baking pan with a 1/2 tablespoon of coconut oil and add tofu cubes. Drizzle with soy sauce and Siriacha. Bake in oven for 30 minutes. While the tofu is baking, make the peanut sauce by adding all 'sauce' ingredients (garlic through red pepper flakes) into a blender or food processor and pulsing until smooth, adding in water as needed to create a thinner consistency that you could pour over your dish.

Spiralize unpeeled zucchini and set aside in a bowl, pressing gently with paper towels to remove excess moisture. In a large pot or sauce pan, heat the remaining coconut (about 0.5 tablespoons) and all zoodles. Cover and cook over medium heat, stirring occasionally about 2-3 minutes or until slightly softened. Don't overcook or they'll become mushy.

Divide zoodles into two bowls, Add tofu and drizzle with peanut sauce and serve hot.
Ginger Hultin,MS, RD, CSO
An award-winning, nationally recognized nutrition expert and media spokesperson.
Thanks for visiting! If you're like me: obsessed with eating, wine, going out and traveling, you're in the right place. Champagne Nutrition® LLC is a Registered Dietitian-run concierge virtual practice helping clients look and feel better. On this blog, you'll find cocktails, mocktails, and plant-based recipes that are easy to make quickly at home and pack for leftovers on your adventures.