Coconut Cherry Energy Oat Balls
I struggle to find the perfect pre- and post-workout snacks to help fuel me for my workout and  healthy snacks to help keep me full and energized throughout the day. Do you? Rather than just grabbing individually wrapped granola bars or energy bars at the store, I have been loving making my own energy bites. Not only are they so simple and easy to make but you can adapt the ingredients to include whatever you enjoy the most. My go-to ingredient combination is the one seen in these delicious Coconut Cherry Energy Oat Balls. They are calorically dense and make for the perfect little snack and are portable to bring along on a hike or long walk. Plus, they taste absolutely amazing and aren't overly sweet. They are the perfect snack to enjoy any time of the day!
Coconut Health Benefits
I have been obsessed with all things coconut lately! Not only is coconut delicious, but it also has some interesting potential health benefits. Coconuts are the fruit of the coconut palm and can be used for its water, milk, oil, and meat. For this recipe, I used the coconut meat in the form of coconut flakes. Coconut meat is a great source of fat, mainly that in the form of saturated fat but there's also medium chain triglycerides (MCTs). Medium chain triglycerides are different from most fats, specifically in the way it is metabolized within the body. Most fats need the help of bile to be metabolized and absorbed into the bloodstream; however, medium chain triglycerides don't require the help of bile and are able to be absorbed directly from the small intestine and be used for rapid energy. These MCTs are essential to incorporate into your diet because they can help promote fat loss and provide a great source of rapid energy. If you still have questions about whether coconut is safe and healthy or not, I have a post right here about it for you. And here's an interesting little piece about coconut oil specifically..but that's not in here. 
Coconuts are also packed with numerous minerals. Coconuts are especially high in manganese, a mineral that is essential for bone health and the metabolism of carbohydrates, proteins, and cholesterol. Coconuts are also rich in copper and iron, which helps to form red blood cells, along with selenium, a mineral that is also an important antioxidant that protects your cells.
Coconuts can also aid in promoting good heart health, specifically with an increased intake in coconut oil, and help regulate blood sugar levels due to their low carbohydrate content. Coconuts are just so delicious and versatile that they can be incorporated into so many different recipes. Some of my favorite ways to enjoy coconuts include adding coconut to curries, stews, baked goods, or using coconut flour as a substitute for all-purpose flour. If you are looking for more ways to enjoy coconuts, be sure to check out my  Coconut Champagne Bread, my Cocoa Coconut Chia Pudding, and my Easiest Blueberry Coconut Oatmeal Bake.
Making the Coconut Cherry Energy Oat Balls
The Oats
Whenever I am making any recipe that calls for oats, I tend to choose rolled oats over steel-cut oats. Not only are rolled oats easier to work with, they are easier to enjoy as well. They are flatter than steel-cut oats which helps them hold their shape better. When making these Coconut Cherry Energy Oat Balls, using rolled oats will help these energy balls hold their shape better, binding all of the ingredients together. I also like to choose plain oats but incorporating flavored oats will also work for this recipe!
Adding oats to this recipe provides so many additional nutrients and health benefits. Oats are a great source of complex carbohydrates, providing the body with slow-burning, long lasting energy. Plus, they are rich in numerous vitamins and minerals, such as manganese, phosphorus, iron, folate, and many more. 
The Cherries
For this recipe, I like to use frozen, whole cherries because they help bind all of the ingredients together and give the energy balls a delicious flavor. I love cherries because they are packed with so many nutrients, like vitamin C and potassium. Vitamin C is essential for maintaining a healthy immune system while potassium helps with muscle contraction and nerve function. Plus, cherries are also a great source of fiber, so incorporating them into these energy bites was a must to make sure we are keeping our gut and digestive system healthy.
Combining All the Ingredients
To make these Coconut Cherry Energy Oat Balls, I add some frozen cherries, rolled oats, cinnamon, peanut butter or almond butter, pure vanilla extract, and coconut flakes into a food processor. Blend the ingredients together until they are completely combined but still retain their texture. Then remove from the food processor and shape into one large ball with your hands; the mixture should be sticky but be able to hold its shape.
Place it in a mixing bowl bowl and set it in the refrigerator to sit for an hour or so. You could absolutely prepare this the night before to finalize the next day. Once chilled, take a small piece and roll it into about 20 bite sized balls.  Coat the outside of the balls in the coconut flakes. Set the finished balls on parchment paper in an airtight container and store them in the refrigerator.
If you love the idea of these energy balls, consider making my Cran Almond Energy Bars or my Oatmeal Raisin Energy Bites.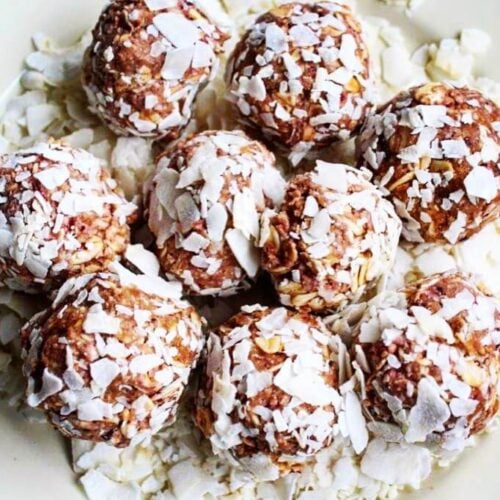 Cherry Almond Energy Oat Balls
These little energy balls are absolutely perfect for a quick breakfast, snack or post-workout treat. Make them ahead of time on meal prep days.
Print
Pin
Rate
Ingredients
1

cup

frozen whole cherries

1 1/2

cup

rolled oats

1

teaspoon

cinnamon

1/2

cup

peanut butter or almond butter

1

teaspoon

pure vanilla extract

1/4

cup

honey

1

cup

unsweetened coconut flakes
Instructions
In a food processor blend all the ingredients except the coconut flakes together so they are completely combined. Mixture will be crumbly.

Remove and shape into one large ball with your hands. Set it in a bowl and cover, letting it firm up in the refrigerator for an hour or more.

Once chilled, roll into small, bite-sized balls. Roll each one in coconut flakes on a plate then set it on parchment paper. Store the in the refrigerator for up to a week.
Ginger Hultin,MS, RD, CSO
An award-winning, nationally recognized nutrition expert and media spokesperson.
Thanks for visiting! If you're like me: obsessed with eating, wine, going out and traveling, you're in the right place. Champagne Nutrition® LLC is a Registered Dietitian-run concierge virtual practice helping clients look and feel better. On this blog, you'll find cocktails, mocktails, and plant-based recipes that are easy to make quickly at home and pack for leftovers on your adventures.