Turmeric Ginger Golden Milk Tea
I created a warming, stress-reducing tea for you to make in the morning, on the weekend for friends, as a mid-day treat or relaxing reprieve or to enjoy before bed. Turmeric ginger vegan golden milk tea is a plant-based non-caffeinated cup of delicious flavors that's soothing to the body and mind.
Have you heard of 'golden milk'? I see it in coffee shops all over the Pacific Northwest and it's a nice alternative to coffee and caffeinated beverages. There are many versions but golden milk is most often a dairy or plant-based milk blended with turmeric so that it's got a beautiful, warm, golden orange color. You'll find many spices involved, often cinnamon and black pepper. My turmeric ginger golden milk tea has ginger and nutmeg as well. These types of beverages definitely need a bit of sweetness so I added honey but if you want to make a vegan tea, just swap in maple syrup or agave instead. This is such a nice little treat to have any time of year!
I'm so into all things anti-inflammatory right now… so much in fact that, aside from this blog post, I also wrote an entire book about it! Here's a link for the Anti-inflammatory Diet Meal Prep book if you need more support in this area.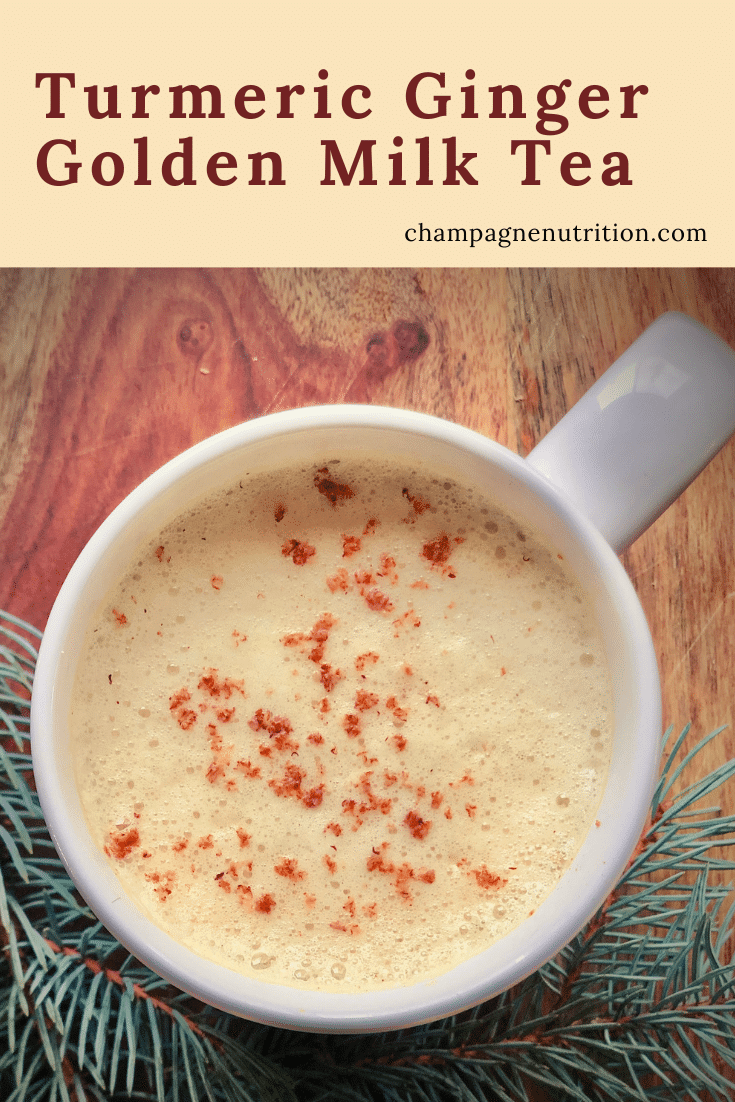 Combatting Stress with Tea
I'm talking about stress a LOT these days. Why is a nutritionist talking about stress so much? Because it works it's way into every aspect of our lives – especially our health, the way we eat and the foods we choose, our weight, our ability to exercise, our happiness…it's too important not to talk about. I wanted to include some options for a comforting holiday beverage that doesn't involve piles of added sugar and caffeine, that's based on natural, calming, anti-inflammatory foods, and that feels like a decadent treat for self-care in the midst of everyone's wild schedules this season.
I was at the grocery store this week and it.was.crowded. People are rushing, a little crabby and frantic prepping for their lives. When I'm talking to my clients, I notice that busy lives have gotten even busier and people are definitely worried about how to make their health a priority and control stress and business. As workouts get pushed to the wayside, people may find themselves going out (or ordering in) more than usual and eating 'dinner' at cocktail parties. It's challenging!
I've been talking about stress control a lot these days so much that I actually have an entire post about my top 6 tips for a stress free holiday AND my post about how to enjoy a healthier holiday as well. The recipes I make are all designed to be easy with minimal prep using on-hand ingredients you can whip up easily. Some of my favorite recipes right now have been my Carrot Ginger Turmeric Mimosa, Simple Pumpkin Hummus, and farro risotto with butternut squash and sage if you need some other ideas.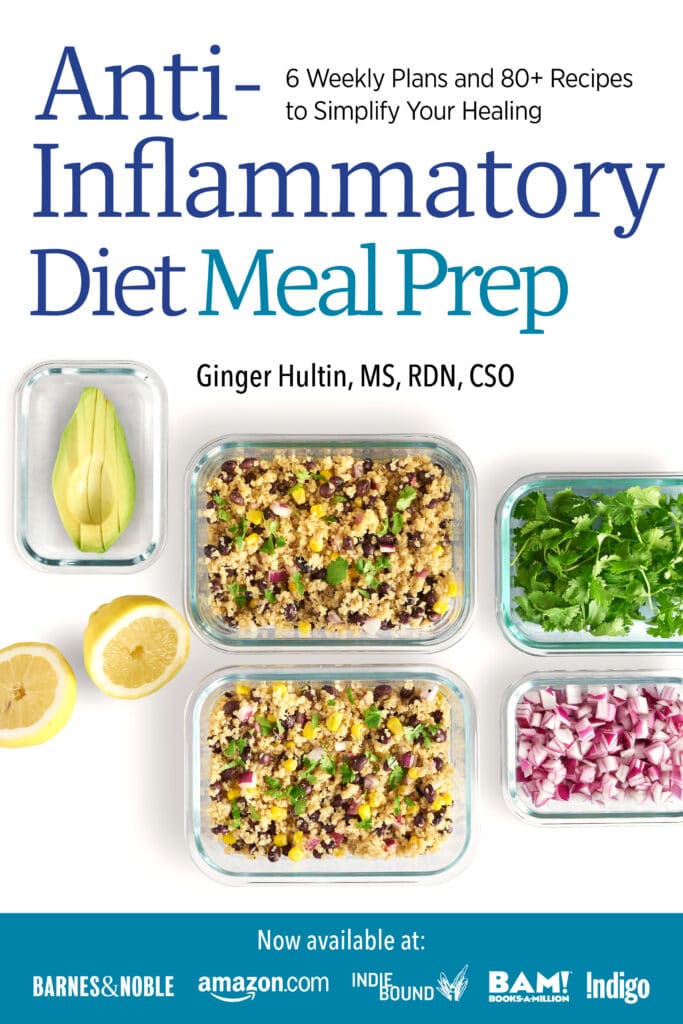 Making Turmeric Ginger Vegan Golden Milk Tea
This tea is simple and quick to make. I created it to serve two because I was making it this week on King 5 New Day Northwest for incredible host, Margaret Larson, and I wanted us both to have a warming cup of tea to try. You could very easily double it or beyond to make for a larger group.
I started by brewing Tulsi tea in 1/2 cup of hot water for about 5 minutes. Tulsi tea is found in most stores and it's my number one recommended tea for calming stress. I have helped many a client take breaks in the day to have a cup of this tea as they grab just a moment for themselves. Tulsi is also known as holy basil and is a well known 'adaptogen' meaning it's an herb that helps the body adapt to stresses in the environment or on their emotions. There have been studies done on tulsi showing that it can help counter stress in the body. It can help normalize blood sugar levels, reduce blood pressure and even support the brain with some anti-depressant properties.
All teas have a high level of antioxidants so really you can choose whatever variety you want to. I like tulsi because of it's specific calming properties but I also like that it doesn't have caffeine which can actually increase stress and anxiety in some people. Other adaptogen teas to look for include reishi mushroom, abhwagandha, chaga mushroom, or rhodiola.
When the tea is steeping in the hot water, add in some of the spices including cinnamon, turmeric, ginger, honey and vanilla. You can feel free to adjust the honey to taste. Remember that our taste buds adjust to both sweet and salt. If you're trying to cut back on either of them, have your brain tell your tongue that it is, in fact, sweet enough, as you slowly cut back on quantity.
After you remove the tea bags, put in some hot oat milk. I love oat milk because it has a higher amount of fat and creates a creamy texture. Feel free to use soy or almond milk – or dairy milk – if you prefer. Just get the unsweetened variety so that you're not compounding added sugars in this beverage.
I actually popped the entire thing in a blender, pulsed it a few times and then it was very frothy and delicious in the cup. However, for the purposes of the television show, I used a small frother which can be less messy and feel a little fancy. Use one if you have it OR feel free to simply use your blender.
The best part about this recipe is the toppings. If you haven't used fresh nutmeg, it's time. They come in these small little oval brown 'nuts' that you can find in the bulk spice section and then you simply grate it over the beverage. Add a sprinkle of fresh black pepper, too, as it's known to enhance the absorption of anti-inflammatory turmeric, and even a little extra cinnamon if you enjoy it. As always, make sure to tweak each of my recipes in ways that you enjoy the most.
You know what else is amazing with fresh nutmeg? EGGNOG – be sure to check out my vegan eggnog cheesecake squares and my simple eggnog cocktail here on the blog. Enjoy!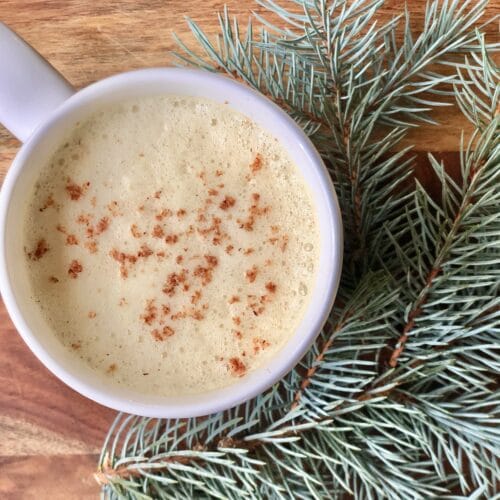 Turmeric Ginger Vegan Golden Milk Tea
A quick, healthy, vegan golden milk tea is soothing and calming, especially during the busy holiday season.
Print
Pin
Rate
Ingredients
½

cup

water,

boiled

2

tulsi tea bags

½

teaspoon

cinnamon

1

teaspoon

freshly grated turmeric

1

teaspoon

freshly grated ginger

2

teaspoon

honey

or maple syrup for a vegan version

1

teaspoon

pure vanilla extract

1.5

cups

oat milk,

heated

nutmeg,

grated (for topping)

black pepper,

for topping
Instructions
Add tea bags, cinnamon, turmeric, ginger, honey and vanilla to boiled water and let steep for 4-5 minutes. Remove tea bags and add hot oat milk to tea mixture. Blend until frothy. Divide into two mugs and top with a sprinkle of nutmeg and black pepper before serving.
Ginger Hultin,MS, RD, CSO
An award-winning, nationally recognized nutrition expert and media spokesperson.
Thanks for visiting! If you're like me: obsessed with eating, wine, going out and traveling, you're in the right place. Champagne Nutrition® LLC is a Registered Dietitian-run concierge virtual practice helping clients look and feel better. On this blog, you'll find cocktails, mocktails, and plant-based recipes that are easy to make quickly at home and pack for leftovers on your adventures.