Did you know that the phrase "Taco Tuesday" has been trademarked by a restaurant in Wyoming since 1989? Luckily, despite the restaurant sending cease and desist letters to anyone using the phrase, it has likely become too generalized of a term for them to have much of a case. And that's great for us because I love saying "Taco Tuesday," especially when it comes to My Vegan Mushroom Taco recipe. Good news though, you can enjoy these any night of the week, even Meatless Monday.
The great thing about tacos is you can make them completely customizable. Think about all the amazing, flavorful veggies and spices you can pack into a taco for a very quick and healthy meal. I used quite a few great options in this recipe, like poblano peppers and shredded cabbage with a hint of chili pepper. Try experimenting with different plant-based filling options like jackfruit, beans, tempeh and of course, mushrooms! And don't forget about the garnish. You can choose between so many flavorful yet low-calorie options; think red or green salsa, fruit salsa like mango or pineapple, fresh herbs, or even a simple squeeze of fresh lime.
The most work in preparing these tacos is just the veggie chopping because it cooks up in just a matter of minutes and can be assembled easily for busy school or work nights. Mushrooms sauté up well with the poblano peppers, garlic and onion and I kept the garnish simple – cabbage and lime – though you could use whatever you want. I suggest adding in some cilantro, tomato, avocado or different types of salsa.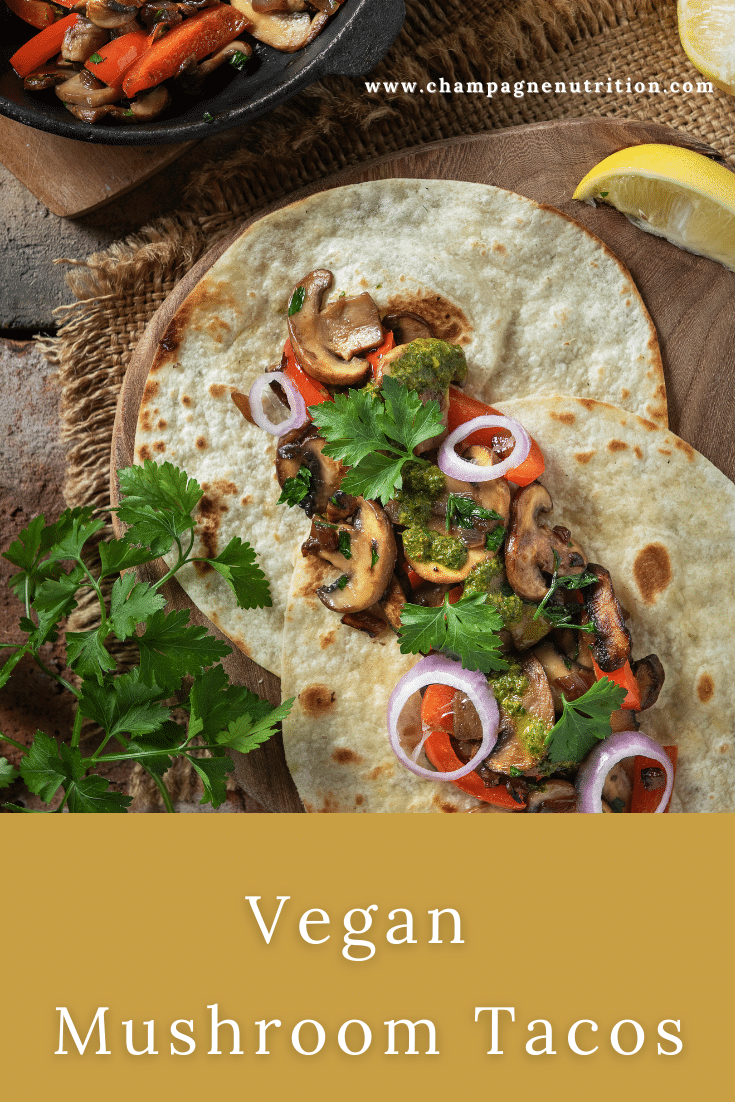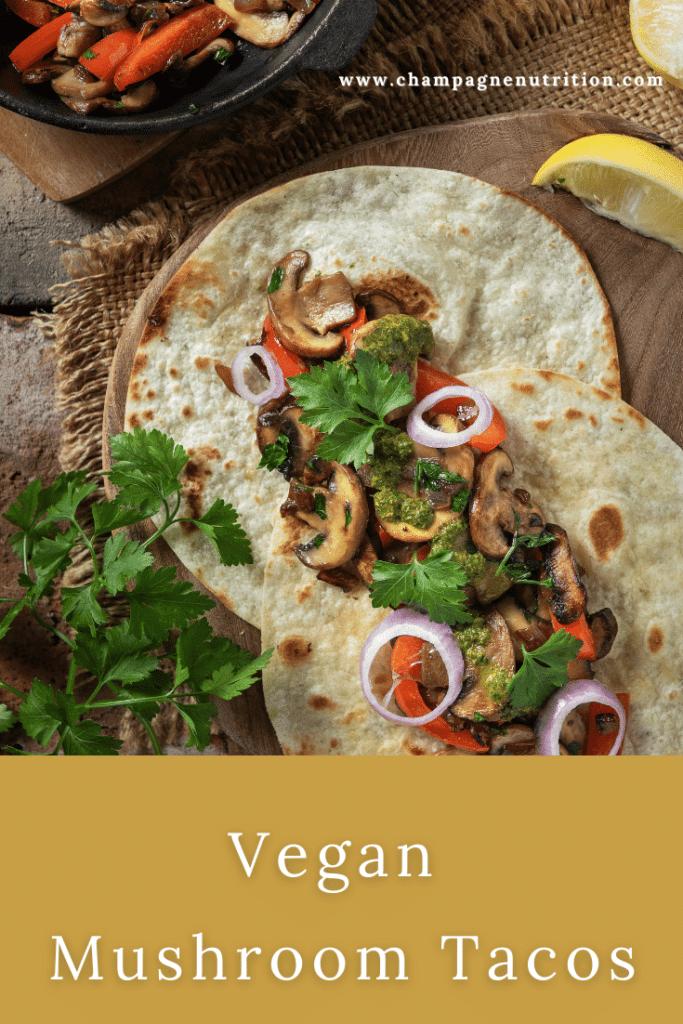 About the Vegan Mushroom Tacos
This Vegan Mushroom Tacos recipe is perfect for people who love the flavor and texture of meat but want to try a plant-based alternative packed full of fiber, vitamins, minerals and antioxidants. By substituting the meat with flavorful and savory veggies, you increase the health benefit but retain the taste you are used to. Keep in mind that while mushrooms are amazingly healthful, they don't contain as much protein as many other plant-foods so add some beans on the side or directly in the taco for a more protein-packed, complete meal.
Why Mushrooms?
Mushrooms are a source of conjugated linolenic acid (CLA) which is a healthful fat that's typically found only in animal-based foods. CLA has been studied since the 80s for its potential anticancer benefits, especially in estrogen-dependent cancers. In addition, CLA has been found to potentially reduce body fat in both men and women.
Mushrooms are also a good source of beta glucans. Beta glucans are a unique type of carbohydrate that occurs in only a few foods including mushrooms, oats, and barley. These beta-glucans have many heart health benefits, and may lower bad LDL cholesterol levels. Beta-glucans are also being studied for immune-boosting and anticancer effects.  
Why Plant-Based?
Whether you're vegetarian or not, there are many benefits to increasing the amount of plant foods in your diet. Plant-based diets have been associated with lower cardiovascular disease risk, lower risk of Type 2 Diabetes, and may be protective against certain types of cancers. More specifically, whole plant-based foods can help to lower cholesterol and blood pressure and help to maintain healthy blood sugar levels. Because plant-based diets are protective against many chronic illnesses, they are associated with increased longevity. 
Overall, plant-based diets have been found to lower all-cause mortality by 25%. These benefits may be due to the fact that plant-based foods are high in fiber, antioxidants, and are anti-inflammatory. Opting to increase the amount of plant-based foods in your diet can increase health outcomes without sacrificing the types of foods that you love.  
Putting It All Together
The first step in making these mushrooms tacos is prepping all of the ingredients. Once everything is prepped, the rest of the recipe comes together in a snap. Mince the gloves of garlic, and chop the onion, mushrooms, and pepper. 
Veggie Tips
You want to make sure to remove the seeds from the poblano pepper. Start by slicing off the very top of the pepper, just below the stem. Then slice off the very tip at the end of the pepper. Stand the pepper up vertically and slice it open from top to bottom, opening the pepper up like a book. Spread the pepper open and remove the core and seeds. Slice away the tougher "ribs" of the pepper. The seeds can be spicy so be careful not to touch your eyes, nose or mouth after handling them. Once the seeds have been removed, lay the pepper flat and dice. 
Once all of the vegetables are prepped, measure out all the spices you will need into a small bowl. With all the ingredients prepped, we are ready to cook!
Heat the vegetable oil in a large skillet on medium-high heat. Then stir in the onions, garlic, mushrooms, and pepper. Saute the vegetables until they are lightly browned and tender, this will take about 4-5 minutes. Next turn the heat down to medium-low and stir in all those fragrant spices, and salt. Stir for an additional 2-4 minutes until the spices are infused and aromatic. 
Remove from heat and your filling is complete! Heat up the corn tortillas in a dry skillet or in the microwave, if desired. Next fill them with the mushroom filing and any additional fillings and toppings you want to make it the way you like. Serve warm and enjoy!   
Customize it
The great thing about tacos is they are completely customizable. Feel free to swap out any veggies or add in some of your favorites, like zucchini, bell peppers, corn, tomatoes, sweet potato, you name it. You can also roast some of the veggies for an additional flavor kick.
Corn tortillas can either be gluten free or be a mix of corn and wheat. If you want to make this recipe gluten free, make sure to check the ingredients for 100% corn tortillas.
Fresh herbs are a great addition to boost the nutrition profile and add some additional flavor. My favorites for tacos are cilantro or parsley, marjoram and oregano. Avocado or guacamole adds healthy fats and great flavor. Want to add an extra kick? Try my Spicy Black Bean Pineapple Salsa.  
 I think you will love this Vegan Mushroom Taco recipe. Recipes are truly amazing and I include them often in my recipes. I also chat a lot about medicinal mushrooms. If you're interested in this type of nutrition information for your health, first, make sure to ping me so we can chat 1:1 and secondly, check out a couple articles I'm in lately: Chaga mushrooms and Reishi mushrooms specifically.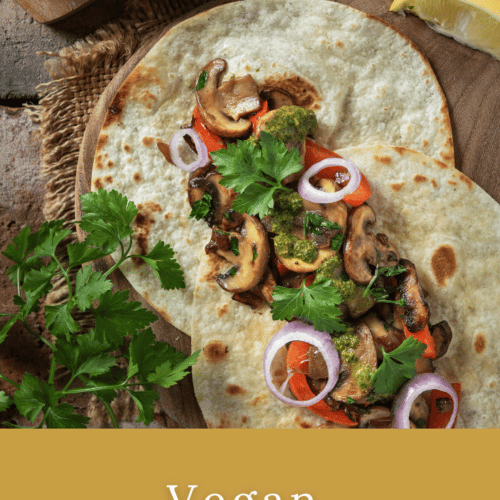 Vegan Mushroom Tacos
Savory, naturally vegan mushrooms tacos are so easy to make and versatile so you can add your favorite flavors.
Print
Pin
Rate
Ingredients
2

Tablespoons

olive oil

2

cloves

garlic, minced

1/2

yellow onion, chopped

5

cups

chopped crimini and/or portobello mushrooms

1

poblano pepper, seeded and diced

1

Tablespoon

cumin

1/2

teaspoon

chili pepper

3/4

teaspoon

salt

8

6' inch

corn tortillas

1/2 head

green cabbage, shredded

2

fresh limes cut into wedges
Instructions
Heat the oil in a large skillet on medium-high. Stir in garlic, onion, mushrooms and pepper and saute for 4-5 minutes until vegetables are soft and lightly browned.

Turn the heat down to medium and stir in the cumin, chili pepper and salt. Cook for an additional 2-4 minutes until spices are incorporated and aromatic. Mushrooms release some extra liquid so feel free to pour some out or use a slotted spoon to scoop them out of the pan.

Spoon the vegetable mixture into taco shells and garnish with cabbage. Garnish with a squeeze of fresh lime and serve warm.
Ginger Hultin,MS, RD, CSO
An award-winning, nationally recognized nutrition expert and media spokesperson.
Thanks for visiting! If you're like me: obsessed with eating, wine, going out and traveling, you're in the right place. Champagne Nutrition® LLC is a Registered Dietitian-run concierge virtual practice helping clients look and feel better. On this blog, you'll find cocktails, mocktails, and plant-based recipes that are easy to make quickly at home and pack for leftovers on your adventures.