50 BEST Plant-based Recipes
"Plant-based" is trending right now and for good reason. Is it vegetarian? Is it vegan? Good news! It can be either. Or neither. You can be perfectly plant-based even if you eat a little meat here and there but plant foods take the main stage with this dietary pattern. While I enjoy working with clients on ALL diets, the foundation of my practice is plant-based. To celebrate, I've got 50 BEST Plant-based Recipes gathered for you from my fellow dietitian nutrition expert friends. If you or someone you know need support with eating more plant based, or just eating better in general, make sure to contact me!
You may wonder why I'm calling it plant-based rather than vegetarian or vegan….and there's some controversy there. The reason why is because there is no true definition. And as much as I support my vegetarian and vegan friends and community, I still want to be inclusive of all diets and I think that any way you eat, if plants are the foundation of the diet, you're on the right track.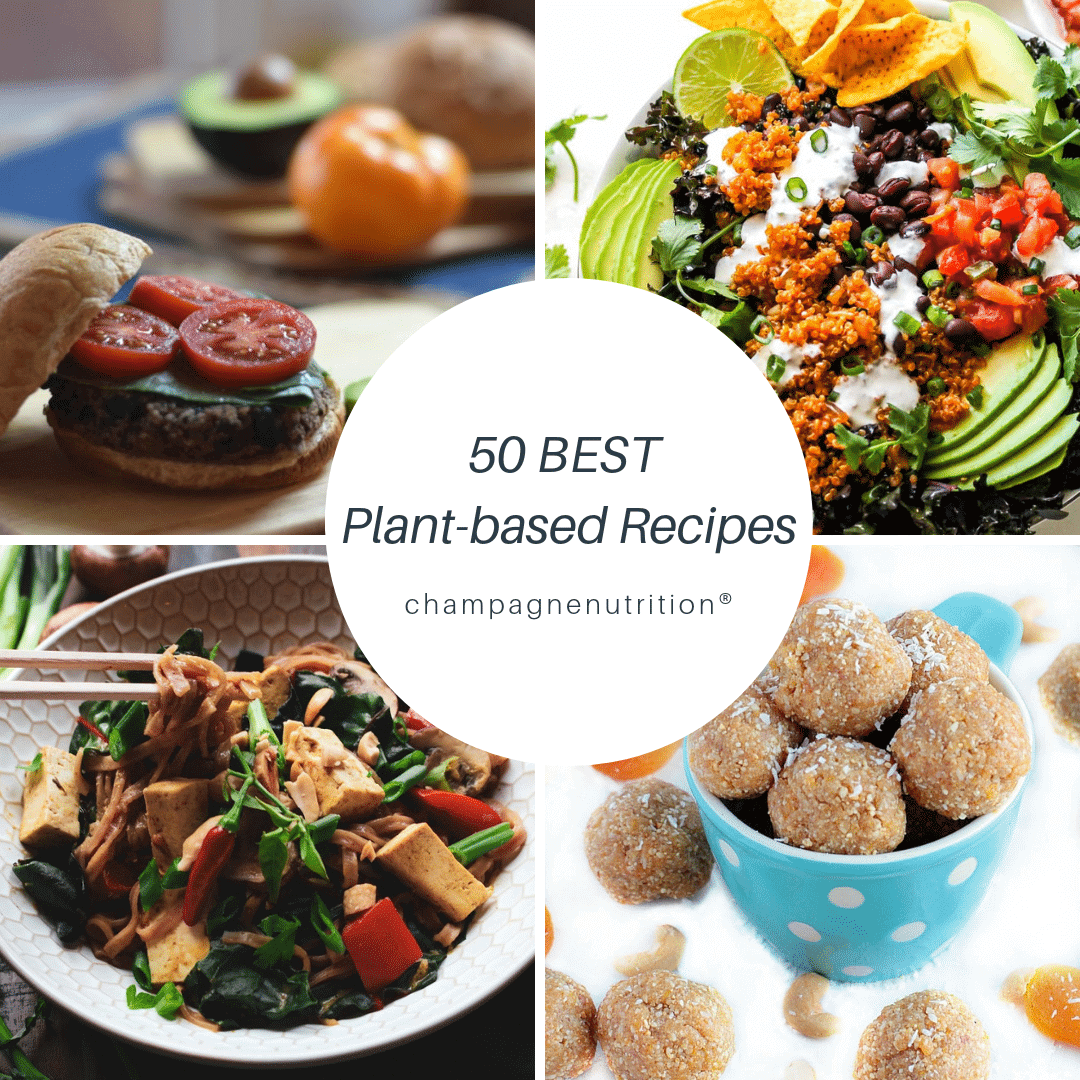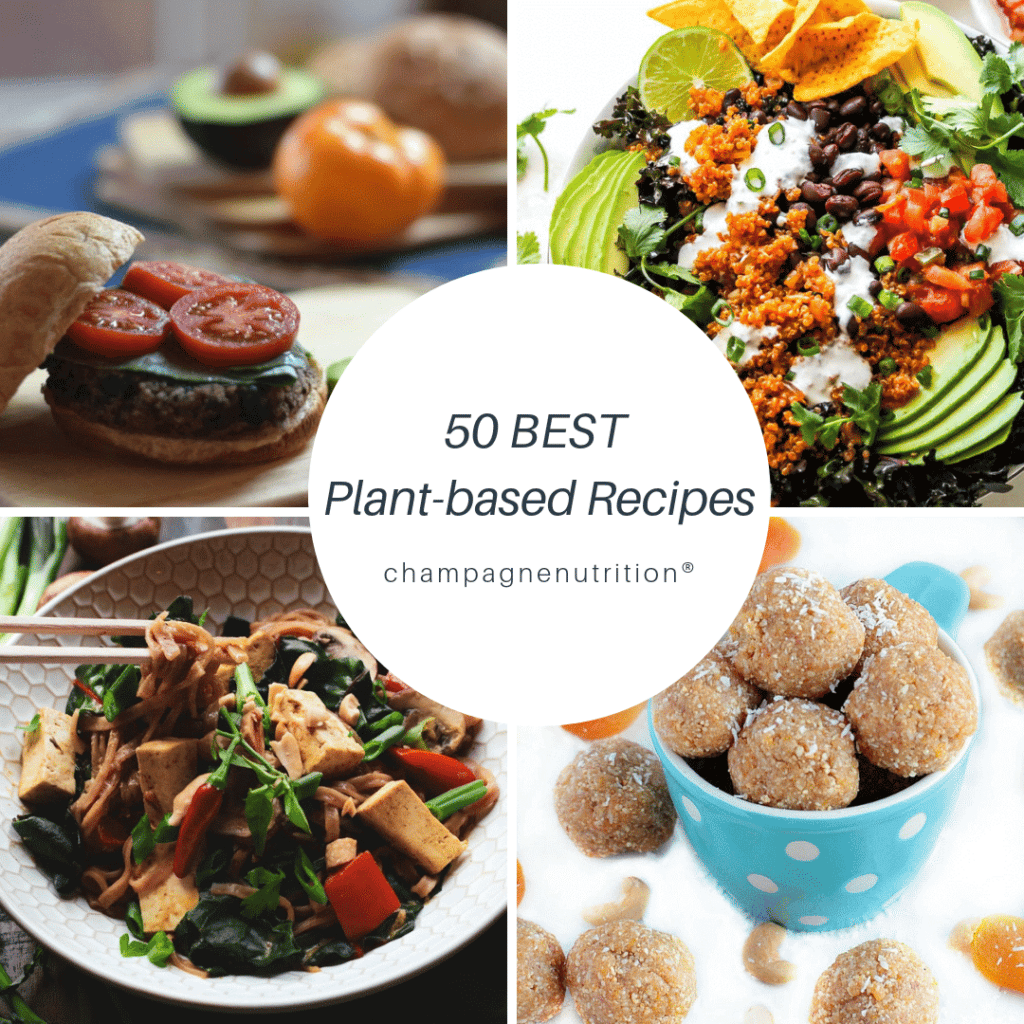 I developed a working definition of plant-based that I use for a couple different organizations I'm in and to help settle people who are uncomfortable with the lack of definition. I actually like that it's a bit open to interpretation because that's the benefit of it. You can eat meat and be plant-based….but the focus is on plant-foods and I strongly believe that even reducing meat intake has benefits to human health as well as the environment.
noun
a living organism of the kind exemplified by trees, shrubs, herbs, grasses, ferns, and mosses
verb past tense: based
have as the foundation for (something); use as a point from which (something) can develop
So to me, a plant-based diet is one founded in plant-foods and there's some wiggle room there to either be 100% plants (vegan) or more flexitarian and include small amounts of meat as you continue to move towards more and more plants. As a registered dietitian, I'm here to help! As are so many of my friends. Dietitians are pretty amazing at making food taste great so here are 50 BEST Plant-based Recipes from nutrition experts around the country.
Featuring Tofu!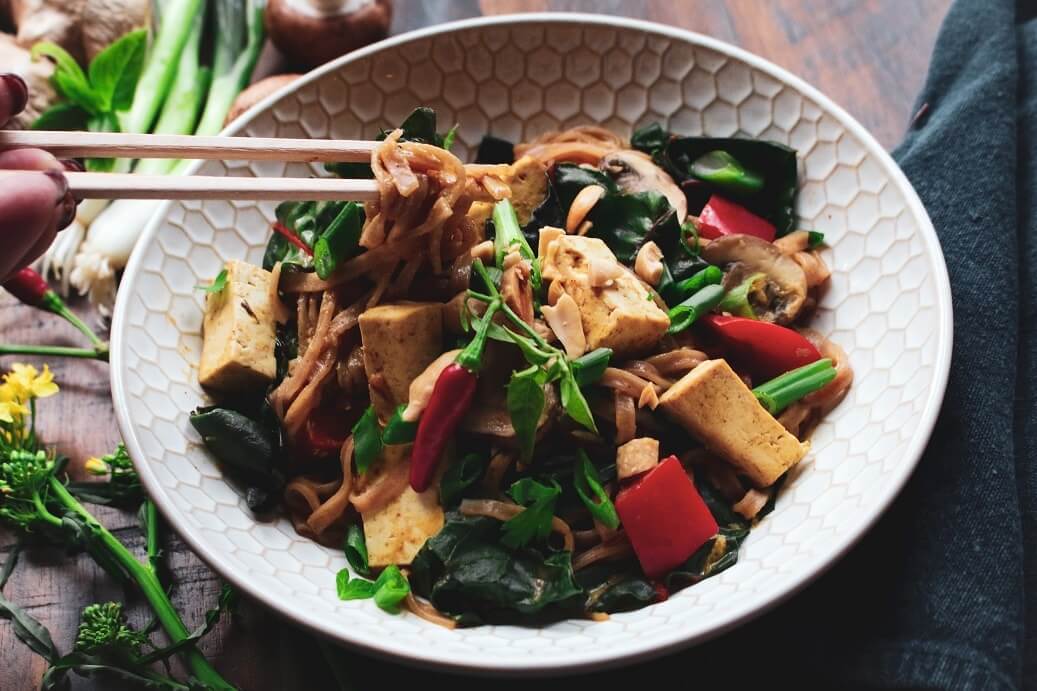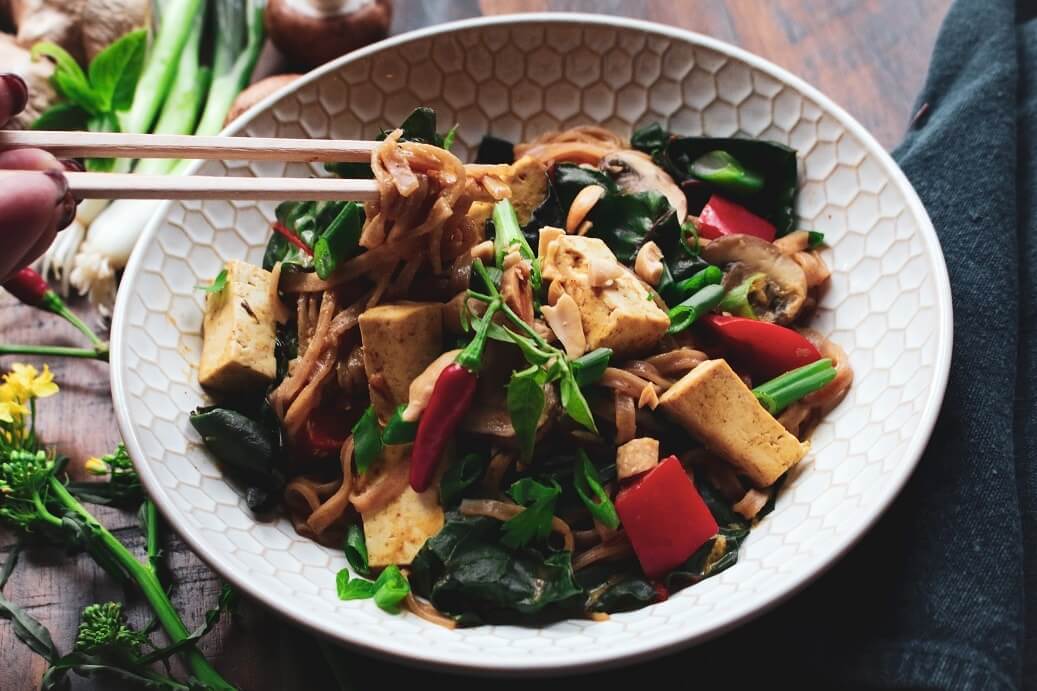 Many of these recipes are focused on lots of flavor as well as affordability. Tofu is a wonderful protein that has the added benefit of antioxidants – something meat can't offer.
Farro Buddah Bowl with Crispy Bakes Tofu by Jessica Fishman Levinson
Spicy Peanut Tofu Stir Fry by Kelly Jones Nutrition
Tofu Zoodle Stir Fry by Champagne Nutrition
30-Minute Almond Butter Tofu Bowls by Jamie Vespa
Thai Tofu Veggie Noodle Bowl by Sharon Palmer
Sheet Pan Teriyaki Tofu by Ginger Hultin
Salads

Think beyond a simple salad with greens and boost it with a flavorful homemade dressing, a protein source like quinoa, edamame, nuts/seeds and beans like these unique recipes that take salads to another level.
Waldorf Salad with Creamy Spiced Dressing by Champagne Nutrition
Vegan Nicoise Salad with Chickpea Salad & Lemon Mustard Dressing by Jessica Spiro
30 Minute Loaded Quinoa Taco Salad by Jamie Vespa
Vegan Power Bowl with Maple-Dijon Dressing by Amy Gorin
Quinoa and Edamame Salad with Citrus Vinaigrette by Jennifer Hunt
Soup
Did you know that you can make vegan "cream" soups in a variety of ways that don't involve any dairy? I love thickening with ground oats or by using potato. There are many options that make warming soups hearty without the heaviness from meat and dairy.
Cream-Free Potato Leek Soup by Alyssa Lavy
Root Vegetable and Bean Soup by Toby Amidor
Sweet Potato and Black Bean Chili by Liz Weiss
Thai Honey Nut Squash Soup by Jenny Passione
Spicy Lemongrass Coconut Squash Soup by Ginger Hultin
Sandwiches
Get creative with vegetarian sandwiches and wraps. Instead of purchasing a store-bought veggie burger (which is also fine of course), you can easily make your own for some fun in the kitchen. Get creative with fillings to boost flavor plus vitamins, minerals and antioxidants in sandwich meals.
Pressed Vegetarian Picnic Sandwich by Jessianna Rose Saville
Easy Black Bean Burger Recipe by Jill Stern Weisenberger
Simple Vegetarian Egg and Veggie Breakfast Sandwich by Champagne Nutrition
Savory Mains
No meat needed for these mains! When thinking about a meatless main, make sure that you have a good protein source like tofu, tempeh, beans or lentils and then pile on the veggies and whole grains and make sure to use a hearty dose of herbs and spices for flavor and depth.
Vegetarian Rice & Beans Casserole by Jenna Braddock
Cajun and Coconut Black Eyed Peas with Quinoa and Pineapple Salsa by Chrissy Caroll
Chickpea Stuffed Sweet Potatoes with Coconut and Kale by Champagne Nutrition
Easy Skillet Tempeh with Caramelized Onions and Grapes by Laura Yautz
Vegetarian Eggplant Meatballs by Kara Hochreiter
Mini Eggplant Pizzas by Alexandra Fucarino
Instant Pot Lentil Stroganoff by Rebecca Clyde
Tacos and Burritos
So many international cuisines do plant-based well. Mexican-inspired dishes are no exception – beans, chiles, and plenty of veggies take the main stage in these no-meat comfort food dishes.
Sunflower Tacos in Collard Leaves by Mandy Enright
Roasted Brussels Sprout Tacos with Garlicky Black Bean Spread by Kim Hoban
The Ultimate Veggie Burrito by Kalee Lundmark
Radish and Black Bean Tacos with Avocado Crema by Lizzie Streit
Side-dishes
Plant-based sides are easy 🙂 Beans, whole grains and veggies are all fair game to serve on the side of a veggie or meat main-dish. These types of sides also make perfect leftovers to pack for lunch the next day.
Sweet Maple Roasted Green Beans with Pumpkin Seeds, Cloves, and Nutmeg Alyssa Lavy
Coconut Herb Rice Salad by Ginger Hultin
Garlicky Sautéed Baby Kale by Kelly Jones
Roasted Beets and Carrots with Creamy Garlic Dill Sauce by Laura Yautz
Vegan Spiced Baked Beans by Ginger Hultin
Dips and Apps
Party dips can be so simple to take for entertaining or even serve as an after school or work snack. Many of these recipes are savory, quick and delicious. Enjoy your plant-based party dip any time of the week.
5 Ingredient Sweet Potato Hummus by Stephanie Van't Zelfdren
Kalamata Olive and Basil Tapenade Dip by Ginger Hultin
Grilled Eggplant Dip by Jessica Ivey
Smoothies

Smoothie can be naturally plant-based and vegan if you'd like. There are so many non-dairy milks to choose from now. My favorite is soy because it has such a high protein content and offers additional antioxidants. Oat is a second runner up for me. What type of non-dairy milk do you enjoy?
Matcha Avocado Smoothie by Elizabeth Ward
Wild Blueberry Vanilla Matcha Smoothie by Ginger Hultin
Green Pea Smoothie with Mint by Lizzie Streit
Calming Smoothie for Runners by Ginger Hultin
Breakfast
There's no need for sausage or bacon at breakfast – there are so many other protein sources to choose from. Go veggie for breakfast but also think beyond the carbs. How can you balance this important meal? These recipes show you how to do plant-based breakfast right.
Crunchy Sunflower Seed Granola by Elizabeth Shaw
Vegan French Toast by Kara Lydon Evancho
Smashed Chickpea Scramble by Julie Harrington
Coconut Lemon Curd Overnight Oats by Ginger Hultin
Sweet Bites

I'm all about the bars and balls for on-the-go snacking and for fueling pre-and post workout. These are all dairy-free but are still packed with protein and flavor. You can make these at home in minutes and they keep well for later, too.
Healthy Energy Bites with Dates, Cashews, Apricots and Coconut by E.A. Stewart
Chickpea Walnut Blondies by Tara Rochford
Chocolate Peanut Butter Squares by Bracha Kopstick
Vegan Chocolate Haystack Cookies by Champagne Nutrition
Coco-nut Cookie Bites by Judith Scharman Draughon
No Bake Chocolate Pomegranate Pistachio Squares by Jennifer McDaniel
I hope you enjoyed my 50 BEST Plant-based Recipes round up featuring a variety of dishes from so many of my professional dietitian chef friends. Make sure that you're working with a dietitian if you've got questions about plant-based nutrition or recipe ideas for your family. We're here to help 🙂
Ginger Hultin,MS, RD, CSO
An award-winning, nationally recognized nutrition expert and media spokesperson.
Thanks for visiting! If you're like me: obsessed with eating, wine, going out and traveling, you're in the right place. Champagne Nutrition® LLC is a Registered Dietitian-run concierge virtual practice helping clients look and feel better. On this blog, you'll find cocktails, mocktails, and plant-based recipes that are easy to make quickly at home and pack for leftovers on your adventures.