Banana Split Vegan Ice Cream
If you don't eat dairy – for an allergy, preference or because you're a vegan – you still deserve ice cream! And guess what? You can have it! Actually, the number one reason I talk to my clients about this type of recipe has nothing to do with dietary restrictions. It actually has to do with the fact that they've got some health goals. Whether it's fewer calories, less saturated fat, or more fiber, a recipe like this Banana Split Vegan Ice Cream is exactly what you need to have your ice cream and eat it, too.
Here's how to make the most incredible "nice" cream based completely in naturally sweet bananas with other natural, unprocessed ingredients. All you need is a baking dish, a freezer and a blender; nothing fancy at all.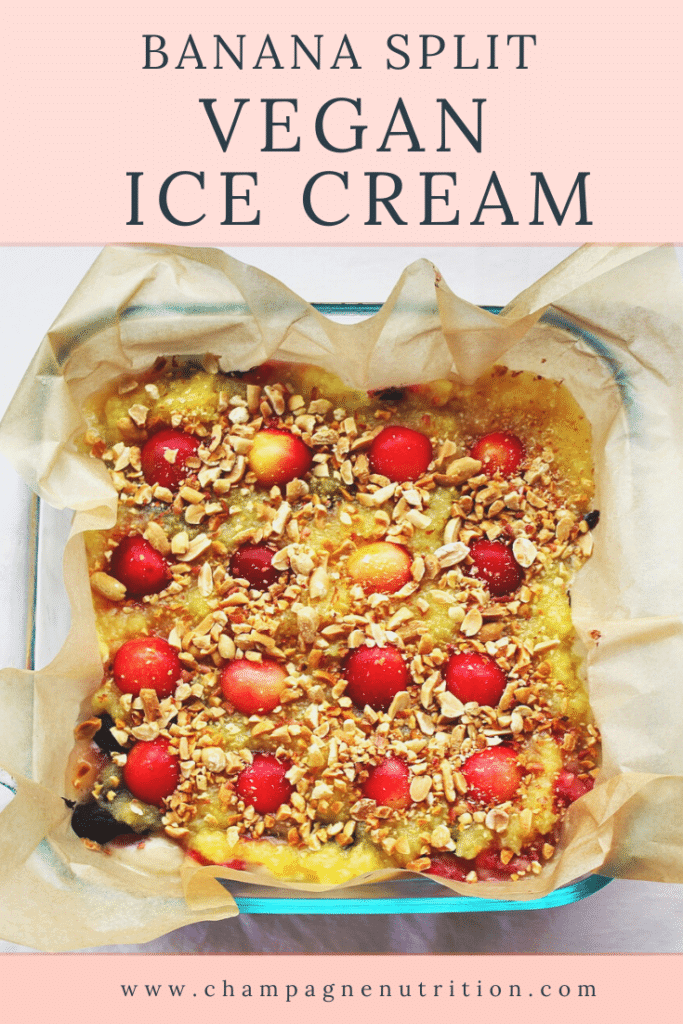 About Non-Dairy Ice Cream
Many vegan "ice creams" are coconut based, some use avocado and some are banana-based like this one. If you use frozen bananas as a creamy base, you eliminate all saturated fat and maximize flavor with some added fiber, vitamins, minerals and antioxidants. This is super simple to make – no baking of course – and all you need is a blender and a freezer. I like to keep all my recipes relatively simple because I'm working a lot and on-the-go, but I also want to fuel my body in a healthful way. I want to feel energized during my day and for my workouts, too. I love a lighter dessert like this one because you can enjoy it as a sweet treat even for a snack if you want to.
A traditional banana split is delicious, yes, but it's full of saturated fat and it's GIGANTIC. What I love about this recipe is that you can cut it into 9 even pieces to enjoy over time. If you live alone, you've got a dessert to enjoy over time. If you've got a bigger family or are having people over or even want a healthier birthday treat tot serve to guests, you'll feel good giving this one to your friends and family.
Just as a reminder, because I know it's been awhile, but a traditional banana split is a large banana in a dish that has 3 scoops of ice cream on top of it then it's drizzled with chocolate sauce and/or caramel and served with cherries or strawberries and crushed pineapple, crushed peanuts and tons of whipped cream with cherries on top. I tried to recreate that fond childhood memory here but in a new way.
I think sometimes that we underestimate all the possibilities of a frozen or chilled dessert can be. I make so many and have them up on the blog! I recently did this amazing little cocoa chia pudding (it's amazing), and I've got some green tea frozen yogurt breakfast bites up there as well along with a vegan chocolate mousse. So many options for a healthier dessert.
Making the Banana Split Vegan Ice Cream
Who doesn't love a good banana split? I've recreated it here for you so I want to walk you through the steps. It's very simple and would be a fun recipe to make with kids, too.
What you do is take your melted coconut oil and mix it in a blender with your cocoa powder and 1/2 the maple syrup in the recipe. That's your "chocolate sauce". Maple syrup has a really nice flavor here. If you're not vegan, you could use honey instead and if you wanted to, you could use agave, too.
Next, get your base going by taking your ripe bananas and 5 tablespoons of nondairy milk and blending them up together. Spread that into your prepared pan. This is an amazing way to use those older bananas that are getting past their prime!
Next up, rinse out your blender and then make the strawberry mixture. Ultimately, you're going to do a swirl in the banana base with the strawberry mixture and the chocolate. I absolutely love making this with real strawberries but keep in mind that you could absolutely use other berries or cherries if you want to. Blueberries, raspberries, blackberries or even a combination would be really fun. So blend up the strawberries with the rest of the milk and maple syrup. Berries are a little tart on their own so the syrup adds a pop of flavor. You can feel free to eliminate it if you want to.
Now is the fun part! Swirl the strawberry mixture in a giant, looping "s" over the banana mixture and swirl it in lightly with the spoon. Turn the dish so you're going in a different direction and swirl the chocolate in the other direction. Swirl that in with the spoon, too.
After that, garnish galore! Use that crushed pineapple to coat the top then sprinkle the whole thing with crushed peanuts (or other nuts of your choice) and then put the cherries, open side down on top. Freeze it for 30 minutes or more and enjoy it!
Banana Split Vegan Ice Cream
No dairy needed! This is a vegan-friendly twist on a classic dessert
Print
Pin
Rate
Ingredients
3

tablespoons

coconut oil

(melted)

2

tablespoons

unsweetened cocoa powder

2

tablespoons

pure maple syrup

(divided)

3

medium ripe bananas

8

tablespoons

plain unsweetened almond or soy milk

(divided)

1

cup

frozen strawberries

1/2

cup

crushed pineapple

1/4

cup

crushed peanuts

10

fresh cherries

(pitted and cut in half)
Instructions
Line an 8 x 8-inch baking pan with parchment paper. Mix the coconut oil, chocolate, and 1 tablespoon of maple syrup together in a small bowl and set aside.

Puree the bananas until smooth in a blender with 5 tablespoons of milk then spoon into parchment lined pan and spread evenly.

Rinse the blender, then add the strawberries, 3 tablespoons of milk and additional tablespoons of maple syrup, pureeing until smooth.

With a spoon, swirl the strawberry mixture into the banana base. Drizzle in the chocolate mixture in an opposite swirl pattern then use a spoon to incorporate into the banana and strawberry with a swirl motion.

Top entire mixture with crushed pineapple. Sprinkle crushed peanuts on top and place cherries evenly with the cut side down. Cover and freeze for at least two hours. If freezing longer, thaw in the refrigerator for 15-30 minutes to soften slightly before serving.
Ginger Hultin,MS, RD, CSO
An award-winning, nationally recognized nutrition expert and media spokesperson.
Thanks for visiting! If you're like me: obsessed with eating, wine, going out and traveling, you're in the right place. Champagne Nutrition® LLC is a Registered Dietitian-run concierge virtual practice helping clients look and feel better. On this blog, you'll find cocktails, mocktails, and plant-based recipes that are easy to make quickly at home and pack for leftovers on your adventures.