Fresh Corn Salad with Cilantro Lime Dressing
This delicious corn salad is best with fresh summer ingredients bursting with flavor, but it can be enjoyed all year-round, too! This is a perfect no-cook dinner or to take for leftovers at work. It's also a great side dish for a picnic or a barbecue. Whenever I make Fresh Corn Salad with Cilantro Lime Dressing, I always have people asking me for the recipe – it's that good! 
When summer is in full force, I buy corn on the cob every week. Grilled, fresh, on the cob or off, it's a staple at lunch and dinner in my house. With all the fresh herbs popping up in the garden and available at Farmers Markets, I decided to make a simple Fresh Corn Salad with Cilantro Lime Dressing to bring together all the flavors. You can sprinkle cheese on the top or easily make it vegan by leaving it off – up to you!
About the Fresh Corn Salad with Cilantro Lime Dressing
You can whip up this Fresh Corn Salad with Cilantro Lime Dressing without using any heat in the kitchen – making it great for a hot summer day, or just a busy day when you need to get a healthy meal together in a snap. 
The recipe utilizes fresh corn which you can just slice off the cob and toss with freshly sliced radishes and garden tomatoes. If fresh corn is not in season or available, it works well with frozen or canned corn, too. The dressing is incredibly simple and could be used on a variety of veggies and salads. Blend bright lime juice with your favorite olive oil and use fresh cilantro (you could throw in basil, too, if you have it!) to create a very light, flavorful topping. I chose Cotija cheese because it has a fairly neutral flavor and  provides a soft, crumbly texture. This is a salad that's great for any occasion!
About the Ingredients 
Corn
Corn is a whole-grain and has many nutritional benefits. It has fiber, B-vitamins, vitamin A and C, and minerals like magnesium and phosphorus. Corn is a good source of carotenoid antioxidants including lutein and zeaxanthin which protect cells from damage, and are especially important for eye health.   
Radishes
Radishes are high in antioxidants and other protective plant compounds. They are a good source of vitamin C and fiber. Radishes are also a natural source of dietary nitrates that can help to lower blood pressure. In addition, radishes may play a role in helping to regulate blood glucose levels.   
Tomatoes
Tomatoes are a great source of potassium, vitamin A, vitamin K, vitamin C. They are high in many antioxidants, including lycopene, which are associated with many health benefits including lower risk of certain cancers, being protective against heart attacks and strokes.   
Fresh Herbs 
Adding fresh herbs to your meals adds in extra antioxidants, vitamins and minerals. Herbs have anti-inflammatory effects and add delicious flavors to your dishes. Cilantro in particular is a great source of vitamin A, a powerful antioxidant that protects your eyes, supports your immune system, and reduces your risks of acquiring certain cancers. It is also a good source of vitamin K, another antioxidant that is also important for bone health. 
Making the
Fresh Corn Salad with Cilantro Lime Dressing
Salad dressing
Start by putting together the cilantro lime dressing. Rinse ½ cup fresh cilantro and chop. Place the cilantro in a medium bowl and add in the lime juice, salt, pepper, and sugar. Pour in the olive oil while gradually whisking. Taste the dressing and adjust the seasoning to taste.
Prepare the vegetables
The corn
If using fresh corn, peel away the corn husks and discard. Stand the ear of corn upright and, using a sharp knife, make downward strokes to cut the kernels away from the cob. Repeat for all 5 ears of corn. If corn is not in season and you are using frozen or canned corn instead, then skip the first step. If using canned, simply drain and rinse the corn. If using frozen, thaw the corn to room temperature or boil and let cool.
The tomatoes and radish 
Rinse the cherry tomatoes and slice them in half. Rinse the radishes and thinly slice them. Now that you have all of your vegetables prepared, add them into the bowl along with the cilantro lime dressing prepared in the previous step. Stir well until the dressing and all the ingredients are well incorporated.
Adding the cheese
Finally, sprinkle on the Cotija cheese. To make this recipe dairy free, simply leave out the cheese altogether. Alternatively, a dairy-free cheese option can be added instead. Try popular dairy-free cheese brands like Kite Hill, Miyoko's, Violife, Follow Your Heart, Daiya, and more.   
If you need some other simple side-dish recipes to bring to events this season, try my Vegan Spiced Baked Beans, Salad Skewers with Peanut Dressing, or Simple Edamame Pasta Salad.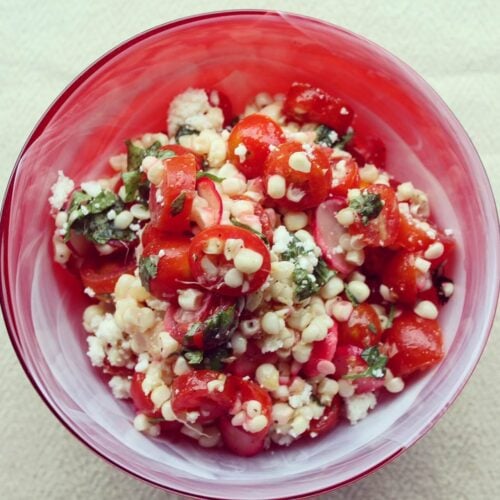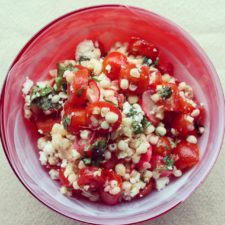 Fresh Corn Salad with Cilantro Lime Dressing
This is the best salad to make when you've got fresh corn, tomatoes and herbs from the garden in the summertime.
Print
Pin
Rate
Ingredients
1/2

cup

fresh cilantro, chopped

1/4

cup

fresh lime juice

about 2 limes

1

pinch

white sugar

1/2

teaspoon

freshly ground black pepper

1

teaspoon

salt

3

tablespoons

olive oil

4

ears

fresh corn, cut from the cob

1

pint

cherry tomatoes, halved

1/2

cup

thinly sliced radishes

1 1/2

ounces

Cotija cheese, crumbled

*leave out for a vegan recipe
Instructions
Whisk together the cilantro, lime juice, salt, pepper, and sugar in a medium bowl. Gradually whisk in the olive oil.

Stir together the corn kernels, cherry tomatoes, and radishes.

Gently stir all of the ingredients to combine. Sprinkle with the Cotija cheese, if using.
Ginger Hultin,MS, RD, CSO
An award-winning, nationally recognized nutrition expert and media spokesperson.
Thanks for visiting! If you're like me: obsessed with eating, wine, going out and traveling, you're in the right place. Champagne Nutrition® LLC is a Registered Dietitian-run concierge virtual practice helping clients look and feel better. On this blog, you'll find cocktails, mocktails, and plant-based recipes that are easy to make quickly at home and pack for leftovers on your adventures.