Sparkling Plum Basil Cocktail
Plums are one of my favorite fruits, so every time they are in season I love incorporating them into salads, desserts and smoothies – they are sweet, tart, juicy and can be eaten fresh or cooked. I realized I haven't used plums in a cocktail before, so I decided to combine them with basil, vodka, honey and some lime-flavored sparkling water, and my Sparkling Plum Basil Cocktail was born. This refreshing, bubbly drink is full of fresh flavors, without being overly sweet. 
I whipped several Sparkling Plum Basil Cocktails for my friends and I, and to say it was a hit would be an understatement. Not only is this drink extremely delicious and bursting with flavor, but it also is incredibly beautiful (a.k.a instagramable) – the muddled plum and basil really pop in contrast with the vodka and sparkling water. This really is the perfect summertime cocktail, because that is when plums, basil and local honey are all at their best, but that doesn't mean you can't enjoy it all year round. Up here in Seattle, I really enjoy the seasonal produce we have access to including gorgeous plums and basil.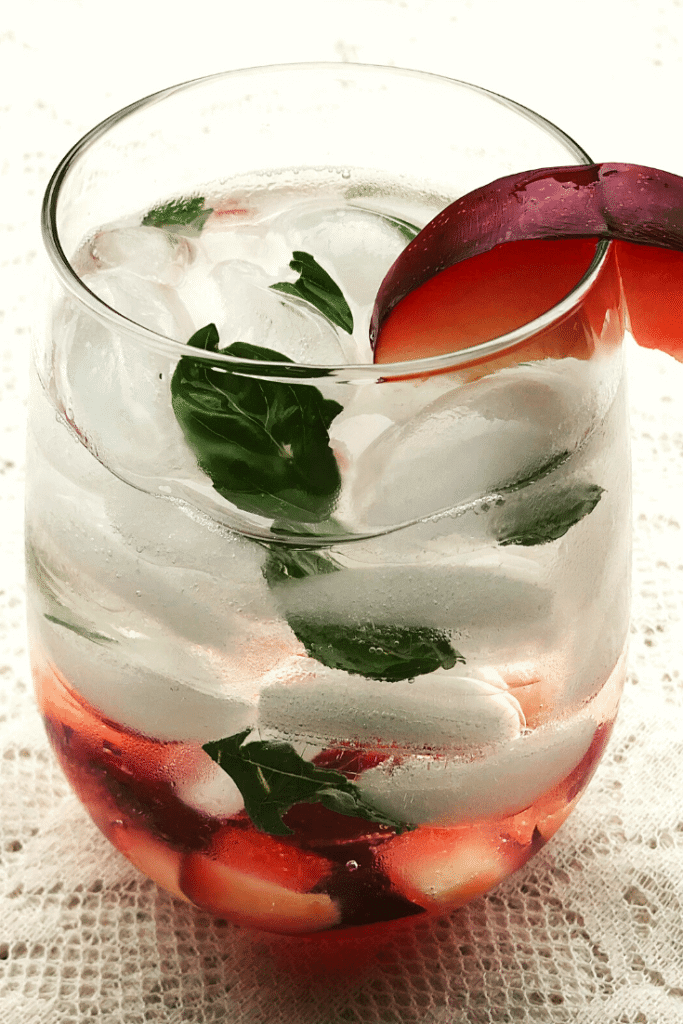 Benefits of Plums 
Plums are a type of stone fruit that are low in calories and are high in various vitamins and minerals, including vitamins A, C and potassium – so their sweet, juicy taste isn't the only great thing about them. They are also rich in polyphenol antioxidants, which have powerful anti-inflammatory properties and help protect against cell damage. Soluble fiber, which helps protect your heart and reduce bad cholesterol, is found in plums as well. 
These delicious stone fruits are in season from June to October, but they are at their peak of flavor in August and September. I love seeing the plum trees in the Pacific Northwest hanging heavy with fruit. Honestly, you can see them in your neighbors yard, or on a neighborhood walk – it's so incredible. All fruits taste best when homegrown, but if you need to buy them from the store, look for ones that are plump, even in color, free of blemishes, slightly soft to the touch and have a sweet aroma. To keep plums fresh, store them in the fridge (lasts 2-3 days) and after you use them for my Sparkling Plum Basil Cocktail, store any plums left over in the freezer (lasts around 12 months). You can also use your extra plums to make my Peach Melba Toast with Thyme and Honey (just replace the peaches with plums). 
Sparkling Water in Cocktails  
Alcoholic beverages aren't supposed to be beneficial to your health – they are just fun to drink! But, when they contain nutritional ingredients, they become better-for-you, meaning you can enjoy them without all that guilt. One of my favorite ways to lighten up cocktails is to use sparkling water. Some may not know this, but sparkling water is actually just as hydrating as regular water (read more about it here), plus it's a great alternative to soda – making it the perfect mix-in for cocktails. 
There are a ton of different brands of sparkling water as well as flavors (my favorite is LaCroix), so there are endless possibilities. I used a lime LaCroix for my Sparkling Plum Basil Cocktail, the coconut one for my Sparkling Water Southern Comfort Cocktail and the tangerine one for my Creamsicle Cocktail. Flavored sparkling water enhancing drinks by adding bubbles and additional flavors without any added sugar. Replacing soda (alone or in cocktails) is a great way to cut back on sugar. 
Making The Sparkling Plum Basil Cocktail
This cocktail looks difficult to make, but it is actually fairly simple. It only requires 5 ingredients: plums, basil, vodka, honey and lime-flavored sparkling water. 
The Plums
There are a variety of plums to choose from, but for this recipe I used the blackamber plum. Blackamber plums have a deep red skin with a light yellow/orange interior. When ripe, they are sweet and delicious. You can also use friar plums, which are black on the outside and light yellow on the inside, but they won't look as appealing or taste as sweet as the blackambers. Once you have your plum, cut it into slices. Chop up 1 of the slices, then save 2 more for garnish. 
The Basil
If you don't grow basil yourself, there are a few things to think about when purchasing it from the store. Make sure basil bunches are bright green with fragrant leaves and firm stems. If you have any left over leaves after making this cocktail, place them in a resealable bag with paper towels and store them in the fridge (last several days) or you can make my Strawberry Basil Kombucha Cocktail with the rest. 
Putting it together
Once you have your chopped plum slice and basil leaves, you are going to muddle them in a cocktail shaker. Muddling is a common technique used to help release the flavors and aromas of fresh ingredients, so they bind better to the alcohol, enhancing the drink's flavor profile. A wooden cocktail muddler is the preferred tool, but if you don't have one you can just use a wooden spoon instead. If you want to muddle more, try out my Healthier Margarita. 
Once you finish muddling the plum and basil, fill the shaker up with ice and add in the vodka and honey. I used Tito's vodka, because that is just what I had on hand, but any kind would work well in this recipe. Put the lid on the filled shaker and shake vigorously for about 30-60 seconds – this will make the drink frothy and delicious. Pour the mixture out into a glass, top with sparkling water and garnish with a plum slice – enjoy! 
Sparkling Plum Basil Cocktail
This healthy, fresh cocktail uses herbs and fruit for natural flavors
Print
Pin
Rate
Ingredients
1

slices

ripe plum

pitted, roughly chopped (save 2 slices for garnish)

6

basil leaves

4

oz.

vodka

2

teaspoons

honey

2

oz.

lime-flavored unsweetened seltzer water
Instructions
In a cocktail shaker, muddle the chopped plum and basil leaves. Fill the shaker with ice and add vodka and honey. Place on the shaker lid and shake hard for 30-60 seconds until frothy. Pour into a glass filled with ice as needed. Top with seltzer and garnish with a wedge of plum.
Ginger Hultin,MS, RD, CSO
An award-winning, nationally recognized nutrition expert and media spokesperson.
Thanks for visiting! If you're like me: obsessed with eating, wine, going out and traveling, you're in the right place. Champagne Nutrition® LLC is a Registered Dietitian-run concierge virtual practice helping clients look and feel better. On this blog, you'll find cocktails, mocktails, and plant-based recipes that are easy to make quickly at home and pack for leftovers on your adventures.