Savory Rice and Vegetables
I like to experiment in the kitchen and find recipes that will impress a crowd but are still super simple to make. If you have a dinner party, date night or other special event coming up and are looking for a dish that will impress, this is the one. Most of the cooking time is spent with this rice simmering which gives you plenty of opportunity to get the rest of your meal together. People will think you spent all day creating this Savory Rice and Vegetables but it all comes together in just under an hour. I've even selected the perfect wine pairing to make your life that much easier, too!
This Savory Rice and Vegetables is very similar to a risotto but a lot more simplified. If you aren't familiar, a risotto is an Italian rice dish that is cooked very slowly using arborio rice and usually involves some cheese.This Savory Rice and Vegetables dish is light, zesty and earthy, made with savory broth, onions, bell peppers, and dried herbs. It's a lighter and more relaxed take on a traditional risotto. 

Savory Rice and Vegetables is a Versatile Dish
I love having recipes that can be used in multiple different ways. This Savory Rice and Vegetables can be an extra special side dish or it can be the main course with some simple tweaks. If you want to create a full and balanced meal you just need to add some protein. Think tofu, tempeh, beans or seafood if you eat it. Some baked or grilled protein would go beautifully with this rice and the wine pairing I have chosen. Try my Simple Baked Tofu to start!
About the Rice
Yes, we're using white rice for this recipe, gasp! There is no reason why you can't eat white rice and I'm going to tell you why. The main difference between white rice and brown rice is a refining process. This process takes away the outer shell of the rice, called the bran, leaving just the kernel behind. Removing the bran takes away some of the fiber and micronutrients that are present in whole grain brown rice. While this does put a dent in the nutritional value, it also allows the rice to cook faster, absorb more of the cooking liquid and take on a soft and tender bite that is essential for a risotto style recipe. 
White rice has its own unique benefits. First, rice is a great source of carbohydrates, the body's preferred source of energy. The quicker digestion of white rice makes it ideal for athletes who are looking for that quick burst of energy. Rice is also a gluten free grain that is easy to digest, making it ideal for those who are gluten free or those who have any sort of GI issues. If you serve this Savory Rice and Vegetables with a source of protein it will be a completely balanced and nutritionally dense meal. As a registered dietitian, I push back when people say that you can never eat white rice or white bread…all foods can fit. 
Wine Pairing 
If you didn't know this about me, you should – I am passionate about wine! Before I became a dietitian, I worked in restaurants for years as I went through school and I got to learn from some amazing bartenders and servers who started teaching me about wine, wine service, cocktails and food pairings before I was even 21. Part of what inspired me to go back to school for nutrition was definitely this passion for food and wine culture. 
This dish is perfect for a special date night dinner or dinner party with friends. That's why I wanted to come up with a wine pairing for this dish to make it feel extra special and to enhance the savory flavors. 
When it comes to choosing a wine pairing for any dish I find it helpful to use these wine pairing "rules" I've learned along the way:
high salty foods work better with wines that have high effervescence

spicy food should be paired with off-dry acidic white wine

flavor intensity of wine and food should be equal to ensure an equal impact by each 
Pairing Wine with Savory Rice and Vegetables
To really step this dish up a notch, I knew that it needed a white wine with some body and acidity to match. Cava is just dry sparkling wine from regions in Spain, think Spanish champagne. The price point is completely approachable and it is widely available at grocery stores. This type of wine is a go-to I buy often and if you are looking for a suggestion of which one to try, Segura Viudas is my Cava of choice. I even served it at my wedding!
I hope you enjoy this simple and versatile rice dish that can be served as the star of the meal and a side dish alike. Try pairing it with complimentary wine like Cava and let me know what you think of the pairing!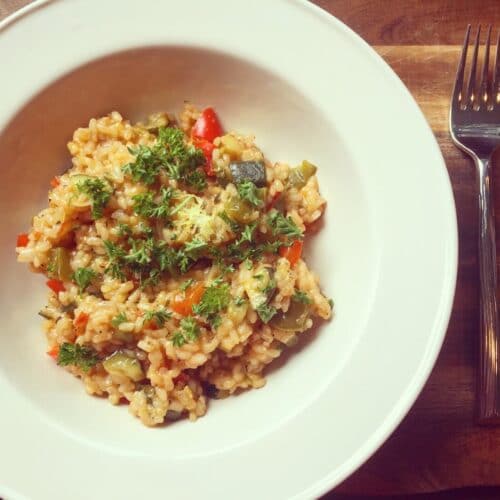 Ingredients
2

tablespoons

extra-virgin olive oil

1

small

jalapeno pepper, diced

1

medium

yellow onion, diced

2

cloves

garlic, minced

2

ripe tomatoes, seeded and diced

1

medium

zucchini, diced

1/2

red bell pepper, diced

1/2

green bell pepper, diced

1/2

teaspoon

smoked paprika

1

teaspoon

dried thyme

1/2

teaspoon

sea salt

1/2

teaspoon

freshly ground pepper

1 1/4

cups

short-grain white rice

3 1/2

cups

vegetable broth

2

tablespoons

finely minced fresh flat-leaf parsley

1/2

lemon, zested and juiced
Instructions
Heat oil in a large skillet over medium heat.

Add the chile pepper, onion and garlic and cook, stirring often, until the onion is soft and translucent, about 3-5 minutes.

Next, add in the tomatoes, zucchini, bell peppers, paprika, thyme, salt and pepper. Cover and simmer, stirring occasionally, for 10-12 minutes until soft and fragrant.

Finally, add the rice and stir to coat well with the tomato mixture. Add the broth and bring to a boil.

Reduce heat to low, cover and simmer until the rice is tender, about 25 to 30 minutes.

Serve hot directly from the pan, garnished with parsley and lemon wedges and a chilled glass of Cava wine on the side. Enjoy!
Notes
Wine pairing: Segura Viudas Spanish Cava.
Ginger Hultin,MS, RD, CSO
An award-winning, nationally recognized nutrition expert and media spokesperson.
Thanks for visiting! If you're like me: obsessed with eating, wine, going out and traveling, you're in the right place. Champagne Nutrition® LLC is a Registered Dietitian-run concierge virtual practice helping clients look and feel better. On this blog, you'll find cocktails, mocktails, and plant-based recipes that are easy to make quickly at home and pack for leftovers on your adventures.